Getting mildew on your clothing and other fabrics is a miserable experience, and it can even be a dangerous one; mold spore exposure can cause serious health issues, including respiratory diseases and lung infections. Knowing how to get mildew out of clothes will not only save you dry cleaner trips and is key to your presenting a neat and clean appearance, but it is essential for you and your family's well-being.
We've all experienced that awful moment of discovery: you lift your favorite shirt or towel out of the drawer and find it speckled with dark patches of mildew and black mold. That's where we come in. We've gathered the best tips to help you keep your clothes mold-free and you and your loved ones safe and healthy.
In this article, we take a look at time-tested methods for preventing and treating mold and for how to get mildew smell out of clothes. Discover how to keep mold away from your clothes in the first place, and several fantastic treatment solutions that can be used on mold on clothes in closet containers and on fabrics of all sorts.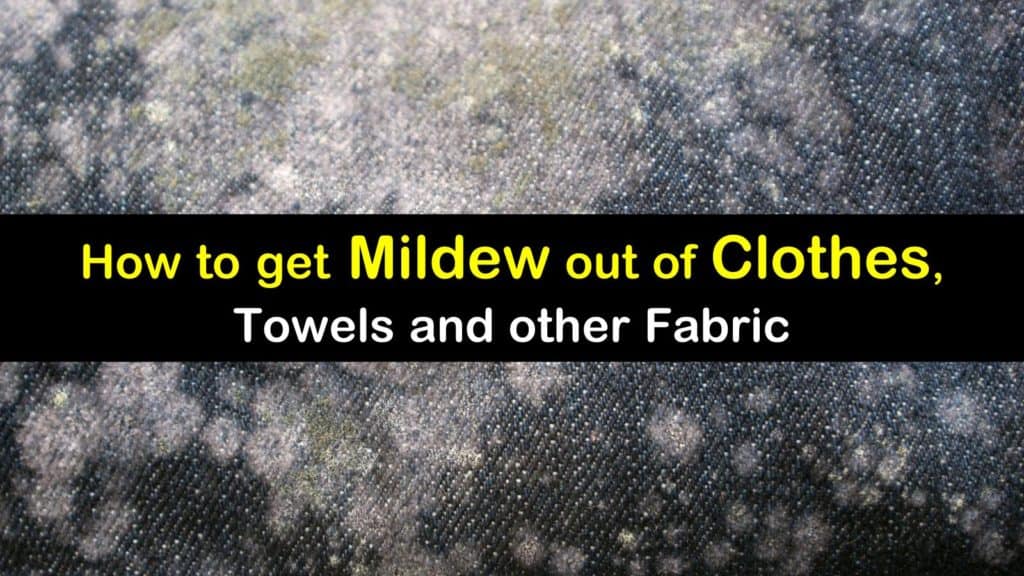 Preventative Treatment
As we all well know, the best and most effective treatment for an issue is often to prevent the problem from arising in the first place. This approach is especially applicable for mildew in clothes, which you can mostly avoid as long as you take a few standard precautions when working with your clothing.
You'll need to invest a few more minutes into laundry care each day, but you'll save time and improve health when you avoid moldy, musty clothing in the first place. With our guidance, you'll rest easy knowing that your family is safe from dangerous molds and mildews!
Never Allow Damp Clothing to Sit
Mold spores, more than anything else, love wet, dark areas. Damp spots without much natural light are the perfect growth media for mold and mildew, and so, you need to make sure that you never leave wet clothes laying around.
Doing so is like putting out a motel "vacancy" sign for all manner of airborne molds and fungus. Always remove clothing from the washing machine as soon as the wash cycle ends, and transfer them to a clothesline or dryer without delay.
Take care not to pile damp clothes into the laundry hamper, too. Allow bathing suits and exercise clothing to dry completely before adding them to your dirty laundry basket. Remember: an ounce of prevention is worth a pound of cure!
Mold Stain Pre-Treatments
Despite our best efforts, we sometimes can't avoid mildew in our clothes. If you encounter patches of fungus or need to get musty smell out of clothing, you'll need to give any affected areas a good pre-treatment before moving on to the wash cycle. Giving your mildew patches a good advance scrub gets them ready for the wash and ensures a more effective overall cleaning.
Treat Your Clothes with Vinegar
Among its many other uses, good old vinegar is a fantastic homemade mildew cleaner. Its natural mild acidity is the perfect way to remove mold stains while remaining gentle enough not to damage your fabric. A vinegar solution is a great first step to take when faced with a problematic mildew spot or mold growth.
Combine the cup of vinegar and the water in a spray bottle. The easiest way to remove a mold smell from a towel or your clothes is to spray the moldy areas until thoroughly wetted. Scrub them with an old toothbrush until the solution saturates completely. Repeat several times if needed before washing. You can try full-strength vinegar if the dilute solution doesn't resolve your issue.
Use Lemon Juice to Kill Mildew on Clothes
Like vinegar, lemon juice is mildly acidic, which gives it some impressive clothes-cleaning power. You can use lemon juice to clean off grease or for removing coffee stains from clothes, and it will do a real number on your mildewy fabrics, too.
About on a par with vinegar as far as cleaning strength is concerned, lemon juice is an excellent go-to to remove mold.
Combine the lemon juice and salt in a bowl to form a thick paste; add additional table salt if needed to bring the mixture to the proper thickness. Apply the paste to mildewy spots, and scrub the area with an old toothbrush.
Air dry the spots in sunlight and repeat if needed. After the stain fades, rinse the area, and wash the fabric with one of many quality laundry detergents straightaway.
Get Mildew out of Clothes with Hydrogen Peroxide
If lemon juice and vinegar don't take care of your mold and mildew-smell problems, it's time to move on to the bleaching agents. But, before you use bleach with chlorine, you might want to give hydrogen peroxide a try.
Hydrogen peroxide is an oxygen bleach, which allows it to break down in the water. Peroxide won't pose as much of a threat to your fabric as chlorine bleaches might, and it still has reliable cleaning power against mildew.
Use a cotton swab to test the hydrogen peroxide on an inconspicuous area before treating your clothing with it. Fill the spray bottle with peroxide, and spray any mildew patches until thoroughly wetted. Scrub the patches with a toothbrush. Repeat if needed until the mildew or mold is gone, and wash the fabric.
Apply a Baking Soda Solution to Kill Mold
Baking soda is a great laundry cleaning option. Its versatile nature means you can use it to wash white shirts and also apply it to mold and mildew stains as an effective and safe pre-treatment. As with hydrogen peroxide, this is an excellent choice for attacking mildew spots without reaching for chlorine bleach.
Combine 1/4 cup water and the baking soda to form a paste. Apply the paste to any mildew patches, and scrub the area with the toothbrush. Rinse with hot water, and repeat if needed.
Attack the Mildew with Borax
Borax is a proven stain removal winner when it comes to cleaning clothes, and it'll be happy to take on any mildew or mold you send its way. Borax is an excellent choice to remove mildew stains from your fabrics, and it will clean your clothes as it does so. It's the perfect last step before moving on to chlorine bleach.
Combine two liters of cold water and the Borax in a bucket. Soak any mildewy clothing in the bucket. Be patient and give the borax time to do its magic – you might need to wait up to three or four hours.
Rinse with warm water, and repeat if required. After the stain is completely gone, it's a good idea to send the clothing through a wash cycle with laundry soap to make sure that all mold traces are gone.
Break Out the Bleach
If you've tried our other options but still can't shake the mold and mildew, it's time to bring out the big guns. Chlorine bleach is a fantastic cleaning agent and will do a tremendous job on your white fabric, but it will also take care of the toughest mildew and mold spots you might have. Try it out on your shower curtain, too! Because bleach can damage your fabric, be sure to test your solution on an inconspicuous spot first and check your clothes care label.
Combine the bleach and water in the spray bottle, and spray any moldy spots. Scrub the affected area, and allow the solution to sit for a few minutes before rinsing. You can also rub laundry detergent on the patches instead of bleach if you need something a little gentler.
Washing and Drying
Now that you've given your mildew-stricken clothes a good pre-treatment and have mainly removed the stains, you can move on to the wash. It's essential to make sure that you wash any pretreated clothes, particularly when you work with bleach, as leaving some of the solutions on your clothes can damage the fabric.
Wash with Hot Water, and Add Bleach When Possible
You'll get the most effective mold-eradication results when you use the hottest water allowed for the fabric type. Check your clothing labels to determine maximum allowable water temperature, and separate your clothes into temperatures to ensure that you wash all items in the hottest water they can take.
Bleach is an excellent addition to the wash for mold control, as well. As with water temperature, check your fabric labels, and separate the bleach-safe clothing to be washed with a little bleach. It'll make a huge difference and will cut through any mildew.
Dry Immediately, and Line Dry When Possible
As we mentioned earlier, one of the keys to mildew-free clothing is making sure that they get dried as soon as possible. With this in mind, you'll want to get your clothes into the dryer as soon as the rinse cycle ends. Make sure that you select the correct dryer heat for the fabric types, and check at the end of the dry cycle to make sure that there aren't still some damp clothes.
Sunlight is the most effective mold killer around, so whenever possible, skip the dryer and hang your clothes on the line. You'll not only give any lingering moldy patches a dose of sunlight, but you'll have sweeter-smelling clothes and will keep your utility bill under control, too!
We hope that you enjoyed this guide on how to get mildew out of clothes. Mold and mildew can ruin your new shirts or towels and can affect your family's health, so it's crucial to know how to get mildew smell out of clothes. With our guide, you'll get musty smell out of clothing and be confident that you and your loved ones are protected!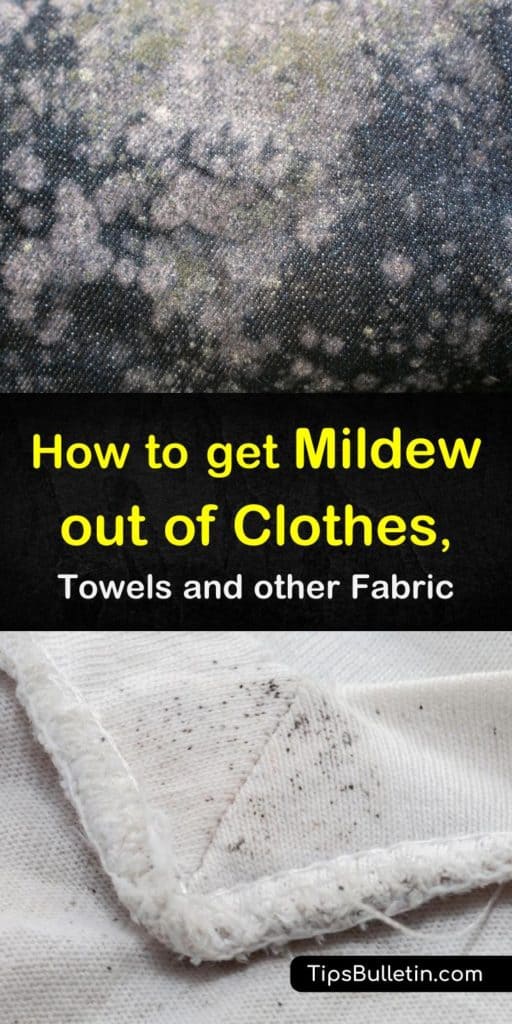 Thanks for reading our guide on how to get mildew out of clothes. If you found this mold-removal guide to be helpful, help us out by sharing our mildew-removal tips with your friends and family on Facebook and Pinterest.