Pulling a pair of shoes or boots out of the closet and slipping them on only to discover they have a bad smell is an unpleasant experience. This foul odor often results from sweaty feet or excessive dampness, and this excess moisture leads to mold and mildew growth. Discover how to get mildew smell out of shoes with a few simple home remedies.
Unfortunately, you don't clean your footwear like the rest of your clothes. While you toss dirty clothes into the washer and dryer as needed, your sneakers go through a lot of wear and tear between cleaning, leading to stinky shoes.
Wet shoes are even worse, especially if you don't dry them promptly since allowing shoes to remain damp causes mold on leather, leading to a nasty mildew odor. Luckily, there are many ways to freshen your sneakers to remove an unpleasant smell, whatever the cause of your shoe odor.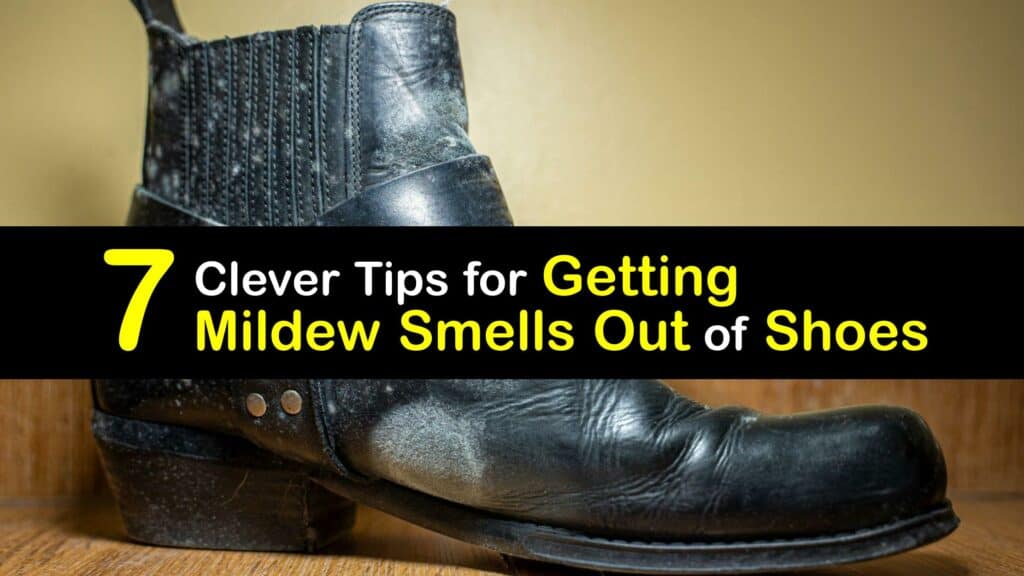 Ways to Remove a Mildew Smell from Shoes
Don't give up on your stinky shoes and toss them in the trash. Instead, find out how to make a DIY odor eater for your shoes and remove an unpleasant smell from all types of footwear using some quick and easy odor-removing techniques.
How to Remove Mildew Smell from Shoes with Dryer Sheets
One of the easiest ways to get an unpleasant odor out of your footwear is fabric softener. The sheets work as a DIY mildew remover to absorb bad smells and leave the insides of your shoe smelling fresh. Learn how to remove mildew smell from shoes with a few dryer sheets.
If your shoes are still damp with mildew, it's vital to dry them first. Stuff them with newspaper to absorb dampness and set them in a well-ventilated area. Place a couple dryer sheets inside each shoe and let them sit overnight. Remove the sheets and do the sniff test to check for remaining smells.
How to Get Mildew Smell Out of Leather Boots
If you take a walk around your home, you may be surprised to find that you have several odor absorbers here and there, such as cat litter and coffee grounds. Discover how to get mold out of leather boots using a few of these household items.
Pour a couple of tablespoons of coffee grounds, kitty litter, or activated charcoal into the middle of a coffee filter. Make a sachet by securing the filter shut with a rubber band. Repeat the steps and place one inside each shoe. Ensure the sneakers are completely dry before inserting the sachets and let them sit overnight.
How to Get Mildew Smell Out of Shoes with Tea Tree Oil
Tea tree oil has antibacterial properties that kill mildew spores, and its strong scent eliminates lingering smells left in your shoe from foot odor. Using essential oils is one of the easiest ways to deodorize stinky shoes and sneakers. A strong smell like tea tree will completely cover up any foul odors.
Pour two cups of water into a bottle and add two teaspoons of tea tree oil. Close the container, shake it well, and mist it lightly inside each sneaker. Try to get the solution throughout the shoe without saturating the material, and set it on a shoe rack to air dry.
You can also use tea tree oil as an easy way to clean mold off leather furniture. Tea tree is a natural anti-bacterial and can remove mildew and mold from leather surfaces.
Removing a Mildew Smell from Shoes with Baking Soda
We always recommend keeping a box of baking soda in each room of the house since you never know when you'll need it. Learn how to remove mildew smell from shoes with this miracle powder.
Set your shoes on a towel and loosen the laces to easily access the shoe's insides. Shake baking soda in each sneaker and tap them on a hard surface to work the dry powder into all the nooks and crannies. Let them sit overnight and shake out the excess powder in the morning.
How to Clean Your Shoes with White Vinegar to Get Rid of Mildew
While we commonly use vinegar for preserving food, it's also helpful as an antifungal and antibacterial agent and excellent at eliminating a bad odor. Explore how you can start cleaning mold from suede shoes and boots with these simple at home tricks.
Fill a bottle with white vinegar and set it to the side. Place your sneakers on a towel and loosen the shoelaces. Spray the vinegar lightly throughout the insides of the shoes to dampen the fabric. Put your footwear in a safe place to air dry before wearing them. Since you're using straight vinegar, do not use this method on leather shoes.
Using Citrus Fruits to Eliminate a Mildew Smell in Shoes
If you have smelly shoes and a couple of oranges or lemons on hand, you're in luck. The next time you peel your favorite citrus fruits, save the peels or juice and use them to freshen your footwear.
The easiest way to use citrus to remove mildew odors is to use fruit peels. Place one to two lemon or orange peels inside each shoe and let them sit overnight to give your sneakers a pleasant scent.
Another way to use the power of citrus fruit is to make a spray with the juice. Pour water into a bottle, add lemon juice, and spray the solution inside the shoe. Wipe away residue with a soft cloth and let them air dry completely.
Washing Canvas Shoes to Remove a Musty Smell
If your sneakers are extra stinky or none of the other techniques eliminate the shoe smell, it may be time to toss your shoes in the washing machine. It's vital to check your footwear's care tag first since materials like leather and suede are not machine-washable.
Remove the laces, place your footwear inside a pillow case, and secure it shut. Set the case inside the washing machine with a couple of towels for padding, add laundry detergent, and use the cold or warm water delicate wash cycle.
Once the shoes are clean, set them on a shoe rack to air dry or use your clothes dryer. To dry them in the dryer, put the laces back on each shoe and tie them together. Hang the sneakers in the dryer by draping the laces over the door when you close it.
Turn your dryer to the air dry or lowest heat setting and dry them for 20 minutes. If they are still damp, dry them for another five minutes or so.
While foot powder is useful for stinky feet, it doesn't always work for a shoe, and no one wants to put their feet into a pair of sneakers with a musty odor. While it's tempting to soak your shoes in bleach to eliminate a mildew stain, bleaching shoes may ruin the materials. Fortunately, there are safe alternatives in your home right now that remedy a smelly shoe.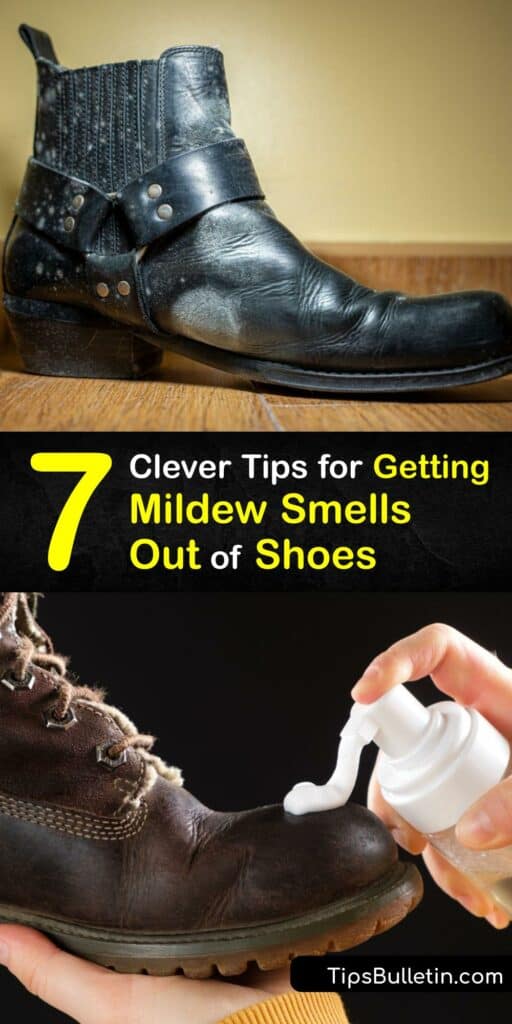 Now that you understand how to get mildew smell out of shoes and keep them smelling fresh, why not share our methods for getting rid of mildew smells in sneakers with your family and friends on Pinterest and Facebook?