It's easy to think that your washing machine never needs cleaning since it fills with soapy water each time you use it. The truth is, it also has dirty water and soap scum that sits in the crevices, and over time this moisture leads to a bad odor. We'll show you how to get mildew smell out of washer using a few different cleaning techniques.
You open the lid of your washing machine, and a nasty odor rises from the tub. Who wants to wash clothes in something that smells like that? This smell is the result of a combination of mildew, mold, and bacteria and is an indicator that it is time for a proper washing machine cleaning.
Each time you use the washing machine, it builds up with soap, dirt, scum, body oil, and hair that get trapped in the gaskets, seals, and dispensers, especially if it's a high efficiency washer. Add in the humidity of your laundry room, and you get a combination that is ideal for bacterial growth and foul odors.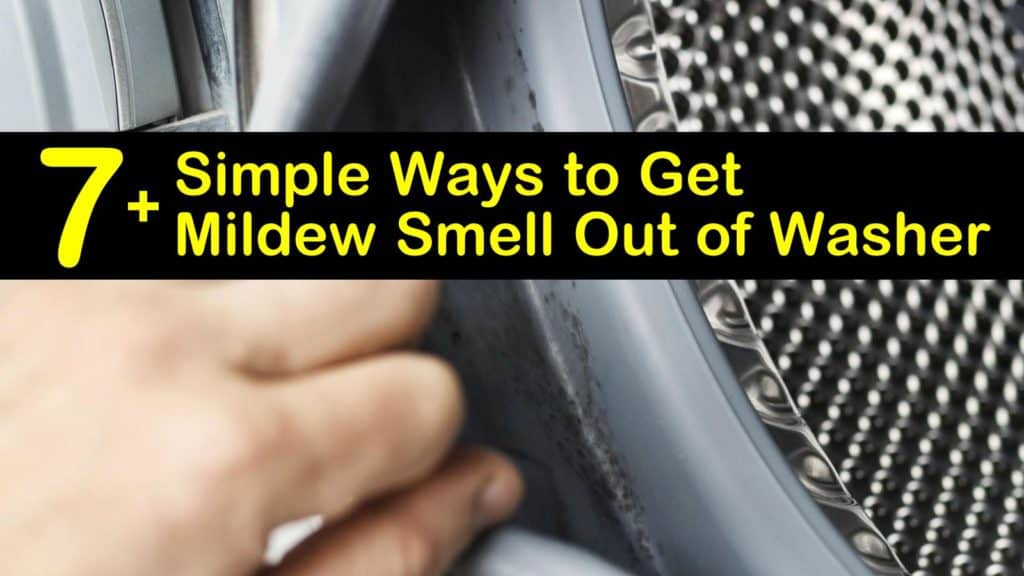 Ways to Get Mildew Smell Out of Your Washing Machine
While clothes washing is a regular part of a weekly routine and you definitely need to know the best way to get mildew stains out of colored clothing, your washer also needs periodic attention.
Regular cleaning of your washing machine eliminates the build-up of bacteria-causing odors. Removing a musty smell from home appliances is easy using a few simple cleaning ingredients and a little bit of elbow grease.
How to Get Mildew Smell Out of Washer
One of the easiest ways to get mildew smell out of your washing machine is to use the cleaning cycle on your appliance. This cycle washes the machine without any clothing and uses very high water temperatures to kill mold and bacteria.
Washing Machine Cleaning Cycle
Each washing machine is different, so check your owner's manual before running the cleaning cycle. Use a washer machine cleaner, such as Smelly Washer, to enhance the cleaning performance of the cycle. Run the cleaning cycle about twice per month to prevent mold growth in the machine.
Getting Mildew Smell Out of a Front Loading Washing Machine
The inside of your washer is a breeding ground for germs and bacteria, and mildew in washing machine is a sign that it is time to give the washer a deep clean. Front loader machines require slightly different cleaning techniques than a top load washer.
To deep clean your washing machine, fill a bottle with warm water, and add a few drops of liquid dish soap. Spray the soapy solution on and around the surface of the gasket. The gasket is the rubber seal located around the front load washer drum opening that prevents water from leaking during the wash cycle.
Allow the suds to sit for a minute and then use a rag to wipe down the gasket to remove any mold spots, gunk, debris, and soap scum. Pour one cup of bleach into the empty drum of your washer and pour the remaining half cup of bleach into the liquid fabric softener or detergent dispenser compartment.
Run a full cycle using the hottest water setting. Once the cycle is complete, run two more cycles with water only to flush away leftover bleach. Your machine is now ready for your next load of laundry.
Clean the Dispensers to Get Rid of Mildew Smell in a Washing Machine
Often, mildew is a washing machine odor that is the result of mold growth in the dispensers and small crevices of the washing machine that are not readily visible.
Cleaning these areas regularly using soap and water and an old rag goes a long way to preventing that mildew smell and keeps your washer smelling fresh.
The first step to get rid of mildew smell in a washing machine is to clean the dispensers. Cleaning them is easy if they are removable. Soak them in a sink of soapy water and use an old toothbrush to scrub away any mildew and old laundry detergent residue.
Rinse the dispensers thoroughly with cold water and let them air dry. Fill a small container with hot water and add a few drops of liquid dish soap. Dunk the toothbrush into the soapy solution and use it to scrub the inside of the detergent dispenser area if your washing machine smells musty. Cleaning the dispensers often take care of the problem.
To clean mold from your washing machine, use Q-tips to reach smaller crevices and to remove build up inside the dispenser pipes. Replace all dispensers in the washing machine after cleaning and rinsing.
Eliminating Mildew Smells in a Top Loading Washing Machine
It's vital to perform regular cleaning of your washing machine to prevent bad odors in your laundry room and mildew smell in clothes. Cleaning a top loading washing machine with bleach kills bacteria, mold, and mildew, and eliminates foul odors.
The easiest way of cleaning a top loading washer is to fill the washer machine with hot water, add four cups of bleach, and let the machine sit for one hour while the bleach kills bacteria and mold in the drum.
While the tub is soaking, use a sponge to wipe down the inside of the washer door. Make sure to clean along the top edge of the drum as well.
Run a regular cycle to complete the cleaning process. Once the cycle ends, check the inside of the washer drum for any leftover gunk and residue. Run at least one more wash cycle without clothes to flush out remaining bleach.
Disinfect a Washing Machine with Hydrogen Peroxide
Hydrogen peroxide has strong oxidizing properties and is an excellent disinfectant. It is a safe alternative for cleaning when you prefer not to use bleach, and it is also cost-effective.
Pour one cup of hydrogen peroxide in a spray bottle and spray the inside lid and any upper crevices of the washer. Use a sponge to wipe the area down to remove mold, gunk, and debris.
Fill the machine with hot water and add the remaining four cups of hydrogen peroxide to the water. Allow the solution to rest for about an hour and then run the hottest setting on the machine.
Deodorizing a Washing Machine with Vinegar
Using vinegar in laundry applications is a great way to eliminate all kinds of stains and odors. Vinegar has an acidic quality that works great at cleaning away bacteria.
Not only that, but it removes hard water deposits in the washing machine, enabling it to operate at its best. Use vinegar to clean your washer once a month to keep the washer smelling fresh and ensure that your clean clothes are actually clean.
Vinegar Washing Machine Cleaner
Set your washer machine to the hottest water setting and add four cups of white vinegar to a top-loading machine or two cups of vinegar to a front loading machine. Do not add laundry detergent to the washer during the cleaning process.
Allow the machine to fill with hot water, and once it agitates the vinegar and water together, stop the cycle. After 30 minutes, resume the wash cycle and allow it to complete.
You can also use this solution to take care of a moldy dishwasher. Put the vinegar in a container and rest it on the top shelf and run a cycle without dishes. You'll be amazed at the results.
Removing Bad Mildew Smells from Your Washing Machine with Baking Soda
For a top load washer that has a powerful odor of mildew and mold, try using baking soda and white vinegar for heavy-duty cleaning. Cleaning your washing machine with baking soda not only removes mildew smells but cleans away hard water deposits and grime.
Turn your washing machine to the hottest water cycle, add the vinegar to the drum as the water fills, and then add the baking soda.
Allow the water to agitate for a minute to mix the ingredients to create a powerful cleaning reaction, and then lift the lid to pause the washer for one hour. After the rinse cycle completes, use rags to wipe down any residue inside the washer drum.
Follow our other guides to deodorize your dryer with baking soda and vinegar. The dryer can also take on a foul odor which can easily be removed with a deodorizer.
Preventing Mildew Smell in a Washing Machine
While your washing machine still needs regular cleaning to ensure that it remains bacteria-free and runs properly, there are still measures to take to keep the build-up of mildew and musty odors from accumulating between washings.
Smelly Washer Prevention
It's essential to remove a load of laundry as soon as the washer finishes its cycles. Leaving wet clothes in the machine encourages bacteria and mold growth, resulting in a bad washing machine smell. Letting damp clothing sit for too long also leaves your clothes smelling mildewy.
While it may be an annoying sound, keep the end of the cycle signal on to make sure it reminds you to switch your laundry from the washer to the dryer. After washing and removing your clothes, make sure you leave the washer lid open for a few hours to dry out.
Closing the door traps moisture inside the machine, making it an ideal environment for mold and mildew. If you have a front loading machine, pull the detergent drawer out to dry. Now that your washing machine smells fresh while cleaning your clothes, consider making a homemade liquid laundry soap to save you money.
Washing machine odors are easy to prevent by maintaining the cleanliness of the appliance. Performing a cleaning routine using simple ingredients such as a cup of white vinegar and baking soda keeps that musty odor out of your laundry room and clothing.
Not only does this form of maintenance keep away bad washer smells, but it ensures your washing machine performs as it should.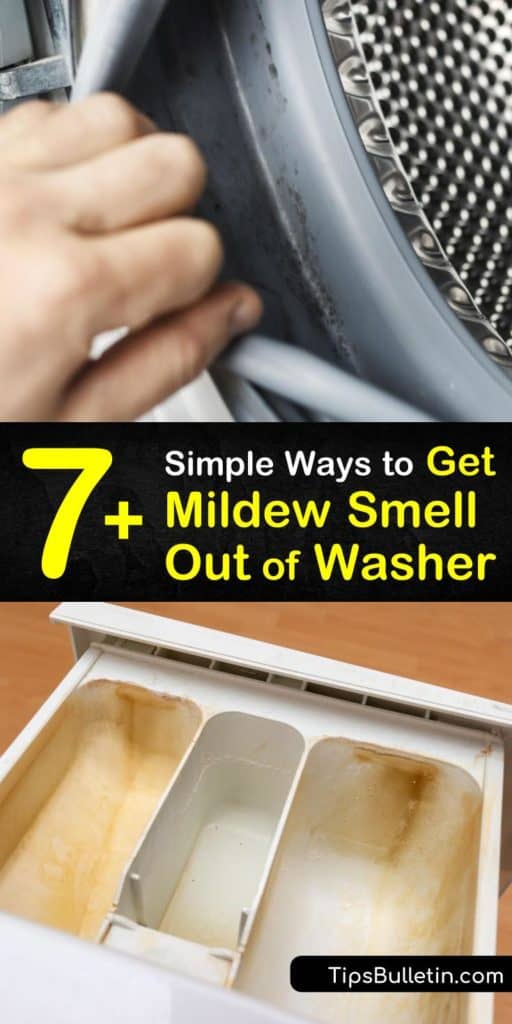 Now that you know how to get mildew smell out of washer for fresh smelling clothes, why not share our washing machine cleaning tips and recipes with your family and friends on Facebook and Pinterest?