Spilling a soft drink on your car seat is one thing, but accidentally getting mud on the seat is another matter. Unlike other stains, wiping the dirt only spreads it, creating a bigger mess on the car upholstery. Understand how to get mud out of car seats to keep your car interior clean.
You probably take pride in your car's appearance inside and out. A mud stain, grease stain, and other stubborn stains are an eyesore, whether on leather or cloth car seats. They make the car interior to look less inviting; loose dirt transfers from the car seat stains to your clothes each time you get in and out of your car.
Mud stains are one of the more challenging stain types to remove since the caked-on dirt seeps into the material. How you clean car seats depends on whether it's a leather or cloth seat.
Ways to Get Mud Out of Car Seats
While a mud stain seems impossible to remove, there are ways to clean it and restore the car seat surface. Discover several ways to keep your car upholstery free from dirt and clean mud off white clothes if any of the mess transfers onto you while cleaning your car seats.
When you get ready to clean up mud, you may discover a wad of gum stuck to the seat. Clean gum off a car seat with a few ice cubes and the edge of an old credit card. Then tackle the mud with some simple strategies.
How to Clean Mud off Car Seats by Vacuuming
The first step for removing mud is to allow it to dry completely and suck up the dirt with a vacuum cleaner. This step is essential since using a cleaning solution to remove caked-on mud only worsens the stain. Learn how to clean mud off car seats by vacuuming.
Before you clean cloth car seats, let the mud dry until it's hard and crusty. Loosen dirt from fabric with a brush while sucking the debris off the upholstery with a vacuum cleaner hose. Continue brushing and vacuuming until you remove as much dry mud as possible.
How to Remove Mud Stains From Car Seats
Once you remove the mud by vacuuming, it's time to clean the remaining stain; soapy water is the simplest method for cleaning car upholstery. Explore how to remove mud stains from car seats with dish soap and water.
Soapy water is a good alternative if you don't have upholstery cleaner or if you are trying to clean mud stains off clothes by hand or in the washer. Does mud stain jeans? Yes, mud does stain jeans, but it's relatively easy to remove.
Fill a bucket with hot water and add a couple of squirts of liquid laundry detergent or dish soap. Dunk a sponge into the soapy water, wring it out, and remove mud stains from the seat fabric.
Rinse the sponge beneath running water and repeat the steps until the dirt is gone. Finish by wiping the seat with clean water and drying it with towels.
How to Get Mud Out of Car Seats Using Baking Soda
Baking soda is a natural alternative for getting set-in mud stains out of car seats. The mild abrasive action removes loose dirt and is safe on cloth seats, upholstery, and floor mats.
To get mud stains out of the car seat, combine a cup of warm water with a quarter cup of baking soda and rub the mixture into the stain with a toothbrush. Continue adding the baking soda cleaner to the area to cover it, let it sit until it's completely dry, and suck up the residue with a vacuum hose.
Remove Mud From Car Seats
White vinegar is excellent for dissolving tough stains – you may already have a bottle in your kitchen. Explore how to remove mud stains from car seats with vinegar cleaner.
To get mud off car seats with vinegar, mix hot water with a cup of white vinegar and add a couple squirts of liquid soap. Dip a soft brush into the cleaner and apply it to the stained area.
Use small circular motions to lift dirt from the fabric car seat, and rinse with a damp cloth. Once the mud is gone, allow it to air dry or pat it with a dry towel.
Removing Mud Stains From Leather Car Seats
Removing mud stains from car seats is relatively straightforward if the seats are cloth. However, leather seats require special cleaners to prevent damage. Discover how to clean mud off car seats with leather cleaner solutions.
There are a few ways to clean leather car seats. The easiest way is to blot the stain with cotton pads damp with either rubbing alcohol or acetone-based nail polish remover.
Another way to remove dirt is to make a paste with lemon juice and cream of tartar or use non-gel toothpaste. Rub the cleaning paste into the stain with a soft-bristled toothbrush and wipe it clean with a damp cloth.
To clean large dirty areas, make a homemade leather cleaner by pouring equal amounts of white vinegar and water into a spray bottle. For this DIY cleaner for car interior areas, spray it on the stain, and wipe it with a microfiber cloth. Remove stain cleaner residue with fresh water. Consider applying a leather conditioner to the seat to give it a polished look.
Finding mud or water stains on your cloth or leather seats is disheartening. Fortunately, there are ways to clean your car's seats to remove a tough stain if you use the right cleaning product and technique. Cars are an investment, so it's important to keep them looking their best.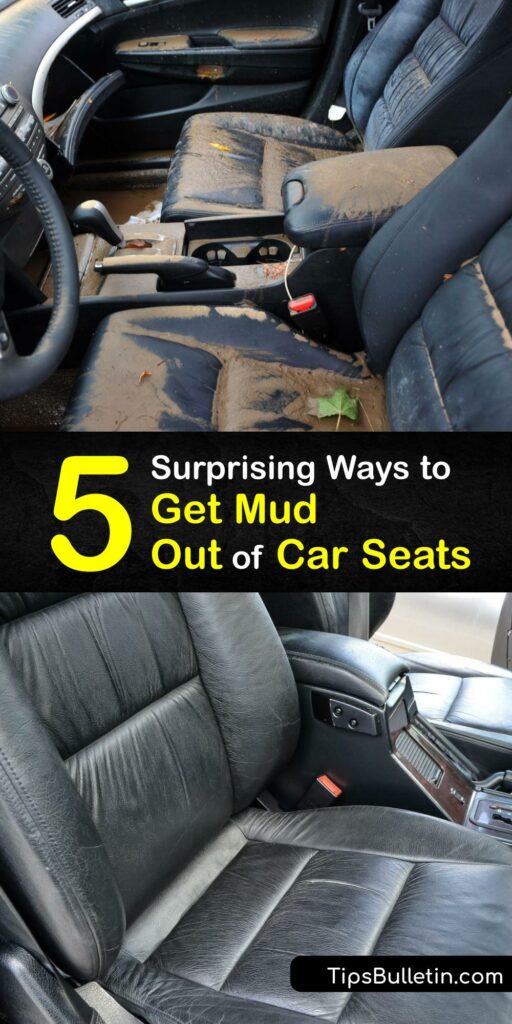 We hope that knowing how to get mud out of car seats helps you restore your car interior, and we'd love it if you'd share our tips for removing mud from car seats with your friends and family on Facebook and Pinterest.