Perhaps you have an active job or an active kid; either way, muddy clothes are inevitable. Stain removal can be challenging, even for professionals, but don't retire your mud-stained garments just yet. It's time to learn how to get mud out of clothes and other fabrics with this in-depth guide to muddy duds.
Laundry strategies and stain-fighting solutions have come a long way over the last few hundred years. From simple river and stone to public wash-houses to highly-skilled professional dry cleaners, we now have incredible, effective solutions at our fingertips.
Are you ready to learn how to get mud stains out of clothes? Fortunately, you don't need a high-priced dry clean session to kick mud stains to the curb. Gather a few basic household ingredients and some elbow grease to restore the dirtiest dresses and fabrics. This step-by-step guide includes the information to get started.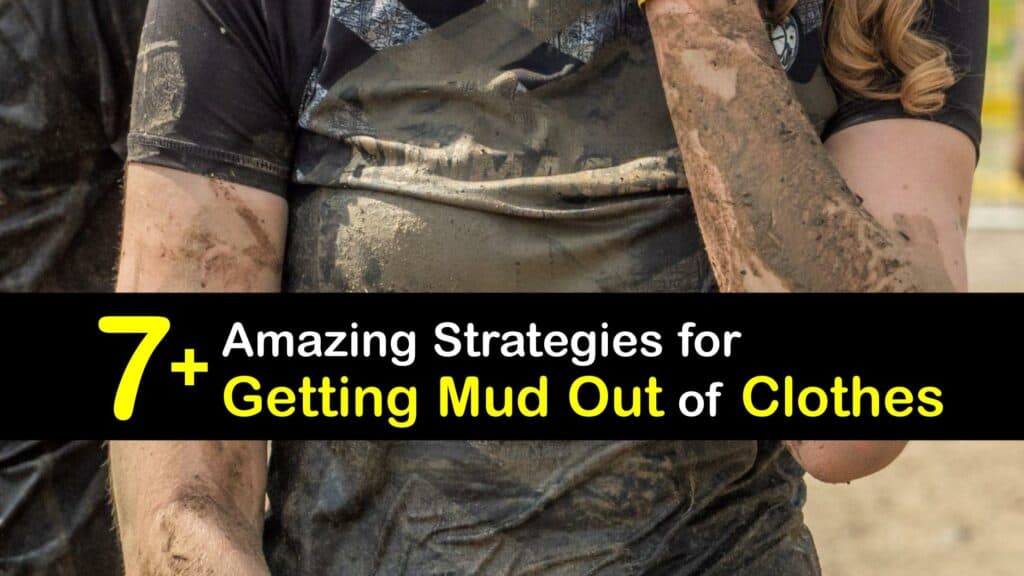 How to Remove Mud Stains from Clothes
Stains are frustrating, and your time is valuable. No one has time for complicated pretreatment plans. Follow quick and efficient cleaning tips for washable fabrics and stained clothing. Discover how to get red mud out of clothes, dirt stains, grime, oil, and many other common stains with helpful hints that work.
Allow the Mud to Dry Thoroughly
Removing mud stains from clothes and fabrics isn't the hopeless job it appears to be. The pro-trick is to let the mud dry before using the washing machine. An abundance of wet mud is challenging for the average household machine to handle, and it's possible to clog your plumbing with unwanted debris.
Lay your muddy garments out and let the stained area dry. Once the mud dries enough to crumble, take your clothes outside, and shake the dried mud right off. Scrape off stubborn debris with a butter knife or straight edge. Remove stuck-on grass blades, twigs, or debris to save your washing machine and plumbing.
Choose a liquid detergent or dish soap and pour enough on your clothes to cover each mud stain fully. Let the liquid detergent soak into the stain for about 15 minutes, and work the detergent through with an old toothbrush.
Use small circles, and rinse the toothbrush in a dish of clean water. Once you lift the set-in mud, it's time to run the wash cycle; get ready to see some progress.
Pretreat Your Muddy Clothes with a Stain Remover
A prewash stain remover effectively fights unexpected stains like mud and bodily stains that build up over time. In fact, laundry professionals recommend pretreating your clothes for several reasons: to remove stains without needing multiple washes, to fight sweat stains, and to prevent odors from developing over time.
Getting set-in mud stains out of clothes and other types of stains is super-easy with the proper stain remover. For example, dinginess is usually due to a buildup of minerals or soap; we recommend a bit of Borax. For grass stain, white vinegar. We also include our favorite recommendation for how to remove playdough from fabric and dark, dirty stains from clothes.
How to Clean Mud Off Clothes with a DIY Stain Remover
Learn how to remove mud stains from clothes, sheets, and almost any other washable fabric with this DIY stain remover and pretreatment. This thrifty, effective stain removal method avoids overpriced commercial stain removers, chemical-heavy detergents, and multiple washes.
There's always homemade stain remover for anything liquid detergent won't clean. Begin by filling your squeeze bottle with one part baking soda, three parts hydrogen peroxide, and one part Dawn dish soap.
Close the squeeze bottle, and give it a good shake to blend the ingredients well. Apply the stain remover liberally and allow it to sit for an hour before washing in cold water. Adapt this stain remover to work on various problems, including a stubborn grass stain, or to remove mud and dirt stains from white shoes or football pants and jerseys.
Coat the grass stain with white vinegar first, and allow it to sit for half an hour before treating with your DIY stain remover. This stain remover is also suitable for light and dark fabrics, but if you have any doubts, test an inconspicuous area first.
If you're only dealing with a stinky garment without obvious stains, sprinkle some baking soda over the clothing and let it sit for half an hour or so. Shake off the powder – it takes bad smells out of clothes without washing first and is a great solution in a pinch.
Get Grease Stains Off Clothes
Grease often accompanies mud. Unlike most dirt, grease and oil make a stubborn stain that requires a little finesse to eliminate completely. Before you begin, slide a towel under the stained part of the fabric to prevent stain transfer to other areas of your clothing while you work.
Begin by blotting the excess oil or grease with a paper towel until the paper towel stops absorbing new liquid. Next, you want a powerful degreaser to clean black engine oil from your clothes.
Many professional chefs swear by a spritz of WD-40 on a clean cloth. It really works; dab it on the stain and let it sit for ten minutes. Follow up with a squirt of liquid dish soap and a soft scrubbing before washing your clothes in cool water.
Clean Blood Out of Clothes
An unexpected blood stain sometimes goes with the territory, and it's definitely not the end of the world. The best way to get blood out of clothes fast is to set the affected area under cold water as soon as possible; hot water causes proteins in the blood to cling to fabric fibers.
Massage the blood stain back and forth under the water to loosen everything and get as much of the blood stain out as possible. Sponge the stain with a bit of hydrogen peroxide on a clean cloth and wash as usual.
Biological stains like blood sometimes require an enzyme cleaner to break down fully and disappear. An enzyme cleaner contains helpful enzymes that break down the lingering proteins in ways that traditional oxidizing cleaners can't.
Enzymatic cleaners are widely used in the healthcare industry and places requiring thorough sanitation. Most enzymatic cleaners are inexpensive and easy to find at local grocery stores.
Getting Rust Stains Off Clothes
We can't talk about how to clean mud off clothes without mentioning rust. You'd be surprised how easy it is to pick up a few stubborn rust stains from playground equipment or workplace gear.
Rust is a mineral-based stain that doesn't respond to traditional liquid detergent. Fortunately, we have a helpful solution for every stain-related problem.
Combine the salt, soap, and fresh lemon juice in a small dish. Mix the ingredients well to make a stain-fighting paste. Brush the paste onto the rust stain, working it into the fabric.
Let the stain sit for about three hours so the chemical reaction breaks down the iron oxide (rust), and wash as usual in warm water. You may be surprised how well this solution gets rust stains out. Never use bleach on rust stains because the chemical reaction will set the rust stain permanently.
How to Get Mud Out of Clothes with Oxygen Bleach
Boost your everyday laundry routine with a bit of oxygen bleach. Oxygen bleach cleans by releasing water when mixed with oxygen. Unlike chlorinated bleach, oxy-bleach is suitable for white and colored fabrics and is much less corrosive.
Oxygen bleach is available as a powder and works as a laundry additive or on its own as a pretreatment. The manufacturer's directions offer guidance for how to clean mud off clothes with oxygen bleach for best results. It may also be helpful to get grease out of clothes already washed. While oxygen bleach is considered safe for most fabrics, it's always best to double-check before you pre-soak.
How to Clean Mud Off Clothes with Help from Professionals
If you're wondering how to get mud out of clothes that are delicate, or have "dry clean only" directions, try specialty cleaning. Laundry isn't worth stressing yourself over, especially when trained professionals are eager to offer assistance. Your local dry cleaner has the equipment, products, and expertise to solve your stain problems.
If the expense of dry cleaning is a concern, shop around for coupons or sales in your area. Many dry clean shops offer first-time customer discounts, and it's always worth inquiring about a volume discount if you're bringing in more than a few items for service.
Sometimes helpful employees might even provide a few tips over the phone if you're struggling with stubborn stains. Don't be afraid to ask.
We hope you enjoyed our collection of tips for how to get mud out of clothes and other fabrics. Every piece of clothing has the potential to be saved; with careful attention and good old-fashioned elbow grease, you can bring muddy clothes back to life in no time. Remember, there are no hopeless cases, only a stain-based puzzle.
Remember to let the wet mud dry and then shake it off before using the washing machine. Consider an appropriate pretreatment to remove stubborn stains from fabric; some things work better against old stains, some treatments are designed for biological stains, and others require a degreaser.
Follow the stain-fighting steps outlined in this article for clean, refreshed, odor-free clothing every time; don't be afraid to jump in those mud puddles!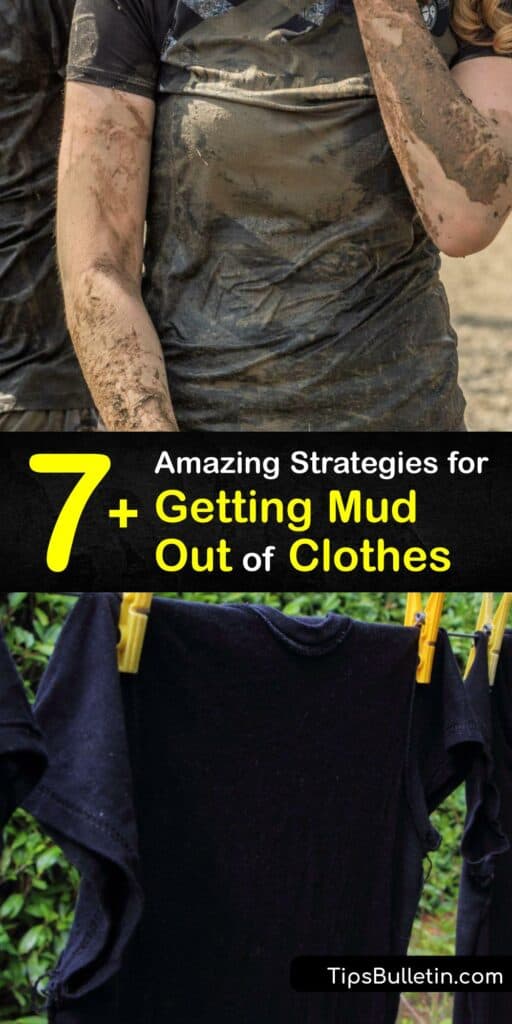 If you liked learning how to get mud out of clothes with these terrific tips, please share this article with your friends on Pinterest or Facebook who love clean laundry and stain-free clothing.