To some, a rainy Sunday means a relaxing day of cuddling under blankets, reading books, and watching movies. Nevertheless, those with pets or children may disagree since rain equals muddy footprints on the ceramic tile and rugs. Discover how to get mud out of the carpet and leave the surface stain-free.
Everyone enjoys attractive floors, whether luxury vinyl flooring or lush carpeting. Still, it's not long before those surfaces lose their original appearance, especially if they accumulate everyday dirt. It's easy to sweep or vacuum the floor to remove loose debris, yet cleaning wet mud is another matter.
While your first instinct is to clean the mud stain with a wet sponge, you may find this a mistake since it spreads the mud further over the carpet. Instead, it's always best to blot the muddy area and allow it to dry before using a cleaning solution.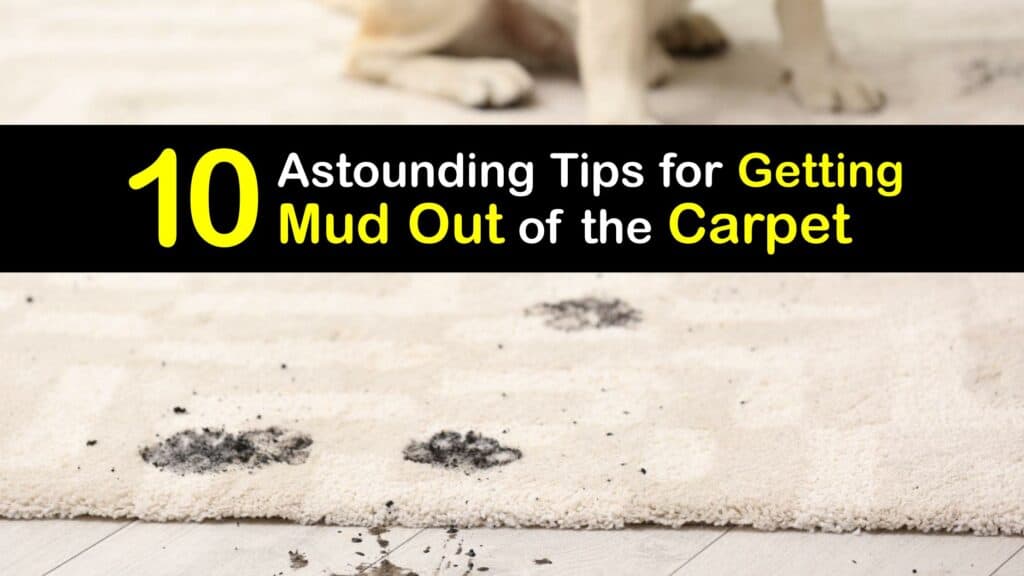 Ways to Remove Mud Stains From Carpeting
Carpet and upholstery cleaning is never any fun, but it's a necessary job if you want to keep your home tidy and ensure your rugs and furniture stand the test of time. Discover simple ways to remove wet and dried mud stains from carpeting and clean carpet manually without calling professional cleaners at a hefty expense.
Most stains can be eliminated with ingredients you already have. Get coffee out of carpet with baking soda and take care of the odor at the same time.
Blotting Wet Mud From Carpet
It's vital to carefully blot liquids and excess mud before removing mud stains from the carpet with a cleaner. Avoid this step if you have smeared mud on the carpet fiber. Learn how to remove wet mud without spreading the stain.
Wet Mud Removal
If the mud is really wet, use a clean cloth or paper towel to blot up the excess moisture gently. Avoid pressing the dirt into the carpet fibers, and only remove the top layer. Let the spot dry completely before using a carpet cleaner.
How to Remove Mud Stains From the Carpet
Removing dried mud from carpeting is more straightforward than cleaning wet mud since there is less chance of smearing. Learn how to remove mud stains from the carpet after it dries.
Once the mud dries completely, use a spoon to scrape bits of the dried mud from the carpet. Use a vacuum upholstery hose to suck up mud debris and repeat. Continue to scrape the mud with the spoon and vacuum the carpet until most of the dirt is gone.
How to Clean Mud Out of the Carpet With Soapy Water
You may find there is still mud residue after removing dry mud. Find out how to clean mud out of the carpet with soapy water. Mild soap and lukewarm water are great for gentle cleaning and are safe for most rug types.
There may be discoloration on the carpet after removing dried mud. To clean the rug, mix warm water and laundry detergent or dish soap in a container and apply it to the spot with a sponge. Clean the affected area with a small circular motion to prevent spreading the dirt outward, and pat the rug dry with white paper towels.
How to Get Mud Out of the Carpet
Try vinegar to get mud off the carpet. White vinegar is natural, versatile, and excellent for getting set-in mud stains out of the carpet. This acidic liquid breaks down a tough stain, and it's safe for use on most materials.
To lift any remaining mud residue or to get rid of mold on carpet, pour a cup of distilled water and a cup of white vinegar into a bottle and shake it well to combine. Spray the liquid over the carpet stain to saturate it and allow it to air dry. Finish by vacuuming the floor in both directions. The vinegar pulls dirt out of the fibers as it dries, and the vacuum sucks up the residue.
You can use this same remedy for removing mud stains from car seats and the floor. A shop vac is a handy tool for cleaning your car.
Using a Steam Cleaner to Get Mud Out of a Carpet
Understand how to clean mud out of the carpet with a steam cleaner. A steam cleaner is ideal for removing stubborn carpet stains, including those from mud. It uses heat and a cleaning solution to lift dirt from the fibers, leaving the rug with a clean surface.
Since steam cleaner models have specific directions, follow your cleaner's manufacturer's instructions by filling the tank with the recommended amount of distilled water and cleaner.
Use the hose attachment to clean the mud stain with overlapping passes. Clean with a front-to-back motion followed by a side-to-side pass to clean all the fibers and let the rug air dry.
Cleaning a Muddy Rug in the Washing Machine
If you find old stains on an area rug and it's machine-washable, you're lucky since your washing machine is the most helpful tool for getting rid of stubborn stains. Learn how to clean your rug in the washer to remove mud safely.
Place the dirty rug into the washer and add liquid laundry detergent. If space allows, wash the rug with a couple of towels for the best results during the spin cycle. Depending on your rug material, use the gentle or regular setting with cold water. When the machine finishes, remove the carpet, and hang it in an airy place to dry.
Removing Mud From Carpets With Isopropyl Alcohol
Practice how to remove mud stains from the carpet with alcohol. Isopropyl alcohol is another choice to get mud out of the carpet when it's persistent. This degreasing agent is the major component of rubbing alcohol and effectively removes tough stains.
Test an inconspicuous area before proceeding with this cleaning method to check for the color fastness of fluorescent dyes. If there are no signs of carpet color bleeding or discoloration, blot the stain with an alcohol-damp cloth. Give the carpeting a thorough rinse with clean water and check if any stains remain.
How to Get Red Clay Out of the Carpet
Unlike regular mud, red clay takes more effort and time to remove from carpets. While its bright color is startling on a rug, it's possible to clean with the proper stain remover.
Apply a stain remover to the dried clay stain and work the product into the fibers with an old toothbrush. Apply some liquid soap to the stain and let it sit overnight. Remove detergent residue with a damp cloth or sponge and pat the area dry with a clean rag.
Using a Commercial Cleaner to Get Mud off Carpet
Consider using a commercial carpet cleaner if you'd rather not use a home remedy to get mud stains out of the carpet. Many cleaning products on the market are reasonably straightforward and effective for removing many stain types.
Most commercial carpet cleaners come in a spray form. They are simple to apply but check the label for residue precautions before proceeding.
Follow the product instructions, and spray the cleaner over the carpet mud stain. Wait the recommended amount of time and wipe the area with a damp sponge or use a vacuum to remove residue.
Ways to Prevent Mud on the Carpet
While the occasional dirty dog print or accidental mud stain is not uncommon, there are ways to prevent mud from getting on the carpets. Follow some tips for keeping floors clean and preventing mud stains on rugs.
The simplest way to prevent mud from getting on your carpets is to make a household rule that everyone must remove footwear before entering the home. Door mats are helpful for wiping feet to remove mud, dirt, and debris if you leave shoes on.
On the other hand, pets usually don't wear shoes and don't understand the concept of wiping their paws. If you have a dog needing to go outside during wet weather, consider keeping them in a gated room with a hard surface floor until its paws dry. Vacuum and clean the carpets regularly to remove loose dirt and clean mud stains as soon as they dry.
Carpet stains from stubborn spills and muddy feet are the worst, especially if you have light-colored carpeting. While it takes patience, complete dirt removal is possible with the proper cleaner. There are a few spot removal solutions to try before you rearrange your furniture to cover the stained area.
Now that you've learned how to get mud out of the carpet correctly, why not share our muddy carpet cleaning techniques with your friends and family on Pinterest and Facebook?