Basements, especially unfinished ones, are cast in imaginations as dark, cold, sometimes scary places. However, this is often not an accurate representation of how a basement is or should be. Even finished basements may present problems where you might want to know how to get musty smell out of the basement.
There are many different reasons why a musty basement smell might develop. Often, this is an indicator that mold or mildew is present and causing the smell. The good thing is that there are many different ways to remove the mold smell in basement. We have made a guide to walk you through every solution you may need to eliminate the odors.
A damp basement smell does not always mean mold growth, but extra moisture that creates the smell functions as an early indicator. Follow these methods to check vulnerable areas and learn how to remove musty smell from basement.
How to Remove Musty Smell from Basement
Basements were initially used as cold cellars as places to store perishable goods. The area dug out under the house stayed cool during summer and regulated during the freezing weather.
Now, basements have become part of the home, with rooms and perhaps even a living space under the main square footage. Having mold or mildew problems demands to be dealt with quickly to save the space you have, especially if someone lives down there.
How to Get Musty Smell Out of the Basement
Having a mildew smell in the basement is particularly unpleasant if someone is living in it. The first process shows you where to check for sources of the smell that may require fixing or cleaning.
From there, we have several cleaning recipes and techniques to work toward basement odor elimination. Some work may need to be done to the basement, but we have got you covered.
Check the Foundation
The foundation walls of a basement should be checked out first when attempting to discover the source of the basement odors. Keep an eye out for exposed pipes that may run along the basement walls or ceiling.
Sometimes, these may "sweat" when the temperature on the outside is different from the pipe's temperature. This excess moisture starts to drip onto the basement floors and causes mold or mildew growth underneath.
If left on the walls or floors, the mold build-up stains, discoloring the surface beneath and causing rot or degradation. During specific seasons of the year, such as when the ground defrosts, there is continuous dampness in the soil.
If the walls aren't correctly sealed or waterproofed, water may seep through and allow mold spores to find breeding grounds in the walls. If you discover this happening in your home, you may want to hire someone for waterproofing your basement walls.
Check for Pipe Leaks Causing Mold Smell in Basement
It is essential to be aware of the difference between musty odors that don't belong in the basement-smell and a sewer gas smell in house. Musty smells in the basement air are caused by mold growth, water damage, or high humidity levels.
Sewer gas distinctively smells like sewage and permeates through to affect all of the house smells. The solutions to fix these two problems are different.
Areas to check for leaks include pipes that are more than just a buildup of moisture, but a dripping or more substantial leak in the pipe. Check for signs of water damage on the ceiling or floor of the basement for indicators.
Look for Seasonally Wet Areas
Go back to the walls and the floor of the basement to check for water leaks. Focus on areas close to downspouts located outside of the house or where air conditioning units sweat.
If they are not properly connected or if the air conditioner is overworked, moisture may break down cement walls after a while or come up through the floor during flooding seasons.
Use Vinegar to Eliminate Mold
Once leaks have been found and dealt with, there may be black mold to eliminate. White vinegar is an excellent cleaning ingredient for removing mold from basement walls and anywhere else you may find the unwanted fungus.
Undiluted vinegar takes care of around 80% of mold spores, making it highly effective after a couple of uses. It is also safer to use than bleach.
Open the basement windows to increase air circulation by letting in the fresh air. Turning on a fan is also helpful.
Fill the spray bottle with the undiluted white vinegar, a natural mildew killer. Thoroughly mist all of the areas that contain mold, or are suspect.
Leave the vinegar to dry if the smell doesn't bother you. If it needs to be washed off, let it dry and wipe it with a cloth dampened with hot water. Use this remedy as one way to clean mold off a drywall ceiling. It also works well on a popcorn ceiling.
Mix Up a Borax Solution
Borax is a powder, much like baking soda. It is a useful cleaner in the basement and a helpful tip when learning how to get rid of musty smells. Using this powdered cleaner is one way to make the basement smell better while getting rid of unhealthy mold spores at the same time.
Borax works exceptionally well when used on cement walls, cleaning mold from cracks. It also helps to inhibit future mold growth.
Gloves are essential when using anything to clean mold. If you are stirring things up, the situation requires that you also wear a mask. Mold presents a danger to the lungs, often causing violent allergic reactions or sickness.
Boil a gallon of water on the stove. Once the water has started boiling, turn off the burner and stir in the Borax until it dissolves. When the mixture is cool enough, pour it into a spray bottle and any remainder into a bucket.
Spray the affected areas and those around them lightly with the Borax mixture. Let it sit for about five minutes to stop any mold spores from spreading as you begin to wash.
Dip the sponge into the bucket and wash the walls thoroughly. Make sure to wring the sponge out before application to avoid soaking the walls, adding more moisture for future mold growth. Turn on a fan or a heating fixture to help the area dry quickly.
The next day, there will be dried Borax on the walls and floor. Sweep it off the ground, but leave it on the walls if it doesn't bother you. It inhibits future mold growth if it stays there.
This Borax solution can be used in other areas of the home to eliminate mold, too. Use it to kill black mold in the shower or the bathtub.
Remove Problem Causers
Another step toward mold remediation is to get rid of things, at least temporarily, that may be adding to the problem. For example, if you keep a lot of clothes or carpeting in the basement, move them out for the time being. If you don't, these become mold focus areas.
Cloth items soak up moisture instead of letting it sit on top, such as with cement. This gives mold and mildew spores new, comfortable places to grow. Until the problem is solved, removing such items offsets the potential of having to throw them out.
Replace Drywall
Replacing the drywall in a basement is only necessary if you have found extensive mold growth. Try and locate smaller areas to replace instead of all of it, if possible.
When taking out moldy drywall, wear masks and protective clothing to keep mold spores from getting into your lungs or causing allergic reactions on your skin.
Seal Off the Crawl Space
Some basements have crawl spaces in them. These are small areas that may appear as a hole in the wall, leading into the dirt under a particular part of the home.
Since they usually are not sealed off, any moisture that comes from frost melting during the spring or gutter leaks permeates through the layers of soil and down into this space.
You have a couple of options if your crawl space is part of the problem leading to the musty smell. You may waterproof the crawl space to keep moisture from collecting right next to the basement walls.
Consider sealing off the crawl space as well. Depending on the entrance size, this is quite simple as long as the walls are waterproofed around the entryway.
Sealing off the crawl space doesn't mean restricting access to the space. It might be as simple as putting a smaller door into the area. Doing this stops moisture in the air from raising the humidity levels in the basement, becoming a harbor for mold.
Vinegar Cleans the Air
Vinegar isn't only useful for mold removal. Use white vinegar to soak up smells, acting as an odor eliminator.
Depending on the size of your bowls, disperse the vinegar evenly among them. Place bowls around the room, separating them equally.
They help to disperse the odors collected in the air to give you a fresh smelling basement once again. This solution only lasts if any leaks have been repaired and mold has been removed.
Cat Litter to Clean the Air
The producers of cat litter make it especially to eliminate odors from strong-smelling sources. It has a high capacity for absorbing scents and may be used like vinegar to clean the air.
Place a cup of cat litter in multiple containers, spread throughout the basement. Change the litter out at least once a week, or a couple of times if the smell is potent, to successfully get rid of remaining odors.
Clean the Air with Baking Soda
Baking soda may be used to clean almost anything. This is also true when trying to clean moldy smells out of a basement. Similar to the way that cat litter functions, it absorbs overpowering smells, pulling them out of the air.
Do the same thing with the baking soda that you did with the cat litter. Pour a couple of inches of baking soda into the bottom of the containers and set them out to soak up the scents. Change them out intermittently until all of the adverse smells in the air are gone.
If you keep your cat's litter box in the basement, use some baking soda for getting rid of cat litter smell by sprinkling it over the used litter and mixing it in. It's a great way to handle this problem until you can complete a thorough litter box cleaning.
Absorb Moisture with Baking Soda
Baking soda is helpful in many other ways due to its absorbent properties. If you can't remove carpeting without ripping and ruining it, baking soda in the carpets absorbs unwanted moisture and makes them a less likely area to harbor spores.
Walk around the carpeted area, slowly sprinkling baking soda back and forth. Leave it for at least a day, allowing it to soak up most of the moisture in the carpeting. Afterward, use a vacuum to suck it all up and the unwanted dampness with it.
Dry It Out
If the musty smell is all there is, you won't need to learn how to remove mold, only how to get musty smell out of the basement. However, this is not a long-term solution if the problem persists.
Start by opening up any windows there are in the basement. This helps to get fresh air in, although it is not useful if it is very humid outside.
Set a fan up at the top of the stairs, as well as several around the basement, if there are outlets available. Let them run for multiple days to thoroughly dry the entire space. This is an especially useful routine if there has been flooding recently.
Put in a Sump Pump
If your basement doesn't already have a sump pump, installing one is an excellent option to consider. A sump pump helps to siphon out rising water that comes up through the ground.
Without a sump pump, water seeps through the floor or around it to any softer spots in the wall. With a sump pump, you don't have to worry about the best way to clean a moldy basement floor, either.
Use a Dehumidifier
Figuring out how to get musty smell out of the basement may be as simple as setting up a dehumidifier in the basement. You can change the settings on many of these nowadays, turning it to control the percentage of humidity found in the air.
Turn the dehumidifier so that there is only 60% or less humidity in the air. This stops too much moisture buildup from forming and harboring mold spores. It also takes the heaviness out of the air, quickly making it feel fresher inside.
A dehumidifier is also a great way to get rid of spider crickets and other bugs that tend to like dark, damp spaces.
There are many possible solutions to eliminating musty smells, from big to small, that depend mainly on the actual problem causing the odor. Figuring out the main problem will help you quickly find the appropriate solution for how to get musty smell out of the basement.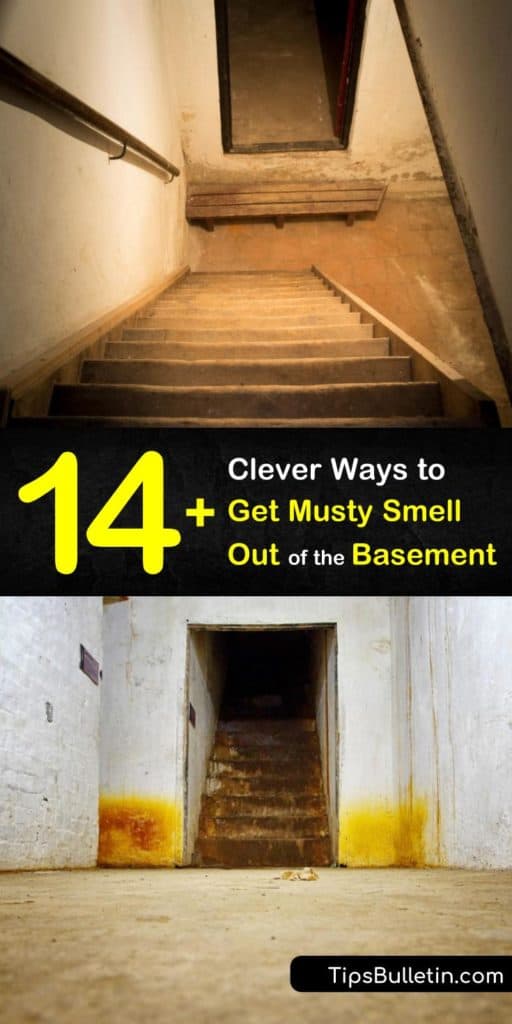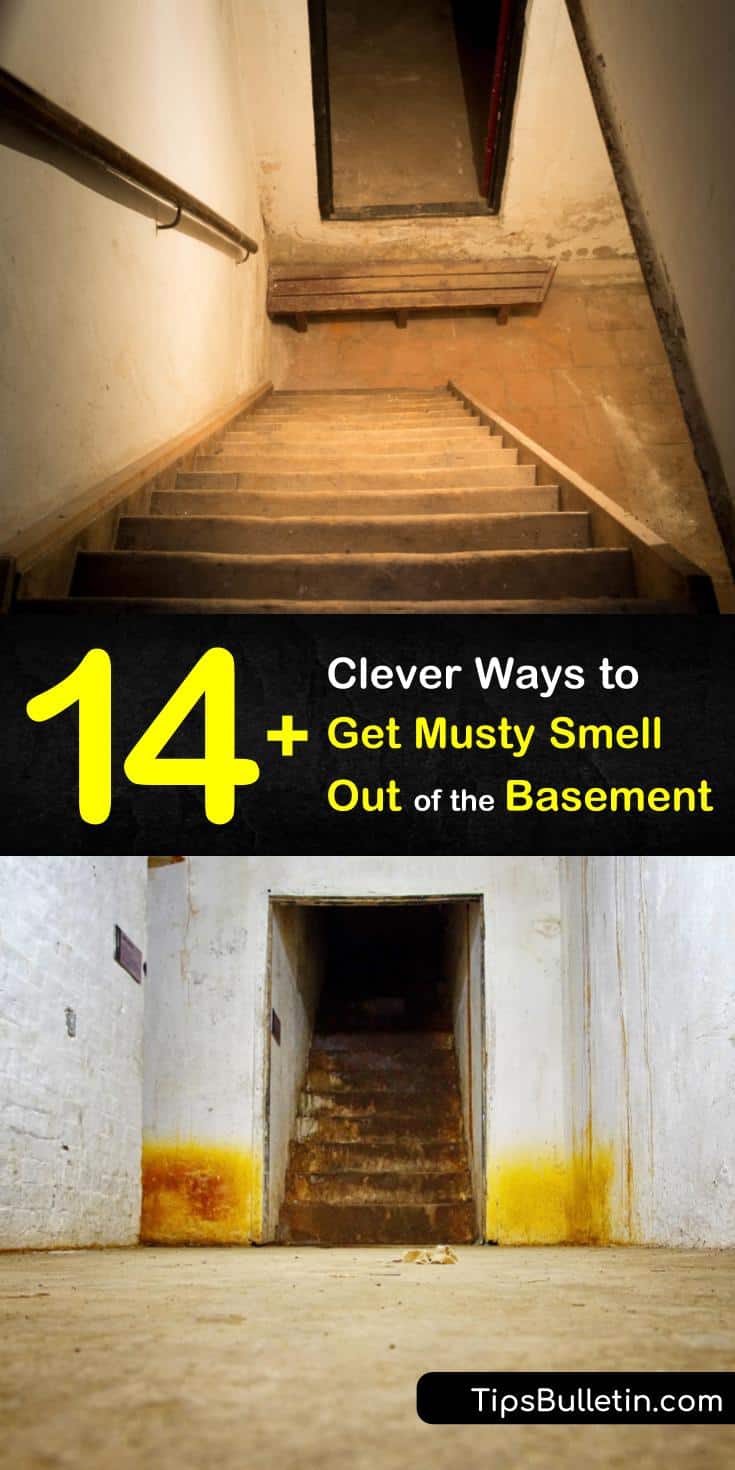 We hope you found useful measures to take in your own home with the collection of all these tips and tricks for eliminating basement odors. If you found good ideas on getting musty smells out of your basement, please share our post about getting rid of these dank odors on Facebook or Pinterest.