Acrylic nails are all the rage, with their varying sizes, shapes, and nail polish colors. While fake nails are an easy way to make your nails look stunning, accidentally getting a glue stain on your favorite shirt or pants is disconcerting. Learn how to get nail glue out of clothes without damaging the fabric and keep them from ending up in the trash.
Nothing is more troublesome than getting Crazy Glue, Gorilla Glue, or nail glue on clothes, especially if it's delicate fabric. The dried glue stubbornly sticks to the material, and even if you remove the glue glob, the fabric still has a glue residue stain.
Warm soapy water often removes some glues like wood glue or hot glue, but it's not always effective at removing a nail or super glue stain. It's essential to use the proper glue removal techniques and stain removers for the job.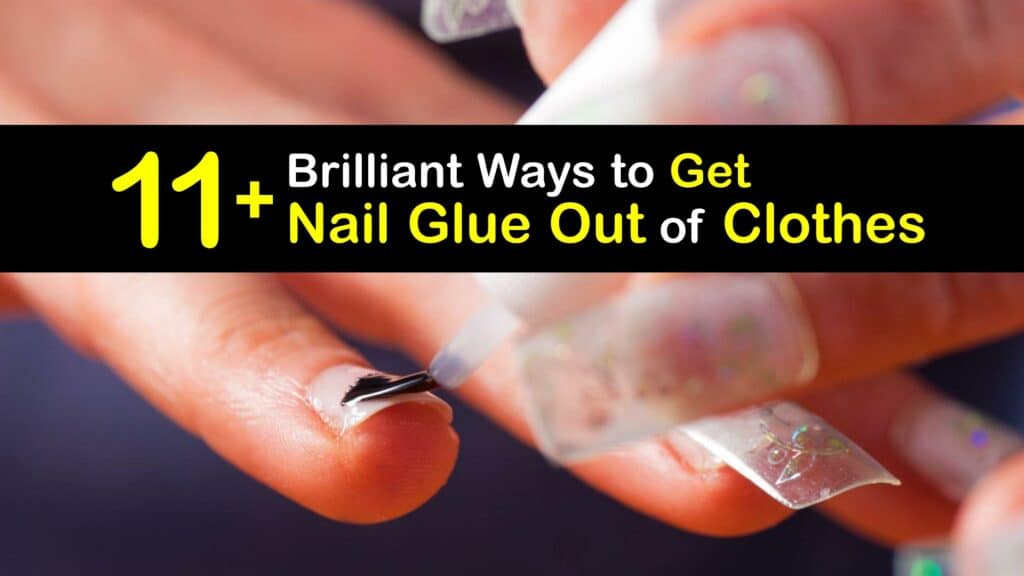 Easy Ways I Get Nail Glue Out of My Clothes
We've all been there – you finish applying artificial nails and smile as you admire them when you notice glue stains on your skin and clothes. Not to worry, discover ways to get hair glue out of clothes with simple and effective adhesive remover solutions.
Does Nail Glue Come Out of My Clothes?
Water-soluble glue, like school glue, dissolves with water and soap, but super glue and nail glue are stronger adhesives. Does nail glue come out of clothes, or is it permanent?
Nail Glue
While nail glue bonds a fake nail to your existing fingernail, it is a water-based adhesive and possible to remove with the proper cleaner. However, it's vital to remove it carefully to prevent damage to the fabric. It's best to wait until the glue dries to avoid smearing the adhesive deeper into the fibers.
My First Step to Remove Nail Glue From Clothes
The easiest way to remove glue is to allow it to dry first to prevent spreading and worsening the stain. Explore how to remove nail glue from clothes by scraping away the dried glue bits from the fabric.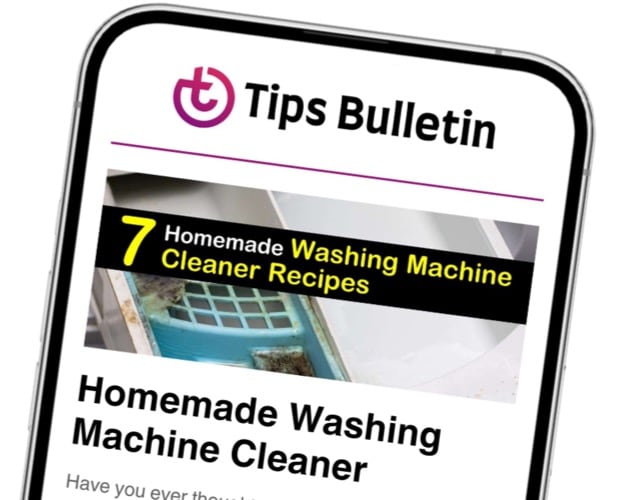 Finally, an email that Transforms Your Home.
Get the latest home and garden tips from our experts, delivered straight to your inbox.
Lay your garment flat and use a butter knife and toothbrush to remove a dried glob of glue. Use the knife's edge to gently chip away the hardened glue and the brush to agitate the adhesive while working it off the material. Avoid this step if your clothes are made of delicate fabrics like silk or lace.
How I Remove Nail Glue From My Clothes With Acetone
Many nail polish removers contain acetone, a liquid solvent that breaks down and dissolves substances like nail polish and adhesive. Learn how to remove nail glue from clothes or get fingernail polish out of your fabric couch or sofa with an acetone-based fingernail polish remover.
Lay the clothing on the table with the glue stain facing up and place a hand towel between the fabric's top and bottom layers. Get a cotton ball damp with nail polish remover and rub it over the affected area of your clothes. Continue rubbing the spot for a few minutes, dissolving the glue layer until it's gone.
How I Get Nail Glue Out of My Clothes With Soapy Water
Try soapy water if glue residue remains after removing dried super glue or nail glue. The warm water dissolves the adhesive, and the soap cleans it out of the fabric. Here is how to get nail glue off clothes by hand washing.
Hold the clothing beneath cold, running water to flush away residue, and wring out the fabric. Apply a tiny bit of detergent to the stain and use your fingers to work it into a lather. Once you no longer feel the stiffness of the glue on the fabric, rinse the material with warm water until it runs clear.
Using a Stain Remover to Remove Nail Glue From My Fabric
Does nail glue come out of clothes after it sets? Yes, it does, but it may take extra effort to clean the material. Use a stain remover to treat the fabric and remove glue stains.
Easy Glue Stain Removal
There are various stain removal products on the market, including sprays, pens, and wipes. However, avoid purchasing one that contains bleach if you're treating a colored garment.
Follow the instructions for your stain remover brand, and apply it to the glue as directed. Most products recommend letting the stain soak for about five minutes before washing.
How I Use White Vinegar to Remove Nail Glue Stains
White vinegar is acidic, dissolving many sticky materials, including nail glue. It's safe to use on clothes, and you probably have a jug in your kitchen. Clean a glue stain off the fabric with vinegar.
Set your clothes on a flat surface and apply vinegar to the affected area with a cotton ball, whether removing label glue from clothing or getting a nail glue stain off the material. Rub the liquid into the glue stain and let it sit for a few minutes before using a credit card edge to pry the adhesive from the fabric. Rub with more vinegar and rinse the material with running water.
Getting Nail Glue Off My Clothes With Rubbing Alcohol
Try rubbing alcohol to get nail glue off your clothes. Rubbing alcohol is a combination of water and isopropyl alcohol. Although it's common as a chemical disinfectant, it works wonders for removing sticky substances.
Place your garment on a towel with the glue spot facing upward and rub some rubbing alcohol on the stain with a cotton swab until it's damp. Next, use an old toothbrush to gently scrub the dissolved glue away from the surface. Repeat the steps until the nail glue is gone, and rinse the clothes beneath running water.
Does Petroleum Jelly Remove Nail Glue From My Clothes?
Petroleum jelly helps to soften adhesives like Krazy Glue, fabric glue, and nail glue, making it easier to break the glue bond from the clothing. Use Vaseline to remove glue from clothes.
Lay your clothing on a clean surface and apply a generous amount of petroleum jelly to the stain. Let it sit overnight as the Vaseline loosens the glue's bond, and use a plastic card to pry the adhesive away from the fabric the following day.
Using a Clothing Iron to Get Nail Glue Off My Fabric
Consider using heat for really stubborn glue stains. If your clothing item is safe to iron, use a clothes iron to transfer the nail glue from the stained item to a clean rag or scrap of fabric.
Place your clothing item on an ironing board and position a clean rag over the glue spot. Heat your iron to the appropriate heat setting for your fabric and run the iron over the cloth. Lift the rag and see if the glue transferred from your clothes. If there is still adhesive on the fabric, remove the rag, replace it with a clean one, and repeat the process.
Using a Commercial Adhesive Remover to Get Nail Glue Off My Clothes
Goo Gone is one of the safest adhesive removers for clothing. Get nail glue off the fabric with this super glue remover.
Spread the affected clothes to expose the glue stain and place a paper towel or cloth between the fabric. Apply Goo Gone to the glue stain and let it sit for five to ten minutes as it breaks down the adhesive. Blot the stain with a cloth, clean the area with soapy water, and rinse until the water runs clear.
Washing My Clothes to Remove Nail Glue
The final step in removing nail glue from clothing is to clean it in the washing machine. Check the care tag to ensure they're machine-washable before tossing them in the washer.
Put the stained clothes in the washing machine, and add your preferred laundry detergent. Use the normal warm cycle for synthetic fabric and the gentle cycle for delicate materials, and check the fabric for remaining stains when the washer stops.
Preventing Getting Nail Glue on My Clothing
While you may think you are careful when applying fake nails, accidents still happen. Follow some tips to ensure that your work surface and clothing remain clean and stain-free while doing your nails.
Glue Stain Prevention
Always prepare a clean workstation when applying fake nails, and ensure you have plenty of room to avoid accidental glue spills. Consider wearing an apron or smock over your clothing to prevent getting the glue on your shirt or pants, and roll up your sleeves or wear a T-shirt. If you get adhesive on your clothes, remove and set them aside to dry.
While getting nail glue on your favorite shirt seems like you've ruined the item, there are ways to save your clothes from ending up in the trash. You may need a bit of warm water and detergent or something a little more substantial, like rubbing alcohol or acetone, depending on the severity of the stain.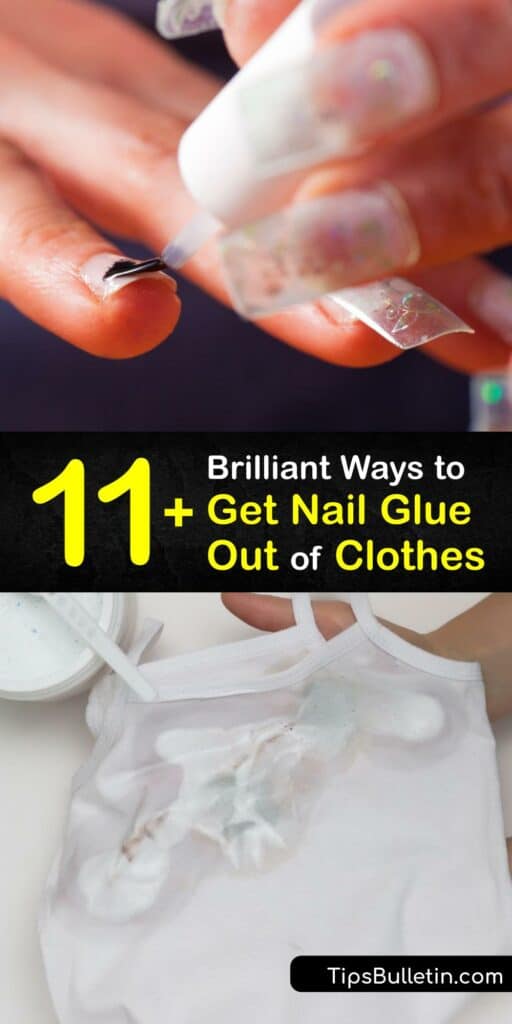 Now that you know how to get nail glue out of clothes so that nail application is worry-free, why not share our nail glue fabric cleaners and removal techniques with your family and friends on Pinterest and Facebook?