When it is time to repaint your walls, some of the paint may make its way onto your carpeting. Do not worry if you experience a paint spill, as there are several carpet cleaning solutions. Learning how to get oil based paint out of carpet is quick when you utilize suitable solvents.
Using the right products is essential to the cleaning process, but how you use the cleaners is just as important. For example, instead of scrubbing the affected area, blotting treats the paint stain more effectively and prevents permanent staining.
You do not need expensive cleaning products to remove oil-based paint from carpet. Many common household cleaners also act as a paint spill remover.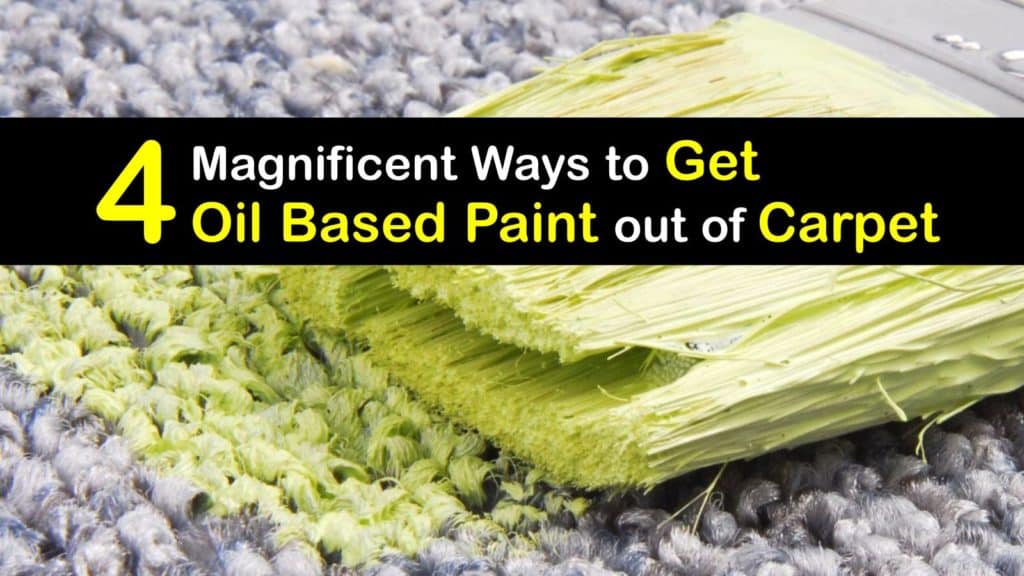 Various Types of Paint
Items like rubbing alcohol, nail polish remover, and turpentine are excellent for removing all types of paint from carpet fibers. This article shows you how to remove dried oil based paint from carpet with easy-to-find, inexpensive stain removal solvents.
Two different kinds of paint are popular for home improvement projects. Acrylic paint is water-based and requires less effort to eliminate a stain. Getting acrylic paint out of carpet usually only takes soap and water.
Latex paint, also called oil paint, is oil-based, making it a little more challenging to remove from carpeting.
To remove oil based paint from carpet or to remove paint stains from clothes, it is best to implement a cleaning solution right away. Dried paint is more difficult to remove because it settles into the carpet fibers.
How to Get Oil Based Paint out of Carpet with a Specialized Cleaner
It's fine to wash carpet at home by hand but a carpet cleaner is specially designed to clean oil paint from carpet. Carpet cleaners act like Goo Gone does for adhesives or dishwashing detergent for greasy dishware.
When using a carpet detergent solution for oil paint spills, ensure you use cold water and not hot water. Warm water does not eliminate stains as quickly as cold water.
For one way to remove spray paint stains from carpet or another type of paint, firmly dab the stained area with a cloth dampened in the paint thinner of your choice. The same applies to removing oil paint from clothing and other materials like cloth furniture.
Continue blotting for two minutes to loosen the paint spill. Using a sponge soaked in cold water, blot the area to remove excess paint and let the affected area air dry.
This solution is particularly effective when you need to remove dried latex paint, too.
Remove Oil Based Paint from Carpet with Turpentine
Turpentine is an excellent solution to clean oil paint out of carpeting, as well as to clean dried oil paint brushes. The ingredients in turpentine break up paint, allowing you to remove dried oil based paint from carpet with ease. To ensure no discoloration in your carpet, do a small spot test first.
Dab a clean cloth in a generous amount of turpentine and blot the affected area. Continuously blot the stain until all the paint lifts from the carpet fibers.
Clean the excess turpentine from the carpet with cold water and a tiny amount of dish soap. Learning how to get oil based paint out of carpet when you have turpentine and dish soap is a breeze.
Remove Dried Oil Based Paint from Carpet with Rubbing Alcohol
If you have dry paint on your carpeting or need to remove lipstick stains from clothes or carpet at home, use rubbing alcohol to eliminate the stain.
Pick at the dried paint stain with a pair of pliers or a putty knife before using rubbing alcohol to remove dried oil based paint from carpet. To remove the dry paint chips, use a dry vacuum.
Blot the affected area with a single piece of paper towel soaked in rubbing alcohol for a couple of minutes. Immediately after applying rubbing alcohol, dab the paint stain with a clean cloth soaked in cold water.
How to Remove a Paint Stain with Acetone
Another familiar household solvent you can use to remove oil based paint from carpet or get paint out of shoes is nail polish remover with acetone.
Acetone loosens paint from carpet fibers, making it effortless to clean. We recommend using nail polish remover to avoid potential carpet discoloration.
Mix three parts cold water with one part nail polish remover in a plastic spray bottle and shake the liquid gently.
Completely cover the paint stain with the solvent and blot with a clean cloth. Once most of the paint is removed, dab the area with a paper towel soaked in cold water.
A paint spill is not the end of the world, even if it gets on tricky surfaces like carpeting. Using cleaners like acetone, dish soap, or rubbing alcohol removes oil-based paint from carpet without using too much effort.
To prevent permanent paint stains on your carpeting, make sure you blot the affected area and avoid scrubbing.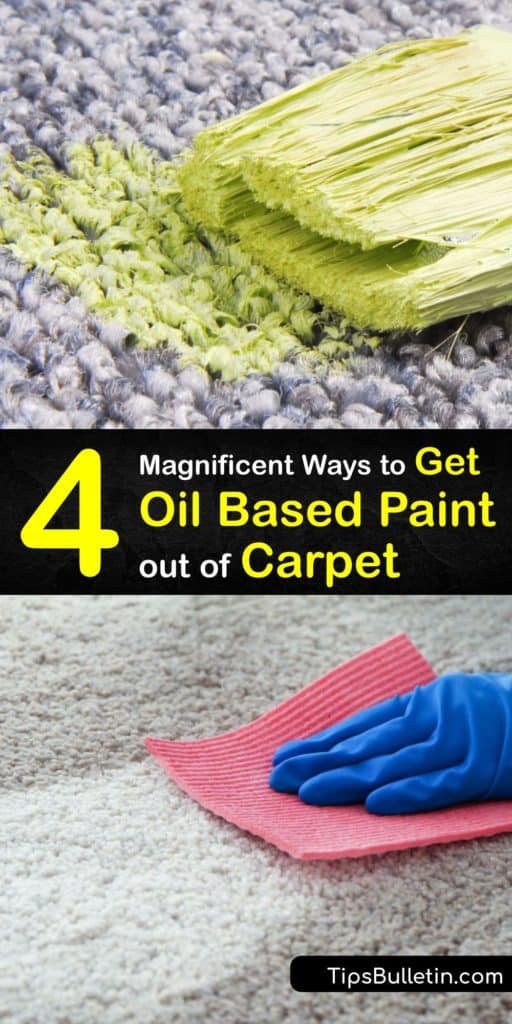 If you found out how to get oil based paint out of carpet, share this article with stain removing tricks with your roommates and family on Pinterest or Facebook.