Discover how to get oil paint out of clothes and confidently use your arts and crafts products. Though paints come in many brilliant colors and are used to create artistic masterpieces, they can be messy and unclean when they spill and splatter on clothes and shoes.
Knowing how to remove oil based paint from clothes is necessary so you can enjoy art activities without compromising your style. So, does oil paint come out of clothes? Anyone who works with oil-based paints will be glad to learn they wash out of clothes without leaving behind any lasting discoloration, though a specific approach is necessary.
A regular wash cycle isn't enough to remove the heavily pigmented paint. While there are expensive commercial products specifically designed to remove paint from clothes, household items like distilled white vinegar, dish soap, and nail polish remover accomplish the same results for a fraction of the cost.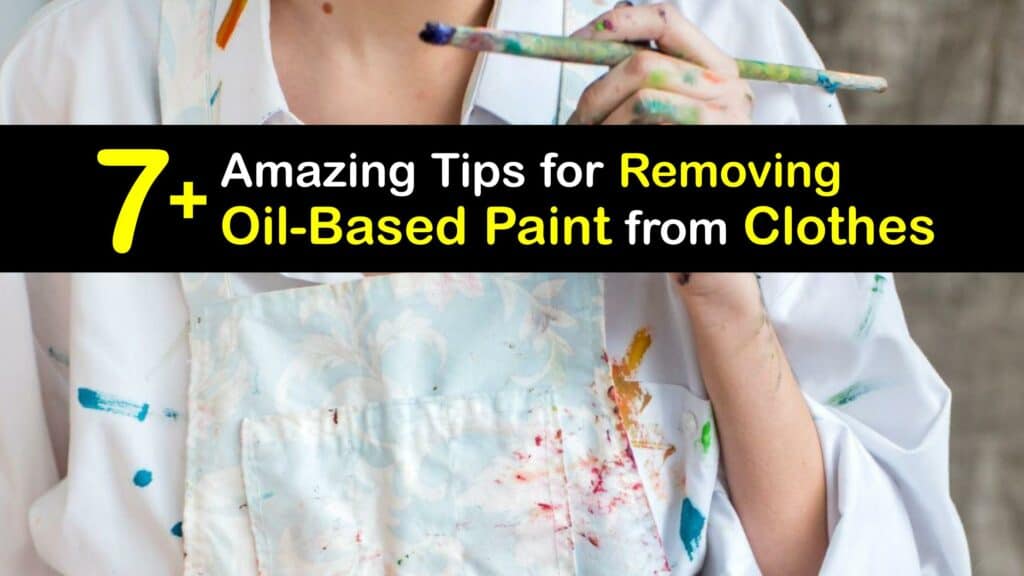 How to Remove Oil Based Paint from Clothes
Save a trip to a store and use things you have at home to get the oil paint out of your clothes and keep your apparel looking clean and sharp. Explore how to get oil paint out of clothes to ensure you have options next time you want to clean up a spill. Paint is a valuable and versatile substance, yet it's prone to spills, splashes, and splatters.
A glob of paint on your favorite shirt leaves you wondering, does oil paint come out of clothes? Luckily, the answer is yes, and the process doesn't have to be headache-inducing.
Paint stains are messy and unsightly. Select products you already have and get paint out of leather clothes to keep your apparel looking amazing. Turn to budget-friendly items like nail polish remover, laundry detergent, and duct tape to lift the paint from your clothing without harming it.
Does Oil Paint Come Out of Clothes?
An oil based paint stain may seem like a disaster for your favorite shirt or jacket. Paint is heavily pigmented and designed to last, so it's no surprise all kinds of paint and many art supplies are considered challenging stains. Some paint comes in liquid form and dries during contact with the air to form a hard, richly colored stain.
Whatever paint you're dealing with, don't throw out your clothing after getting paint splatter on them. Wipe up most of the excess paint with a paper towel or an old rag, and rinse immediately with warm water to reduce the dry paint you have to remove from your clothing later.
Choose a home remedy to eliminate dried acrylic paint or oil paint from your clothes using supplies you already have.
How to Get Oil Paint Out of Clothes with Nail Polish Remover
Like paint, nail polish goes on wet and dries to become solid and difficult to remove. Acetone in nail polish remover breaks down dried nail polish to wipe away, and it works similarly on dried paint. Nail polish remover is budget-friendly and readily available but acetone can bleach clothes of some kinds. Check the care label before treatment.
Generously apply nail polish remover to a cotton ball or clean cloth and rub it back and forth over the paint mark on your clothes.
Note that acetone has a strong chemical smell and comes with some safety warnings, but it takes latex paint out of clothes as well as oil paints. Follow the directions carefully for using acetone, and only open the bottle in a well-ventilated room or outside. Scrub the paint until it's removed, and wash your clothes in the machine.
Use White Vinegar for Removing Oil Paint from Clothing
Distilled white vinegar is a famous stain remover, sanitizer, and deodorizer. It eliminates stubborn oil paint stains from clothing, too. White vinegar contains naturally occurring acetic acid, which severs the solid chemical bonds in hardened paint. White vinegar makes the color simple to wash away.
Shake the vinegar solution in the sprayer and apply it liberally to the stained area to get oil stains out. After 20 minutes, put your apparel in the washing machine and launder as instructed. If the paint stain remains, re-treat with the distilled white vinegar and wash again.
Get Paint Primer Out of Clothes with Concentrated Laundry Detergent
When you get an oil paint stain on your clothes, your first instinct is probably to throw them in the washing machine.
If you try washing your oil paint-stained garments on a regular wash cycle, you will likely be disappointed. Thankfully, there is a way to use laundry detergent to remove paint or wash spray paint off clothes, though it requires a more concentrated approach.
When you add detergent to your washing machine, it's diluted with lots of water and loses much of its cleaning strength. Apply liquid laundry detergent directly to the paint stain and use a clothes brush to scrub it in, focusing on moving back and forth over the dried paint so the bristles take the detergent deep into the blemish.
Let the detergent rest on the fabric for about half an hour, rinse, and wash it in the machine to remove the paint.
Get Oil Based Paint Off Clothes with Paint Thinner
Paint thinners are an obvious solution for unwanted paint spills, as they are often used as an oil based paint brush cleaner. Chemicals like turpentine efficiently cut the bonds in dried paint to dissolve and take it off an array of surfaces. While paint thinner is practical and easy to use, it carries a strong smell, is dangerous when ingested or poured on the skin, and may wear some material.
Always use turpentine per the label directions and take the advised safety precautions. Since paint thinners are caustic and harsh, use a tiny amount of the liquid on a hidden part of your clothes first to check for any adverse effects before you use it in a more visible location.
Use Dish Soap to
Get Oil Based Paint Out of Clothing
Dish soap removes tough stains like grease and food residue and leaves cookware sparkling clean. This tenacious cleaning ability makes it an intelligent choice to remove oil based paint from your clothing and other fabric items, as well as removing coconut oil from clothes and other greasy substances.
Mix a few drops of dish soap in a small amount of water and scrub the dried paint stain with a soft brush or a clean cloth. Rub back and forth, working to loosen the paint from the fabric. Rinse the paint and soapy water with cold water, and repeat until all unwanted pigment is eliminated.
Try Duct Tape for Removing Paint
If you've used duct tape to mask corners while painting the walls of your house, you may be familiar with its paint removal properties. Duct tape is inexpensive and available at most hardware and home stores. The strong adhesive on the tape bonds tightly to paint, whether you are getting dried paint out of denim, carpet, or the sofa.
Cut a piece of duct tape to size and press it firmly over the dried paint, rubbing the back of the tape to help the adhesive stick. Peel up the tape, bringing the paint with it. If paint residue remains, add another piece of tape, and repeat until all signs of the discoloration are gone.
Remove an Oil Paint Stain at Home with a Butter Knife
If your wet paint spot is already dry, grab a butter knife from the kitchen. This technique works well on clothes and hard surfaces like tabletops or floors and is only appropriate for dried acrylic paint or oil paint.
Spread the material on a flat surface and hold it in place. Use the dull knife to chip away the paint gently. If you observe damage to the fabric or cannot safely loosen the dried paint, stop and try a different idea. This idea is ideal for removing the worst of a stain when you're away from home.
If you are interested in art, it's crucial to know how to remove oil based paint from clothes. Despite precautions, paint stains clothes and skin, and if not removed, it looks unsightly and messy.
The rich pigments in dried paint make it daunting to clean, yet eliminating paint from your clothes and other fabric is easier with the right cleaner and tools. Whether you're at home or not, once you know which cleaners destroy the bonds in paint, it's straightforward to get the spill cleaned.
Skip toxic chemical cleaners sold in stores and use items like a butter knife, duct tape, dish soap, or white vinegar to take care of the worst oil based paint stains and restore your clothes to their former splendor.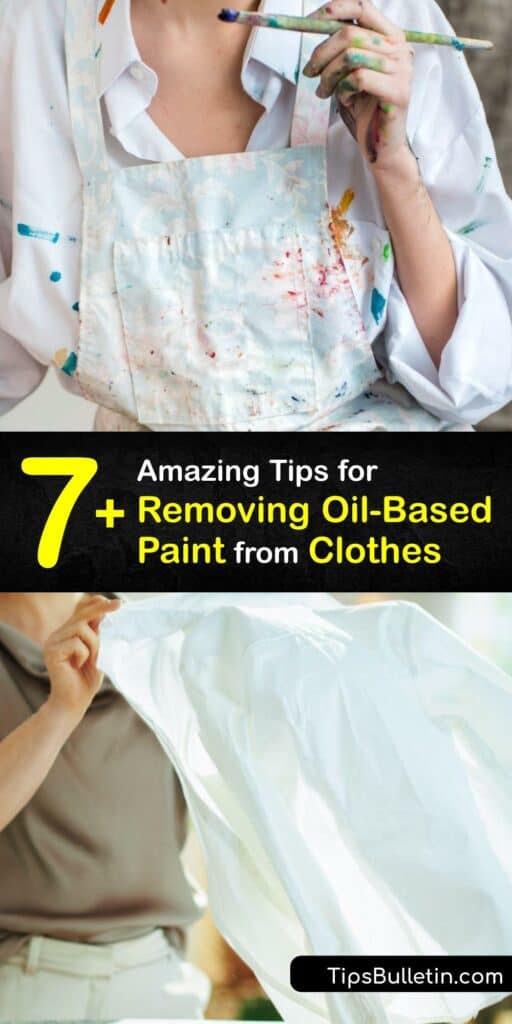 If you loved this article on how to get oil paint out of clothes, please share this brilliant information on how to remove oil based paint from clothes with your friends and family on Pinterest and Facebook.