Removing orange juice stains from clothes is simple and inexpensive.
I blot the stain with a clean cloth to absorb as much juice as possible.
I mix warm water, laundry detergent, and white vinegar to treat the stain.
I soak my clothes in this solution for 15 minutes to break down the stain.
I rinse the garment and wash it with high-quality detergent in the washing machine.
If the stain persists, I apply a mix of dish soap and water and scrub gently before washing again.
To remove an orange juice stain, I start by blotting the excess juice with a clean cloth; pressing down helps to soak up the liquid without spreading the stain. Then, I prepare a mixture of warm water, half a teaspoon of laundry detergent, and one tablespoon of white vinegar. I find that this solution works wonders for loosening the stain's grip on the fabric.
I submerge the stained clothing in the solution and let it sit for about 15 minutes before rinsing well. Finally, I wash the item with a good detergent to remove any last traces. If the stain remains, I mix some mild dish soap with water, use an old toothbrush to scrub the area, and then give it another wash. This method is efficient, cost-effective, and can save your clothes from stubborn stains!
If you enjoy orange juice's bright, citrusy flavor, you've no doubt had an accidental spill happen before. Because of the fruit juice's color, it may seem that an orange juice stain means the end for any light-colored clothing spills. To restore the appearance of fabrics with orange fruit stains, continue reading for tips on how to get orange juice out of clothes.
Does orange juice stain clothes? The cleaning job that follows an orange juice stain depends on the type of juice spilled. Fresh orange juice does not leave much of a stain, but the real issue with spilling fresh juice is the acid in citrus fruits. Although not as acidic as lemon juice, spilled orange juice acts as a bleaching agent if left on clothes and is exposed to direct sunlight.
Orange juice concentrates, or orange-flavored fruit juices, are more likely to leave an orange stain on your clothes than fresh juice. Most fruit juice stains come from artificial dyes used to recreate the natural color of the juice. If you've spilled dark juice and struggled to get berry stains out, what you try to remove is not always natural coloring.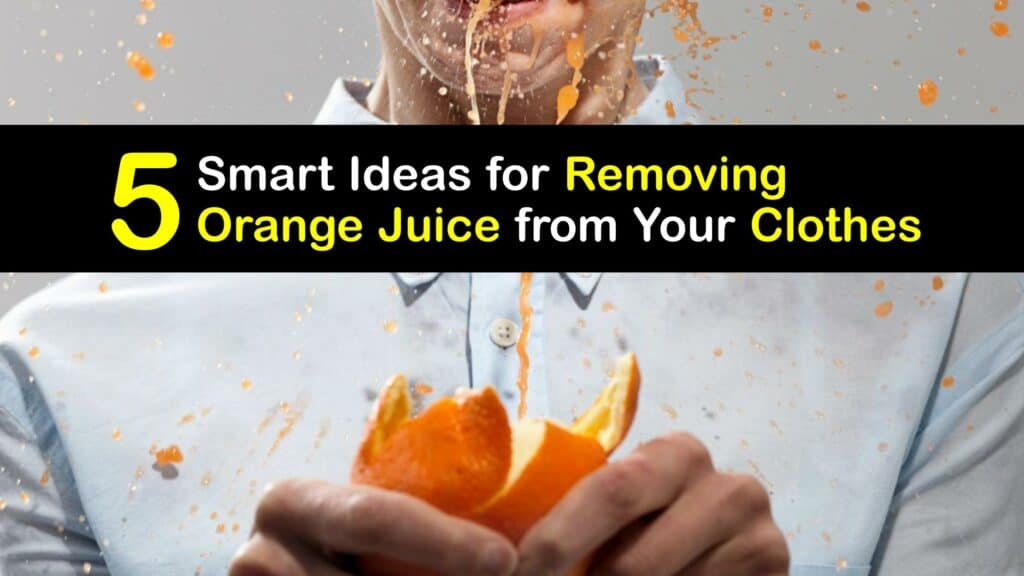 How to Remove Orange Stains from Clothes
As with most stains, it's best to act quickly to remove stains effectively as soon as the spill happens. Allowing the juice to sit and dry creates more work and complicates stain removal. Avoid drying or using natural soap bars when cleaning the stain; these make the color set and sometimes impossible to remove.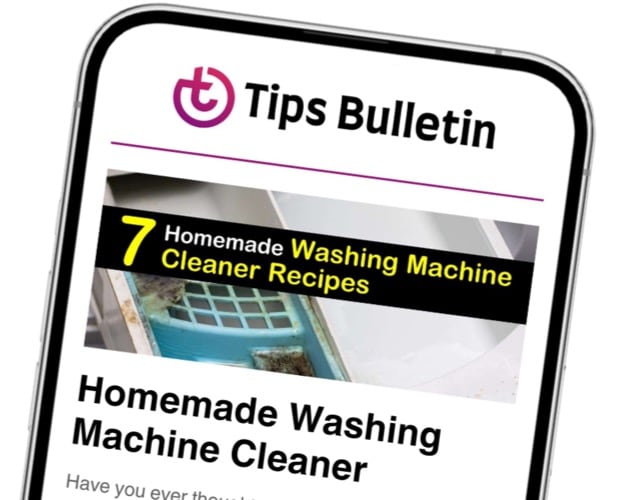 Finally, an email that Transforms Your Home.
Get the latest home and garden tips from our experts, delivered straight to your inbox.
Removing Orange Juice Stains with Chlorine Bleach
Once you spot a juice stain, blot the stained area with a clean cloth or paper towel to help remove excess moisture and prevent the stain from spreading further on your clothes.
When removing orange juice stains from clothing, maintaining the condition of the colors and fabric is essential. If you need to clean a white shirt, chlorine bleach is an excellent choice for brightening your clothes after spilling juice.
Using a bucket or sink, follow the label instructions to create a water-to-bleach ratio to soak your clothes. Leave your clothes in the diluted bleach for up to four hours to allow the bleach to clean the stain.
Carefully remove the clothing and inspect for any lingering discoloration before washing. Ensure all traces of the stain are gone before putting your clothes in the dryer. Like grass stains, leaving an orange stain on your shirt while drying may leave a permanent stain.
Can Vinegar Remove Orange Stains?
If you need to get an orange juice stain out of your clothes quickly, tackling a stain with vinegar is a surefire way to remove the stain. This orange stain cleaner will work on other food stains and get pasta sauce out of clothes. Vinegar is acidic, and its usefulness goes far beyond cooking.
Food-grade white vinegar commonly found in the grocery store removes turmeric stains, rust stains, and blood stains.
Add water to a container before adding liquid detergent and vinegar. Submerge your stained clothes for 15 minutes. After soaking, rinse your clothes and add your clothes to the washing machine.
Note: Vinegar and detergent lift coffee stains out of clothing, too.
Cleaning Stains with Baking Soda
Getting rid of a stain is easiest when you clean the item immediately, but do you know how to remove orange stains from clothes once dry? Baking soda, like talcum powder, is essential when cleaning grease stains, but baking soda has the added benefit of dissolving stains and eliminating odors.
Mix the cleaning ingredients thoroughly in a bowl. Dip the stained portion of your clothing into the bowl. Allow the clothing to soak for at least three hours before rinsing well with water. Wash with a high-quality detergent once the stain is gone.
Baking soda is a gentle method to work as a teastain removal. This stain remover can clean all beverages like orange juice, tea, and coffee.
What Removes Orange Stains on Clothes After Washing?
If an orange juice stain remains after washing your clothes, target the stain with dish soap. The formulas in dish detergents work against organic spills like grease stains. Mix soap with water to create a foamy mixture for scrubbing stains.
Use warm water when cleaning stains from artificial dyes; cold water works well against organic juice. Mix the soap until it forms suds, and scrub at the stain with an old toothbrush, starting at the outer edges.
How to Get Orange Juice Out of Clothes with Oxygen Bleach
Bleach is a common household item for disinfecting, cleaning, and removing stains. If the artificial color of orange juice leaves a stubborn stain, using oxygen bleach is one option for cleaning your clothes without causing discoloration.
Commercial products like Oxiclean Versatile Stain Remover use oxygen in their formula to target stains on clothing without using chlorine that fades color. Oxygen bleach is strong enough to get mustard stains off clothes and other strong stains without ruining the color of the clothing.
To use oxygen or color-safe bleach, follow the label guidelines for soaking your clothes in a mixture of oxygen bleach and warm water. Soak for one to six hours, regularly checking how the stain lifts to help remove orange stains on clothes after washing.
Removing Orange Juice from Delicate Material
Cleaning cotton and linen clothes is straightforward because the materials are forgiving and handle cleaning well. Clothing made from leather, silk, or wool does not hold up well to regular cleaning methods and requires more care to prolong the life of your clothes.
A standard cleaner for these materials is to mix a mild dish detergent with warm water to soak your clothes or clean with a sponge in the case of leather. After cleaning leather with a sponge, dry your clothing with a clean cloth before applying a leather conditioner to keep the leather moist.
Soak delicates for a few hours without rubbing or manipulating the fabrics, then wash delicates like silk and wool in the washing machine and wash with cold or cool water to avoid shrinkage.
Although an orange juice stain isn't the worst spill, with improper cleaning, it could ruin your clean white clothing forever. Thanks to its acidity, orange juice bonds well with the fabrics in clothes; unless you thoroughly clean the stain, you may never get rid of the yellow-orange stain on your white shirt.
To effectively clean your clothes from orange juice stains, use any of our methods to help weaken the bond between the stain and your clothes. Remove orange stains on clothes after washing with targeted strategies and simple ingredients.
If you learned how to get orange juice out of clothes with our help, please pass on our tips for how to remove orange stains from clothes with your close friends on Facebook and Pinterest.