Adding a coat of fresh paint allows you to incorporate bright colors, a refreshing feel, and a welcoming touch to a room. Sometimes painting a new room leads to an accidental paint spill during your home improvement project. Learning how to get paint off laminate flooring is quite simple when using the correct floor cleaner solutions.
Several everyday cleaning items also serve as an effective paint remover. Solvents like mineral spirits, rubbing alcohol, and white vinegar make an excellent cleaning solution for cleaning dried paint.
Some people believe that creating a homemade solution to clean up paint stains does not work efficiently. However, throughout this article, we demonstrate that a DIY paint stripper is a wonderful solution that often negates the need for chemicals.
If you're looking to remove paint from a laminate floor, search no further. We have the ultimate guide to cleaning paint spots with easy to find products that remove paint drips.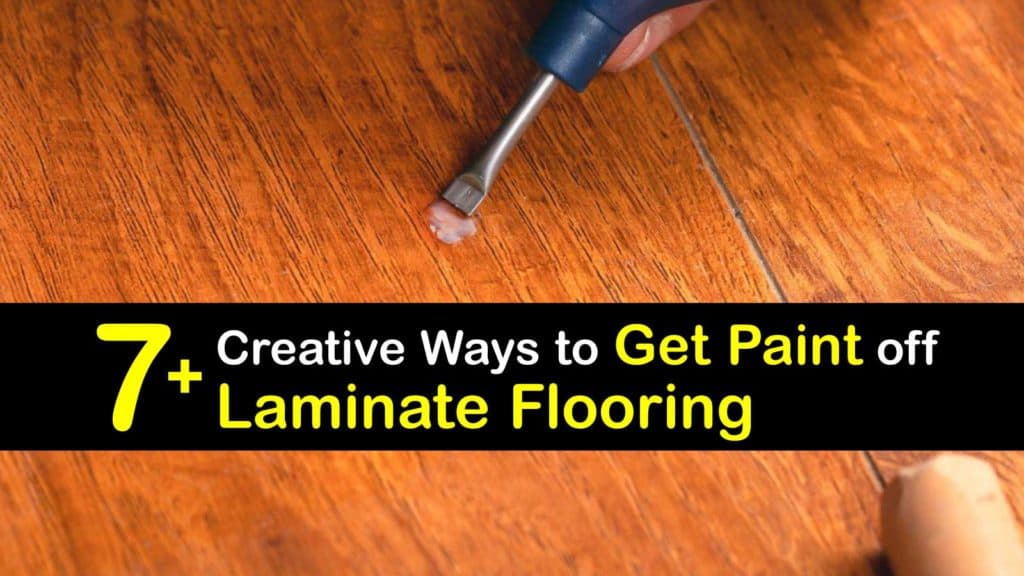 Structure of Laminate Flooring
Before learning how to clean paint off laminate flooring, it helps to understand laminate floors' structure. Laminate flooring is amazing because of its durability, and almost nothing causes scratches or significant damage to a laminate floor.
One thing to be careful of while you clean laminate flooring is the amount of water you use.
A downside to laminate flooring is that when too much water hits the floor, it seeps in the cracks and causes irreversible swelling. When using water to remove paint from a laminate floor, a little goes a long way.
Difference between Popular Types of Paint
There are two popular kinds of paints when it comes to repainting the walls inside a house. Both types of paint are manageable to clean off laminate flooring.
However, understanding the chemical structure differences lets you know what cleaning solvent to utilize against the stubborn paint. Latex paint and acrylic paint are the most commonly purchased paints for home improvement projects.
Latex paint is water-based and does not have a lot of chemicals. Because the paint contains water, latex paint is generally easier to lift off laminate and wood floors.
Acrylic paint is chemical-based and often creates a stronger bond to the surface. When cleaning acrylic paints, it is necessary to use a cleaning solution with natural paint thinner features to break through the chemical bonds.
The First Step to Removing Paint Stains
When paint spills are large, chipping away and loosening up the dried paint is an efficient way to make the cleaning process easier.
Inexpensive tools like a putty knife, scraper, or razor blade effectively lift the dried paint from the floor or get paint off cabinets. Before using a scraper to remove paint from a laminate floor, wear protective gloves so you do not accidentally cut yourself.
Gently press your sharp tool at the edge of the paint spill and push forward to lift the dried paint. Be careful not to press with too much force and cut through the flooring.
Chipping away at a large paint spill saves you time before you use a cleaning solvent. Utilize scrapers and putty knives at the end of your cleaning process to clean the remaining paint on the laminate flooring.
How to Get Paint off Laminate Flooring with Acetone
An excellent alternative to paint thinners is acetone, more commonly known as nail polish remover. When you use acetone to clean laminate flooring, the ingredients break through the bonds that paint form.
Another advantage to using acetone is that the solvent evaporates quickly, meaning the paint remover solution works fast.
Dampen a clean cloth with acetone and work the liquid into the paint spill. If you have a large, dried paint spill, pour a little nail polish remover directly on the stain and gently loosen it with a clean cloth.
After letting the acetone break through the paint for a few minutes, clean it with a cloth soaked in warm water. If there is still a little paint on the surface, repeat the cleaning steps.
Remove Paint from a Laminate Floor with Liquid Dish Soap
Breaking through tough grease on your dishware is not the only use for dish soap. The ingredients in liquid dish soap also work when you need to clean paint off laminate flooring.
The cleaning agents in liquid dish soap dissolve dried paint residue, loosening them and making a paint spill simple to remove. An additional advantage to dish soap is that it disinfects the surface as it loosens paint spills.
There are a couple of ways to mix this DIY cleaning agent. One method to make an excellent laminate floor cleaning solution is to pour all the ingredients into a spray bottle and mist the paint residue on the laminate flooring.
Another technique for a homemade floor cleaner for laminate is to combine all the cleaning agents in a bucket and use a soft cloth to cover the paint spill. Whichever solution you choose, let the cleaning agent sit on the paint spill for five minutes before wiping with a clean cloth.
Utilize Rubbing Alcohol to Clean Paint off Laminate Flooring
Rubbing alcohol or isopropyl alcohol is a great paint remover. Using rubbing alcohol to get rid of paint spills is simple and effective whether removing paint from concrete floor or vinyl.
The cleaning agent's high alcohol content lifts dried stubborn paint on laminate flooring and makes it easier to clean. Another benefit to using rubbing alcohol as a paint remover is that it removes stains from clothing.
Soak a piece of paper towel or cloth in isopropyl alcohol and work the solution into the paint spill. Ensure the entire paint spill is covered with rubbing alcohol and let the liquid sit on the affected area for five minutes.
Soak a clean cloth in cool water and wipe away the paint and rubbing alcohol. Understanding how to get paint off laminate flooring is manageable when you utilize rubbing alcohol.
How to Remove Paint Spills with Window Cleaner
Believe it or not, your go-to window cleaner also doubles as a paint remover. An effortless way to remove paint from a laminate floor is to use an ammonia-based window cleaner.
Utilizing window cleaner as a paint remover is also efficient if you do not have any other paint thinners. When you need to remove paint spills, you do not have to take an extra trip to the store when you have window cleaner.
An ammonia-based window cleaner soaks up the chemical bonds of dried paint. Spray a generous amount of window cleaner on the affected area and let the liquid remain on the surface for five minutes.
Use a damp paper towel or cloth to wipe up the paint spill. If there are a few remaining paint spots, scrape them off the floor with a putty knife or razor blade.
Remove Dried Paint on Laminate Flooring with Vinegar
Vinegar is naturally very acidic, making it a fantastic cleaning agent free of harsh chemicals. Clean vinyl floors with vinegar and baking soda or use vinegar alone to break through the tough build-up of grime, grease, dirt, and even dried paint.
Be cautious when using vinegar to clean paint spills, as too much liquid on the laminate floor may damage it.
Mix a gallon of warm tap water with one cup of white vinegar in a large bucket. Using a mop or a clean cloth, swab the dried paint until the area is covered with the cleaning solution.
Let the vinegar break through the chemical compounds of the paint for five minutes. Use a soft cloth and cold water to clear away the stain and make laminate floors shine naturally.
Clean Up Dried Paint with Denatured Alcohol
If you spill latex or acrylic paint on your laminate floors, you do not have to refinish the entire area. Instead, consider using denatured alcohol to clean up a paint spill.
Utilizing denatured alcohol for paint drips carries several benefits. Not only does the cleaning solvent break through paint, but it also disinfects the surface.
Another perk of having denatured alcohol on hand is that it can get paint off wood floors as well.
Soak a clean cloth is denatured alcohol and thoroughly scrub the paint drips. We recommend pairing the cleaning power of denatured alcohol with a scraper to eliminate dried paint as fast as possible.
After the paint spill is clean, use a cloth soaked in warm water to remove any remaining denatured alcohol.
An accidental paint spill on laminate flooring is not the end of the world. There are many easy to find cleaning agents that are probably already in your household.
Products like window cleaners, white vinegar, and nail polish remover all work on dried paint. When cleaning laminate flooring, do not cover the area in too much water, as it leads to irreversible damage to the surface.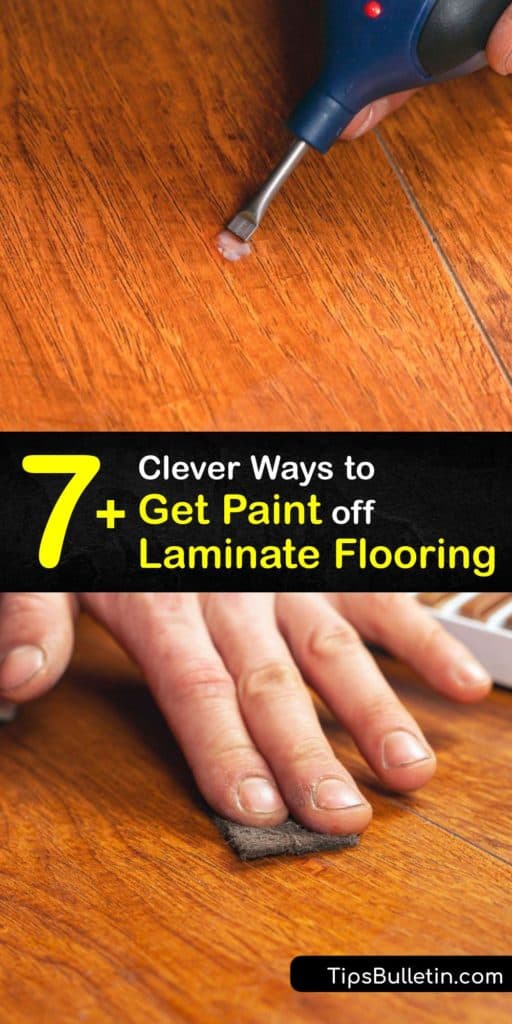 If you learned how to get paint off laminate flooring, share these tricks to clean paint off laminate flooring with your roommates and family on Facebook and Pinterest.