We all know about not crying over spilled milk, but what about spilled paint? Discovering splatters of paint on your vinyl tile or floor after painting the wall is more than frustrating. We show you how to get paint off vinyl floor using a variety of solutions and a little elbow grease.
Vinyl flooring is popular among many homeowners since it's relatively inexpensive, and there are so many colors, styles, and texture options. Its water resistance and durability make it a great choice over hardwood floors and laminate flooring. However, vinyl materials are not immune to accidental spills, and paint is the worst.
Fortunately, removing paint from vinyl isn't as hard as you think. The key is to use the correct technique and cleaner for the job. While other surfaces, such as linoleum and natural stone, are porous and absorb stains quickly, vinyl is non-porous, and you have more time to work at removing stubborn paint stains, no matter the type of paint.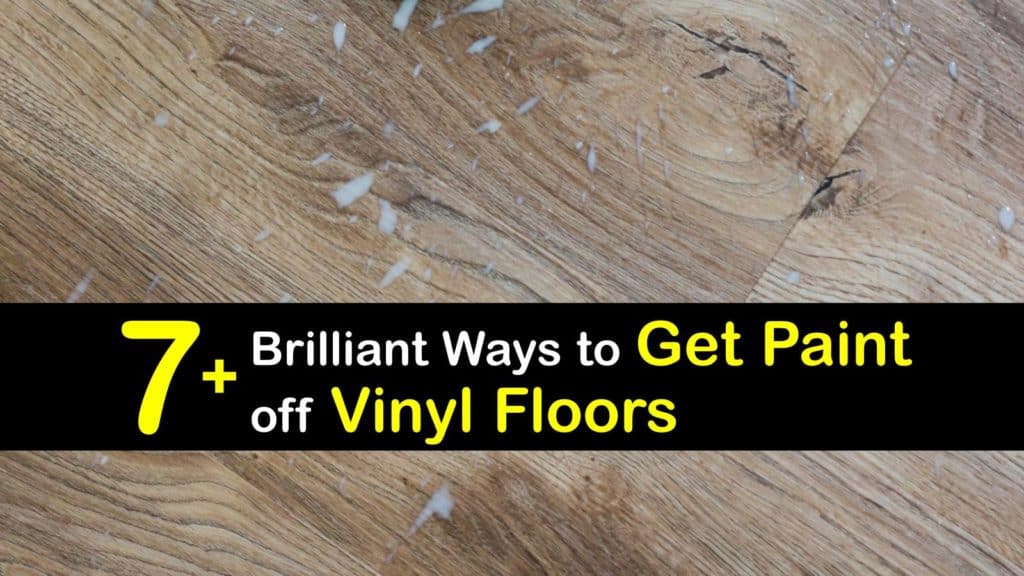 Ways to Remove Wet and Dry Paint off Vinyl Floors
Vinyl is a versatile material that looks lovely as a floor treatment. However, stains take away from its appearance, and paint spills are a pain. Here are several ways to remove paint stains from your vinyl flooring in a few easy steps.
Remove Paint from Vinyl Flooring before It Dries
The easiest way to get paint off laminate flooring or any other surface is to clean it while it's still fresh. While this doesn't always remove all the paint, it gets most of it off the floor for a quick clean up. Here is how to remove paint from vinyl flooring if it's still wet.
Use paper toweling to wipe away as much of the paint from the floor as possible. Begin at the outside of the paint stain and use a wiping and scooping motion to lift the liquid from the surface.
Discard the paper towels and use fresh ones until most of the paint is gone. Get an absorbent towel damp with warm water and use it to wipe away the paint residue. Finish by cleaning the area with soapy water.
Clean Paint off Vinyl Floor with Soapy Water
While soap and water are the best way to clean linoleum floors, they also do a great job of water-based paint removal.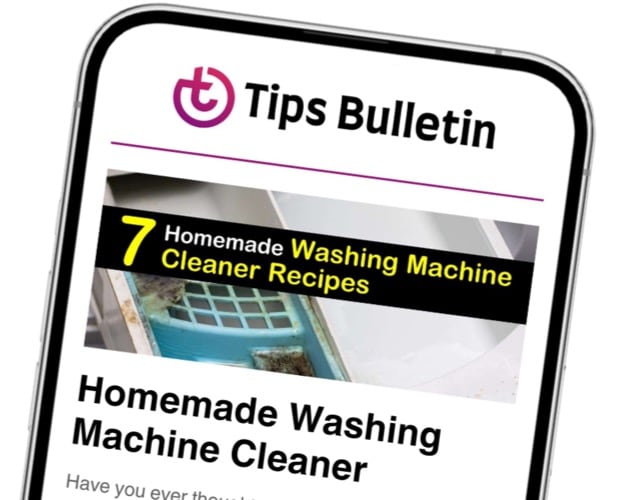 Finally, an email that Transforms Your Home.
Get the latest home and garden tips from our experts, delivered straight to your inbox.
Water based paints, such as acrylic and latex paint, are the easiest to remove using warm water and dish soap. Here is how to clean paint off vinyl floor if the paint has a water base.
To make this homemade cleaning solution for vinyl floors, fill a bucket or large container with warm water, squirt a bit of liquid dish detergent into the water, and swirl it with your hand to make a mildly soapy solution.
Dunk a rag into the cleaner and wring out the excess water. Clean the floor stain with the rag by working from the outside in. Rinse the cloth and dunk it back in the soapy water as needed until you remove all of the paint.
How to Get Paint off Vinyl Floor with Rubbing Alcohol
Isopropyl alcohol is an antiseptic and solvent useful for removing stains and the main ingredient in rubbing alcohol. Here is how to remove oil-based paint from your vinyl flooring or get paint off cabinets using this liquid.
Press a rag over the open bottle of rubbing alcohol and flip the container over to soak the cloth. Press it on the stain for about ten minutes to dissolve the paint, and rub it over the area to remove the stain.
Repeat the steps with a fresh part of the cloth and more rubbing alcohol until you remove all the paint stain. Wash the area with some soapy water and dry it with a towel.
If you have a couple of drops of paint on your siding that you need to eliminate, alcohol is one way to get paint off vinyl siding.
Removing Paint from Vinyl Flooring with Liquid Wax
One of the top ways to remove paint from vinyl flooring if it's dry is to use liquid wax. Many hardware stores and car shops carry this product, and it loosens the paint for easy removal.
Dip a piece of superfine steel wool into a tub of liquid wax and rub the paint area lightly using small, circular motions.
Try not to press too hard, but use enough force to remove the paint. Wipe the area clean with a warm, damp cloth and repeat the steps if any paint remains.
Getting Paint off a Vinyl Floor with a Commercial Solvent
For really stubborn stains, try using a commercial solvent, such as PEC-12, to clean paint off vinyl floor. These types of solvents are highly effective at removing stains but are toxic, so caution is necessary.
Put on protection such as rubber gloves, goggles, and a face mask and open the room window for ventilation.
Apply a small amount of PEC-12 to a cotton ball and blot the paint stain. Use fresh cotton as needed until the paint is gone. Finish by cleaning the area thoroughly with a damp cloth.
How to Remove Dried Paint off Vinyl Floor
The most efficient way to get the old paint off the floor is to gently scrape it away from the surface. A few tools work well for this method, and using the right technique ensures that you do not scratch your floor.
Use the edge of a plastic scraper or putty knife to remove the dried paint. If you do not have these items, a plastic spatula is a great substitute. Hold the tool at an angle, press the edge between the stain and the floor, and press forward gently to pull up the paint.
Work from the outside in and move your way around the stain until it is gone. To clean away leftover bits of stubborn paint, try using the edge of a razor blade, but be careful not to scratch and damage the floor.
Wipe the area clean with a damp cloth. If bits of paint remain, get a sponge wet with warm water and squirt a drop of liquid dish soap on it. Rub away the leftover paint with the soapy sponge and rinse it clean with fresh water.
Getting Paint off Vinyl Floors with Mineral Spirits
Mineral spirits is a liquid commonly used for cleaning paint brushes and an ingredient in many paint thinners. It is derived from crude sources such as petroleum. It works well to remove dried paint or spray paint off vinyl tiles and floors, and to remove paint from a garage floor made of concrete.
Pour mineral spirits on a cloth and rub the stain with a small, circular motion. If you prefer to use a more environment-friendly solvent, consider using turpentine.
Continue cleaning the stain with fresh areas of the cloth and paint stripper until all the stain is removed. Get a sponge wet with warm water, apply a couple of drops of dish soap to the floor, and clean away the paint residue.
This cleaning solution can also be the best homemade vinyl siding cleaner for the outside of the house. Often, things like sap or dirt can get stuck on the sides of the house, so having a strong cleaner on hand is beneficial.
How to Use Nail Polish Remover to Get Paint off Vinyl Floors
If you do not have turpentine, mineral spirits, or other products such as Goof Off in your home, there is one item that you probably have in your bathroom that works to remove paint.
Some nail polish removers contain acetone as an ingredient which is a solvent for removing stains.
Pour some fingernail polish remover onto a cotton ball and use it to rub the paint stained area. Use a new cotton ball and more acetone when the old one gets too dirty.
Continue until all of the paint is gone. Wipe the area clean with damp paper towels or wash it with soapy water to remove leftover residue.
Using a Magic Eraser to Remove Paint from a Vinyl Floor
The Magic Eraser is a dura foam sponge that makes a handy tool. It cleans almost any type of substance, from mold and grime to permanent marker, and is also a good choice for removing paint stains from vinyl flooring.
Get one side of the Magic Eraser wet and rub that section over the dried paint stain. Use a circular motion to scrub the surface gently until all of the stain is gone. Get paper toweling damp and clean the floor surface to remove leftover residue.
Home improvement projects are great unless one job leads to another, and spilling paint on your vinyl floor makes cleaning up a bigger chore than you planned. Fortunately, removing paint off vinyl is a simple task as long as you use the right cleaner for the job.
Now that you learned how to get paint off vinyl floor with ease using the right method, why not share our vinyl paint removal tips with your circle of family and friends on Facebook and Pinterest?