Don't worry iff you spill some paint on your carpet during your latest art or home improvement project. In this article, you'll learn how to get paint out of carpet without damaging it. You'll likely already have everything you'll require in your cleaning closet.
The best way to clean paint out of carpet depends on the type of paint you are trying to remove and whether or not it has dried. Getting paint stains out of carpet takes some patience and elbow grease, but numerous strategies exist for accomplishing this task.
Due to their porous nature, carpet fibers readily absorb liquids like paint. As such, it is critical to begin the cleaning process as quickly as possible. Read on to discover the best carpet cleaning tips for safely clearing up paint spills on your carpet or upholstery. Whether you need to remove wet or dry paint, we have a perfect DIY solution for you.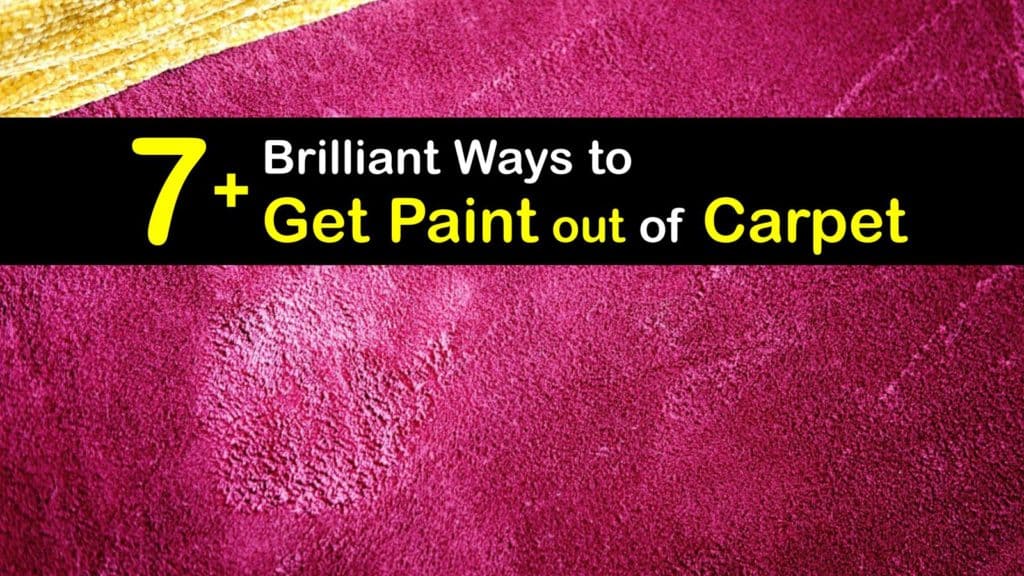 Best Methods for Getting Paint Stains out of Carpet
When painting accidents happen, you'll probably wonder what gets paint out of carpet. It's vital to act quickly to remove the paint stain before it has a chance to dry. To prevent further damage to your carpets, avoid using bleach to treat the affected area.
You won't have to buy an expensive cleaning solution like Goo Gone or Goof Off paint remover products. Several practical DIY strategies use commonplace products that you already have at home.
For latex paint and acrylic paint, which are water-based, cleaning carpet by hand with warm water and dish soap might do the trick. If any of the paint persists, try one of the methods listed below.
When dealing with oil-based paint, acetone, turpentine, and paint thinner are the best options. The oil forms a stronger bond with the carpet fibers than water-based paints, so oil-based paint is often more difficult to remove.
Acetone is the least toxic of these options and should be your first resort. Use turpentine or paint thinner only if acetone proves ineffective.
Dry paint is considerably more difficult to remove than wet paint. If you are trying to remove dried paint, first scrape away as much as possible using a blunt-edged object like a putty knife or paint scraper.
Then, apply your paint remover of choice and allow it to soak into the carpet for at least 15 minutes to loosen the paint's bond with the fibers. It's beneficial to first perform a patch test on a hidden area of the rug to ensure you won't cause even more harm.
How to Get Paint out of Carpet using Dishwashing Detergent
Act quickly while the paint is still wet if you can. To clean spray paint from a rug or the living room carpet, scrape away as much of the wet paint as possible using a butter knife, paint scraper, or putty knife. Be careful to avoid spreading the paint to other areas.
Next, gently blot up more of the remaining paint with paper towels or a clean, dry rag. Refrain from aggressively rubbing or scrubbing the paint stain or pressing too hard when blotting. Doing so could cause the pigments from the paint to soak deeper into the carpet fibers.
Once you've cleaned up as much excess paint as you can, apply a few drops of dishwashing detergent to the stain and allow it to soak in for at least 15 minutes. Rinse the carpet with hot water and repeat the process until the stain is completely gone.
Try this solution to remove dried slime from carpet, too. Applying some vinegar will also help loosen slime and make it easier to clean.
How to Clean Paint out of Carpet with Laundry Detergent
For a little bit of extra stain-lifting power, use laundry detergent instead of dish soap to pre-treat the paint stain. To remove acrylic paint stains, pour about one tablespoon of laundry detergent onto the stain along with a pinch of baking soda.
To remove paint stains from jeans and other clothing as well as carpeting, soak the stain for at least 15 minutes before rinsing with warm water. If washing the carpet with soap and water doesn't completely eliminate the stain, don't worry.
The detergent solution is still efficient at loosening the paint's bond with the carpet fibers, making any of the following stain removal strategies more effective.
Getting Paint Stains out of Carpet using Acetone
Acetone, the chemical solvent in most types of nail polish remover, works best on oil and latex paint. Depending on how large the paint stain is, soak a clean white cloth, cotton ball, or paper towel in the nail polish remover and use it to dab the paint stain.
It's critical to use a dye-free material that won't cause another stain on your carpet. Keep blotting the fabric until most of the paint disappears.
Avoid using nail polish remover on acetate or acrylic carpets. Acetone may discolor and deteriorate these materials. If you aren't exactly certain of what type of carpet you have, it's best to try a milder cleaning solution.
Clean Paint out of Carpet with Hydrogen Peroxide
Hydrogen peroxide works best to remove latex paint. Since latex paint is usually fast-drying, begin the cleanup process as soon as possible.
Hydrogen peroxide contains oxidizing agents similar to bleach and removes paint stains without discoloring most kinds of carpet. However, it's still prudent to test a small area first.
After scraping away as much excess paint as possible, soak a clean white cloth in undiluted hydrogen peroxide. Once the paint spot is saturated, allow it to soak for one hour. If you see any remaining paint, repeat the process until the stain disappears.
Rinsing the carpet isn't usually necessary. Hydrogen peroxide naturally disintegrates into oxygen and water when the chemical bond breaks down, which happens relatively quickly.
Remove Carpet Stains from Paint using Turpentine
Turpentine is one of the most efficient ways to remove oil-based paint from carpet. However, the fumes are quite toxic.
Ensure that the room where you use turpentine is well-ventilated, and use protective equipment like a respirator mask, rubber gloves, and safety glasses.
Soak a clean rag, paper towels, or a cotton ball in turpentine oil, and gently dab the carpet stain to thin the paint.
Once most of the paint is gone, wash the affected area with lukewarm water and half a teaspoon of liquid dish soap or laundry detergent to get rid of the turpentine.
Afterward, rinse with cold water. Allow the carpet to air dry and leave windows open until the turpentine fumes dissipate.
How to Get Paint out of Carpet with Rubbing Alcohol
Rubbing alcohol is an effective stain remover for any type of paint, whether it's water or oil-based. To remove dry latex paint from carpet, scrape and dab away as much wet paint as possible, then soak the affected area with 90-proof rubbing alcohol for at least 15 minutes – longer for dried paint.
To further loosen dry paint, scrub the stain gently with an old toothbrush and rinse with cold water. Repeat the cleaning process until the paint stain is completely gone.
You may have luck with alcohol when you need to clean food coloring from carpet, as well. Be sure to dab the stain rather than rubbing it to keep it from spreading outward.
Safely Remove Paint Stains using Paint Thinner
If you're dealing with a type of paint that is exceptionally difficult to remove, such as spray paint or oil paint, you might have to use a commercial paint thinner.
Paint thinner is generally safe to use on carpeting. However, it's always a good idea to do a patch test on a small, inconspicuous piece of carpet first to ensure that it won't cause damage or discoloration.
Following the instructions listed on the product label, apply a generous amount of paint thinner to the stain and allow it to sit for six to eight hours. Use a clean white rag or paper towel to soak up as much solvent and paint as possible.
Continue blotting until the paint stain is gone. Avoid forcefully rubbing or scrubbing the paint stain, as that may cause the pigments from the paint to further bond to the carpet fibers.
Afterward, wash and rinse the carpet with carpet cleaner or soapy water to clear away any lingering chemical residue.
Always use safety gear like rubber gloves, safety glasses, and a respirator mask when working with paint thinner. It's also beneficial to wear protective clothing to prevent the chemicals from irritating your skin. If possible, open windows to increase ventilation in the room.
Trim Away the Stained Carpet
If the paint stain is relatively small, it might be possible to trim the carpet on the affected area to remove the stain. Use a pair of needle-nose pliers to isolate the paint stain and trim it away with a sharp pair of scissors.
However, this technique is only suitable for minor stains that haven't penetrated very deep into the carpet. Cutting off too much carpet leaves a noticeable spot that may be bothersome.
Use a Wet Vacuum for Getting Paint Stains out of Carpet
Since these carpet cleaning methods involve soaking the stain with liquid, it's essential to take steps to extract the moisture from the carpet so that it doesn't get moldy.
However, all that liquid will ruin a dry vacuum since its interior isn't waterproof. If you don't own a wet vacuum, they're available to rent at most hardware stores.
Accidents sometimes happen during painting projects, but it is possible to remove paint from your carpet without damaging it further, no matter what kind of paint you're dealing with.
Since it's considerably easier to clean paint out of carpet when it's still wet, acting quickly when spills happen is vital. Regardless of how large or small the cleanup job is, we've got a practical DIY solution for you.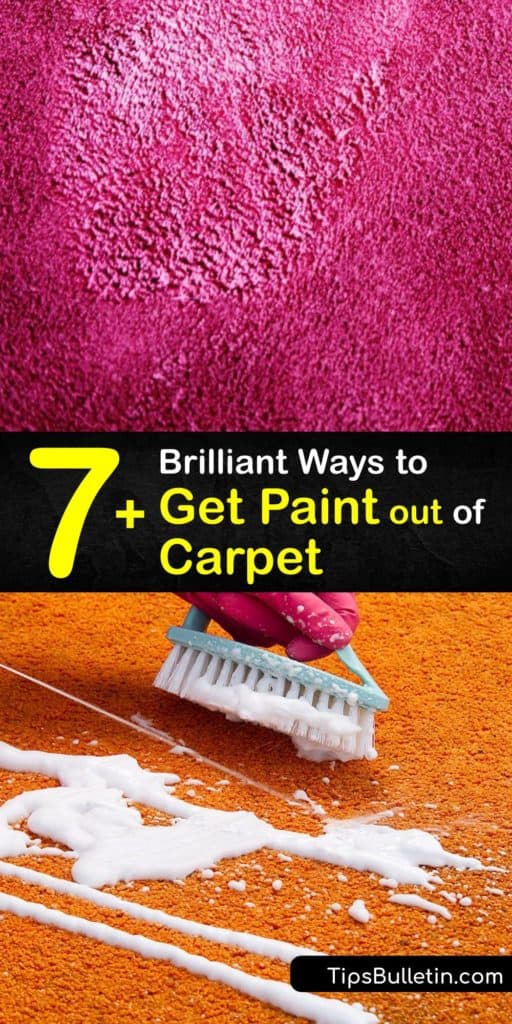 If you found these tips for getting paint stains out of carpet helpful, please share this article about how to get paint out of carpet with your friends and family on Pinterest and Facebook.