If you own a home, then you are probably familiar with the dreaded task of painting. While there are hundreds of tutorials about how to properly paint a wall, there are very few mentions of just how messy DIY painting can be or how to get paint out of clothes and save them from the garbage.
It doesn't matter how careful you are with laying down tarps and utilizing the blue painter's tape, getting paint on your garments is inevitable. However, getting paint on your shirts and pants doesn't mean you have to relegate the clothing to a specific drawer dedicated to specific clothes for home repair or even throw them out.
Whether you are in the middle of a crafts project or DIY painting, there is a good chance that you'll end up with some paint on your clothes. However, there is no reason you need to stress over the small mess.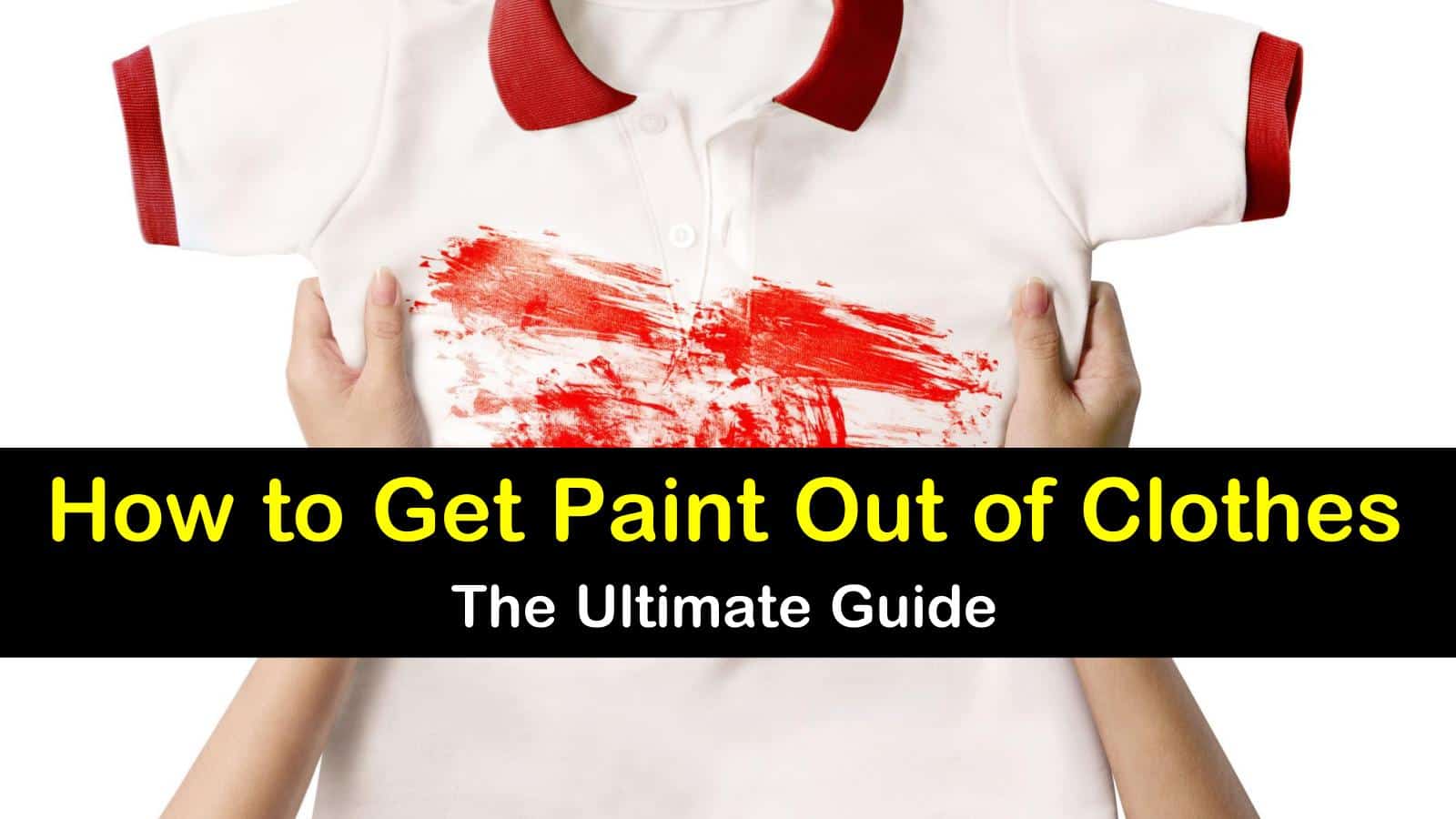 How to Get Latex Paint Out of Clothes
With a few simple tools and some time you can get stains from crafts out of clothes and get them looking as good as new. Here are excellent methods for removing paint and getting playdough out of clothes with smart cleaning tips and simple tricks.
The first thing that you need to do when trying to remove paint from fabrics is to act quickly and treat the stain as soon as possible before they dry. Paint stains that have dried are much more challenging to remove.
Dry paints such as chalk paint can be more difficult to remove since it sets faster than latex paint. But chalk paint comes out of clothes when you follow these simple steps.
When dealing with latex paint stains, use a paper towel or clean cloth to blot up and scrape off any excess paint, whether you need to remove latex paint from carpet or clothing.
Next, place the affected area under warm running water or use wet rags to flush out as much as the stain as you can. Create a simple but powerful stain remover that contains equal parts warm water and liquid dish soap.
To remove latex paint from fabric, apply the solution to a sponge or cotton ball and gently blot the paint stain. Pretreat the area with a commercial stain remover and wash the clothing as usual.
Before throwing the garment in the dryer, check to see that the paint stain is gone. If there is still paint visible on the clothing, you can use rubbing alcohol on a damp cloth to rub away the paint.
Try this remedy to remove water based paint from carpet and clothes, too. Avoid rubbing to keep from spreading the stain outward. Blotting works best.
How to Get Acrylic Paint Out of Clothes
Getting acrylic paint on fabric doesn't mean the item is ruined. With a few simple products and some quick thinking, you can remove acrylic paints from your clothing, as well as remove dried acrylic paint from carpet. For the best results, it is essential that you act quickly to fix any damage that the paint may cause.
Before you use the following method to get acrylic paint out of clothes, be sure to test the mixture on an inconspicuous area to ensure you don't damage the fabric further during the process.
Removing Wet Paint
If the paint is still wet, the way to get paint out of fabric is to try flushing as much of the paint from the clothing as you can by holding the clothing under cold running water or soaking it in a bowl of cold water, until the discoloration begins to fade.
When the water runs clear, tackle the remaining stain with a pre-treatment that is specially designed for stain removal. Throw the garment into the washing machine and wash it in lukewarm water, using high-quality laundry detergent. Cleaning the fabric in hot water could result in setting the stain.
To remove wall paint from carpet, apply the same principle but dab at the paint with cold water on a rag first to eliminate as much of the stain as you can. Use a homemade or commercial product to get rid of the rest of the paint that is left.
If you need to clean acrylic paint brushes after painting, rinsing with water is your best bet. The garden hose can be helpful for removing wet paint from both brushes or rollers.
Removing Dried Paint
There are times when it isn't possible to tackle paint stains immediately. When this happens, the acrylic paints can dry and form a plastic layer. It is very similar to when you try to get gum out of clothes. This makes them more like oil-based paint and can make it more challenging to remove paint from clothes.
The first thing that you want to do is try to break down the bonds in the plastic layer. You can accomplish this by using inexpensive rubbing alcohol, nail polish remover, and even hair spray that contains alcohol.
For the way to get spray paint off clothes or other types of dried paint, dampen a cloth with one of the alcohol-based products and massage the stain. The color should start to transfer to the clean towel. It is essential to test this method on an inconspicuous area to check for colorfastness.
Once you've compromised the plastic layer of the water-based acrylic paint, you can continue as above, treating the stain with a pre-treatment stain remover and washing as usual in lukewarm water.
How to Remove Oil-Based Paints from Clothes
Oil-based paints are tough to get out of everything, including clothing. Fortunately, if you are dealing with oil paint, all is not lost. Here are some tips for getting oil-based paint stains out of fabric.
If you happen to get splattered with oil-based paint, you have to act fast if you want any chance of getting the stain out. When you need to remove oil based paint from clothes, keep the stain from spreading by blotting the area with a paper towel to soak up any excess liquid and paint.
Look at the back of the paint can to see what cleaning solvents they recommend for removing spots. Usually, this will be a paint thinner or turpentine, which you can also use to clean oil paint off brushes and paint rollers.
Test the solvent on an inconspicuous area to ensure it won't damage the fabric. If it passes the test, place the stained fabric over a generous layer of paper towels.
Protect your hands with gloves ( see our how to get hair dye off your hands tips for details on protecting your hands properly) and be sure only to try to remove the stain in a well-ventilated area. Pour the solvent into a disposable can. You'll also need to fill a bucket with a solution of equal parts water and liquid dishwashing detergent.
Turn the piece of clothing inside out and place the stained area against the paper towels. Saturate a cotton ball and apply it directly to the stain.
Once the stain is gone, place the garment in the bucket of soapy water to remove as much of the solvent as possible. Then, presoak the clothing in the washing machine, following up with washing and drying as usual.
How to Remove Paint from Jeans
Removing paint from jeans is extremely easy and uses nothing more than some isopropyl alcohol and a clean cloth. Start by placing the paint-stained jeans on a thick bath towel. To remove paint from jeans, begin pouring a small amount of the rubbing alcohol over the paint stain.
Allow the liquid to sit for several minutes, then use a clean cloth or paper towel to scrub the stain. As the paint begins to dissolve, the stain will become less visible.
Once the stain disappears, allow the jeans to dry so the remaining alcohol can evaporate. Then toss them in the laundry and wash with your regular detergent as usual.
You may find that rubbing alcohol will also remove hair dye from clothes. Dab the alcohol on the stain rather than rubbing it to keep it from spreading.
Getting paint on your clothes doesn't have to be the end of the line for your favorite pieces of clothing. Instead of throwing them out or relegating them to your home improvement clothes drawer in your closet, try these simple techniques for removing paint stains from clothes. Just remember to avoid damaging your clothes by using an inappropriate method, know the type of paint you're dealing with.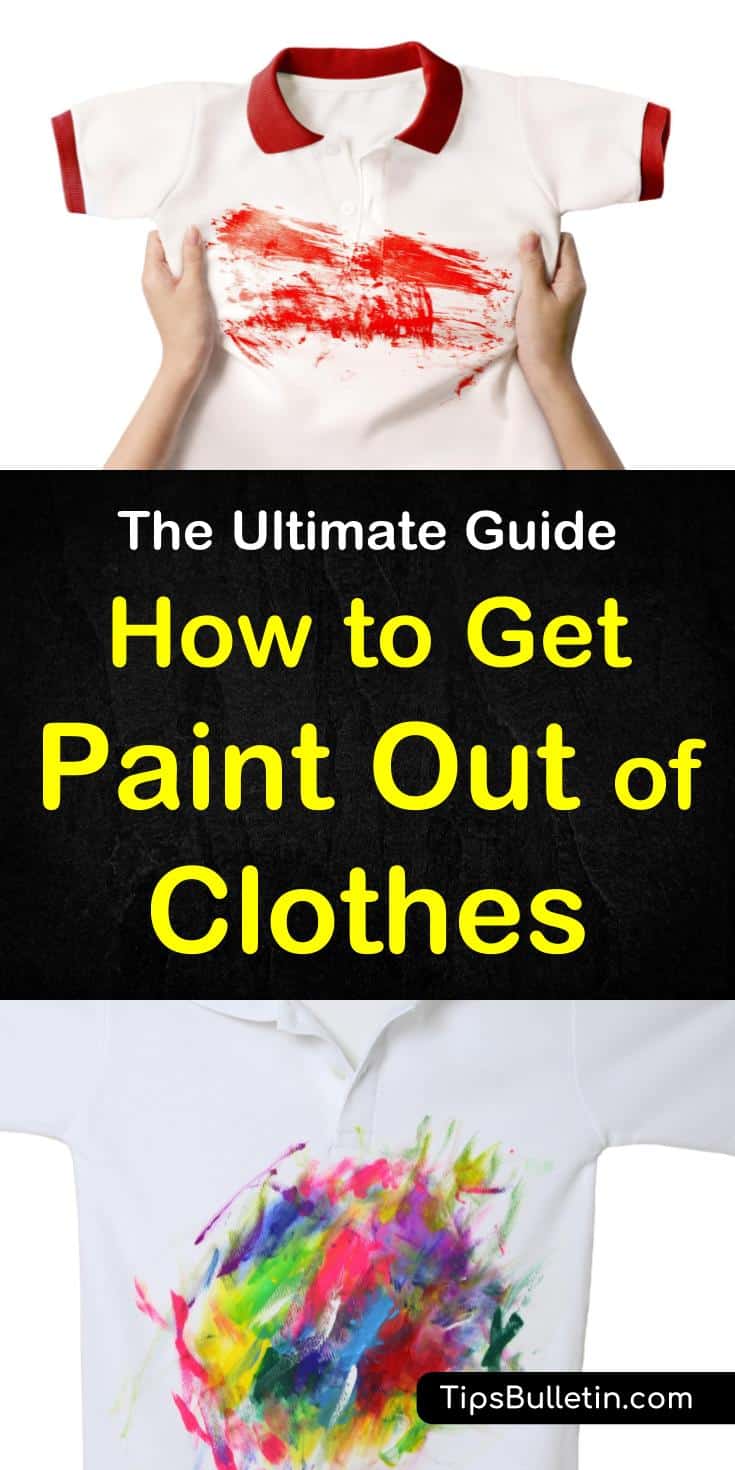 We hope you enjoyed learning about how to get paint out of clothes with simple techniques. If you found the information in this article useful, please don't hesitate to share it with everyone you know.