Repainting the living room or working on a craft project is satisfying once the job is complete – until you discover splatters of dried paint on your favorite pair of jeans. We show you how to get paint out of jeans using a variety of easy solutions and techniques.
Accidental paint spills happen to the best of us, and trying to remove paint from clothing using the wrong method only spreads the stain further, making the job nearly impossible.
What started as a few drops of paint is now a large smudge. How you clean it also depends on whether it is fresh or dried paint and which type of paint it is.
There is a difference between oil paint and acrylic paint stains, and each type of paint requires a different cleaning process.
A water-based paint, such as latex-paint, is relatively easy to clean with some soapy water and patience, but removing oil-based paint is a bit more tedious.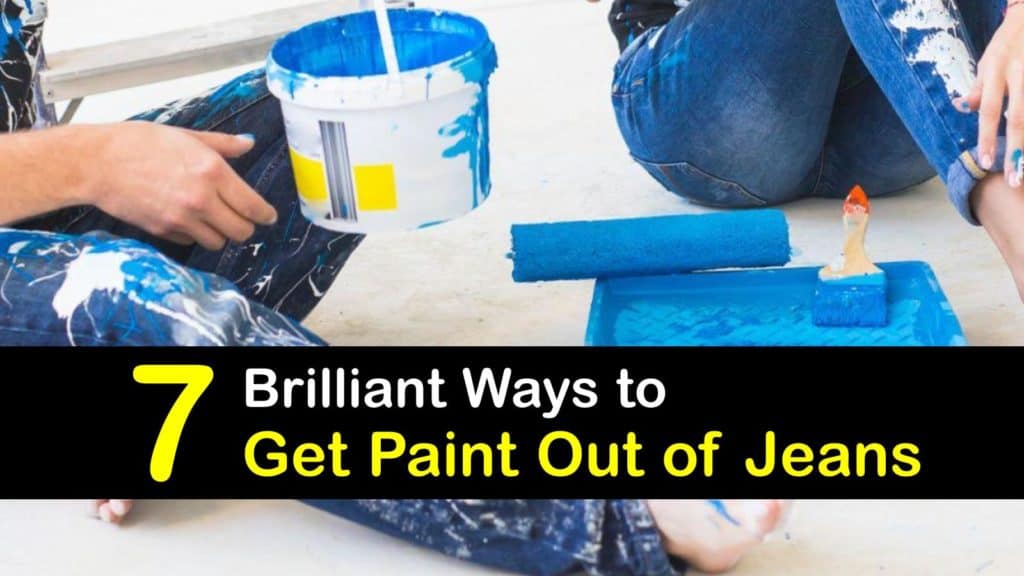 Removing Paint from Jeans
Before you retire your jeans or turn them into rags, we have a few simple steps to help you remove paint stains from your pants and restore them like new.
These methods are useful for both oil and acrylic paint, and you probably have the cleaners in your home right now. You may find some of these strategies effective as a way to get motor oil out of clothes, as well.
Remove Paint from Jeans with Soapy Water
Latex-paint is water-soluble and the easiest to clean off many surfaces, including denim. The simplest way to remove paint from jeans if the stain is from water-based paint is with a detergent solution.
Before removing latex paint from jeans, try to get as much of the paint off as possible. If the paint is still wet, use paper toweling and a blotting action to remove the excess paint.
If it's dried paint, use the edge of a butter knife to scrape the dry bits away before using a cleaning solution. Dampen a washcloth with warm water and dab at the paint stain to pretreat it.
Combine the liquid dishwashing soap and water in a container and mix it with your hand.
Dunk the washcloth into the soapy water and use it to get latex paint out of jeans, working from the outside in to prevent spreading it to clean areas. Continue cleaning the spot until it is gone.
Getting Spray Paint Out of Jeans with Rubbing Alcohol
Unlike delicate fabrics, denim is sturdy and durable, which gives you more options for getting spray paint out of jeans. Rubbing alcohol is a solvent that works well to loosen the paint from the fibers of your clothes.
Pour a small amount of rubbing alcohol on a cotton ball and press it into the paint stain. If you don't have any, consider using hand sanitizer since it contains alcohol.
Dab and lift the stain using fresh cotton and alcohol and use an old toothbrush to scrub the surface gently until the paint is gone.
How to Get Paint Out of Jeans with Paint Remover
Removing dried paint from jeans is a bit different than cleaning away wet paint, and a paint remover, such as turpentine, is your best bet to get the job done right.
However, if you do not have this product, other effective paint thinners work just as well.
Before using a paint thinner to clean your jeans, test it on an inconspicuous area first to check for color-fastness.
Pour a small amount of paint thinner such as turpentine or mineral spirits onto a cloth and blot the stained area with it, without spreading it outward. Continue using clean areas of the cloth to wipe the stain until it is gone.
Removing Oil-Based Paint with Glycerin
It's not as simple to clean up oil paint as it is water-based paint. However, glycerin is a non-toxic liquid that is a by-product of soap. It is also a handy tool to remove paint from jeans and to get red lipstick stains out of clothes.
Lay the jeans out on a clean surface and apply a dab of glycerin directly to the affected area. Let it sit overnight while it works to dissolve and lift the paint from the material.
Wipe the stain with a wet clean rag to scrub away any remaining paint, and then hold the pants beneath running water in the bathtub or sink to flush stain residue away.
Using Acetone to Remove Dried Paint from Jeans
Acetone is a solvent that is useful to remove acrylic paint from jeans after it dries. It is also common in many brands of fingernail polish remover. Check the bottle in your bathroom for the ingredients and use it as a paint stain remover.
Lay your jeans out on a flat work area and hold them in place with one hand while you scrape the excess dried paint from the material with a butter knife.
Press a cotton ball over the opening of a bottle of fingernail polish remover, flip it over to soak the cotton, and then press it on the remaining stain. Keep dabbing the area with fresh cotton until the paint is gone.
How to Use Hairspray to Remove Paint from Jeans
Not everyone has turpentine or rubbing alcohol in their home. If you do not have any of the other items, check your bathroom for hairspray. This hair product often contains alcohol and is a handy substitute for removing paint.
Lay out the jeans on a flat space and spray an alcohol-based hairspray over the stain. Use the bristles of an old toothbrush to gently scrub the area until the paint comes loose from the fibers.
Hold the jeans beneath a faucet of running water and check to see if the stain is gone.
Treating Jeans after Paint Stain Removal
After getting spray paint out of jeans, it's essential to launder the item to remove leftover residue. However, before you toss your jeans into the washer, check it thoroughly to ensure all of the paint stain is gone.
Follow the care instructions for your jeans and place them into the washing machine. Do not wash them with other clothing and add the appropriate amount of laundry detergent.
Wash them with the cold water cycle and check them afterward to ensure the stain is gone before placing them in the clothes dryer.
However, if you want to make jeans looser around the waist after stain removal, hand stretch them and let them dry naturally.
No matter what you are painting, it's easy to get caught up in the moment and not discover that you've accidentally spilled paint on your clothing.
Not until the project is complete do you realize that you have another job to do. Fortunately, getting paint off jeans is not as difficult as you think, as long as you take proper steps.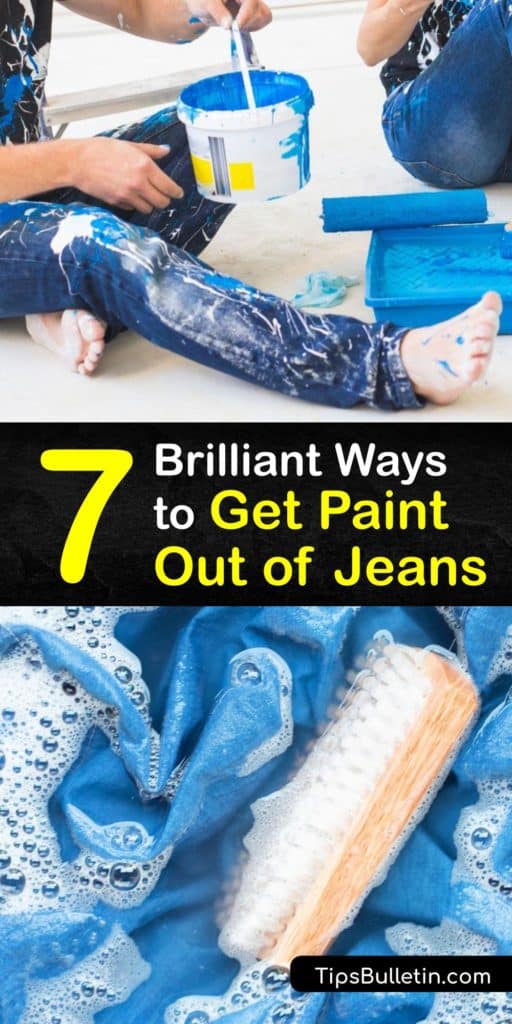 We hope you liked learning how to get paint out of jeans using the right cleaners, and we'd love it if you'd share our jean paint removal solutions and tips with your friends on Pinterest and Facebook to save them from tossing out their favorite pair of jeans.