Removing paint from a shoe or a paint brush is sometimes challenging. Whether you had an accident with paint pens, oil paint, or fabric paint, wondering how to get paint out of shoes is no fun. Due to their vibrant color and heavy pigmentation, many types of paint leave stubborn stains to discolor and even ruin your favorite shoes. Knowing how to remove paint from shoes is critical if there's remaining paint or a dried paint stain.
Learn how to remove spray paint from boots with items you undoubtedly already have on hand. Whether you use a washing machine or remove stains by hand, there are several alternatives for paint removal that won't fade or wear out your sneakers.
Get tough paint marks off your shoes with everyday household items like rubbing alcohol, dish soap, and baking soda. Clean wet paint immediately with a damp cloth or paper towel.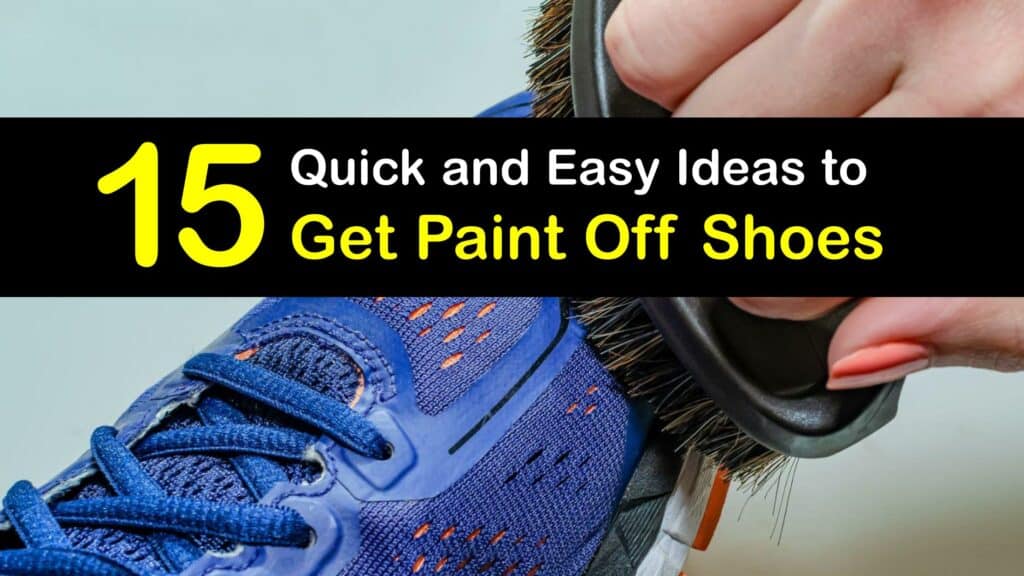 How to Get Paint Off a Shoe at Home
Almost everyone has questioned how to get paint out of shoes at some point. We've all experienced a paint stain or an accidental paint splatter when working on an art project or adding a new color to a wall.
A paint stain looks unsightly and must be removed before it ruins even the most stylish shoes; nevertheless, some paint removal ideas are better than others. If you use the wrong technique, you risk making the stain worse and extending the time required to restore your shoes.
Learn how to remove paint from shoes with a few brilliant methods to tackle the issue. Discover how to remove spray paint from boots with a few simple everyday items and some knowledge.
Treat Paint Stains on Footwear with Concentrated Detergent
Use a concentrated light liquid laundry detergent instead of a mild detergent to get rid of paint stains. Because of the detergent's expense and the required volume, this method is less cost-effective, but it may be a viable option.
Color-safe bleach detergents are the most effective for eliminating heavy stains without fading your sneakers. When removing paint stains, always use a color-safe washing detergent.
Apply a healthy amount of laundry detergent to the paint spot on your shoes, scrub it with an old toothbrush, and set them aside for 15-20 minutes before washing on a standard cycle. Try a new cleaning method or a different laundry detergent if the staining doesn't lift. Use a cotton swab for easier access to the creases of the footwear.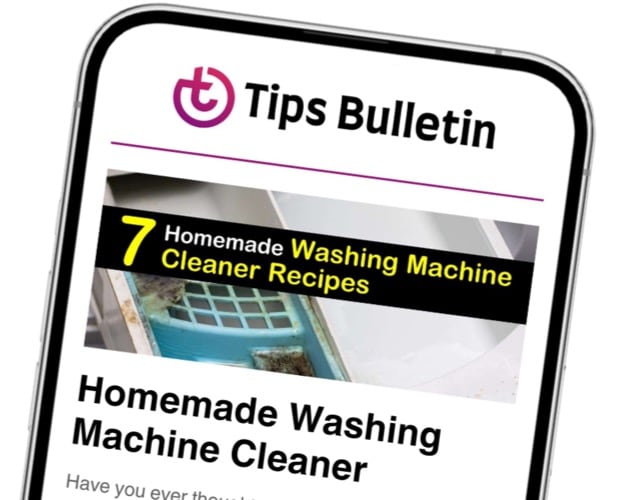 Finally, an email that Transforms Your Home.
Get the latest home and garden tips from our experts, delivered straight to your inbox.
Dish Soap Cleans Spray Paint from a Canvas Shoe
Dish soap is a quick and easy solution to get rid of stubborn paint stains on boots, and it's also safe for sneakers and other kinds of canvas shoes. Dish soap is an excellent option for cleaning paint off leather footwear since it refreshes the leather as you are getting paint out of leather. It's a two-for-one deal.
Soak a towel or rag in soapy water and use it to clean your shoes. Pat your clean shoes with a towel or paper towel, then lay them flat to dry.
How to Get Acrylic Paint Off Boots with Rubbing Alcohol
Don't let paint stains ruin canvas sneakers and leather shoes. You probably have some rubbing alcohol, an efficient stain remover, already. The alcohol degrades the paint pigment's organic components, eradicating the stain, whether you need a way to take paint off jeans or your shoes. Test a small patch first because rubbing alcohol isn't suited for all materials.
Soak a clean cloth in rubbing alcohol, gently wipe the dirty area to remove the pigment, and rinse the shoe in clean water to remove the stain. If the discoloration lingers after your sneakers dry, repeat the process to ensure the paint lifts and the natural color of your sneakers returns.
Use rubbing alcohol to get Sharpie off shoe rubber, as well. Follow the same procedure above.
Tackle a Dried Paint Stain with Paint Thinner
Paint thinner or lacquer thinner thins the consistency of paint, making it easy to remove. Perform a small test patch on a hidden area of your shoe to ensure the paint thinner doesn't fade or alter your shoe.
Wearing gloves, dip an old cloth or rag into some paint thinner and begin to rub gently at the paint stain until it breaks down. Apply a tiny amount of paint thinner at a time to get tar off boots or remove paint and other stubborn stains.
Baking Soda Removes Latex Paint from Sneakers
Baking soda is an excellent shoe cleanser to remove even the worst paint stains and leave your shoes clean. Baking soda is famous for its cleaning prowess and is ideal for reviving stained footwear.
Stir the baking soda powder and water together until thick paste forms. To start cleaning canvas shoes with baking soda or another shoe type, scrub the stained region with an old toothbrush in a circular motion. Rinse your boots in lukewarm water to remove any discoloration. To absorb excess moisture, stuff a paper towel or a dry cloth inside the toes and hang the footwear to dry in a warm place.
How to Remove Spray Paint from Boots Using Turpentine
Turpentine is designed to remove paint and may be used on shoes with care. Cover the paint stain on the shoe's exterior with a dry cloth. Using an old sponge or rag, apply a small amount of turpentine to the inside of the footwear behind the stained area and rub it in.
The paint comes off onto the dry towel you placed on the shoe's outside. As the turpentine wets the dry towel outside the shoe, replace it. The paint transfers to the cloth as well.
Turpentine works best on fabric shoes. When working with turpentine, always wear rubber gloves and work in a well-ventilated location. Repeat the turpentine method until the stain is no longer visible.
DIY Cleaner for Excess Paint on Footwear
Create this simple stain remover using substances you undoubtedly already have. It works on even the most demanding paint spots, has a light scent thanks to a few drops of an essential oil, and it won't fade or discolor your shoes.
Lemon juice works in place of essential oils to give a pleasing aroma and additional cleaning power. Test the remover on a small and inconspicuous area for best results before putting it on your shoe.
Fill a spray canister with the liquids, mix, and soak the stained area. Allow the cleaning fluid to seep into the paint stain for one minute before gently scrubbing with a clean cloth or cotton ball. Rinse the shoes with clean water and repeat if required. Apply leather conditioner to leather shoes after cleaning.
Eradicate Paint Marks with Hydrogen Peroxide
When it comes to removing paint stains, hydrogen peroxide comes in handy. Hydrogen peroxide lightens dull or discolored surfaces and is a potent disinfectant and multi-purpose cleaner.
Colored components in paint are broken down in a tenacious stain by oxidizing chemicals like hydrogen peroxide. To use hydrogen peroxide as a shoe cleaner, make a solution with water.
Press the mixture into the surface with a clean cloth, then rub persistent stains in circles with an old toothbrush to loosen and remove the unwanted discoloration. After rinsing your clean sneakers with fresh water, let them air dry. Take care using hydrogen peroxide on dark-colored shoes as it may lighten them.
Lift Leather Paint with White Vinegar
Even the most stubborn paint stains respond to white vinegar. Cleaning a canvas or fabric sneaker with vinegar is straightforward, but because it is acidic, it's best to dilute the vinegar to prevent shoe damage.
Pour the diluted vinegar solution onto a clean cloth to apply to the paint. Allow half an hour for the white vinegar to seep into the discoloration. To remove the vinegar, scrub the stain with an old toothbrush, rinse with cool water, and pat with a dry cloth. The pigment lifts and rinses off readily.
Wash Out Paint Stains in the Washing Machine
Cleaning your paint-stained shoes in the washing machine is easy. Use a light detergent to avoid discoloring your sneakers with harsh chemicals, and add white vinegar to the detergent to remove paint while the cycle is running and sanitize the boots.
Pour the detergent into the pan in the washer, followed by the vinegar. Wash your shoes in a regular wash cycle. Let your footwear air dry.
How to Get Paint Off Sneakers Using Nail Polish Remover
Nail paint remover is beneficial to more than just nails. Acetone, widely known as nail polish remover, cleans footwear of paint stains and other discoloration. Acetone is a color remover found in many products around the house, including personal products and beauty items.
Test a hidden area first before using acetone on your footwear, especially when cleaning a suede boot. Dip a paper towel or cotton swab into the acetone and gently rub the paint spot back and forth to let the solution work its magic.
OxiClean Works on Paint Stains
OxiClean is a cleaning product that uses oxygen bleach to remove stains like Angelus paint spots and brighten textiles. The cleaner is a must-have because it is environmentally friendly and safe. A chemical reaction happens when OxiClean mixes with water, resulting in oxygen bubbles to help break up hard-to-handle stains like paint.
Mix two tablespoons of oxygen bleach with a gallon of water and soak the paint-stained item in the cleaning solution for an hour. Allow your shoes to air dry after cleaning them with cool, clean water. OxiClean may not be suitable for darker colored footwear – always use per manufacturer's guidelines.
Spot Cleaning Removes Oil-Based Paint and More
Spot cleaning involves removing stains only on the paint-splattered area of the shoe. Leather shoes and other delicate footwear benefit greatly from spot cleaning. Because leather is notoriously tricky to keep clean, a spot treatment eliminates the paint stain without hurting shoes.
Choose a strategy and concentrate on the painted area. This procedure reduces the quantity of cleaning solutions used on your sneakers, lowering the risk of additional stains or discoloring.
Baby Wipes Clean Water-Based Paint Stains
Baby wipes are economical and easy, making them ideal for quickly removing stubborn paint stains and preventing wet paint from seeping into your sneakers. Baby wipes are wonderful for eliminating paint without ruining shoes because they clean while being gentle.
Rub a baby wipe over the paint as soon as it touches your boots to remove it before it permeates the material of your shoes.
Avoid a Dry Paint Stain with Prevention
Taking steps to stop paint from falling, spraying, or splattering onto your shoes saves time and effort by avoiding clean-up. Consider covering your shoes or changing into old shoes when you paint. If the worst happens and a paint accident occurs, clean the wet paint as soon as possible so it doesn't have the chance to dry on your footwear.
Painting is fun. A coat of paint brightens an entire room, and an art project is an enjoyable way to spend the day. Covering your footwear before painting, or choosing old shoes, helps avoid unwanted paint stains which are unsightly, and unprofessional. If the worst happens and you spill paint on your shoes, rest assured that it is easily removed with everyday items.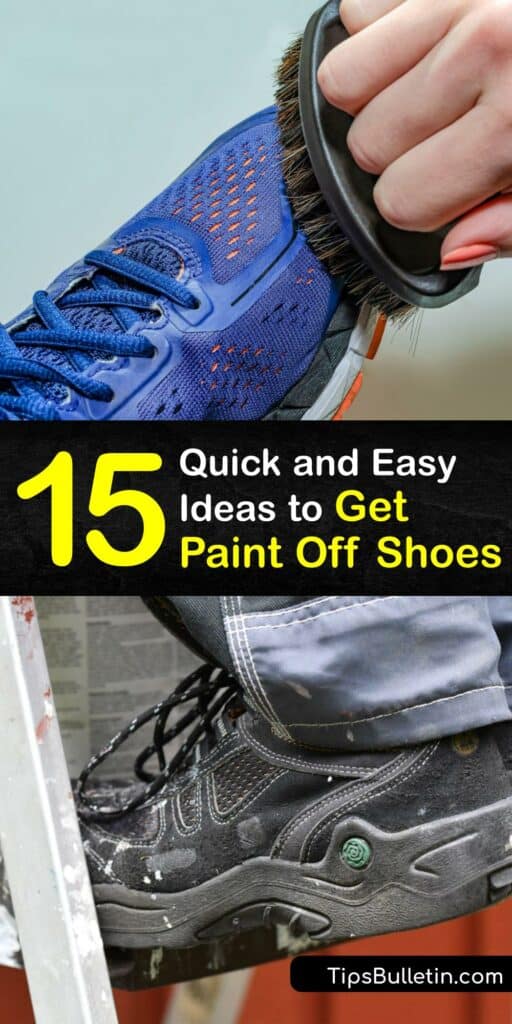 If you loved this article on how to get paint out of shoes, please share these brilliant ideas on how to remove paint from shoes with your friends and family on Pinterest and Facebook.