eanut butter is one of the more popular staples in the American kitchen, whether you enjoy crunchy or smooth peanut butter. It's delicious spread on a slice of bread, yet it's not as delightful when it gets on fabric. Learn how to get peanut butter out of clothes with a few simple stain removal solutions.
Have you ever noticed how buttered toast always lands peanut butter side down? While it's easy to make another piece of toast, it's not so simple if you have a peanut butter stain on the carpet or your clothing. Peanut butter contains oil – grease stains are more challenging to remove than regular stains.
Fabric absorbs peanut butter oil, leaving an unsightly stain, especially if you don't treat the stain promptly. It's essential to remove the excess peanut butter right away and clean the material with the proper cleaning solution.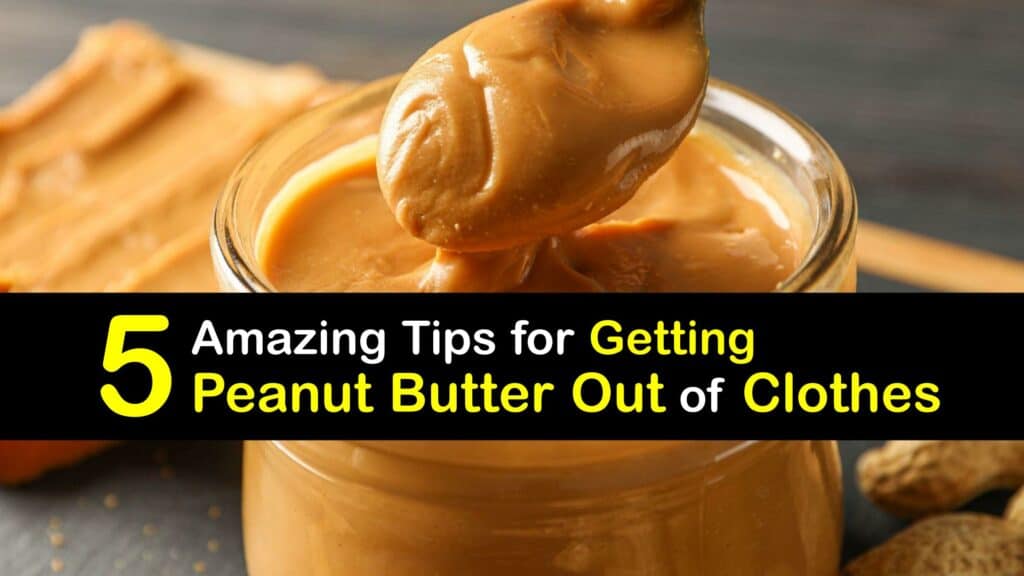 Ways to Get Peanut Butter Out of Clothes
Like cooking oil, crunchy or creamy peanut butter leaves oil stains on materials. However, there are ways to remove an oily stain. Discover how to get peanut butter out of clothes and prevent the fabric from staining.
Removing Peanut Butter From Fabric
Does peanut butter come out of clothes? Yes, it does, but removing peanut butter solids is essential before applying a cleaner. Learn how to get peanut butter out of clothes by removing the excess peanut butter from the fabric first.
Lay out the clothing item and use the edge of a spoon or butter knife to gently scrape away the peanut butter from the fabric. Do the same thing for the best way to clean gum off clothing. Avoid smearing the butter beyond the spot, and try not to rub the material too hard. Once you remove as much peanut butter as possible, blot at the stain and remove excess oil with a paper towel.
How to Remove Peanut Butter Stains From Fabric
Baking soda is excellent for absorbing peanut butter and cooking oil stains. Butter does come out of clothes easily if you absorb the excess first. Find out how to remove peanut butter stains from fabric with this miracle powder and a dry cleaning solvent.
To use baking soda for getting peanut butter out of clothes, spread out the fabric and sprinkle the soda over the peanut oil stain. Let it sit for 15 minutes, and shake the clothes over the garbage can to remove the oil-soaked powder. Apply dry cleaning solvent to the stain with a cloth and repeat the steps until the stain is gone.
Getting Peanut Butter Out of Clothes by Pretreating
It's vital to pretreat an oil or grease stain before tossing the clothes into the washer to ensure the washing machine removes the stubborn stain. Explore how to get peanut butter out of clothes with commercial or DIY stain pretreatment.
Follow the instructions for your stain remover and apply it to the stained area on your clothes as directed. Solvent-based stain removers, such as Shout, Zout, and Spray' n Wash, are good choices.
Liquid laundry detergent is an alternative if you don't have a stain removal product. Try to use Tide or Persil since these contain enzymes that break down oils. Pour enough soap on the stain to cover it, rub it into the fabric with your fingertips, and let it sit for 15 minutes before washing the garment.
How to Get Peanut Butter Out of Clothes
White vinegar has acidic qualities that break up oil stains and works well for getting peanut butter out of clothes. Combine the power of vinegar with water and detergent to create a grease stain remover that will also work for getting chocolate ice cream out of clothes. This stain remover will remove any nasty food stain.
Fill a bowl or container with two cups of warm water, and add the distilled vinegar and dish soap. For really tough stains, substitute a wet spotter for the dish soap. Dunk a sponge in the liquid, wring it out, and use it to get sticky residue off jeans or to clean the peanut butter on your clothes.
Begin at the outer edge of the oil spot. Blot at the area while working your way to the center. Avoid scrubbing the fabric and continue cleaning the oil with fresh sections of the sponge until the stain is gone. Finish by rinsing the item beneath warm, running water.
This remedy has the advantage of eliminating odors, too. Removing grease smell from clothes, as well as peanut butter odor, is easy with vinegar.
Machine Wash to Remove Peanut Butter Stains From Fabric
While stain treatments are helpful for getting peanut butter out of clothes, there may still be residue left in the fabric. The last step in the stain removal process is machine-washing your clothes. Discover how to remove peanut butter stains from fabric in the washing machine.
After removing peanut butter from clothing with a stain remover, check the affected area to ensure all the stain is gone before washing the item in the washer. Check the care tag on the clothes to ensure they are machine washable.
Place the clothing item into the washer and add the regular amount of heavy-duty laundry soap. Set the washing machine to the hot water setting on a normal wash cycle and check your clothes for remaining stains when the washer stops.
If the clothes come clean, transfer them to the dryer. Otherwise, let them air dry and treat and rewash the item. Do not dry stained clothes since the high temperature causes a stain to set permanently.
Peanut butter belongs on bread, not on your clothing, yet sometimes accidents happen. Luckily, simple home remedies like baking soda, white vinegar, and laundry detergent remove a peanut butter stain, ensuring your clothing item doesn't end up in the ragbag.
Now that you know how to get peanut butter out of clothes and prevent an oil stain, why not share our peanut butter stain removal tips with your family and friends on Pinterest and Facebook?