Anyone who menstruates experiences period stains on sheets and clothing; it's just one of nature's little surprises. Discover how to get period blood out of clothes, sheets, and other fabrics with this in-depth tutorial on stain care. Get back to living more and worrying less.
Scientists calculate that the average American woman has around 450 periods during her lifetime, which means blood stains are bound to happen on sheets, underwear, and clothing. Period stains are inconvenient, but they're not permanent as long as you have a few tried and tested laundry hacks up your sleeve.
Did you know that blood stains are unique? Blood contains hemoglobin which makes blood clot when exposed to air. Of course, this is important for healing wounds. However, it also encourages the blood to bind to clothing and underwear. Traditional oxidizing cleaners don't do the trick, so it's essential to have a variety of stain-fighting solutions at your fingertips.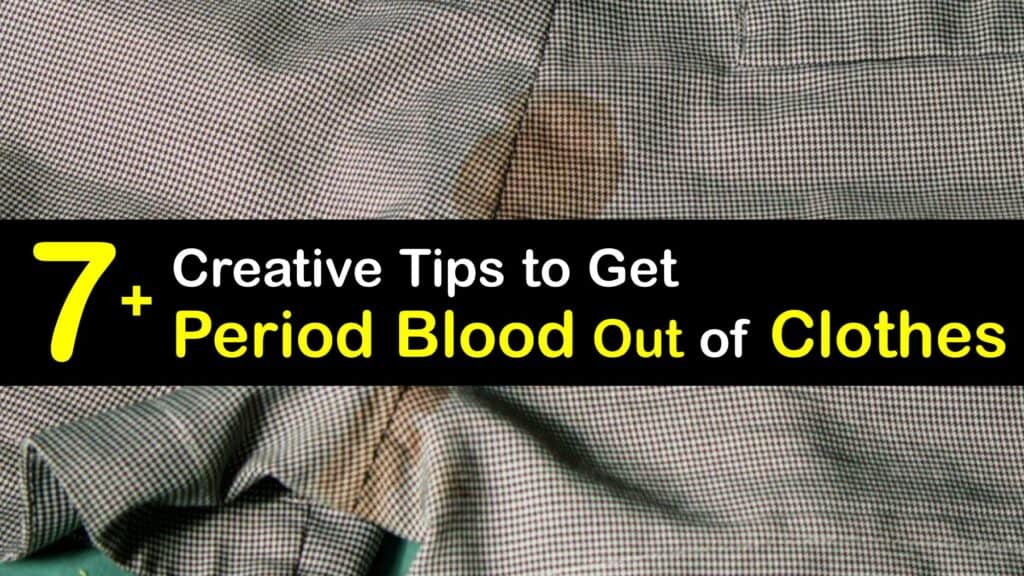 Does Period Blood Come Out of Clothes and Sheets?
We have some welcome solutions if you're struggling with period blood stains on sheets and clothing. Discover incredible tips to help you quickly and effectively deal with blood stains, so you don't have to worry about sleeping through the night or saving your favorite pair of pants.
Start with Cold Water for Period Blood Stains
There are three main categories of stains you're likely to encounter when doing household laundry: earth-based stains such as coffee or wine, grease or oil-based food stains, and biological stains like sweat stains or blood. Each stain is a puzzle waiting to be solved; it takes some know-how to crack the code.
Biological stains like period blood contain proteins that bond together, and when blood comes in contact with fabric, the proteins bind to the fibers and become difficult to wash away. For a fresh blood stain, hit it with cold water as quickly as possible.
Dab dish soap on your finger and gently work the blood while running cold water. Avoid rinsing with hot water because it makes the blood even more stubborn.
When removing period blood from clothing where there is a large amount of liquid, sprinkle talcum powder or baking soda to help absorb excess moisture. Give the talcum powder five minutes to work, brush it off with a paper towel, and rinse with cold water.
Try Some Lemon Juice for Blood Stains
Have you ever wondered how to get period blood out of clothes with a lemon? As it turns out, lemon juice is highly acidic and, in many cases, disrupts and dissolves challenging period blood stains. It's an easy way to get blood out of clothing and you may have a lemon or some juice already.
Lemon juice isn't just a pantry staple; it's an effective laundry booster for whiter whites or to break down proteins, enzymes, and amino acids in period blood stains. Consider keeping a few lemons in the kitchen or a container of pre-squeezed lemon juice in the fridge for emergencies.
To treat blood stains on light-colored clothes, pre-soak the fabric in cool water, squeeze a bit of fresh lemon juice on the stain and let it sit for ten minutes. Use a clean cloth to gently blot away the lemon juice, and put the washing machine on the cold water cycle.
Don't put your clothing in the dryer until the stain is completely gone; otherwise, it may become impossible to remove.
Vinegar Spot Treatment for Period Blood on Fabrics
If you have a tough stain to fight, it's time to consider the dynamic duo; white vinegar and salt. Salt is absorbent and mildly abrasive, but when paired with vinegar, an acid, you have a stain remover capable of dissolving a fresh stain or any dried blood stain.
Let's review how to remove period blood from clothes with a DIY vinegar spray. Fill a clean spray bottle with the water and vinegar. Add and dissolve two tablespoons of salt, and shake well.
When you are trying to get dried blood out of bed sheets or clothes or have to get old hair dye stains out of clothes or fabric, flush the stain with cold water, spray with vinegar, and let it sit for at least ten minutes. If you're in a hurry, pouring straight vinegar onto the stain is okay. Rinse again with cool water, and then use the washing machine as usual.
For extra effectiveness, add a dab of hydrogen peroxide on a white cloth and alternate between your vinegar spray and the peroxide. It's important never to mix these two in the same container because it creates a new compound called peracetic acid, a mild skin irritant; always use caution when mixing household ingredients for maximum safety and success.
How to Get Period Blood Out of Clothes
Unseasoned meat tenderizer to clean period blood from clothes may seem like a strange recommendation. However, meat tenderizer works for period blood stain removal because it's based on enzyme science.
Meat tenderizer spice is basically powdered enzymes, specifically papain, derived from papayas. The natural enzymes in meat tenderizer spice break down the stubborn proteins in blood and tissue, effectively dissolving unwanted period stains.
This ordinary kitchen powder works well against old blood stains and is a great way to get dried period blood out of clothes and sheets. Soak the stained material with cold water to loosen as much blood as possible.
Rub a heaping spoonful of meat tenderizer into the stain and let it sit for 30 minutes. Brush the excess powder off and wash in cold water as usual.
Chlorine Bleach for Period Stains on Whites
Chlorine bleach is a chemical cleaning product used commercially and in the home to remove the color from stained material. Bleach works by interacting with any compound it comes in contact with, causing a chemical reaction that turns colored fibers white.
To treat a bloodstain, soak your fabrics in cold water for 30 to 60 minutes. Apply a bit of bleach to a white cloth and gently blot the stained sheet to help break up any remaining blood. Pop your item in the washing machine with a good laundry detergent using cool water, and don't place it in the dryer until the period stain vanishes.
When cleaned with chlorine bleach, does period blood come out of clothes? Yes, chlorine bleach works against blood stains on white sheets and underwear. However, when working with chlorine bleach, it's always essential to protect your skin and lungs by wearing gloves and ensuring proper ventilation.
Oxy-Bleach for Period Stains on Colors
Even dark-colored fabrics show stains, and it's important to have a plan in place for clothes that require a little color-sensitive TLC. We've talked a lot about white fabrics; now, find out how to remove period blood from clothes you can't treat with whitening agents like chlorine bleach or lemon juice.
Why not add a bit of oxygenated bleach to your wash cycle for dark sheets and clothing? Oxygenated bleach detergent uses a gentle sodium percarbonate to treat stains safely and effectively.
Oxy-bleach is more eco-friendly than most other chemical cleaners because of its simple ingredients and is safe for use on most clothing, except for delicate fabric like linen or lace.
Try oxygen bleach when removing blood stains from upholstery. It's best to complete a spot test in an inconspicuous area first to ensure no color fading.
How to Remove Period Blood from Clothes
Does period blood come out of clothes one hundred percent of the time? With the proper stain treatment, you should be able to rescue and refresh almost any blood stain that hasn't been baked in by hot water or the heat of the dryer.
Many professional custodians suggest using an enzyme cleaner to achieve a high stain-fighting success rate. Enzyme cleaner is a blanket term for products that use enzymes to disrupt and dissolve stains, but there are many different kinds of enzymes – it's essential to use the right ones for the job.
For example, blood stains react well to proteolytic enzymes or protease enzymes. They're found naturally in bacteria, plants, and animals. When purchasing professional enzyme cleaners, always choose one guaranteed to work against protein-based stains like period blood for the best results.
Make a DIY Enzymatic Cleaner for Period Blood Stains
Professional enzyme cleaners are effective because they speed up the breakdown of the problematic proteins that cause blood stains. Enzymatic cleaners are widely available at almost any store but tend to get expensive. It's surprisingly easy to make an enzyme cleaner at home; break down a stubborn stain without breaking the bank.
This recipe uses fresh pineapple and papaya because they contain protease enzymes necessary to attack blood stains effectively. Remove the enzyme-rich skin from the pineapple and papaya, and remember to save the delicious fruit for later. Add the water and fruit skins to your blender and pulse until everything is finely minced.
Add a teaspoon of baker's yeast and a half cup of brown sugar to the blender; pulse briefly to ensure everything combines. Pour the ingredients into a glass jar, close it with a lid, and place it in a dark cabinet for fermentation. Shake the bottle and unscrew the lid to release built-up gas daily.
Ferment your enzyme solution for four weeks to ensure proper levels of healthy bacteria. When ready for use, strain the liquid and pour it in a spray bottle. This mixture lasts about six months without refrigeration and works best for dark clothing and fabrics and is also ideal for tough grass stains and pee stains. For delicate fabric like wool or silk, always spot test a hidden area.
There is a solution for every stain, and we want to ensure you have all the right tools in your kit to tackle anything life throws your way. It's critical to act fast when dealing with period blood stains; the quicker you can attend to the blood stain, the higher your chances of success.
Use cold water for blood stain removal, and never use heat until the stain is completely gone. Consider options like lemon juice, meat tenderizer, or enzyme cleaners, and always exercise caution with chemical cleaners like chlorine bleach.
We hope you enjoyed this tutorial covering tips for how to get period blood out of clothes, sheets, and underwear. Period stains are part of life for anyone who menstruates, and it's not something to hide or be ashamed of. If you get a surprise from nature, there are plenty of quick-fix options if there is a mishap.
If you liked learning how to get period blood out of clothes, sheets, and underwear, please share this article with friends on Pinterest or Facebook who would benefit from knowing a few stain-fighting solutions.