Getting poison ivy off shoes is straightforward and cost-effective.
Here's what you need to do:
Put on gloves to protect your hands.
Make a cleaning solution with warm water and dish soap.
Scrub the shoes with a brush gently and carefully.
Rinse the shoes thoroughly with clean water.
Let your shoes air dry completely.
To get poison ivy off my shoes safely and prevent a rash, start by protecting your hands with gloves to avoid direct contact with urushiol, the oil from poison ivy that causes the rash. Prepare a simple and inexpensive cleaning solution using warm water and dish soap, which is very effective for cutting through the oily residue.
Next, take your shoes and gently scrub them with the solution using a soft brush, being mindful not to splash or spread the oil. It's important to rinse the shoes well with water to make sure all the soap and urushiol are gone. Finally, let the shoes air dry thoroughly, which is a key step as damp shoes can lead to mildew. By following these steps, you can keep your hiking adventures enjoyable and itch-free!
We often worry about getting poison ivy, poison sumac, or poison oak on our hands, arms, or ankles while hiking through wooded areas and don't usually think about our shoes. However, footwear is more likely to brush against a poisonous plant and go unnoticed. Here is how to get poison ivy off shoes quickly and safely to prevent spreading it to your skin or other areas.
A stroll through the woods is fun and sometimes adventurous. However, a poison ivy rash or sumac rash is nothing to laugh about. In fact, an allergic reaction can cause a severe case of ivy dermatitis. The poison ivy oil causes itching and weeping blisters on your skin and is an extremely unpleasant experience.
This plant contains an oily resin called urushiol, which is found throughout the entire poison ivy plant. It is present all year and even remains active on a dead poison ivy plant for years. A skin rash and blisters result from coming into contact with the urushiol oil, and sometimes this plant oil follows you home on your shoes.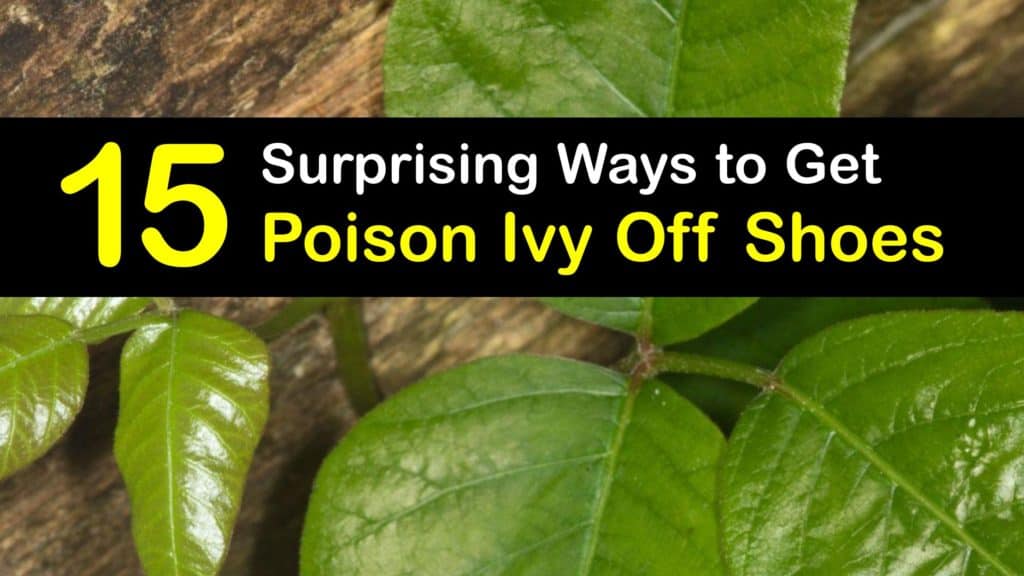 Ways to Clean Poison Ivy Off Shoes
While you take caution not to touch unknown plants in the woods, the rash-causing oils from poison plants like sumac and ivy can also get on your clothing and shoes, eventually causing an itchy rash on your skin. Here are several ways to remove ivy oil from your footwear and prevent an uncomfortable skin reaction.
Can Poison Ivy Survive on Shoes?
We're all aware that brushing up against poison ivy leaves results in an ivy rash on our skin. But what about our shoes? Believe it or not, poison ivy oil can get on your footwear, and the length of time the oil lasts may surprise you.
Poison Ivy
The stems, roots, and plant leaves of poison ivy, poison sumac, and poison oak contain urushiol, an oily resin released when the plant is broken or crushed. This oil causes an allergic reaction in the skin, resulting in an itchy rash.
It also sticks to clothing, backpacks, shoes, boots, and other items. Not only is the oil present in live plants, but it remains active for up to five years on dry and dead plant material, along with your shoes.
Cleaning Exposed Skin before Removing Poison Ivy from Shoes
Before cleaning your shoes, remove any poison ivy oil from your skin to prevent getting a skin rash and spreading the oils to other areas. Wash exposed skin after coming into contact with burning plant oil.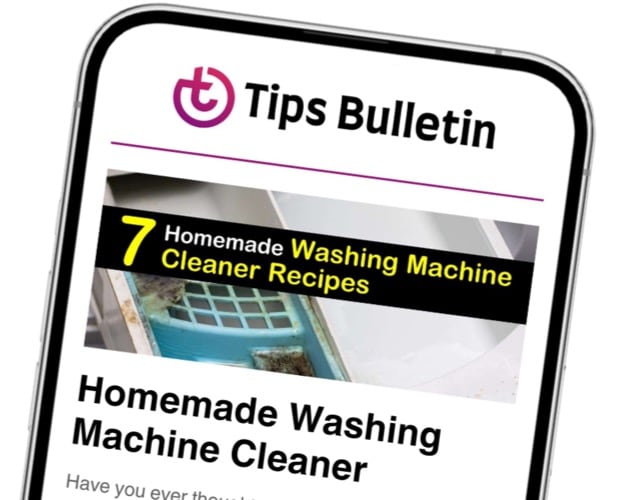 Finally, an email that Transforms Your Home.
Get the latest home and garden tips from our experts, delivered straight to your inbox.
Apply some mild soap to your hands, arms, and other exposed areas of skin and clean them with warm water. Avoid scrubbing your skin too roughly to prevent skin irritation, and don't forget to clean under your nails.
If you discover a poison ivy rash developing, try calamine lotion or steroid cream to alleviate the symptoms. A popular home remedy for relieving a poison ivy rash is apple cider vinegar.
Preparing to Remove Poison Ivy from Shoes
After washing and treating your hands and other areas of exposed skin, it's time for cleaning your shoes. Take a few initial steps before you clean poison ivy off footwear.
Remove your clothing, wash and dry them immediately, and clean the affected areas of your skin. Wear gloves when handling your clothes and wash them on the heavy-duty cycle. Then, run them through a second cycle and hang them out to air dry in case there are traces of the urushiol on the fabric.
When you're ready to clean your shoes, gather rubber gloves, an apron, towels, a cleaning brush, and your shoe cleaner of choice. Put the gloves on, spread a large towel over the work surface, and set the contaminated shoes on top to prevent the oils from affecting the table or floor.
How to Remove Poison Ivy from Shoes by Spot Cleaning
If you know the exact area of your shoe that came into contact with poison ivy, it's easy to clean the section with soap and hot water. Here is how to remove poison ivy from shoes by spot cleaning.
Slip on a pair of gloves and pour hot water and liquid laundry detergent into a bucket. Use a brush to scrub the soapy water onto the affected area of your shoe. Clean the spot gently to prevent splattering, and try not to soak the material. Once the shoe is clean, blot it with a towel and set it in a warm area to air dry.
How to Clean Poison Ivy Off Shoes in the Washing Machine
Often we aren't even aware that we've trampled through poison ivy until we get home. In this case, it's a good idea to clean the entire shoe to ensure none of the oil remains. Here is how to clean poison ivy off shoes by washing them in the washing machine.
First, check your pair of shoes to determine if they are machine washable. Place them in the washing machine with your favorite laundry detergent and use the heavy-duty cycle. Repeat to ensure all the plant oil is gone, and then set your shoes in a sunny area to air dry.
How to Get Poison Ivy Off Shoes by Hand Washing
Unfortunately, not all footwear is safe to clean in a washing machine. If you've accidentally stepped on poison ivy and your shoes are not machine-washable, here is how to clean poison ivy off shoes by hand washing them.
Start by slipping on a pair of rubber gloves, and then fill a plastic tub with warm water and dish soap. Remove the laces and discard them in the trash. It's better to replace them with new laces to prevent cross-contamination.
Soak your shoes in the soapy water and use a soft bristle brush to clean the inside and outside of each shoe. Rinse them under running water and use a towel to blot dry. Set them on a shoe rack or in a sunny window and let them air dry completely.
Drying Your Shoes after Removing Poison Ivy
After cleaning your shoes to remove poison ivy oil, it's essential to dry them properly to prevent mildew growth. Here are a few ways to dry your footwear quickly or slowly, depending on the shoe type.
There are many ways to dry your shoes after cleaning them to remove poison ivy. The quickest is to use your clothes dryer. However, this may cause shrinkage, and not all shoes are safe for this method. If you dry them in the dryer, hang the laces outside the door when you shut it to prevent the shoes from damaging the drum.
Another quick way to dry your shoes is to use a shoe dryer. These units use thermal convection to dry your footwear from the inside out. If you do not have one of these handy gadgets, try stuffing the inside of your shoes with newspaper to absorb moisture and set your shoes on a shoe rack to air dry.
Cleaning Poison Ivy Off Leather Shoes
If you're unlucky enough to be wearing leather shoes while walking through a patch of poison ivy, special cleaning methods are required to remove the plant oils. Here is how to remove poison ivy from shoes made with leather material.
Squeeze some dish soap or detergent into a bowl of warm water and dampen a clean rag with the soapy water. Scrub the affected area of the leather shoe with the soapy cloth while using a bit of pressure to get into the leather pores. Repeat the steps two more times and then dry the spot with a clean cloth.
Pour some rubbing alcohol onto another rag and gently wipe down the surface of the clean leather to kill any leftover ivy oils. Finish by using a leather conditioner to prevent the soap and alcohol from drying the material.
Using Vinegar to Clean Poison Ivy on Your Shoes
While soap and water usually do the trick, vinegar also effectively cleans shoes to remove poison ivy plant oil. This method is ideal for spot cleaning and works well to clean canvas shoes. As a bonus, you can take care of killing poison ivy with vinegar at home too.
It's easy to make your own cleaning solution for shoes with items you have at home. Pour some warm water into a container, add a tablespoon of white vinegar and a few squirts of dish soap. Apply the cleaner to your shoe with a bristle brush and scrub the surface with a circular motion.
Rinse the brush, reapply the solution a second time, and rinse your shoe with clean water. Use an absorbent towel to soak up as much moisture as possible, and let your shoe air dry.
Removing Poison Ivy from Your Shoes with Rubbing Alcohol
Rubbing alcohol has many uses, and removing poison plant oil from your shoes is one of them. This technique is also excellent for quick cleaning while on the trail if you have alcohol wipes on hand. Use alcohol to clean grass stains off boots and shoes, even leather shoes.
Slip on gloves to protect your hands and pour some rubbing alcohol onto a washcloth. Rub the cloth over the area of your shoe to remove the poison ivy oil. If you do not have rubbing alcohol, hand sanitizer and alcohol wipes work well and are suitable substitutes for cleaning small areas. Clean and restore suede boots and eliminate poison ivy with ease.
Dry Cleaning Delicate Shoes to Remove Poison Ivy
While cleaning your shoes at home with a few simple ingredients works to remove poison, some people may find that it's easier to have someone else take care of the job, especially if you have expensive footwear.
Shoe Dry Cleaning
Put on a pair of rubber or cotton gloves and remove your shoes. Place them in a box or bag and secure them shut before heading to the dry cleaner. Make sure to advise the shoe cleaning professional about the poison ivy when you drop off your shoes to ensure they handle your footwear safely and do not contaminate other items.
Avoiding Poison Ivy Cross Contamination While Cleaning Your Shoes
Plant oils spread quickly from one surface to another, so it's critical to take the necessary steps to prevent cross-contamination while removing poison ivy from your shoes.
Take precautionary steps when dealing with poison ivy to prevent contaminating other objects and your skin, leading to contact dermatitis. Always wear gloves when removing clothing and shoes and clean everything you come in contact with during the cleaning process.
Wash the clothes and footwear separately from other laundry items and spread newspaper or towels over the work surface when hand-cleaning. Don't forget to wash the rags, cloths, and towels when you finish cleaning your shoes.
Cleaning with rubbing alcohol is often helpful to remove poison ivy as it is to remove dirt and tar from your garden boots. Be sure to wear gloves and dispose of cleaning implements carefully.
What to Do If You Walk through Poison Ivy
You discover that you just walked through poison ivy plants and are anxious to remove your shoes. However, reaching down with your bare hands and removing your footwear is one of the worst things to do. Take the proper steps when you find poison ivy on your sneakers.
Poison Ivy Encounter
If you encounter poison ivy, the best thing to do is to wash the area immediately with soap and water and clean anything contaminated with the plant oil to prevent future exposure.
Sometimes this is enough to stop a poison ivy rash. However, if you develop a rash, a cool shower and antihistamines help alleviate the symptoms.
How to Identify Poison Ivy to Prevent Future Accidents
You encounter many different plants while strolling through the woods, and some are hard to tell apart. Learn what poison ivy looks like and how to differentiate it from other plants to help you avoid future mishaps.
Poison ivy plants have compound leaves that are glossy or dull with smooth or coarsely toothed margins, and these variations often cause confusion. However, they have three leaflets with pointed tips, which brings us to the saying, "leaves of three, let it be."
They grow from a climbing or straggling vine and grow inconspicuous five-petaled, greenish flowers and loose, drooping clusters of fruits.
Ways to Prevent Poison Ivy on Your Shoes
It's easy to get carried away while hiking. There are many things to look at, and nature has a way of lulling us into a sense of security. However, there are many things in the natural world to keep an eye out for, and poison ivy is one of them.
Poison ivy grows in wooded areas, usually along the edges where the plants receive some sun. Because of this growth habit, we often encounter these plants along trails and roads. It is adapted to different soil types and moisture conditions, which makes avoiding this plant a challenge.
Always wear shoes or boots and protective clothing while hiking near the woods, and keep an eye out for the three-leafed plant as you walk. Also, consider applying a barrier cream to your exposed skin for extra protection during your hike.
Getting a rash from a poison ivy plant or poison oak leaf is not a pleasant experience. However, staying in your home and avoiding all contact with nature isn't fun either. Fortunately, there are easy ways to clean urushiol oil from your shoes and prevent it from getting on your skin.
Now that you know how to get poison ivy off shoes safely to prevent an accidental skin rash, why not share our poison ivy shoe cleaners with the nature-lovers in your life on Pinterest and Facebook?