Learn how to get polyurethane out of clothes and save your favorite outfit from the trash. Figuring out how to remove polyurethane from fabric after a spill or splash can be daunting. Polyurethane is a plastic material with a vast array of uses. As one of the most varied types of synthetic resin, polyurethane is utilized in many consumer and industrial goods worldwide.
According to science, polyurethane primarily comprises two chemical substances: polymers and urethane. Millions of people daily depend on sturdy and long-lasting products made of this polymer compound. Unlike other synthetic substances, polyurethanes are heat-resistant and do not dissolve when heated.
Polyurethane glue is used in crafts, and polyurethane sealant or paint gives a smooth, protective finish to a wood floor. Polyurethane or PU leather is used in clothes, shoes, and furniture. Many people come into contact with polyurethane while at work or performing DIY projects.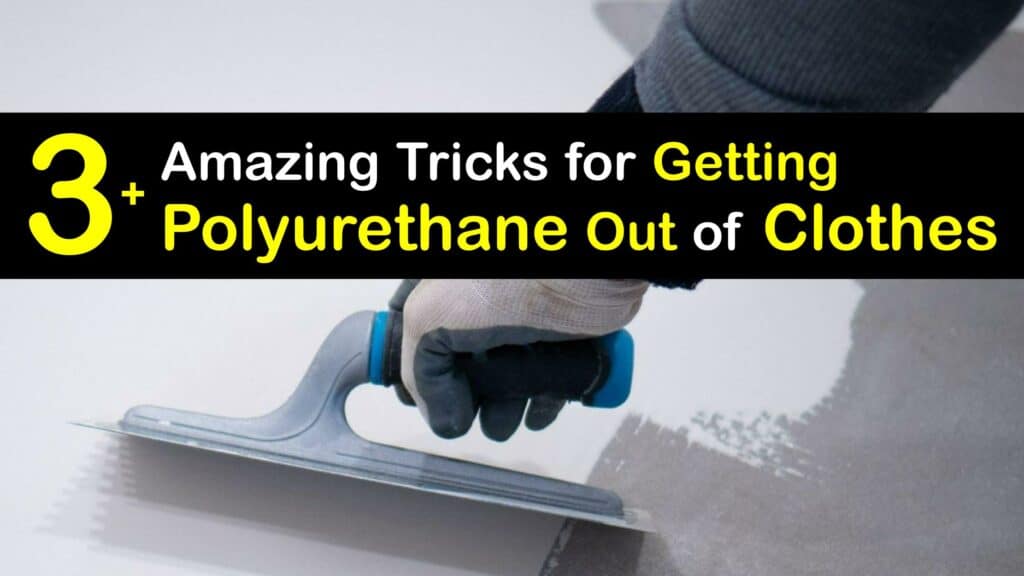 How I Remove Polyurethane from Fabric
Though polyurethane is extremely valuable, it is a hassle if it gets on your clothing. Fortunately, several home remedies help with getting dried polyurethane out of clothes.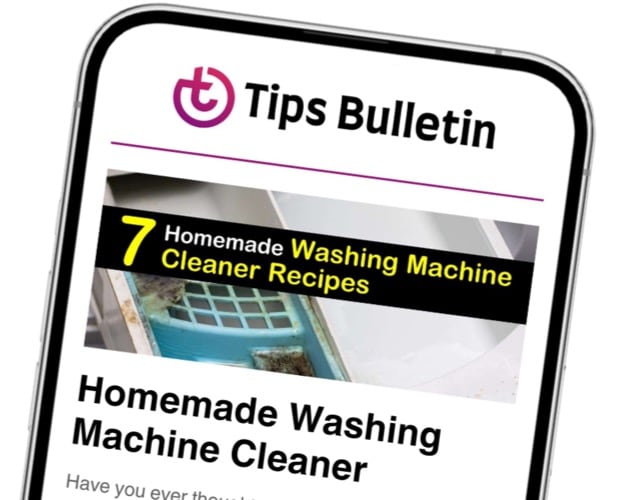 Finally, an email that Transforms Your Home.
Get the latest home and garden tips from our experts, delivered straight to your inbox.
If you work with this polymer, it's crucial to understand how to get polyurethane out of clothes, just like it is necessary to know how to take Gorilla Glue off your hands and clothing. Thanks to its durability and heat resistance, getting dried polyurethane out of clothes poses a challenge without the correct information.
Your outfit probably seems destroyed after a polyurethane spill; however, with the help of easy-to-follow home hacks, it's straightforward to eradicate the polyurethane residue from your clothes.
Does Polyurethane Come out of My Clothes?
Whether you're putting a polyurethane finish on your hardwood floor, working with a polyurethane wood stain or sealant, or manufacturing polyurethane fabric, if you splash polymer on your clothes, you need an efficient stain remover.
Always wear rubber gloves when working with polyurethane. Blot up a polymer spill as soon as it happens using a clean cloth or paper towel, and avoid rubbing as it may spread the stain.
Easily remove polyurethane spills on wood or other surfaces with steel wool. The delicate nature of clothing fabric means more care is required to get rid of a polyurethane mark.
How I Get Polyurethane Out of Clothes with Dish Soap
A mild soap and hot water mixture works best for cleaning water-based polyurethane stains and is the perfect when you remove grease stains from polyester clothing and carpeting. A grease-fighting soap works best.
To just make a simple glue remover, dunk a clean cloth into the prepared soapy water and wring it out. Use the damp cloth to rub back and forth over the stain until the polymer begins to lift. When your cloth gets dirty with polyurethane, switch to a new clean cloth. Rinse the fabric with clean water, inspect for residue, and continue cleaning until no evidence of staining remains.
Getting Dried Polyurethane Out of My Clothes
A polyurethane glue stain is unsightly and distracting. A paint stripper, paint thinner, or lacquer thinner is best to remove oil-based polyurethane stains or if you have sticky residue on clothes after washing them. Start with a chemical thinning product rather than a stripper, and test it on a tiny area of your garment to ensure it doesn't fade or wear the fabric.
Use the chemical paint stripper with care, applying the minimum amount required to remove the polyurethane, and don't contact the rest of the material of your clothes with the chemical.
Trying Acetone to Remove Polyurethane from My Clothing
Acetone – the main chemical in nail varnish remover – is perfect for eliminating stubborn stains. It even gets Super Glue out of any fabric. Use a cotton pad or cloth to soak the polyurethane stained area in acetone, let it sit for two minutes, and rinse with warm water.
Similar to when you get nail polish on the sofa, test nail polish remover on a small area before making a more extensive application. Try to only apply acetone to the stain and not the surrounding fabric. Repeat until the polyurethane residue is gone. Acetone is also a great way to remove dry nail polish from couch fabric and from the carpet.
Polyurethane is a versatile substance with a myriad of uses, yet the properties making it so helpful also make it difficult when it comes to stain removal. Trust proven at-home ideas to erase polyurethane stains. Discover how to remove polyurethane from fabric and confidently perform your work, home improvements, or crafting.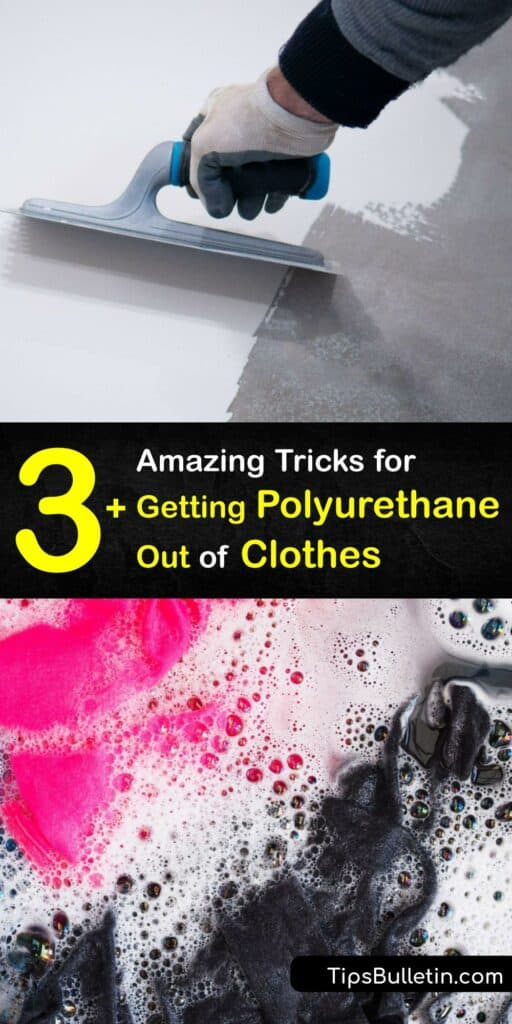 If you loved this helpful article on how to get polyurethane out of clothes, please share these clever tricks for getting dried polyurethane out of clothes with your like-minded family or friends on Pinterest and Facebook.