Canker sores can be effectively treated with home remedies.
Apply aloe vera directly to the sore or use it as a mouth rinse.
Swish with a hydrogen peroxide solution to disinfect the affected area.
Dab honey on the canker sore to exploit its natural antibacterial properties.
Place a chamomile tea bag on the sore to reduce pain and inflammation.
Rinse your mouth with a baking soda solution to neutralize acidity and speed up healing.
To treat canker sores with aloe vera, either apply the gel directly onto the sore using a cotton swab or mix it with water to create a gentle, healing mouth rinse to use three times a day. Hydrogen peroxide, a household antiseptic, can be swished around in the mouth in a diluted form to help clean the sore and promote healing. Honey's antibacterial qualities are beneficial when applied to the sore, potentially reducing infection and soothing pain.
Chamomile tea bags, known for their anti-inflammatory properties, can be applied to the sore after being moistened with water for a calming effect. Lastly, rinsing the mouth with a mixture of baking soda and water raises the pH level inside the mouth, creating an environment less hospitable to the harmful bacteria that can aggravate canker sores.
Canker sores, also known as aphthous stomatitis: there's a good chance you've experienced them at some point in your life. While the cause is unknown, numerous factors can trigger canker sores, from certain types of food to braces. They're small, whitish, painful sores that appear on the inside of your mouth and gums and can make it difficult to eat and talk, but we'll show you how to get rid of a canker sore.
In most cases, mouth ulcers aren't cause for alarm (though in some instances, you'll want to consult with your doctor in case there's a more serious underlying problem), but mouth ulcers can still be unpleasant.
You want relief, and you've come to the right place. In this article, we're going to show you some home remedies for canker sores and how to heal a canker sore fast.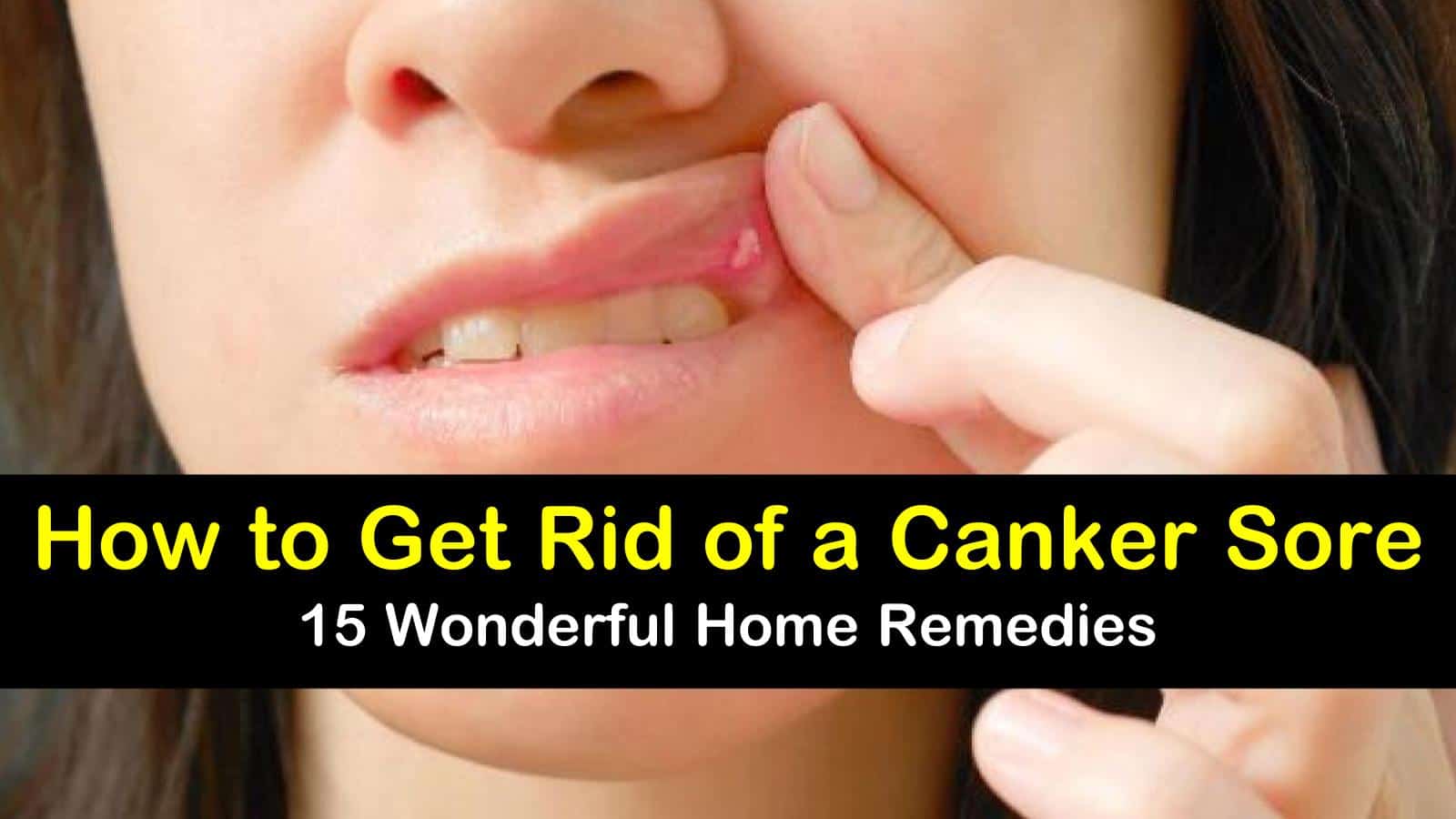 Understanding My Canker Sores
Canker sores are shallow ulcers. They typically develop on the inside of your lips, cheeks, gums, or tongue and tend to be red around the edges with a yellow or white center. The ulcers might be large or small, and you might have multiple sores.
When a sore develops, it often causes a painful burning or tingling sensation it may be painful to eat or talk. In general, a canker sore will cause pain for about 7 to 10 days. It should heal within one to three weeks. If you have a severe canker sore, it could take up to six weeks for it to heal.
Types of Canker Sores
There are two kinds of painful canker sores.
Simple Canker Sores are common in young adults and teenagers — usually between the ages of 10 and 20, and you'll get them around three to four times a year. They appear on the inner lips, cheeks, and gums.
Complex Canker Sores are uncommon and tend to occur when someone has had canker sores previously.
Are Canker Sores and Cold Sores the Same Thing?
Cankers and cold sores are two different things. Both appear in the region of the mouth, lips, and gums, but there are differences.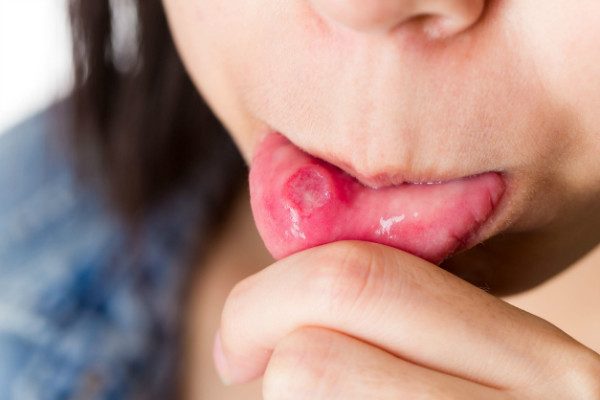 Many people think cankers and cold sores are the same, but they do have some differences. Canker sores tend to be caused by oral damage. Acidic foods such as oranges and lemons can cause canker sores, as can braces and underlying diseases. Cankers aren't contagious.
A cold sore, on the other hand, is a bacterial infection caused by something called the herpes simplex virus. Because cankers are a form of herpes, they're also contagious. Cold sores can appear on the lips and around the mouth, whereas cankers only show up inside the mouth.
How to Get Rid of My Canker Sores
Diagnosing the cause of canker sores is tough because an exact cause is not yet known, meaning many factors might cause them. However, there are a few things that are suspected to cause canker sores.
Brushing My Teeth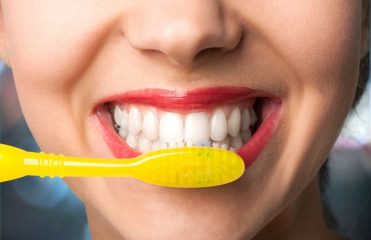 Take care while brushing your teeth to minimize bacteria in your mouth. When you floss, floss each tooth up and down on both sides. When you brush, get the front and back of your teeth, and take care to get all the way back to the molars, and don't forget the gums. Consider using mouthwash.
When choosing toothpaste, consider investing in SLS-free-toothpaste. SLS, or sodium lauryl sulfate, is an ingredient that manufacturers add to the product to give toothpaste the fizzy, "clean" feeling you get when you brush your teeth. Otherwise, sodium lauryl sulfate offers no practical value — your mouth would be just as clean without it.
Why is sodium lauryl sulfate significant? SLS is a surfactant (it lowers the surface tension of the liquids into which it's introduced) and a foaming agent. Unfortunately, it also strips away the protective lining of the mouth. Without that protective lining, your mouth is vulnerable to bacteria — and therefore, painful canker sores.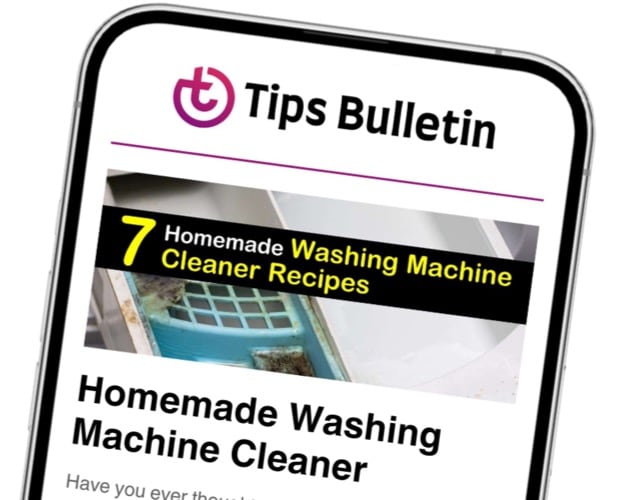 Finally, an email that Transforms Your Home.
Get the latest home and garden tips from our experts, delivered straight to your inbox.
And again, SLS offers no practical value. All toothpaste needs to have is mild polishing/abrasive qualities, and sodium lauryl sulfate offers neither of these things. It only exists to evoke a feeling of "cleanness" in the mouth of the consumer.
So when choosing toothpaste, consider going for an SLS-free-toothpaste. You'll still get the cleaning qualities, without the destructive properties that leave your mouth vulnerable.
How Does Crohn's Disease Affect My Canker Sores?
Crohn's Disease is a condition in which the gastrointestinal tract becomes inflamed. As a result, you might experience ulcers. The ulcers can appear anywhere inside your body between your mouth and anus, such as within the appendix, small intestine, and colon.
On occasion, Crohn's Disease can also cause aphthous ulcers in the mouth, similar in appearance to aphthous stomatitis. Crohn's disease can also create a deficiency of vitamin B12, which is yet another possible cause of canker sores.
How I Deal with Canker Sores Due to Vitamin B12 Deficiency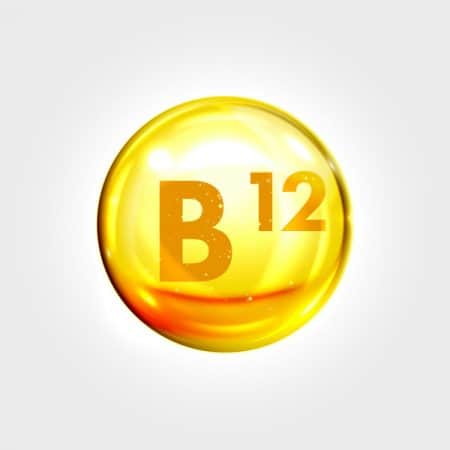 Vitamin B12 serves a variety of purposes in your body. Your body uses it to convert carbohydrates into glucose, which produces energy and combats fatigue. Vitamin B12 also helps regulate your nervous system, which fights depression and stress.
Your digestive system needs it to stay healthy, and your body uses it to maintain healthy skin, hair, and nails. Among other things, canker sores may be a symptom of Vitamin B12 deficiency, so if you have canker sores – and especially if you have Crohn's disease – you might consider introducing more Vitamin B12 to your diet.
The best source of Vitamin B12 is beef liver and clams. You can also get it from fish, meat, poultry, and dairy products, and manufacturers fortify some breakfast cereals with Vitamin B12. If you practice a Vegan diet, you might consider looking into Vitamin B12 supplements.
How I Handle Oral Technology to Prevent Canker Sores
If you wear braces or wear ill-fitting dentures, your risk of developing canker sores increases due to the friction against your cheeks and lips.
For braces, consider using a wax cap (described below) to reduce the rubbing. If you wear ill-fitting dentures, you might try a wax cap, or consult your dentist for an adjustment.
How I Manage Stress to Prevent Canker Sores
Take care to get plenty of rest. Canker sores commonly appear during times of stress, so aim to go to bed the same time every night and get plenty of deep, restful sleep.
How I Heal a Canker Sore Fast
To treat a painful canker sore, use over-the-counter medicines like Orabase or Anbesol. Apply the treatment three to four times a day with a Q-tip or cotton swab. Pain relievers like Tylenol or ibuprofen can help reduce pain.
If the canker sore does not get better within two weeks, schedule an appointment with your dentist or doctor – cankers can be a symptom of an underlying condition that you'll want to treat as soon as possible.
If you're looking for canker sore relief, stick to soft, bland foods, which are less painful (and less likely to exacerbate the problem) than crunchy or spicy foods. Likewise, avoid foods that are high in acid like orange juice, citrus fruits, and tomatoes.
Try to avoid chocolate, spicy food, nuts, coffee, salty foods, and seeds. Cold fluids and Popsicles are ideal for soothing the pain of a canker sore.
My Home Remedies for Canker Sores
Using My Aloe to Treat Canker Sores
Aloe is known for its ability to soothe sunburns and irritated skin, but did you know that aloe is a fantastic natural remedy for canker sores as well?
There are a couple of ways to use aloe. One is by using a cotton swab and aloe gel. Use the cotton swab to dry the canker and then apply the aloe directly. Repeat as necessary throughout the day.
Another is by using an aloe mouth rinse. Put aloe gel in water and gargle (taking care to submerge the canker) three times a day.
How I Use Hydrogen Peroxide to Treat My Canker Sores
You know hydrogen peroxide: it's the bubbly chemical in the brown bottle that you pour on cuts and scrapes. Its disinfecting properties will help the healing process of your canker sore, too.
To use it, swish 3% hydrogen peroxide around in your mouth with your tongue just like you would with mouthwash. Make sure the canker sore gets coverage. Additionally, make sure that you avoid swallowing the hydrogen peroxide.
Most cases of hydrogen peroxide consumption are harmless, but there are instances of hydrogen peroxide poisoning. So take care to avoid ingesting any of it, just in case.
You can also make a helpful hydrogen peroxide mouth rinse to improve its effectiveness. Combine hydrogen peroxide, water, baking soda, and salt and rinse your mouth with it for an alkaline (anti-acidic) disinfectant.
Honey Heals My Canker Sore Fast
Honey hosts a variety of health benefits — antibacterial properties being one of them, making it a fantastic canker sore remedy. Use raw organic honey for the best results. Take a healthy dab of raw honey and combine it with warm water, and apply it directly to the canker sore 3-4 times per day.
Make sure one of the times you use it is right before you go to bed and after you've done your eating and talking for the evening. Honey seems to work the most effectively without interference, meaning it will probably work the best while you're sleeping.
Using Chamomile Tea Bag for My Canker Sore Relief
Chamomile is a daisy-like flower that promotes relaxation, reduces pain, and induces sleep. The chemical compound bisabolol in chamomile helps to lower inflammation and minimize the chance of an infection.
Soak the tea bag for one minute in water. Then place it directly on your canker sore for five to ten minutes. Using chamomile twice a day encourages healing and limits discomfort.
How I Make a Wax Cap to Prevent My Canker Sores
Sometimes you can trace the origin of the canker to friction. If you've recently acquired braces, or if you just notice that your cheek/lip is rubbing against a tooth, consider creating a waxy "cap" to reduce the friction and help the healing process.
Melt beeswax and coconut oil in a pan. Allow the wax to cool and then apply the mixture to the part of the braces (or the tooth) rubbing against the cold sore.
After carefully cleaning your dentures put the wax cap on. If you're putting the wax onto dentures or braces, max sure you use plenty – otherwise, the wax will just get jammed into the metal and lose its effectiveness.
I Use Baking Soda to Get Rid of My Canker Sores
Baking soda is a mainstay in many homes, and you probably have some on hand. Not only is it ideal for cleaning virtually everything in your house and mixing with vinegar for science fairs, but you can also use baking soda to speed up the healing process of mouth sores.
To use it, blend a solution of 1 teaspoon baking soda and 1/2 a cup of warm water and rinse your mouth with it 2-3 times a day.
How I Use Plain Yogurt to Heal My Canker Sores
Yogurt is a dairy product caused by bacterial fermentation. When you think about yogurt, you probably think about its uses to treat intestinal problems, like constipation and diarrhea.
If you've been on antibiotics, your doctor has probably recommended that you eat probiotic yogurt. Plain yogurt can ease the symptoms of cankers, too.
Simply eat plain yogurt daily to help the healing process, or, if you don't have cankers, reduce the risk of developing them. Part of the cause of cankers is bacteria, and plain yogurt helps kill the bad bacteria while promoting the good bacteria.
I Treat My Canker Sores with Eucalyptus and Peppermint
If you want to numb the pain while treating the infection, consider a blend of eucalyptus and peppermint. Both herbs have anti-inflammatory and anti-microbialproperties, making them perfect for reducing swelling, limiting infection, and use for a strep throat.
Additionally, eucalyptus has high concentrations of the chemical cineole, which is thought to offer enormous health benefits.
To use eucalyptus and peppermint for your cankers, mix peppermint oil, eucalyptus oil, grapeseed, or olive oil. Shake the mixture in a spray bottle and apply as needed. This is one of the many fantastic peppermint oil uses.
How I Use Coconut Oil as a Home Remedy for Canker Sores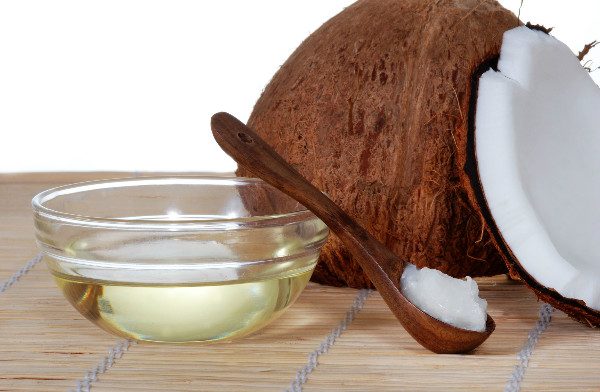 You've probably heard about the many benefits of coconut oil. Nowadays, people hail it as a great treatment for their hair, skin, and digestion; recently people have been using it to promote relaxation and weight-loss. Its anti-inflammatory and antimicrobial properties make it suitable for cankers, and it's also one of the tastier remedies available.
To use coconut oil, use your (clean) hands or a cotton swab to dab the oil onto the canker. You're going to want to use quite a bit. Make sure it sticks. If you use too little, the oil will wash right off the canker and won't do any good.
If you're having trouble making the oil stick, follow the instructions for the wax cap above: mix one tablespoon of coconut oil with two teaspoons beeswax and melt them down. The coconut-beeswax mix will create a paste, and you'll have an easier time applying it to your canker.
Using Sage for My Canker Sores
Sage has a lengthy history of culinary and medicinal uses. Romans used sage as a diuretic, as local anesthesia, and as a styptic, among other things. Nowadays, people use sage to treat stomach problems such as stomach pain, loss of appetite, and heartburn; it's also used to treat depression, Alzheimer's disease, and memory loss.
In short, sage has a lot of uses. One such use is as a treatment for canker sores.
You'll need water and sage. You choose between fresh or dried sage.
If you're using Fresh Sage, stick the Sage in water in an airtight glass jar and stick the jar in a dark, cool place overnight. Strain out the Sage and swish the water around in your mouth with your tongue. Then, mash the Sage into a pulp and apply directly to the canker for five minutes.
If you're using Dried Sage, boil the water and allow the Sage to infuse in it for about ten minutes. Once cool, swish the mixture around in your mouth with your tongue (the water AND the Sage) for one minute. Rinse with cold water.
My Salt Water Treatment for Canker Sores
If you've ever been to the dentist and had major work done (removal of wisdom teeth, e.g.) your dentist might have suggested that you periodically rinse out your mouth with salt water.
Apart from being a fantastic addition to popcorn, people have used salt for medicinal purposes for centuries – Greeks were using salt for its anti-inflammatory properties as far back as two centuries ago. Today, salt maintains its medicinal properties.
How does it work? In simple terms, salt temporarily increases the pH balance of your mouth, which in turn creates a highly alkaline environment. Bacteria have trouble surviving in high alkaline environments and die off, helping oral injuries heal faster.
It's also easier on the mouth than OTC mouthwashes, and not to mention, and all-natural home remedy. To use salt, mix salt and warm water, and rinse out your mouth with the solution three times a day.
How I Use Milk of Magnesia to Treat Canker Sores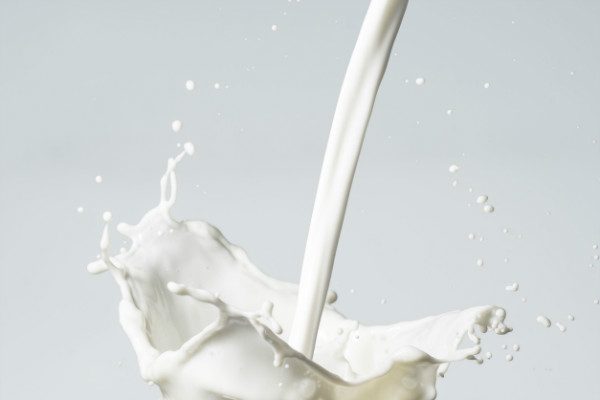 People use Magnesium hydroxide, more commonly known as Milk of Magnesia, for a variety of purposes. First and foremost, people use it as a laxative and as a treatment for constipation. Milk of Magnesia treats heartburn and acid reflux as well as indigestion, and people use it topically to improve their skin and combat acne.
Finally, Milk of Magnesia's antacid properties makes it useful for treating canker sores. There are two ways you can use it. First, you can use it as a mouth rinse.
Sip a small amount of Milk of Magnesia and swish it around your mouth with your tongue, taking care to pay attention to the ulcer. Whether or not you swallow it is up to you — it's safe to consume, just be advised that it has laxative properties.
You can also use a cotton swab to apply it to the ulcer 3-4 times per day. If you go this route, you might consider washing out your mouth with salt water beforehand to make sure you're maximizing the Milk's effectiveness.
How I Use Clove Oil for Canker Sore Relief
Clove oil is an effective painkilling ingredient employed by dentists since time immemorial. People still use eugenol today, though they use it in its pure extracted form, and it's fantastic for a variety of oral distresses – including canker sores.
To use clove oil, start by rinsing out your mouth with warm water to maximize the oil's effectiveness. Mix the oils and soak a cotton ball in the solution. Stick the cotton ball on the canker sore for five to eight minutes. Do this 2-3 times per day, and you should soon see an improvement.
Applying Tea Tree Oil to Treat My Canker Sores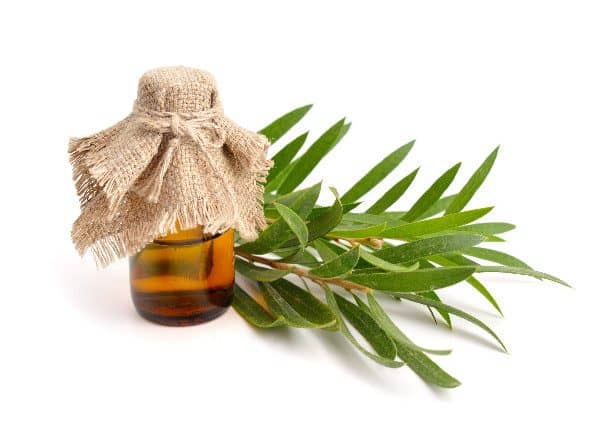 Many resources suggest that tea tree oil is a very good treatment for canker sores. Tea tree oil is one of the most useful essential oil against many kinds of infections. Often used in skin or nail treatment such as toenail fungus.
To use tea tree oil for canker sore, apply the oil to a Q-tip, and dab it onto the canker. Be careful with tea tree oil. You may be better off using alternative methods. Tea tree oil is poisonous if swallowed. Even a trace amount can have a severe adverse effect.
Tea tree oil's effect is that it numbs the pain of the canker sore while taking care of bacteria around the ulcer. You'd get the same effect from a salt water mouth rinse followed by an application of clove oil. You'll find both of these methods outlined above.
Use Antacids to Alleviate My Canker Sore Pain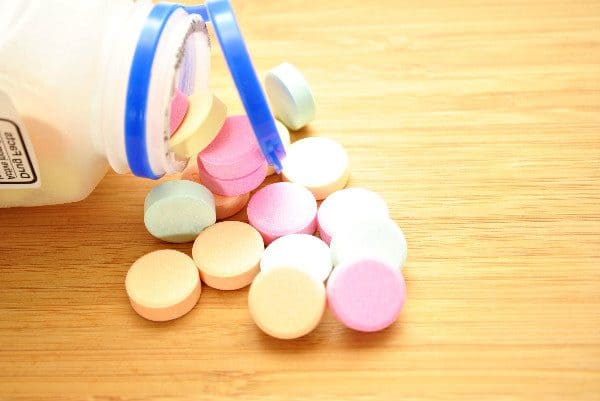 The reason canker sores hurt is that acids and digestive enzymes injure the tissue in ulcers. Get rid of the acids, and you counter the pain. What better way to get that done than by using an antacid?
Pick up chewable Pepto Bismol tablets, Tums, or Rolaids from the supermarket. Chew it up and swish it around your mouth with your tongue, or set it directly on the canker sore, and the antacid will fight the acidity of the sore.
No More Canker Sores for Me!
Most cases of canker sores will resolve on their own without treatment. While you wait for the canker sores to heal, over-the-counter treatments, aloe vera rinses, and chamomile tea bags can help you to reduce the discomfort and pain that you feel. If your sores do not resolve on their own within two weeks, make sure to schedule an appointment with your doctor for extra help.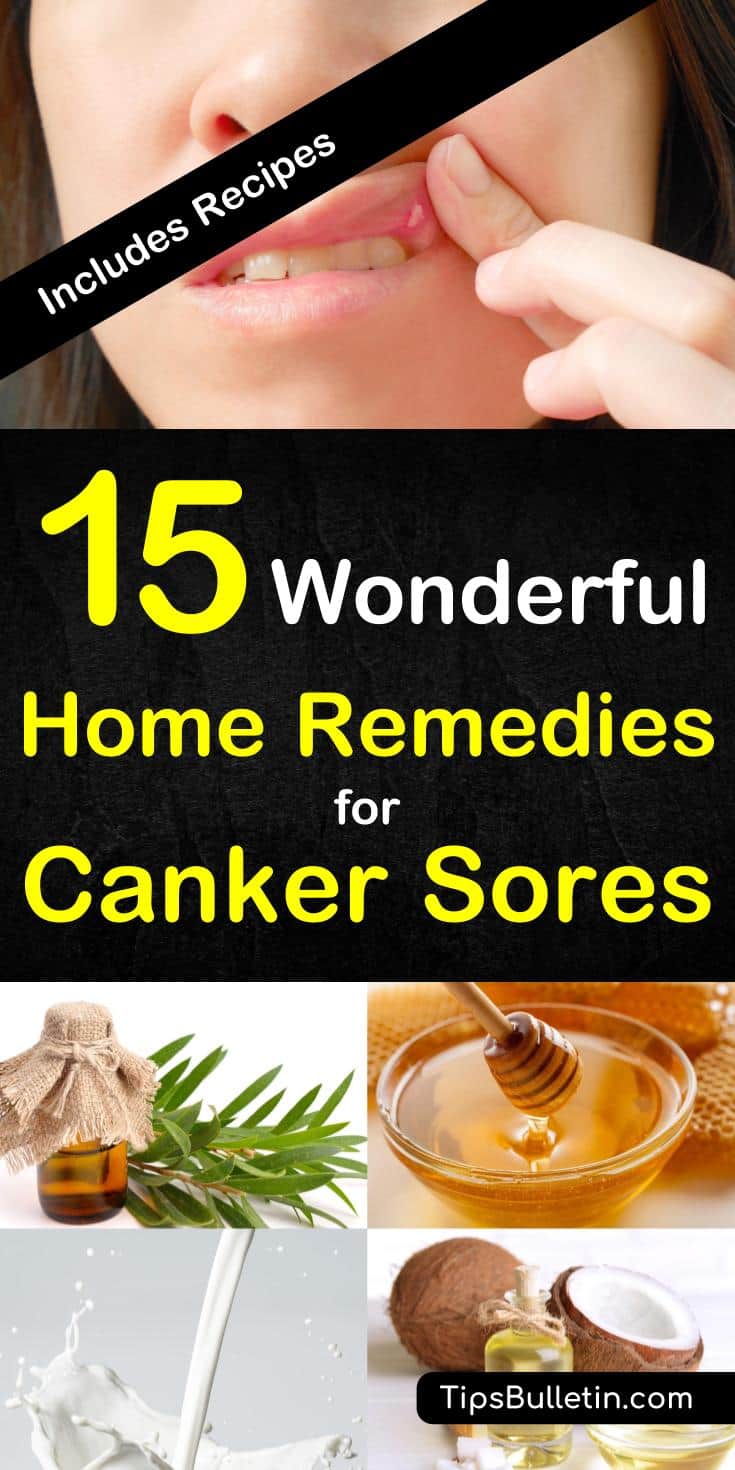 In this article, we went over how to get rid of canker sores, and some home remedies for canker sores. Use the buttons below to share to Facebook, Twitter, and Pinterest so your friends can benefit from the knowledge, too!