Learning how to get rid of an ant infestation is something that becomes increasingly useful during homeownership. Encountering ants is inevitable. These small critters work their way from outside through little nooks and crannies they find around the house's exterior. Although an ant infestation in the house is common, there are plenty of ways to spot entry points and deter them from returning.
There are roughly 16,000 different ant species. Although it may seem like an impossible list to narrow down, you don't have to be an entomologist to identify them. There is a much shorter list of types of ants that are most commonly found around residences, and a quick internet search often provides you with the right answers.
Carpenter ants, odorous house ants, pavement ants, and fire ants are some of the most well-known ants in the United States, although the fire ant is mostly located in southern regions. If you've discovered an ant infestation in the kitchen or around your home, try one of these methods to deter an ant colony from taking over your home.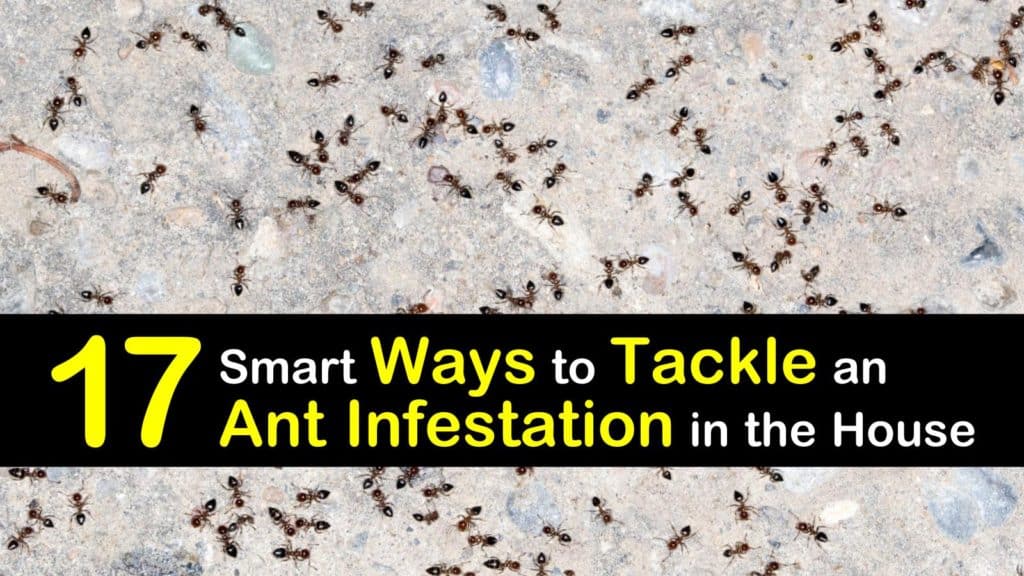 What Causes an Ant Infestation in the House?
Regardless of what season it is, ants are always going to be unwelcome guests. An ant invasion is more likely to happen during the spring and summer months, though, so be extra alert during the warmer seasons.
These intrusions lead us to the question, "Why are there ants in my home to begin with?" All ants are foragers. There are worker ants in each ant colony that search for food and notify the rest of the workers.
They do this by producing a pheromone trail or scent trail for their family to follow. Once the food is located, each worker ant follows the scent and brings back food, where they disappear down into their ant hill.
Food, water, and climate all play roles in why these insects are sneaking into your home, and learning how to prevent them from entering is most important.
How to Get Rid of an Ant Infestation
Not all ants are the same, and what you do to get rid of one type of ant may not always work for another. Following ant trails to locate their entry points is a quick way to understand which crevices of your home may require sealing with caulk.
Minimizing moisture is another useful technique. Eliminating their food source, however, is the most critical.
Avoiding an Ant Infestation in the Kitchen
If you have an ant infestation in the kitchen, you are probably supplying the ants with water sources and their primary food source.
The most successful way to avoid this is to keep your pantry and kitchen cupboards clean. Immediately wipe up food crumbs and spillage on your countertops.
Refrigerate your vegetables and fruits and make sure all food packaging is sealed tightly or store food in airtight containers. For keeping ants away from cat food, don't leave pet food sitting out for long periods. Keep lids on the trash cans.
Using Chalk to Rid Your Home of Ants
Chalk contains an ingredient called calcium carbonate. This substance is a natural deterrent to ants. Spread a thin layer of powdered chalk along baseboards, window frames, and other suspected entry points to get rid of ants in your home and keep others from coming indoors.
Lemons and Oranges as Ant Deterrents
Citrus fruits, like lemons and oranges, act as a natural repellent. Ants don't like the smell of the citrus juices and tend to stay away from them.
Squeeze some juice from the fruits into a bowl of water. Wet the rag in the solution and wipe down areas where the ants enter.
Sprinkle Black Pepper to Dissuade Ants from Entering
Ants hate black pepper. Sprinkle small amounts around the outside of your home to create a border that keeps ants from walking inside. Cayenne pepper makes an excellent substitute as well.
Salt Water Ant Spray
Salt is another common household ingredient that ants aren't fond of. Add whatever salt you have on hand and warm water to a spray bottle and shake to combine.
Spray the saltwater around the perimeter of your home and along baseboards and window frames. This can help get rid of ants in walls permanently. Check the areas regularly to ensure they are free of pests.
Using Cinnamon as Ant Repellent
Cinnamon is another DIY solution for ant control. This ingredient is a natural repellent due to an overbearing smell to ants.
Place cinnamon sticks or cloves around the entrances of your home. This option helps fix your ant problem and keeps your house smelling fresh.
Using Peppermint Oil to Repel Ants
Peppermint is another natural repellent to a vast majority of insects. Be extra careful whenever using essential oils around your house because exposure may make pets extremely ill. Find peppermint oil at your local grocery store or shop for it online.
Mix 20 drops of peppermint oil with warm water in a spray bottle. Spritz the ant spray along baseboards, windows, and doors and allow to dry.
Homemade Ant Spray
Another way to repel ants from your home is by making a homemade ant deterrent. This DIY ant spray uses vinegar, which acts as a natural repellent.
Combine equal parts white vinegar with warm water in a spray bottle and shake to combine. Spray the solution around doors, window frames, and baseboards to deter ants, or directly on them to kill them.
Using Diatomaceous Earth to Kill Ants
Another toxic ingredient to common ants is diatomaceous earth. This product is available for purchase at your local hardware store. It is both inexpensive and a gnarly ant killer. Diatomaceous earth is a powder made from diatoms and algae.
It is non-toxic to humans, pets, and outdoor wildlife while remaining an excellent pest control option for ants, slugs, ticks, earwigs, beetles, earwigs, and roaches.
Use food-grade diatomaceous earth to kill ants and always wear a dust mask when working with this product. Spread the powder around the outside of your home. The powder sticks to the ants and, after 12 hours, kills all ants who have come in contact with it.
Store-Bought Ant Killers
Store-bought ant killers are always a useful choice, and there are various choices, some that specifically target the type of ant that is invading your home.
Like Terro, some brands come in a multitude of options like traps, liquid sprays, and powders. The most significant benefits to store-bought treatments are that they are already pre-made and provide safety instructions.
Calling the Exterminator
At some point, calling the exterminator or pest management may become necessary. If your ant infestation takes a turn for the worse, and you aren't able to get a hand on it with homemade or store-bought solutions, it's time to call an exterminator.
These professionals can handle large infestations and offer tips for preventing it from happening again.
Borax Stops an Ant Infestation
Will Borax kill ants? Borax, or boric acid, is likely the most regularly used minerals to rid homes of an ant infestation. There are many ways to use it, all of which are impressively effective in ant control.
This white powder fights against cockroaches and termites as well. The Borax interferes with their digestive system and slowly kills them.
The workers that carry traces back to the ant nests take out other ants that come in contact with it. Even though it is toxic for most insects, Borax is low in toxicity against animals and humans.
Basic Borax Ant Killer Mixture
This is a basic ant killer recipe that tons of people use. All you need to create this DIY fire ant killer is some sort of sugar and a toxic ingredient. You'd be amazed how something so simple works so well.
Mix three parts powdered sugar with one-part Borax in small paper bowls. Place the dishes near entryways. The ants eat the mixture and carry it back to their colony.
Cotton Ball Traps
Cotton balls are perfect for making homemade liquid ant baits. These traps kill flying ants because the balls are small enough to be set in inconspicuous locations, yet strong enough to attract them.
Combine the water, boric acid, and sugar in a small bowl. Soak a few cotton balls in the solution.
If placing the bait around your home, set one cotton ball inside a short, individual container and place them near problem areas. If setting the traps outside, place the cotton ball by itself in your desired spot.
Corn Syrup Ant Killer
Corn syrup is safe to mix with Borax, and ants can't resist the sweet smell of the sugars. This homemade trap is simple and powerful.
Mix equal parts Borax and corn syrup so that you have a thick paste. Spread a small amount of paste on an index card and set each card around your home and next to ant trails and hills.
Homemade Ant Traps
Start saving old plastic containers from butter or cream cheese if you plan on making these homemade ant traps. By poking small holes in the lids, ants are able to crawl in and consume the toxic bait.
Find a small, disposable container with a lid and poke small holes in the top. Be careful that the holes aren't so small so that the ants are still able to crawl inside.
In a large glass bowl, combine the Borax and sugar, warm water, and the peanut butter and divide between the containers. Secure the lids of the traps and set them around problem areas in your home or spots where you've noticed ant activity.
Jam Bait
Any sweet ingredient like jam makes the perfect trap for ants. Mixing this with boric acid is an ideal solution.
Mix a large spoonful of jam with the Borax. Use the knife to spread the paste onto small pieces of cardboard. Place the bait outside of your home near entryways and ant hills.
Boiling Water to Kill Ants
If you're not interested in making ant bait or traps, there is a much faster way to kill an entire colony. This tactic is also a natural way to get rid of carpenter ants or pavement ants.
For every one cup of water, mix three tablespoons of Borax in a large pot and bring it to a boil. Dump the boiling water solution down the opening of all ant hills. The water rushes through the underground tunnels and helps eliminate your ant problem.
Prevention is Essential
None of us feels like dealing with an ant infestation in the home. Taking all necessary precautions is the best way to avoid knowing how to get rid of an ant infestation.
Take note of the types of ants you spot around your home, which makes deciding which route to take easier if an infestation does occur. Remove all food and water sources. Immediately clean up crumbs, wipe spills, and fix leaky pipes.
Seal all cracks around your home with caulk. It doesn't take that long to do and is one of the most effective ways to ensure that pests don't enter. Finally, remove all debris that may attract ants to your house.
These steps include keeping mulch away from your foundation, thinning out groundcover plants, removing rock piles, storing firewood away from your home, and making sure all trash cans have adequate lids.
Ants are common pests that nobody wants in their home, yet nearly everybody has to deal with at one point. They sting and bite, damage our garden, and infest our home and kitchen cupboards.
Exterminators sometimes cost hundreds of dollars when there are much simpler and more natural solutions for us to use. Even when you feel like it's time to give up, there are tons of ant killer recipes and tips that you may not have tried yet.
You shouldn't have to fight for territory over your house, and using this list is the first step to taking your home back.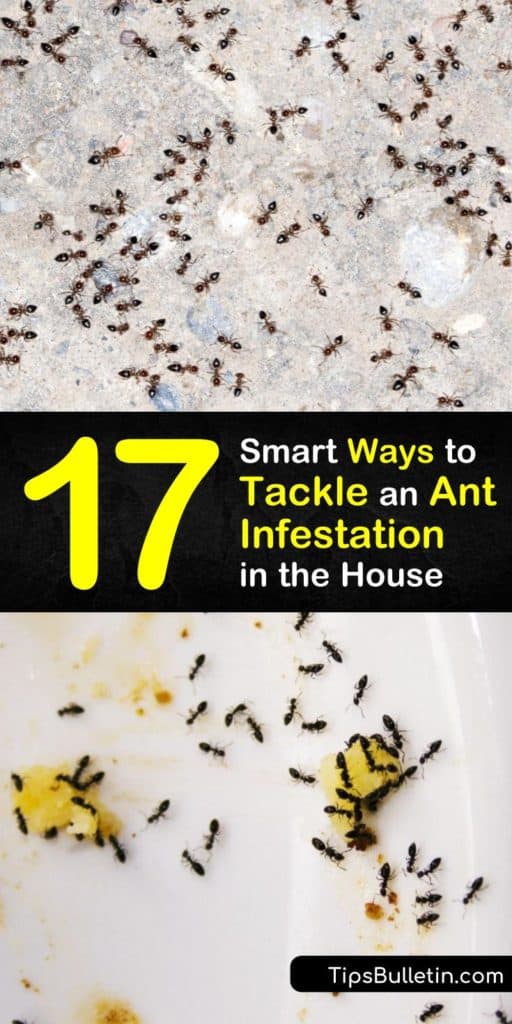 If you found that learning how to get rid of an ant infestation was more straightforward than you imagined, please share these ant traps and bait on Facebook and Pinterest.