Aphids are small green garden pests that suck the nutrient-rich liquids out of your garden plants. It is essential to get an aphid infestation under control as soon as it comes to your attention because an aphid population increases quickly. Creating your own DIY solution to eliminate aphids in your garden is straightforward using the tricks we provide you.
Learning how to get rid of aphids in the garden is simple. The bugs do not move very fast and are easy to spot in your garden. Several everyday household products kill aphids.
Aphid control is necessary so your garden is not destroyed. These insects feed on the stems, branches, fruit, and buds of a plant. Aphids prefer to feed on plants that are tender compared to more rigid materials.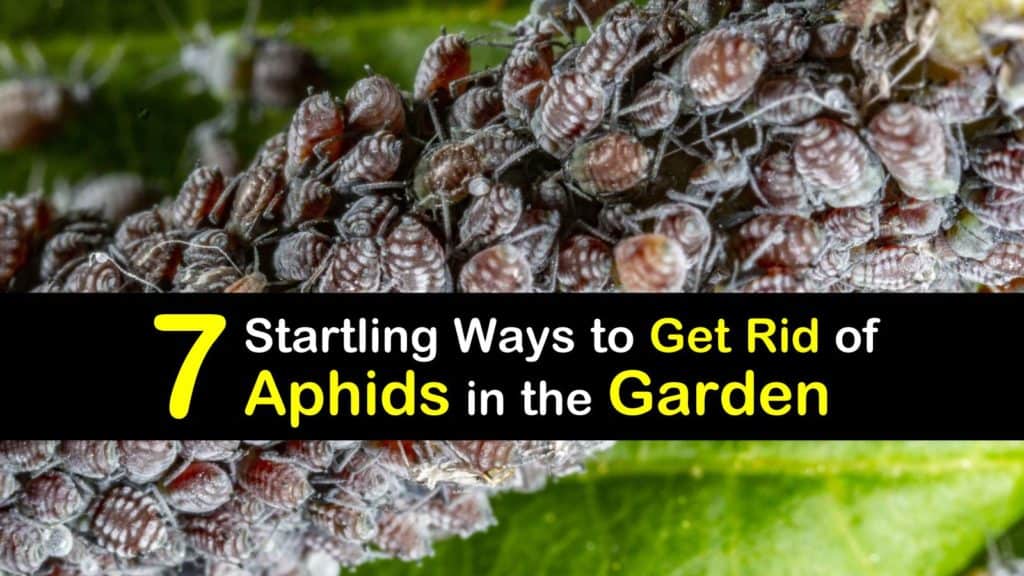 Aphid Control Made Easy
We show you how to properly use standard cleaning products like dish soap and oils to get rid of all species of aphids. If you want to avoid insecticides' chemicals, repurposing popular cleaning products is a fantastic alternative.
Aphids feed on nearly every part of the plants in your garden – you will probably notice woolly aphid bites on leaves. A common misconception is that pest control is an expensive process that requires several ingredients.
However, we prove that if you want to prevent aphids in a vegetable garden, it can be done with a few inexpensive ingredients.
It is vital to eliminate aphids in your garden before they lay eggs and create an even bigger problem. Even though the life cycle of an aphid is relatively short, they reproduce quickly.
Know What Aphid Damage Looks Like
Adult aphids and nymphs cause significant damage to succulent plants. There are multiple telltale signs that aphids are on the succulents and damaging the plant – the most common is the yellowing of plant leaves.
Plant leaves also appear distorted and curled when aphids are present. Leaves sometimes have a sticky substance called honeydew left over after an aphid feeds.
Another sign of an aphid infestation is a black fungus on branches called sooty mold. Fruit trees experience damage and distortions to the fruit—damages to fruit draw other unwanted insects like ants and ladybugs.
Ants lead to further injury to the plants in your garden. Eliminating aphids in your garden starts with correctly identifying the signs of destruction caused by aphids and their larvae.
How to Get Rid of Aphids in the Garden with Dish Soap
Aphids, also called plant lice, are easily controlled with a mixture of dish soap or Castile soap and water. The soaps dissolve into the bugs' exoskeleton.
After the soap is absorbed, the hibiscus aphids dehydrate and die. If you are looking to eliminate aphids in your garden without pesticides, a DIY insecticidal soap is a perfect solution.
To make this natural aphid killer, mix the two ingredients and either spray or wipe the dish soap solution on the affected plants. When using Castile soap, mix one tablespoon of Castile soap with one quart of water and perform the same steps.
Continue putting the solution on the plants every three days for two weeks. We recommend using Castile soap to preserve your plants, as the soap is gentler than dish soap.
Eliminate Aphids in Your Garden with Oils
Understanding how to get rid of aphids in the garden with neem or horticultural oil is straightforward. These oils are specially designed to get rid of aphids and other insects that destroy your plants.
Insects are forced to stop feeding on your plants after they interact with the ingredients in neem oil. This repellent is an excellent alternative if you do not want to create your solution to prevent aphids.
Both neem oil and horticultural oil are found at your local retail store. Additionally, the packaging of the products offers specific steps to take to get rid of aphids quickly.
An easy way to prevent aphids in a vegetable garden is to use either neem or horticultural oil.
Get Rid of Aphids Naturally with Essential Oils
There are organic aphid control methods that work just as great as store-bought products. Essential oils are used for many cleaning and healthcare cures. Combining different essential oils also works as a natural alternative to get rid of aphids in your garden and to eliminate aphids and mites on pepper plants and other veggies.
To get rid of aphids on tomato plants or other tender vegetation, pour ten drops of each essential oil into the spray bottle and fill the rest of the bottle with water. Shake the contents lightly to better mix all the oils with the water.
Use the sprayer to cover the entire plant infested with aphids once a week until the aphid population is eradicated. Learning how to get rid of aphids in the garden with essential oils takes just a few steps. However, this is a great natural alternative for pest control.
Prevent Aphids in a Vegetable Garden with Diatomaceous Earth
Diatomaceous Earth is a store-bought powder that kills aphids and white bugs on petunias. When you use Diatomaceous Earth to kill mealybugs and other annoying bugs, this organic material absorbs the oils and fats in the insect and dries them out. The powder remains useful as long as it is kept dry.
We recommend that you avoid using Diatomaceous Earth when your plants are in bloom. The solution is harmful to pollinators and other beneficial insects.
Pour one gallon of water into a container with four tablespoons of Diatomaceous Earth. Apply a generous amount of the solution to the affected plants with a sponge or sprayer.
One application is usually enough to eliminate aphids on plants and to get rid of aphids on kale in your garden. However, you may need to put another coat on if the infestation persists.
Prevent an Aphid Infestation with Other Insects
Buying an aphid's predatory insects helps keep the aphid population under control. Bugs like parasitic wasps and lacewings are natural predators to aphids and mealybugs. These bugs eat aphids, taking a majority of the work out of your hands.
Parasitic wasps and lacewings are found online and purchased in a large quantity. Release them into your garden and let the natural predators feed on the aphid population.
If you want to prevent aphids in a vegetable garden, purchasing these beneficial insects is a perfect technique to use.
Repel Aphids with Companion Planting
Prevent aphids in a vegetable garden with companion planting. Knowing which plants attract and repel aphids is a great way to prevent an aphid infestation from ever occurring in the first place.
Aphids smell with their antennae, and some plants give off a scent that is not appealing. Planting catnip, chives, or nasturtium near vegetables like fennel are great ways to repel aphids.
Learning how to get rid of aphids in the garden is critical. However, companion planting prevents an aphid infestation from occurring in your garden.
A temporary fix to getting aphids off your plants is to spray them with a garden hose, but some processes kill and eliminate aphids permanently. Several products are available at your local retail store that kills aphids by starving them.
There are also a couple of all-natural ways to eliminate aphids from your garden, like essential oils. Additionally, certain plants repel aphids from invading your garden and destroying your plants.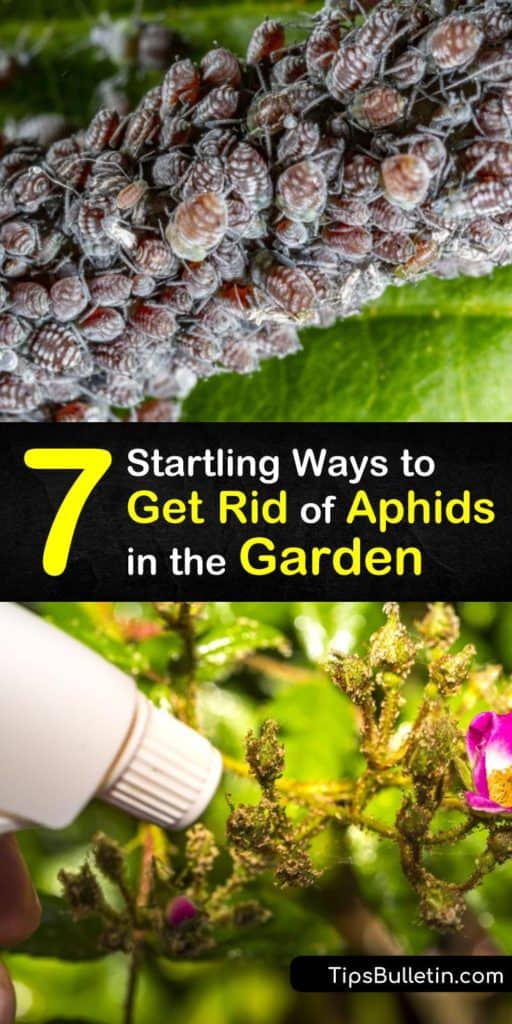 If these tips and tricks showed you how to get rid of aphids in the garden, share the different ways to prevent aphids in a vegetable garden with family and friends on Pinterest or Facebook.