There are many pests, such as whiteflies or mealybugs, that love to attack our vegetable gardens year after year and specific plants that are their favorites. If you grow basil, you may find yourself with an aphid problem and need to learn how to get rid of aphids on basil quickly.
Pest control can be hard to manage and is part of growing a garden that many don't relate to the growing process. Even if you don't keep a vegetable garden, growing houseplants may be just as tricky.
Killing aphids on basil may be something that you encounter consistently, even if it is one of your indoor plants.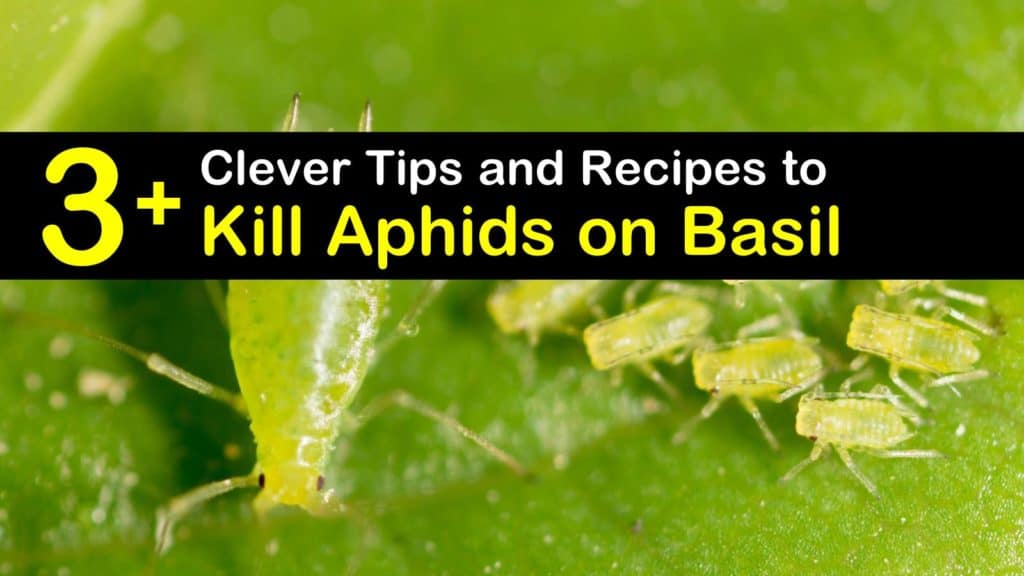 Home Remedy for Aphids on Basil
It's quite easy to propagate basil and the delicious harvest is worth the small effort. However, there are other creatures that like the herb, too, including aphids.
There are several ways for how to kill aphids on basil, as well as the way to get rid of aphids on broccoli and other plants you have in your yard. The useful aspect of most of these options is they work well as a DIY project in organic gardening.
Keeping the veggies protected may be difficult, but reading through our tips for controlling aphids helps to keep the garden safe.
How to Identify an Aphid Infestation
It is essential to know whether you have an aphid problem or if your plants suffer from another of the common garden pests. Aphids are typically a small insect, about the size of a pinhead.
They live in colonies and can be found on the undersides of the leaves of a plant first. They are light green or bright red. Aphids suck the juices of the succulent part of a plant, leaving that patch drained and dead.
They also leave trails of a residue called honeydew. This trail is an obvious tell but is also dangerous. A sooty mold infection often originates trails of honeydew and further endangers the plant. If you notice large areas of infection or necrosis, death of plant tissue, prune off the infected leaves.
How to Kill Aphids on Basil
Once you have figured out that you have a problem, it is crucial to control aphids before they spread and do more damage.
Use the methods below to make quick work of your aphid control issue and get rid of aphids on pepper plants, basil, milkweed, petunias, and any other plant where they are a problem.
Spray Them Down
It is best to begin with the simplest method to keep your plants safe and save time. Using this home remedy for aphids on basil or to get rid of aphids on tomato plants only works if the problem hasn't already gotten out of hand. Otherwise, it makes a good start.
You can use water, or even something similar to a DIY spider mite spray or another natural spray. Using a steady stream of water, knock the aphids off of the basil leaves. Use a sprayer with a powerful stream, but not so strong that it breaks the plants.
Afterward, use soapy water made from distilled water and insecticidal soap to wash off any of the infected plants. You can also use dish soap, but it is more abrasive to some tender leaves.
Change any mulch afterward to get rid of the fallen aphids or sprinkle diatomaceous earth around the base of the plants. If this doesn't work, try a homemade aphid killer to make your own spray.
Use Good Bugs to Your Advantage
While some insects are harmful, others can be good bugs. These beneficial insects are brought in and released in the area of the infestation. They can be bought online or from some garden retailers.
All of these insects feed voraciously on aphids, sometimes eating up to 200 in a day. These insects aren't a solution that is useful in the house, but in greenhouses and outdoor gardens, it is often advantageous.
Companion Planting
Companion planting means to grow plants next to each other that help each other. It is an effective and quick home remedy for aphids on basil plants as well as for other bugs.
Many plants repel insects, such as natural mosquito repellent plants and those that repel aphids. Plant them in and around the garden containing basil and other attractive plants.
Diatomaceous Earth
Spread diatomaceous earth to cover the base of the infected plants. Wet the entire plant and gently spread DE on the whole surface of the plant. This substance tears at the aphids when they move, quickly killing them.
You can also use baking soda for garden plants like basil to eliminate an aphid infestation. Apply it just like you do diatomacous earth.
Horticultural Oil
Some oils can be used in a spray bottle to get rid of aphids. This natural remedy for aphids on roses or other plants includes products like neem oil, which is also useful for organic gardeners. Spray it on and wash it off, along with the dead aphids. Read the instructions thoroughly before applying.
Now you know how to identify an aphid infestation as well as how to control it. Using methods such as horticultural oil, companion plantings, and DE are all wonderful natural remedies to aid any gardener in their fight against aphid populations.
We hope you leave this article feeling equipped to get rid of any aphid problem cleanly, or that you feel prepared if you encounter an issue.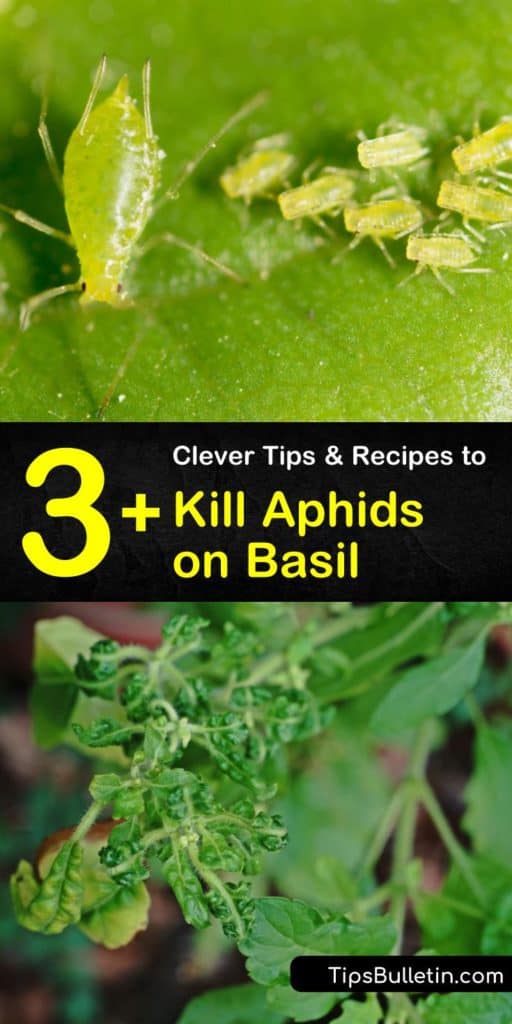 If you enjoyed this basil care information, feel free to share our tips on killing aphids on basil on Facebook or Pinterest.