Garden pests are a nuisance, and an aphid infestation destroys rose plants if left unchecked. While pollinators, ladybugs, and other insect varieties are useful bugs for the garden, rose aphids are destructive. We'll show you how to get rid of aphids on roses using natural remedies.
Many species of aphids are members of the superfamily Aphidoidea and are also known as the blackfly and greenfly. These tiny insects are sap suckers, and an infestation destroys an entire plant in no time at all. These insects, in addition to other pests such as spider mites, cause stress to roses, which leads to disease.
Rose aphids spend their time on the undersides of leaves, so they are not always visible. A rose bush that has a black spot from stress and a sticky substance on the stems and rose leaves is a sign that aphids have invaded your garden. This sap, or honeydew, attracts dust to the plant called a sooty mold and resembles powdery mildew.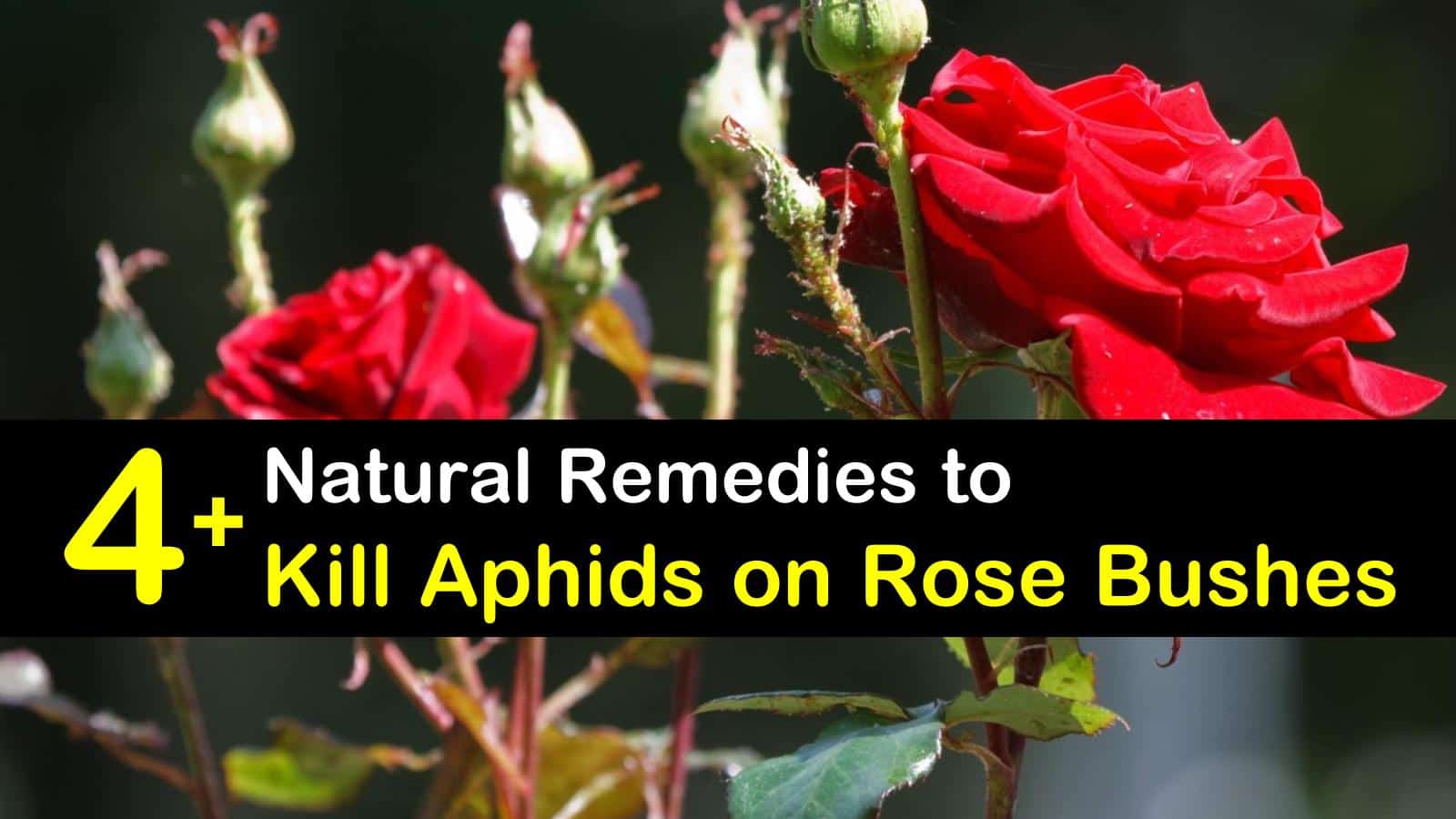 How to Kill Aphids on Roses Naturally
Organic pest control is essential for keeping aphid populations from destroying your roses. We'll show you how to get rid of aphids in your garden with natural solutions and how to control aphids by using beneficial insects as natural predators.
Aphids on Roses Home Remedy
The best aphids on roses home remedy without using harsh chemicals is to remove them manually. If you're not squeamish about dealing with insects on your own, here are a few hands-on techniques to eradicate aphids from your roses.
Put on garden gloves and pull aphids off your roses by hand. They have soft bodies and crush easily while removing them. If your plants have more than a dozen aphids, use a damp paper towel for quick removal.
Once or twice a day, take the garden hose to your roses as the best way for getting rid of aphids. Spray a forceful stream of water to the underside of leaves to force the pests loose. Doing this combats small infestations on hardy plants. Allow the roses to dry completely between watering to prevent diseases such as rust and blight.
For sections that are heavily infested, perform selective pruning. Use clippers to remove leaves, stems, or parts of the plant that are covered in aphids and discard appropriately. Spray the plant thoroughly with water or a homemade spray for roses after trimming.
How to Get Rid of Aphids on Roses
Soapy water is effective at killing insects. They breathe through small vents in their bodies, and the soap clogs their airway. We'll show you how to kill aphids on roses using liquid dish soap as a natural bug repellent for plants.
To get rid of aphids on trees, roses, or other plants, pour the warm water into a bottle sprayer, add the dish soap and a pinch of cayenne pepper, and shake the bottle of soap solution gently to mix.
Label the container for continual use. Apply the soap spray liberally to areas of the roses that are affected with aphids. Avoid spraying on beneficial insects because the solution kills them as well.
Make an Essential Oil Blend Aphid Spray
Certain types of essential oils repulse aphids, and these insects stay away from plants sprayed with them. This homemade aphid spray for roses contains a blend of essential oils to keep aphids away.
Fill a glass bottle sprayer with water and add one drop of each essential oil. Do not apply essential oils directly to roses without diluting them first to prevent burning the plant. Shake the container well and spray the solution over the surface of the rose bush to kill existing aphids and repel others.
Using Neem Oil to Kill Aphids
Use neem oil for garden and aphid control on roses. This oil is a plant-based oil compound that smothers and kills aphids in just a few hours. This non-toxic oil is sold at garden centers and is not harmful to plants.
Fill the spray bottle with water and add the neem oil and dish soap. Shake the bottle gently to mix. Spray the solution on the underside of leaves and other areas of the rose bush infested with aphids.
This spray also kills other pests such as beetles, mealy bugs, and caterpillars. You can kill spider mites on plants and eliminate all kinds of pests that may want to eat your rose bushes. Avoid spraying the solution on beneficial insects since it kills them, too.
Encouraging Beneficial Insects to the Garden
Aphids have natural predators that are useful for keeping infestations under control. After eliminating the aphid problem or before one even begins, introducing these beneficial insects to your garden keeps an aphid population to a minimum.
There are a few ways to attract beneficial insects to your rose garden. The best way to attract them is to plant flowers that they enjoy. Ladybugs enjoy sunflowers, geraniums, parsley, Queen Anne's Lace, and Sweet Alyssum.
Garden supply stores sell these beneficial bugs as egg, larvae, and live specimen forms. The key is to keep a healthy balance by bringing in a modest number to prevent trading one pest for another.
Grow Aromatic Plants to Deter Aphids
Believe it or not, but there are a variety of plant types that aphids cannot stand. Strategically planting these types around your garden keeps aphids from taking an interest in your roses.
Aromatic Plant Deterrent
Any plants that have pungent odors are efficient at keeping aphids at bay. Consider planting onions, chives, garlic, sage, oregano, and ginger root around the vicinity of your roses. Not only do these plants keep the aphids away, but you get the benefits of enjoying the alliums and herbs in savory meals.
Aphid control is easy once you know which home remedy works best. Use horticultural oils and other natural solutions to eliminate rose aphids quickly and efficiently without filling your garden with harmful chemicals.
Incorporating aphid predators such as ladybugs and lacewings keeps aphids under control naturally, giving you more time to enjoy your roses.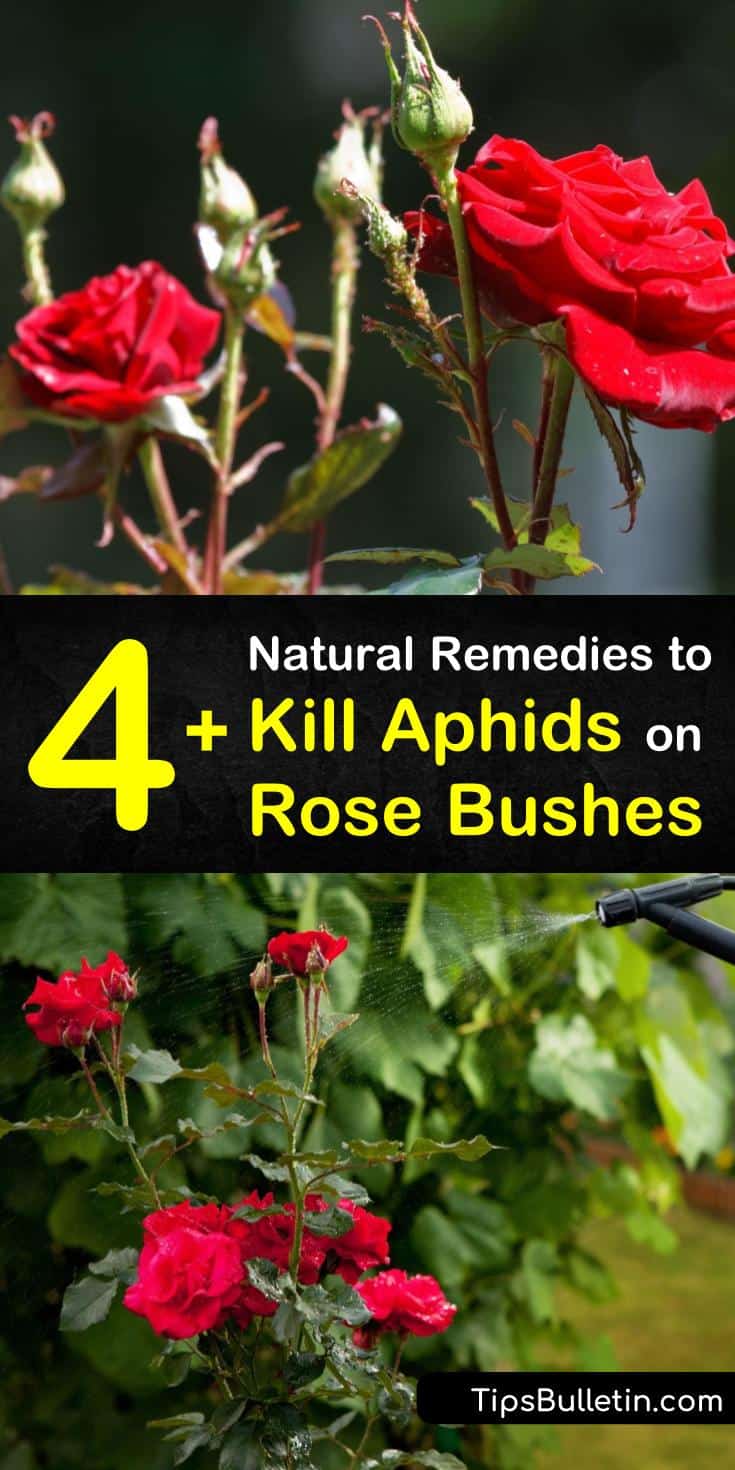 We're happy that we could show you how to get rid of aphids on roses so that your garden can flourish, and we'd love it if you'd share our natural aphid remedies with your friends and family on Facebook and Pinterest.