If your garden is showing signs of yellow or curled leaves or if your plants appear stunted or shriveled, there is a good possibility you are dealing with the garden pest known as the aphid. To see if it's an aphid infestation, check the underside of your plant's leaves and then learn how to get rid of aphids.
Look for either a sticky residue, which is left behind once aphids feed, or look for a large group of small quarter-inch long pests with a pear-shaped body in a variety of different colors, including white, red, brown, black, yellow, green and any shade in between.
As you learn how to kill aphids on plants, you learn that the worst thing about them is how quickly they reproduce.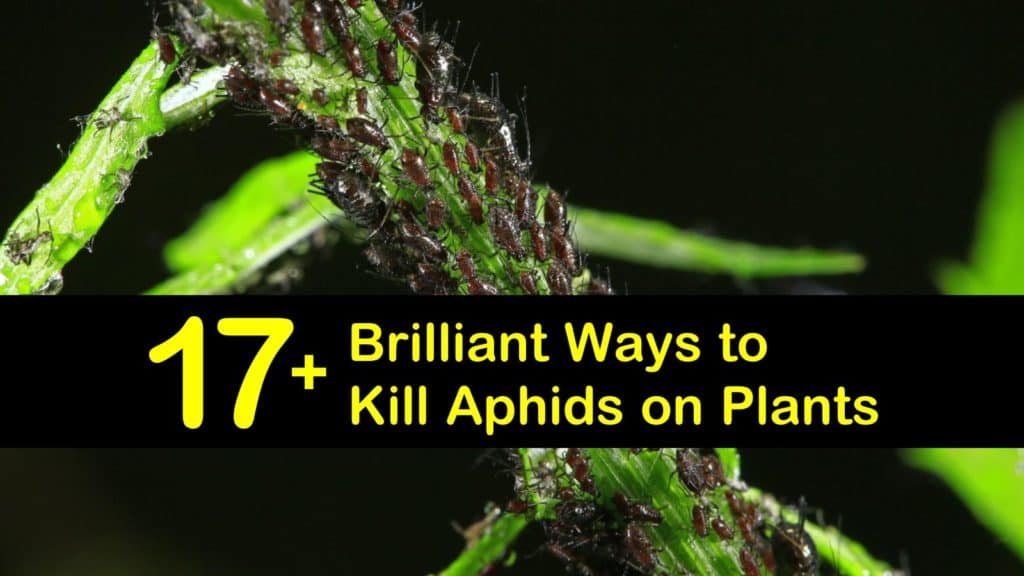 How to Kill Aphids on Plants
Getting rid of aphids on houseplants and outside plants is tricky because when you finally notice them, it's a massive infestation. As tackling an outbreak is difficult, gardeners find it better to take preventative action.
Aphids suck the life out of plants as they feed off the sap, so you want to get rid of them before too much damage occurs. There are several natural aphid killer recipes and ideas; some serve as a preventative while others work as an insecticide.
Learning how to get rid of aphids before they create too much damage is vital for every gardener. Learn how to get rid of white aphids on plants, in addition to all other types of aphids.
Using a home remedy for aphids on plants not only gets rid of the current infestation but helps prevent a future one from occurring.
Understanding Aphid Basics
Aphids are found in just about every garden and survive in almost every hardiness zone on the map. These soft-bodied garden pests are nearly impossible to spot with the human eye as they measure no longer than ¼ of an inch.
What do root aphids look like? The pear-shaped bodies feature antennae on the front and cornicles at the back. These tiny insects come in a variety of colors, depending on the species. Due to their similarities, it is difficult to tell the nymphs apart from the adults.
Most adult aphids are wingless, so that makes many of us wonder where do aphids come from if they can't fly. Where they come from varies, as some species of aphids develop wings as part of their life cycle.
Those that develop wings fly only during the day and lose their wings after a few days. Other species spread by walking, while some use the movement of various plants, machinery, animals, and different modes of travel to get around. Unlike whiteflies, aphids do not jump, although both are often referred to as plant lice.
Aphids begin to disperse from their original colony as food quality deteriorates. With how quickly aphids reproduce, it is only a matter of time before they destroy your garden. Both adults and nymphs survive on the plant juices, where they attack the plant depends on the species.
While most aphids feed on a variety of plants, some species only feed on specific plants, such as potato aphids, rose aphid, woolly apple aphid, and many others. Aphid damage appears in a variety of ways. One of the most common is shriveled, yellowed, misshaped, or even stunted leaves.
Other signs include distorted fruits or flowers and a sticky substance on leaves and stems, which is created by their waste and is known as honeydew. Honeydew often creates sooty mold, which is a black fungal growth on leaves and branches.
Get Rid of White Aphids Naturally
For a minor aphid population or to get rid of aphids on hibiscus or milkweed plants, try using a cold blast of water from your garden hose. A steady stream works better to dislodge the pests, but be careful not to damage your plants and flowers with too much heavy pressure.
When using the hose, ensure the water hoses off the entire plant from top to bottom and pay close attention to the undersides of leaves and stems closest to the ground.
Spray the plants every day until all signs of them are gone. Cold water from your garden hose works on a variety of aphid species, not just white aphids.
Kill Aphids using Homemade Insecticidal Soap
For a more significant infestation, use a low-toxicity option to kill them, not just dislodge them. Homemade insecticidal soap kills the pests without harming your plants and is an excellent way to get rid of root aphids and other types. Insecticide soap also kills aphids' natural enemies, such as the green lacewing.
For a simple home remedy for aphids on succulents or other bug problems like a way to get rid of mealybugs, mix water with the liquid dishwashing soap in a bucket or sprayer. If using a bucket, use a washcloth to wipe down the buds, stems, and leaves of each infested plant.
If using a sprayer, generously spray the infested plants, paying close attention to the undersides of the leaves. Reapply soapy water every two days for the next three weeks or until all aphids are gone.
How to Get Rid of Aphids using Beneficial Insects
When you need to take care of aphids on basil or other food-type crops, bugs are your best bet. Beneficial insects, like ladybugs, parasitic wasps, lady beetles, and lacewings enjoy eating aphids, so attracting them to your garden helps keep aphids under control and does not damage your plants.
To attract these natural predators plant a variety of flowering ground covers, such as stonecrop and cosmos. These flowering varieties produce a steady supply of nectar throughout their growing season to feed and attract the insects you need.
If you are struggling to attract natural aphid predators, there is the option of ordering them online. When introducing these insects to your garden, do not use a broad-spectrum pesticide to kill off undesired pests, as it kills the good ones, too.
Before adding predators, plant food sources to help entice them to stay in your garden. Another aphid predator is wrens. These birds love to make a meal out of these pests. To attract wrens to your yard, place a wren birdhouse nearby. Toads and frogs are other predators you want living in your garden.
Will Dormant Oil Work for Aphid Control?
All too often, aphids make themselves at home on your fruit trees. During the dormant season, gardeners check their plants less frequently, so infestations often go unnoticed. Aphid eggs also lay dormant throughout the winter, a process called overwintering.
To kill their eggs before the next growing season begins, apply the dormant oil during the middle of winter. Dormant oil is a commercial product found at many local gardening stores.
Follow the directions on the oil's packaging. Use a garden sprayer to mix the oil in and spray the trunks, stems, branches, and leaves of each tree. Repeat the process based on the manufacturer's instructions.
Can You Deter Aphids with Other Plants?
When planting, choose individual companion plants based on their ability to repel aphids. Most plants with a strong scent work to repel aphids, such as chives, sage, oregano, onions, garlic, and leeks. Catnip is another popular choice proven to deter aphids.
What plants you choose depends on what you are planting them next to. For example, garlic and chives work great next to rose bushes, peas. Eliminate aphids on lettuce by growing alliums nearby
Another way to keep aphids from attacking your treasured plants is to plant things they are attracted to on the other side of your garden. Some also use these plants, specifically nasturtiums, zinnias, and mustard, next to their treasured plants to work as trap plants. Nasturtiums planted near fruit trees deter aphids as they change the taste of the sap.
Be mindful of companion planting as it's not a quick solution. Companion plants are more of a long-term preventive than an immediate answer. Use companion planting in conjunction with direct removal for the best results. Companion plants drastically reduce the population over several seasons.
Effectively Control Aphids by Getting Rid of Ants
Many gardeners fail to realize they are struggling to get rid of aphids because of the ant problem. Many species of ants farm the honeydew left behind by aphids and mealybugs, so they do everything they can to protect them.
Ants kill off aphid's predators to ensure their food supply doesn't dry up. If you notice a lot of ants along the stems or trunks, the chances are that aphids created a home there.
To help kill aphids on broccoli, keep the bottoms of the plants cleaned up by trimming any low hanging leaves, stems, or branches. You don't want any part of the plant coming into contact with the ground as it provides easier access for ants. Use orange peel extracts to repel ants. They are safe to use inside and out.
Keep Aphids Away with Diatomaceous Earth
For an effective repellent for houseplants and garden plants, consider diatomaceous earth. Made from the finely ground shell of diatoms, the food-grade repellent cuts up the undersides of the insects crawling over it and kills them. Get rid of mealybugs outside as well as a host of other annoying pests.
Using this repellent is a popular choice as it's safe around children and pets, whether you are following the way to use diatomaceous earth for houseplants or for those in the garden. To kill aphids on pepper plants and others, dust the ground around the plant with the powder or sprinkle the plant's surfaces. The barrier requires replacing after wet weather or a proper watering.
Can Ordinary Flour Kill Aphids?
One of the most old-fashioned solutions for killing aphids is ordinary flour. A quick dusting of the infested plants with your baking flour causes them to move on.
The flour constipates the pests, which causes them to seek food and shelter elsewhere. Always reapply flour after a rainstorm or a proper watering as it washes away.
Best Way to Use Neem Oil Spray
The best neem oil insecticide recipe allows you to adjust the level of neem oil for a stronger concentration. The stronger the solution, the better it is for aphid control with neem oil and for killing the most persistent insects.
A solution diluted down to 0.5% is excellent for general use, while a solution with a 2% dilution works best. To make a more concentrated batch, multiply the soap and neem oil used.
To make this home remedy for aphids on trees or other plants, use warm water to make dissolving the ingredients easier. For larger batches, dissolve the ingredients in a smaller amount of water than required. Mix the soap with the water first and then add the neem oil while stirring.
Pour the neem oil spray into a sprayer and shake the container while spraying for the best results. Keep the solution for no longer than eight hours.
Neem oil sprays work to kill the aphids as it coats their outer body, which smothers them. It also contains an antifungal agent to clear up various fungal growths, including black sooty mold and powdery mildew. Apply once a week until all problems are gone.
Discourage Aphids by Using Row Covers
Aphids enjoy new growth, so young plants fall victim to the fastest to pesky infestations. To prevent aphids from preying on your young or new plants, invest in row covers or other ways to cover your plants. Use the covers until your plants begin to flower, as flower pollination must occur for the plants to produce.
Reflective Mulch Helps Chase Aphids Away
Mulch offers many unusual properties, such as moisture retention and weed control, but it also works as pest control. To chase aphids away and prevent them from coming back, apply silver reflective mulch to the base of your problem plants during the warmer months.
Studies show plants, such as summer squash, show fewer aphids and better production when any reflective mulch is applied. Aluminum foil also works in place of reflective mulch
Is Rubbing Alcohol Effective for Repelling Aphids?
Isopropyl alcohol, which many of us keep in our medicine cabinets, is not only easy to find but works well at repelling aphids. While ordinary rubbing alcohol works to control aphid infestations, ethanol or grain alcohol is best for a DIY aphid spray.
Mix the alcohol with the warm water inside a spray bottle using equal measurements of both. Swirl to mix and spray generously on infested plants. Never spray plants during the hottest part of the day, as it may burn the leaves.
If you are worried about adverse reactions, test a small section of the plant and allow it to sit for up to three days. You can substitute 95% alcohol for 70% but change your measurements.
Use one and a half parts water to one part alcohol for the higher concentration. To improve the effectiveness of the aphid spray mix, use five cups of water, two cups of alcohol, and one tablespoon liquid dish soap.
Getting Rid of Aphids on Houseplants
Some organic spider mite control techniques often double as a way to control aphids on houseplants. If you discover these tiny pests on your indoor plants, begin by washing them away with a stream of water. For extra help in removing them, use your fingers or a cotton swab.
If the plant is fragile, dip it inside of a bucket of room temperature water rather than spraying it. For a heavy infestation, use insecticidal soap that you purchase in the store or one you make at home.
To make a batch at home, use a mild dish detergent diluted in water. Make the soap using one tablespoon of dish detergent mixed with one gallon of water. Neem oil is safe to use on indoor plants, too. As the plant absorbs it, it controls insects that don't receive direct contact.
Homemade Insect Spray for Indoor and Outdoor Plants
Using an all-purpose insect spray is ideal for treating pests inside and outside. There are several recipes out there, but we recommend this organic spray for petunias for bugs to keep your plants pest free.
Use a food processor or blender to create a paste from the garlic bulb, onion, and cayenne pepper. Add the mixture to a quart of water and allow it to steep for an hour.
Use cheesecloth to strain out the paste and then add the dish soap to the water and stir well. Spray plants generously paying close attention to the underside of leaves. Store the remaining spray inside the fridge for up to one week.
Trap Flying Aphids
Once aphids grow wings, they quickly fly around and begin infesting nearby plants. The problem with winged pests is they fly away as soon as you start treating the plant, which means the sprays won't kill them.
Use houseplant sticky traps to trap and kill winged aphids. Sticky traps catch a variety of other flying insects, so don't be alarmed if there are more than just aphids littering the trap.
Cut Back Plants and Use Essential Oils to Eliminate Heavy Infestations
Cut back the parts of the plant with the most substantial infestation. Cutting back the plant requires removing curled or yellowing leaves, as well as infected fruits. Trimming back the plant also requires cutting stems and removing entire branches.
For lighter areas of infestation or less damaged regions of the plants, wear gloves and remove the pests by hand killing them as you pull them off. Once trimmed back, mix up to five drops of essential oils in a spray bottle filled with water.
The most effective oils are peppermint, orange, clove, and rosemary. Use single oil or any combination when creating your homemade spray.
Lightly mist the plant from top to bottom, making sure you get the undersides of leaves and the roots. What aphids are not killed on contact by the spray are looking for a new home as the smell of the oils is repulsive to them.
Tips for Preventing Aphids from Coming Back
When you discover aphids on your houseplants, you often find yourself wondering where do aphids come from? The answer to this question is they come from anywhere. Aphids are small enough to fit through screens when windows are open.
They also enter the house through new houseplants you purchased or produce and flowers brought inside from the garden. Knowing where they come from helps prevent them from returning.
When buying any new houseplants, always quarantine them for a few days before placing them near the others. If any bugs are present, treat the plant and leave it in quarantine until all insects are gone.
Houseplants stored outside during beautiful weather require cleaning and debugging before being brought in for the winter. Check any produce or flowers from your garden before bringing indoors. Regular checks of your houseplants are vital in keeping these pests gone for good.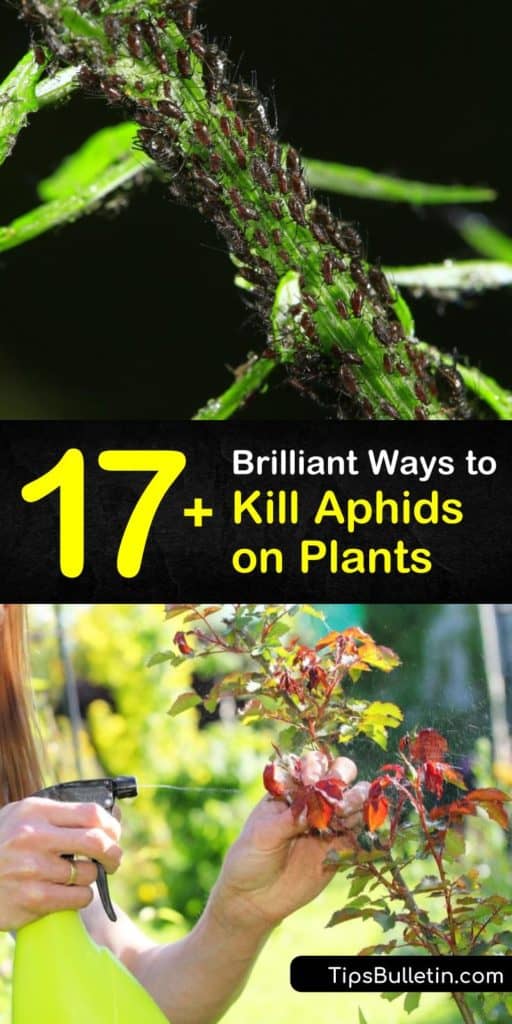 Thank you for reading about how to kill aphids on plants. If you found any of our natural aphid killer tips helpful, please take a minute to share this post on Facebook and Pinterest so others can learn how to get rid of aphids, too.