Bed bugs are notorious for biting you in your sleep. However, don't let the name fool you since these insects occupy everything from your bed frame and box spring to your favorite chair or sofa. We'll show you how to get rid of bed bugs in a leather couch using a few simple techniques.
Discovering signs of bed bugs in your leather furniture is enough to freak anyone out. These nasty insects are roughly the size of an apple seed and easy to spot when not in their hiding places. However, many other things indicate you have a bed bug problem.
Bed bugs shed skins and leave fecal matter in your living room furniture upholstery, and bed bug bites cause painful welts and other allergic reactions. Relaxing on your leather sofa while watching a late-night movie only to discover your couch has an infestation of creepy-crawlies calls for pest management solutions.
Ways I Get Rid of Bed Bugs in My Leather Sofa
A severe bed bug infestation often requires the assistance of an exterminator. However, if a thorough inspection reveals the problem is mild, there are a few forms of pest control to do on your own.
Can Bed Bugs Live in My Leather?
We are all familiar with the notion that bed bugs or bed mites love making a home in mattresses and bedding, but can bed bugs live in leather?
Unfortunately, these insects live in just about any furniture where humans spend time relaxing. We'll explain why this is and what to look for.
Identifying Bed Bugs in My Home
Bed bugs live off a blood meal and need humans to survive, which is why they congregate in the areas where we spend a lot of time. These bugs are easily visible, but they are very sneaky and hide in cracks and crevices to avoid discovery.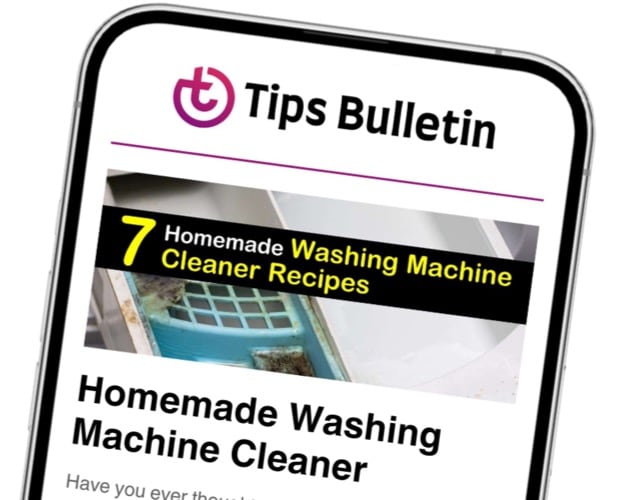 Finally, an email that Transforms Your Home.
Get the latest home and garden tips from our experts, delivered straight to your inbox.
If you notice itchy welts and bed bug blood stains on your clothing after sitting on your sofa for a while, look in the creases of the material for activity.
Check for shed skins, egg shells, and feces in all of the nooks and crannies of your sofa, as well as the area around your furniture.
Remove Bed Bugs from My Leather Sofa by Vacuuming
The first step to remove bed bugs from leather sofa is to perform a deep clean of the couch upholstery and frame using a vacuum cleaner. Doing this helps remove bed bug eggs, feces, skins, and active bugs.
If you have removable cushions, take them off the couch and set them on a flat surface. Use the attached hose on your vacuum to clean the entire inside of the sofa, making sure to clean in all of the crevices.
Vacuum the backrest and armrests. Don't forget to clean the outside and underside of the sofa as well. Forgetting any area of the furniture during the cleaning process means hiding bugs go unnoticed.
Vacuum each seat cushion, top, bottom, and sides before replacing them on the couch. Empty the vacuum bag or bagless container into a garbage bag and dispose of it in the outside trash can.
Place small throw pillows into a large plastic bag and set them in the freezer for at least four days to eliminate the insects. If the pillows are small enough, it's easy to launder them at high temperatures to kill bed bugs.
How I Get Rid of Bed Bugs in My Leather Couch by Steaming
High temperatures kill many insects and are among the most useful tools for getting rid of bed bugs at home. These insects cannot survive above 119 and 125°F, and hot steam effectively kills both the bugs and their eggs.
Follow the instructions for your particular steam cleaner and fill the water tank accordingly. Use the hose attachment on your steam cleaner to clean each section of the couch.
Begin with the outside and backrest and work your way to the armrests and seat cushions. Pay special attention to creases in the leather and corners and crevices where the bugs like to hide. Use soft towels to wipe down damp areas of the furniture.
You can also use a spray with essential oils to kill any remaining eggs. Some as simple as lavender kills bed bugs and left over eggs. Use it diffused in a spray bottle with some water to spritz onto your sofa.
Getting Rid of Bed Bugs by Treating My Sofa Frame
Can bed bugs live in leather furniture frames? While vacuuming and steam cleaning your sofa work to get rid of these insects on the upholstery, they still cause a problem when hiding in crevices of the frame.
The underside and framework of your couch require treatment to prevent further infestation.
Prepare the sofa by removing the seat cushions and pulling the couch away from the wall. Carefully tip the sofa back to get access to the frame while being careful not to damage any part of the leather.
Use a bed bug pesticide to treat the furniture's underside by following the instructions on your brand. You can also use an organic bed bug spray you make yourself. There are many recipes available.
If you'd rather use something natural as a bedbug killer, consider applying food-grade diatomaceous earth.
DE is one of the best natural remedies to get rid of bed bugs and many other insects as the naturally occurring powdery substance pierces the bugs' exoskeletons, causing them to die.
Preventing Bed Bugs in My Leather Sofa
After you go through the effort to remove bed bugs from leather sofa, it's vital to prevent them from making a come-back. Preventing a re-infestation is easy to do by following a few simple steps.
Bed Bug Prevention
To prevent bed bugs from crawling their way up onto your leather sofa, place interceptors on each leg of the couch, whether you purchase them ready-made or make bed bug traps yourself.
These mechanisms catch and retain the bugs before they infest your furniture. Place your mattress and box spring in an encasement to keep your bed bug-free.
These insects often make their way to your home by hitchhiking from other locations, such as hotels. It's vital to check all of your clothing, luggage, and other travel items for signs of their presence before bringing them into your house.
Always treat your home immediately after noticing any signs of bed bugs to stop an infestation before it starts.
Your leather couch is an investment worthy of the time and effort needed to eliminate bed bugs from your home. Fortunately, using a few simple tools, such as a vacuum, bed bug spray, or heat treatment, often takes care of the problem.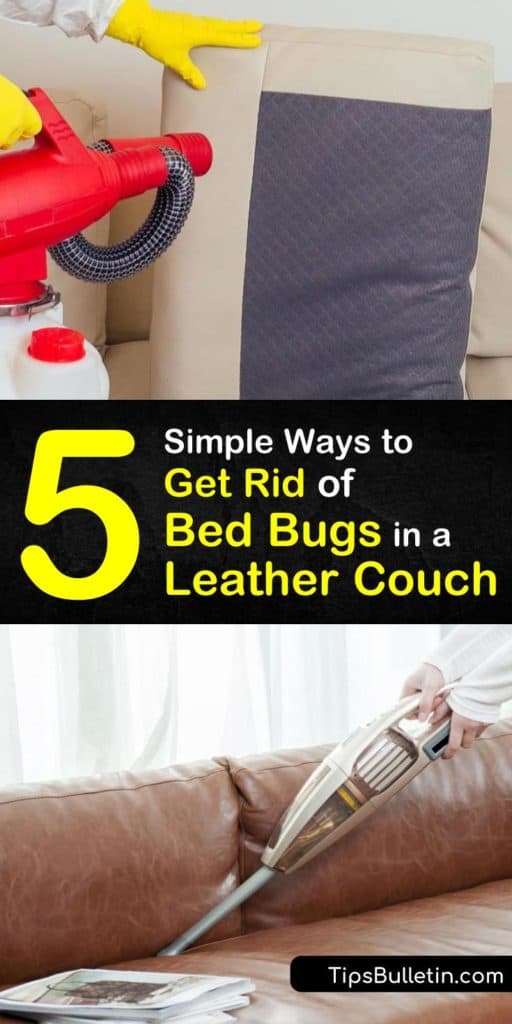 Now that you learned how to get rid of bed bugs in a leather couch to keep your home bug-free, why not share our leather sofa bed bug killing methods with family and friends on Pinterest and Facebook?