The dreaded things that go bump in the night are not always big and scary. Sometimes, they are small, scuttling about in your bed, feasting upon you while you sleep. Before you haul your bed out to the curb, we'll show you how to get rid of bed bugs in a mattress for a peaceful night's sleep.
Bed bugs are everyone's worst nightmare. They are fairly easy to see, oval in shape and reddish-brown in color. Sounds harmless, right? But, unlike dust mites, these insects feed on your blood while you sleep and leave welts on your skin.
As if a bed bugs bite isn't enough, female adult bed bugs lay hundreds of eggs in their lifetime. The bed bug eggs are the size of a speck of dust and not always visible to the naked eye. Immature bed bugs, or nymphs, shed their skin several times a day in your bed, too.
Ways to Kill and Prevent Bed Bugs in a Mattress
While it's relatively easy to eliminate dust mites, a flea infestation in a mattress and bed bugs take more aggressive measures.
Bed bugs are a nuisance, and it's vital to kill them right away and stop them from returning, whether you find that bed bugs hide in couches, your recliner or your bed. Before calling a pest control company, there are a few ways to eliminate bed bugs in your home.
How to Tell If You Have Bed Bugs in Your Mattress
Bed bugs often find their way to your house by traveling with you from other locations, such as a hotel room. But, sometimes, it's difficult to know if you have a bed bug problem. Here is how to tell if you have bed bugs in your mattress.
Signs of Bed Bugs
One of the most worrisome signs of bed bugs is bedbug bites. If you wake up in the morning with red or itchy sores on your skin, check your mattress and bedroom for bed bug activity.
Knowing how to identify bed bugs ensures that you enact the proper treatment methods. These bugs are the size of an apple seed and relatively easy to spot if you look in the right areas.
Check your mattress seams, headboard, and bed frame, and look in crevices along the wall, baseboards, and electrical outlets for bed bug shells and skins. Inspect your bedding for fecal spots, and check your pajamas for bloodstains.
Killing Bed Bugs in a Mattress with Steam
One of the most effective methods for killing bed bugs in a mattress is heat. These insects do not tolerate high temperatures, and using a steam cleaner to clean your bed works well for killing bed bugs instantly.
Remove your bedding from the mattress and treat it accordingly. Follow the instructions on your steam cleaner model and fill with the proper amount of water.
Remove your mattress from the box spring and set it on a flat surface. Use the nozzle attachment on the cleaner to steam the top of the mattress in sections.
Clean the box spring in the same manner and make sure to steam all sides of the bed. Allow them to dry completely before flipping the mattress over and repeating the steaming process on the other side.
How to Get Rid of Bed Bugs in a Mattress with Heat and Cold
If you have a heavily infested mattress, home remedies often do not do the trick to fix the problem.
Therefore, it's time to call an exterminator to perform a heat treatment in your home. While they eliminate bed bugs throughout your home, the bedding still requires handling.
Place your sheets and pillowcases into the washing machine and add the usual amount of laundry detergent. Wash the fabric using the hottest wash cycle, transfer them into the dryer, and dry them with high heat to kill all bed bugs.
Repeat the steps with your blanket and any other bedding materials. Washing your mattress cover is important, too. If the items are not machine washable, place them into a plastic bag and freeze them at 0 degrees Fahrenheit or less for at least four days.
Washing and drying your bedding is also a great way to eliminate a dust mite problem. Although bed bugs are tiny, they are easier to see than dust mites.
How small are dust mites? Unfortunately, these annoying bugs are almost microscopic, and the only way to tell if you have an infestation is by exhibiting an allergic reaction.
Killing Bed Bugs with Insecticides
There are many insecticides on the market that are useful for killing bed bugs in a mattress. The EPA registers more than 300 products to kill bed bugs, so it's important to choose the right treatments.
Of course, you can make your own remedies, too. Does tea tree oil kill bed bugs? Yes, tea tree oil kills bed bugs on contact.
There are many recipes for a DIY spray for bed bugs that not only kill the insects but repel them, as well.
Bed Bug Insecticidal Treatment
Some sprays flush the bed bugs out of their hiding places and kill them, while others alter the insect's growth and stop them from maturing, so it's vital to read the instructions for your particular brand of insecticide.
Remove all of the bedding and wash and dry it at high temperatures like you would kill dust mites in your bed. Take the mattress off the frame, spray the affected area, and repeat as recommended. Make sure to get into all of the tiny nooks and crannies, including the mattress seams.
Treating your Mattress for Bed Bugs with Homemade Insecticide Spray
If you prefer to use a homemade insecticide over a commercial brand, there are many effective solutions to kill bed bugs. White vinegar is one of our favorites, and it is both inexpensive and non-toxic.
Add a bit of essential oil to give the spray an extra kick. Does lavender repel bed bugs like tea tree oil? It certainly does. This is a simple recipe that is quite effective.
Remove your bedding and heat treat it in the washer and dryer. Remove the mattress from the box spring to get easy access to all areas of the bed.
Pour vinegar into a glass spray bottle until it is almost full, and add lavender essential oil. Shake the bottle to mix and spray the natural insecticide over the entire surface of the mattress and box spring.
Cover the bottom, top, and all sides with an even coat. Allow it to dry completely before making your bed with clean bedding.
Getting Rid of Bed Bugs in the Mattress with a Vacuum Cleaner
Even if you use a pesticide to kill bed bugs, they could still be a problem. These insects have many hiding places, and the best way to ensure that you resolve the problem is by vacuuming.
After you treat your mattress with an insecticide, use a stiff brush to gently scrub the entire surface area of the mattress to loosen bed bug bits and eggs.
Begin on the top side and work in sections from the top to the bottom to vacuum away the debris with a vacuum hose.
Clean the four sides of the bed and then flip the mattress over, and vacuum the bottom. Make sure to do a deep vacuuming beneath and around your bed before replacing the mattress.
How to Kill Bed Bugs around the Mattress with Diatomaceous Earth
After using one of our home remedies for killing bed bugs in your mattress, make sure that all of the creepy-crawlies around your bed are gone as well. Diatomaceous earth is a naturally occurring powder that kills remaining bugs before they get back into your bed.
After treating your mattress and cleaning your bedding, pull the bed away from its normal resting place and treat the floor beneath it with diatomaceous earth or DE.
Sprinkle the powder on the carpeting or hard floor, making sure to get along the edge of the wall where the bed bugs hide and other infested areas.
Push the bed back in place and let it sit for several days to affect the bedbugs. Pull the bed back out and vacuum away all of the powder and bed bug debris.
As the bed bugs pass over the powder, their exoskeleton gets penetrated by the tiny shards, which dehydrates and eventually kills them. Not only does DE kill bed bugs, but it kills fleas, spiders, and other common house insects as well.
Ways to Prevent Bed Bugs in Your Mattress
A bed bug infestation is something no one wants to deal with more than once, if ever. Once you understand how to tell if you have bed bugs in your mattress, and how to get rid of them, take steps to stop them from ever returning.
Follow these bed bug prevention tips to keep the pests away. Use a box spring and mattress protector to encase them and deter bugs from taking up residence within the fabric. Install interceptors on the legs of your bed to hinder bed bugs from crawling into your bedding.
Always check your bags and clothing for signs of insects after trips away from home. Use a bed bug treatment or pesticides as soon as you notice any sign of bed bugs, and wash all of your bedding immediately using hot water and high temperatures.
Vacuum around and beneath your bed and anywhere that bed bugs regularly hide to halt an infestation.
All insects in the home are an issue, no matter what type they are. However, bugs that feed on you while you sleep are a whole other problem.
While the best way to get rid of a severe bed bug infestation is to call in pest management, there are several ways to eliminate them from your mattress by following a few bed bug control methods.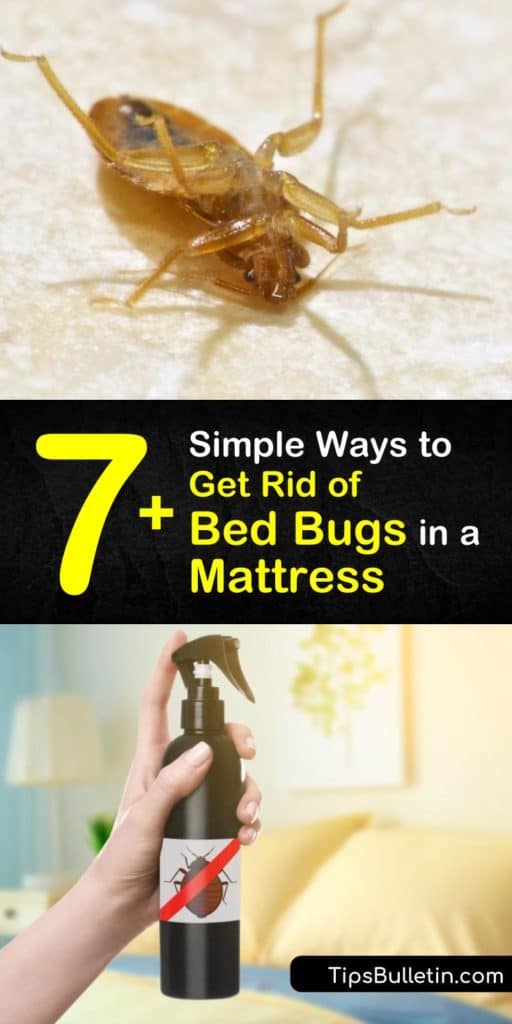 We hope that knowing how to get rid of bed bugs in a mattress eliminates your need to buy a new mattress, and we'd love it if you'd share our bed bug killing and prevention methods with your family and friends on Pinterest and Facebook.