If you've woken up with small itchy spots, blisters, or red rashes, it could be a sign that your home is infested with bed bugs. These tiny pests will infest the seams of your mattress, box spring, bed frames, and headboards.
It can be a bit difficult to rid of bed bugs once they've invaded your home, because they are tough to detect and they reproduce quickly, causing the bed bug populations to soar. It is essential to learn how to get rid of bed bugs rapidly because they can invade other areas of your home and cause significant problems.
Fortunately, many pest control remedies can kill bed bugs rapidly without having to resort to calling a pest control company. Bed bugs can't survive the extremely high temperatures in different heat treatment methods.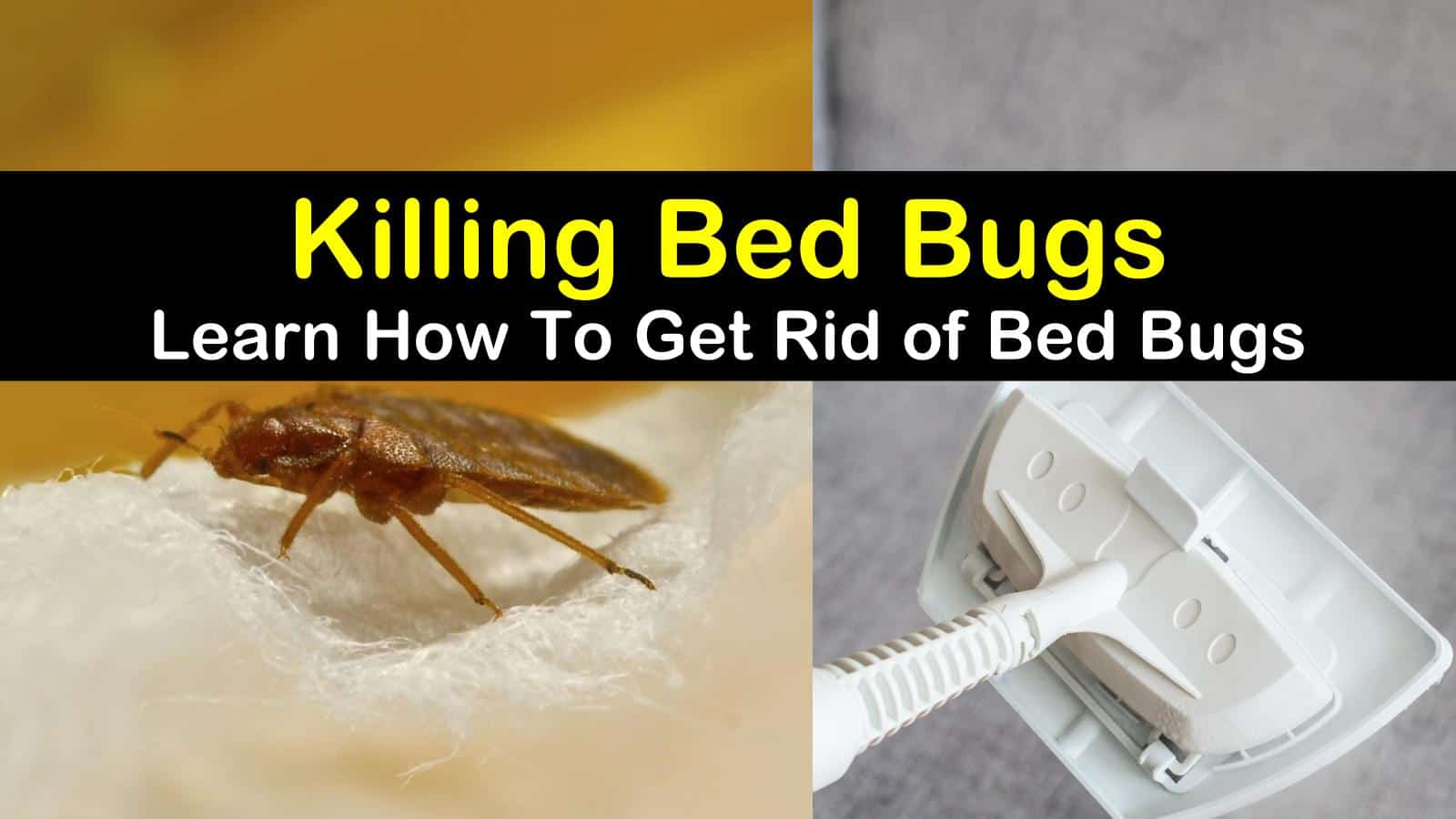 You can treat larger areas of your home with a natural bed bug spray made from essential oils or sprinkle some food grade diatomaceous earth where bed bugs like to hide. If you've suddenly found you're playing host to these nasty little pests, here's how to get rid of bed bugs for good.
What Do Bed Bugs Look Like?
Bed bugs are tiny, flat wingless bugs that have six legs and who feed on the blood of animals and people. They can be either white or brown but will turn a rusty red after feeding on blood.
The standard bed bugs that find their way into homes, don't get much bigger than 0.2 inches in length and can be seen by the naked eye, but their small size allows the bugs to hide in your furniture and carpets.
How long can bed bugs live without food? Bed bugs are a lot like cockroaches in that they are great at hiding and can live for several months without food.
The female adult bed bugs will lay up to 400 eggs in their life, which is most likely why they are so hard to eradicate. Their favorite hiding spots are in clothes, furniture, luggage, bed linens, and toys.
Where Do Bed Bugs Come from?
Contrary to popular belief, bed bugs are not particular about cleanliness and hygiene, and a sudden infestation isn't a sign of conditions being unsanitary. Most of the time bed bugs are brought into the house on your luggage after you've visited somewhere that has a bed bug problem.
These tiny insects don't discriminate when it comes to where they make their home and are found in a world-class luxury hotel room, shopping stores, offices, schools, and movie theaters.
The bed bugs preferred location to live is in the bedroom, with their favorite hiding places being the bed and other areas where you sleep because it provides them with a ready supply of blood to feast on.
They are typically active at night and will feed on you when you are sleeping, although they aren't strictly nocturnal insects. Bed bugs are attracted to the exhalation of carbon dioxide while you sleep, as well as your body heat.
After feeding for about five minutes, they bed bugs will crawl back into the mattress seams, into the crevices of your headboard and bed legs, behind loose wallpaper, and even behind the electrical outlets in your room. Often, you'll wake up covered in bed bug bites on your arms and face, and not know where they came from because bed bugs are great at hiding.
How Do You Know if You Have Bed Bugs?
Determining if you have a problem with bed bugs can be tricky and quite tedious because the bugs hide from sight during the daylight hours. Here is a quick way for how to check for bed bugs in your home and while you are traveling. Start by inspecting the bed.
Use a flashlight to investigate behind the headboard and along the mattress seams, as well as any furniture located beside the bed. Also, make sure to check your carpet, any areas behind wallpaper that is peeling, as well as around your light switches.
You don't have to locate an actual bug during your bed bug inspection, evidence of bed bugs will come in the form of the excrement that leaves a brown or black stain on the mattress and bed linens. There might also be visible blood spots on your sheets, where a bed bug was accidentally crushed.
Another indicator of bed bugs is if you wake up with bites on your skin. While bed bugs won't spread diseases or cause infections, their bites do cause discomfort. Their tiny bites can appear anywhere on your body where the bed bug can reach.
If you discover signs of bed bugs in your home, here are some of the best bed bug control methods for how to get rid of bed bugs from your mattress, headboard, couches, or anywhere they might be hiding.
The Best Natural Remedies for Bed Bug Control
The first step for eliminating bed bugs from your home is to find the infested areas. While bed bugs generally can be found in the bedroom, they can invade any room in your house where people or pets sleep. Carefully check the seams of your mattresses and other soft furnishings you have in your home.
The Environmental Protection Agency (EPA) says you need to make sure to carefully examine the spaces between your couch and chair cushions, your bed frame and mattress, and other possible hiding places like the joints of your dresser drawers, behind loose wallpaper, and any space that is same thickness of a credit card.
Use a Vacuum Cleaner
One of the fastest ways to get rid of bed bugs and the most straightforward is to use your vacuum cleaner. This is an effective way to get rid of adult bed bugs on the mattress, and bed bug eggs that may be hiding in the seams of the mattress. It's also one of the easiest pest control remedies to kill bed bugs.
To make sure you completely eradicate the bed bug eggs, use a stiff brush to thoroughly loosen the eggs from the material before vacuuming them up. Get rid of bed bugs in a couch the same way you do for a mattress.
When using a vacuum cleaner to suck up large numbers of bed bugs and their eggs, use a disposable plastic bag so that you can quickly remove and seal the bag before throwing it out.
Vacuuming is the best way to remove bed bugs from leather sofa without harming the material.
Freeze Smaller Items
An effective bed bug treatment for smaller items, like clothing and shoes, is to place the pieces in the freezer. While bed bugs can't live in freezing temperatures, they can live for up to a year in a cold area without food.
To naturally kill the bugs, you need to place the smaller infested items in plastic bags and then place them in a freezer that has a temperature below one degree Fahrenheit for at least two hours.
Use Hot Steam
A great home remedy for killing bed bugs and destroying their eggs without damaging the environment is using hot steam. Hot steam can be used to eradicate bed bugs from small cracks and crevices around your home.
It can also penetrate through the lining of the mattress to kill bug infestations that are inside the mattress. When bed bugs are exposed to temperatures of 140 degrees Fahrenheit or higher they are quickly destroyed.
Use Diatomaceous Earth to Dehydrate the Bed Bugs
A non-toxic insecticide, Diatomaceous earth (DE) can be used for pest management as well as to protect stored products. It is a natural product that is safe to use around pets and children and is environmentally friendly.
You can use diatomaceous earth bed bugs, in any space, including cracks and crevices in your walls and other inaccessible areas of your home.
Sprinkle the food grade diatomaceous earth on the bed, around the floor, in cracks and crevices, and anywhere else that you might think bed bugs are hiding.
The bed bugs will walk through the powder, and the razor sharp edges of the fossilized diatoms will tear open the soft exterior of the bugs. The powder will then dry them out from the inside, causing them to die from dehydration.
DE is also one of the effective home remedies for killing jiggers, roaches, and ants. If using outside, reapply after it rains.
Using DE is the best way to get rid of chiggers. Sprinkle it around the perimeter of your home or anywhere you suspect chigger activity. This easy and safe solution eliminates all types of bugs.
Use Hot Water to Kill Bed Bugs
If you have clothing and other fabric items that are infested with bed bugs, you can get rid of them in the washing machine. What kills bed bugs instantly is to wash the things in water that is at least 140°F.
Washing infested clothes in hot water is one of the easiest and fastest ways to kill bed bugs that have plagued your clothing and other everyday household items.
Use a Hot Clothes Dryer
After you've run infested clothing and other household items through a hot wash, you should dry the items in a dryer set to the hottest setting. The high heat will kill off the bed bugs and make sure that all of the pieces are sterilized. This works well to treat curtains, shoes, bedding, and stuffed animals that may have been infested with bed bugs.
You can use the high heat from a hair dryer to drive bed bugs from the cracks and crevices in your walls. Just set the dryer to the hottest setting and direct the air flow toward the gap. Any bug not killed by the heat from the hair dryer can be sucked up with a vacuum cleaner as they flee from the heat.
Use Mattress Covers
Another natural way to keep bed bugs away, stop them from feeding on you while you're asleep, and prevent bed bugs from entering other parts of your home is to use bed bug encasements on your clean mattress, pillows, and box springs.
These types of encasements are tightly woven covers that can prevent bed bugs from escaping and entering your mattress and box springs. You will need to keep the encasements on for at least a year to ensure you kill off all of the bed bugs that may have infested your bed.
Starve Them with Silica Gel
One of the best home remedies for getting rid of bed bugs naturally and easily is silica gel. The fine grind of the silica gel will get stuck to the skin of the bed bugs when they walk across it. They will be unable to remove the gel from their surface, and it will start to pull the moisture from their bodies, dehydrating them. Buy some silica gel from a local store or online and grind it into a fine powder.
Apply the silica around your room, focusing along the walls, around your bed, and on and under your mattress. After one week, inspect the area and vacuum up any dead bed bugs that you find. Replace the silica gel with a fresh batch every four to five weeks.
Tea Tree Oil Spray for Bed Bugs
The insecticidal properties found in tea tree essential oil make it a great natural product for getting rid of a bed bug infestation. You can make a do-it-yourself tea tree oil spray to kill bed bugs that might be hiding in hard to reach places around your home, like furniture joints, cracks, and crevices.
To make a natural tea tree insecticide spray, add 20 drops of tea tree oil to a spray bottle. Fill the spray bottle with water and replace the lid. Shake the bottle thoroughly to combine the ingredients.
Liberally spray the solution in an area where you think bed bugs might be living. Use the spray daily until there are no more signs of bed bugs. Shake well before each application.
Lavender and Peppermint Oil Spray
Like tea tree oil, lavender oil can make an effective homemade pesticide spray to eradicate bed bugs. Lavender oil is safe to use around your home, and it makes a great homemade bed bug repellent for skin, its properties are toxic for bed bugs.
One recent study, into the effects of essential oils on insects and bug control, found that combining lavender and peppermint oil will effectively kill off a variety of insects, including bed bugs.
The peppermint oil helps to repel bed bugs, while the lavender oil is effective in killing the eggs and larvae.
One recent study, into the effects of essential oils on insects and bug control, found that combining lavender and peppermint oil will effectively kill off a variety of insects, including bed bugs. Use essential oils for bed bugs when possible instead of harmful chemicals.
To make this DIY lavender oil spray for bed bugs that has a pleasant scent, add the water and essential oils to the spray bottle. Put the lid back on and shake to mix the ingredients. Use the natural insect spray to treat the areas in your home that are infested with bed bugs. Use the spray every day until you no longer see signs of the bed bugs.
Use Clove Oil
A commonly-available household product, clove oil plays an essential role in eliminating bed bugs. The primary ingredient in clove is Eugenio, which is responsible for clove oils high level of acidity and intense aroma. With just two cups of clove oil, you can kill bed bugs in their tracks.
Place the clove oil in a spray bottle and mist the entirety of your mattress and box springs. Do this regularly until you don't see any more signs or experience any more symptoms associated with a bed bug infestation.
Make Use of Lemongrass Powder
Lemongrass is a powerful home remedy for dealing with a bed bug infestation by killing the bed bugs, as well as their eggs. Lemongrass powder works by increasing the acid levels inside the bed bugs when they come in contact with the product, effectively killing the pests.
Using the powder will also kill off the eggs that are left over. Take four cups of lemongrass powder and spread it evenly on your mattress and box springs and allow to sit.
Every couple of weeks, check for dead bed bugs and vacuum up any that you find for this way to remove bed bugs. Follow the process regularly to eliminate bed bugs.
Kill Bed Bugs with Thyme
Thyme is a potent antimicrobial ingredient, whose odor will quickly repel bed bugs. You can use the smoke of a thyme stick to driving away the bed bugs, or you can place thyme leaves in a net bag and place them in the infested areas. The strong aroma will drive the bed bugs from their hiding places, which will allow you to kill them or vacuum them up.
Use Turmeric Powder
Turmeric powder contains curcumin, a potent antimicrobial agent that is extremely effective at eliminating bed bugs. Curcumin depletes the oxygen levels inside of the mattress, which leads the bed bugs to die. Take one cup of turmeric powder and evenly spread it over the entire mattress. Continue to do this every week until there are no other signs of these pests.
Try Dryer Sheets
Bed bugs hate the strong smell of dryers sheets, especially ones that are lavender-scented. Place eight to ten dryer sheets in between the box spring and the mattress.
Place another eight to ten dryer sheets between your mattress and your sheets. You can also place dryer sheets in your pillowcases, linen closet, and dresser drawers to get rid of bed bugs.
Make a Spray with Eucalyptus Oil
The essential oil found in the foliage of the eucalyptus trees is typically used in pharmaceuticals, food, and perfumes. However, it is also instrumental as an insect repellent. Eucalyptus promotes insecticidal death as well as working against fungi, bacteria, weeds, nematodes, and mites.
Add ingredients to a spray bottle and shake well to combine all the ingredients. Spray the solution everywhere that has shown signs of bed bug activity. Repeat the spraying every couple of hours until all signs of the bed bugs are gone.
Use Neem Oil to Kill Bed Bugs
For many generations, neem oil has been used for a variety of insecticidal and medicinal properties. Recent studies have shown that cold-pressed neem oil is highly toxic and an effective antifeedant that can repel and kill many pests.
To use neem oil on bed bugs, mix one ounce of neem oil to four ounces of water. To emulsify the solution, add ½ teaspoon of soap. Shake to combine.
Spray your bed, sheets, crevices, walls, and every other place where bed bugs might be hiding, then wipe them down. For neem oil to kill bed bugs, repeat three times a day for the first three days, then begin treating every other day for 18 days.
Treat a Bed Bug Infestation with Rubbing Alcohol
Rubbing alcohol is typically used as an effective sanitizer, which makes it especially useful in preventing a bed bug infestation. Rubbing alcohol helps to sanitize and inhibits the growth of bacteria.
Spraying rubbing alcohol in the areas where bed bugs are present will dry out the bed bugs and leave them to die of dehydration.
Use Chemical Treatments
If you are having difficulty eliminating a bed bug infestation, you may need to turn to chemical treatments to get rid of them altogether. You can use foggers or bug bombs, like Raid or the Hot Shot Indoor Insect Fogger to get rid of bed bugs that have invaded your home. You can also use a Steri-Fab bed bug killer to treat the problem.
Simple Preventive Measures to Keep Bed Bugs from Invading Your Home
Once you find a bed bug in your home, it can be challenging, and costly to get rid of them. Here are some simple, preventative measures that you can take to keep your home from becoming infested with these pesky insects.
Inspect Your Hotel Room
If you're traveling, it will be extremely beneficial to do a quick, essential inspection of the hotel room. When you first check in, take the time to carefully inspect the mattress, box spring, and any part of the headboard that is visible, especially around the edges.
Start by looking at the bottom of the box springs. Carefully pull back the sheets and examine the ribbing and corners of the mattress, as well as around the headboard. Not only are you looking for the bugs, but also for any little brown spots that indicate that they've been around.
If They Find Their Way Home with You, Leave Them Outside
If you experience an issue with bed bugs while you're traveling, make sure you don't bring the unwelcome hitchhikers into your home when you return. Unpack your entire suitcase outside your home. Pull out all of your clothes and put them immediately in the washer and run them through a hot wash and then dry them on high heat.
Then, disinfect the suitcase with no-pest strips that you can place in a trash bag, along with the suitcase, and seal the bag for at least two weeks. The pesticide in the no-pest strips will purify the area and kill any remaining bed bugs.
Determine if You Have Bed Bug Bites or Mosquito Bites
The first and most significant warning signs that you might have a bed bug problem are bites. While they look like mosquito bites, bed bug bites usually come in clusters of three or more on the exposed areas of your skin. If you find suspicious bites on your arms, neck, face, or shoulders when you wake up, make sure you conduct a necessary inspection like you would in a hotel room.
Minimize the Risk
There are a few things that you can do to minimize the risk of your home becoming infested with bedbugs. First, purchase an encasement for your bed and box springs. While this won't prevent bed bugs from infesting your home, it will make it easier to get rid of them if they become a problem.
You can also make it more difficult for bed bugs to crawl up into your bed by placing a ClimbUp Monitor around the legs of your bed to keep the bed bugs on the floor.
Treating Bed Bug Bites
A bed bug bite will often cause the skin in the area to become red and inflamed and can be quite painful and itchy. Try to avoid scratching these bites as it can further irritate the area and might lead to a secondary bacterial infection that is more difficult to treat. If you do end up covered in bed bug bites, here are some simple home remedies to help ease the irritation.
Apply Ice to the Area
The simplest way to treat a bed bug bite is to apply an ice pack to the affected area. Ice will help to numb the site and provide you with some relief from the pain. It is also highly effective for reducing the inflammation that accompanies a bed bug bite while soothing the red and swollen skin.
Treat The Bites with Cinnamon
Cinnamon is known for its anti-inflammatory, antibacterial, and analgesic properties and makes it highly effective in the treatment of bug bites. You can make a paste by mixing some cinnamon and water to seal the bitten area like a Band-Aid. This will help to prevent infection and will work to heal the inflamed skin.
Place the cinnamon powder in a small bowl and add the water until thick paste forms. Apply the cinnamon paste to the bed bug bites and cover completely. Allow the paste to dry.
Reapply the cinnamon paste throughout the day to prevent them from worsening. By the end of the day, you should see a dramatic reduction in the severity of the bite.
Use Baking Soda on the Bites
Baking soda neutralizes the acidic chemicals in a variety of bug bites. With its anti-inflammatory properties, baking soda is excellent for treating bed bug and chigger bites.
Make a paste of baking soda and water and apply it directly to the bug bite for quick relief from the itching and pain. Leave the paste on the affected area for ten minutes, then rinse with water and pat dry.
Apply Toothpaste
Plain white toothpaste works exceptionally well when it comes to treating bed bug bites. The toothpaste, when applied to the affected area, works as an astringent and has a cooling effect on the skin. It also works well for treating minor burns.
Peppermint toothpaste works well in managing bed bug bites because its menthol component acts as an anesthetic, which can help to numb the pain while reducing the itchiness and swelling. Just apply a small dab of toothpaste on the bite and let stand for ten minutes, before rinsing with water. Repeat as often as needed to reduce swelling and provide relief.
Finding an infestation of bed bugs in your homes is one of the worst possible feelings. Not only are the difficult to detect, but they can be extremely challenging to eliminate, as well as being costly. With these natural remedies, you can effectively deal with your bed bug problem and keep them from coming back.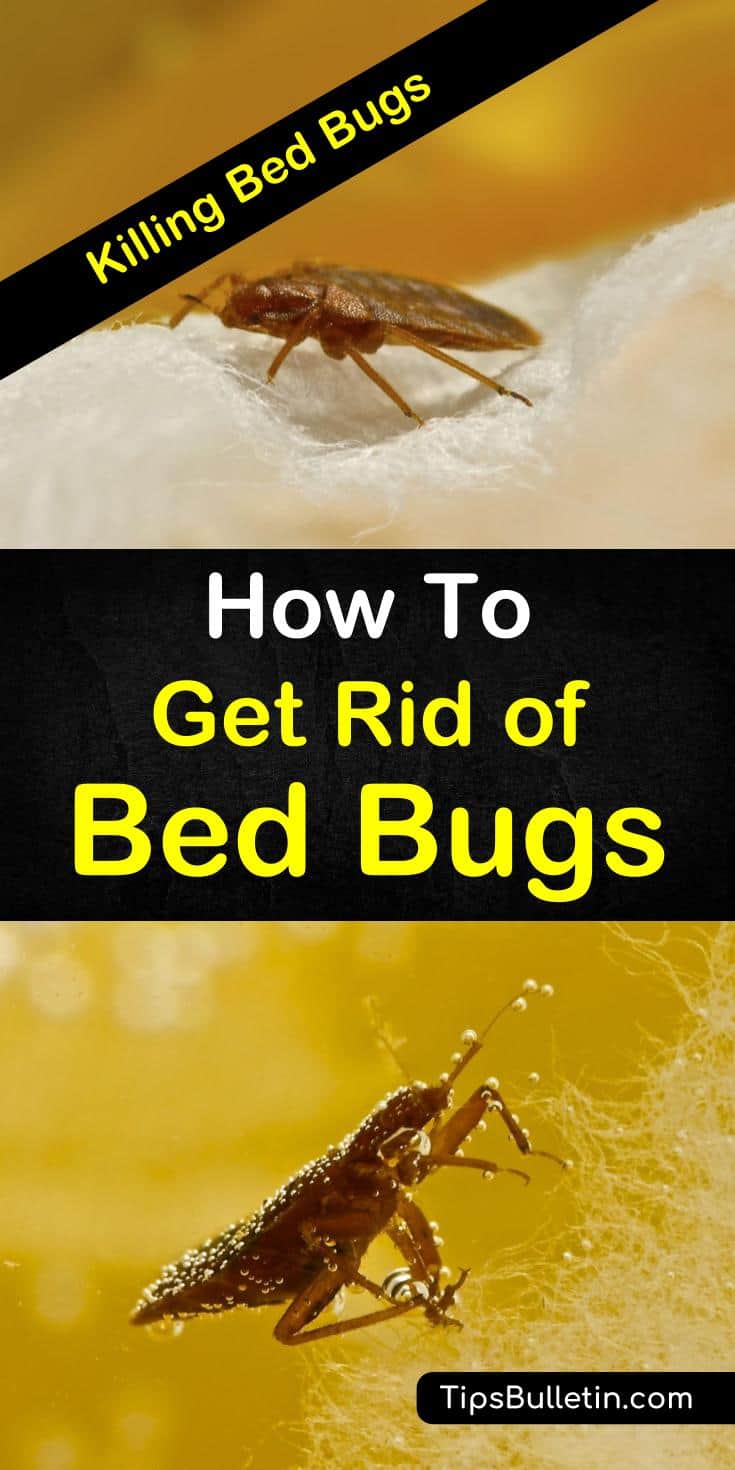 We hope that learning about how to get rid of bed bugs and prevent them from coming back has been useful. Share this information with your friends and family.