As much as you hate to think about it, your home and bed are covered in dust mites. Even though they're mostly harmless, people with dust mite allergens have to suffer while living in their homes. Knowing how to get rid of bed mites creates a much safer environment for your friends and family who stay over.
Getting rid of mites in the bed takes a little bit of work and dedication, but you'll be amazed at how effortless it is to breathe. Dust mites are nearly impossible to see with the naked eye.
What are bed mites? These pests are microscopic critters related to arachnids. Dust mites are crawling all over your bed because they feed on the dead skin cells of humans and pet dander. They linger in our house dust and are on nearly every surface.
If you could see them, they'd be living on curtains, bed linen, upholstery, carpeting, an area rug, pillow covers, and practically every other piece of fabric you can imagine. It's crucial to regularly try to kill dust mites in your bed, so you don't have an infestation.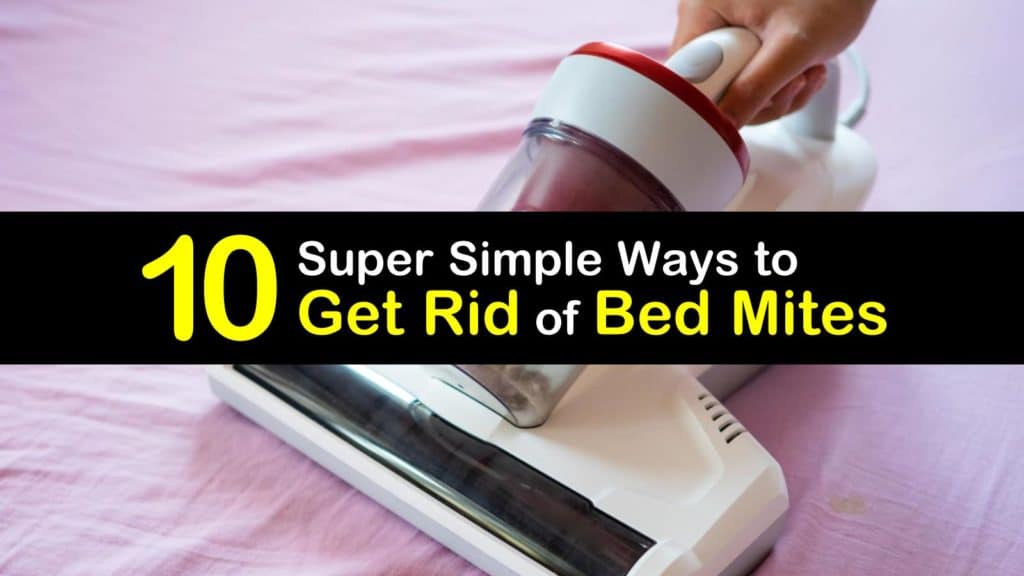 Dangers of Dust Mites
Killing dust mites on bedding is beneficial for everyone, but it is even more critical for people with dust mite allergies. Never downplay a dust mite allergy.
Allergy symptoms include watery eyes, clogged sinuses, sneezing, scratchy throat, headaches, and more.
Excessive exposure increases the risk of a severe allergic reaction that may leave someone in the hospital with more severe reactions like chest pain, dermatitis, and trouble talking and breathing.
The Asthma and Allergy Foundation at AAFA.org suggests that if you think you have a dust mite allergy to seek out an allergist. Allergists perform tests and ask you a series of questions about your home.
After speaking with them in detail about your house and symptoms, they can determine if you have an allergy and provide you with steps for getting rid of mites in the bed.
It isn't the mites themselves that cause the reaction, but the mites' feces. Whether you're allergic or not, it'll ease your mind knowing that you're removing as much dust mite feces from your house as possible.
How to Get Rid of Bed Mites
There are quite a few courses of action to take when learning how to get rid of bed mites. To kill dust mites in your bed, try incorporating more than one of these methods.
You increase your chance of getting rid of mites in the bed, the more regularly you perform each process.
Getting Rid of Mites in the Bed and House
One of the most manageable things you can do to remove dust mites from your home is change the temperature and humidity levels. The ideal temperature for dust mites to live is between 75°F and 80°F.
Their typical humidity preference ranges from 70 to 80 percent. Changing these ranges won't necessarily kill dust mites in your bed, but it creates an uncomfortable environment and encourages them to move elsewhere.
To help combat a farinae mite infestation, move your heat or air conditioning down to at least 70°F so that it is right on the edge of their comfort level. If you can move it even lower, you get the added benefit of lowering your heating bill as well.
However, this may make running your air conditioner more expensive during the summer. Changing the humidity in your home is a bit more challenging.
Test the levels with an electric humidity monitor and keep air circulating by opening windows and vents or putting a dehumidifier in your room.
The Best Way to Kill Dust Mites in Your Bed
What is the difference between dust mites and bed bugs? Bed bugs are parasitic insects. The bed bugs feed on the blood of humans and leave them covered in bites. They are much harder to get rid of.
Although similar in shape, bed bugs are much larger, and you can see them with your eyes. Remember that bed mites are microscopic, and you wouldn't spot them even if you tried.
If you have visible bugs in your bed, you may be trying to solve the wrong problem. Washing bedding as a way to kill dust mites is one of the first things you should do. Remove all washable bedding, including sheets, pillowcases, cushion covers, and curtains.
Wash all these fabrics in hot water between 130°F and 140°F in your washing machine. Use a heated dry cycle on your dryer to ensure any remaining dust mites are killed. Doing this every week is best, but once a month is more manageable.
Purify the Air
Technology has become remarkably advanced, and the HEPA filter is one thing we have to be grateful for. HEPA stands for high-efficiency particulate air. These are filters put into an air purifier that force the air in the room through a mesh trap.
This trap filters out dander, smoke, pollen, and, most importantly, dust mites. More and more air purifiers are being sold with these types of filters already in them, but always read the product description before buying one.
Give your air purifiers regular upkeep and change the filters when necessary, so you consistently remove as many dust mites from the air as possible.
Steam Clean your House
Steam cleaners are magical products when you want to learn how to get rid of bed mites. Steam cleaning uses a machine that heats water and pushes steam out at temperatures of 200°F.
These temperatures are higher than washing machines and dryers and are perfect for items that won't fit in the machine. Use a steam cleaner on upholstered furniture, your box spring, mattress, and area rugs.
Vacuum Regularly
Vacuuming is already a pretty common chore, but the more you do it, the fewer dust mites there are. Run your vacuum cleaner at least once per week to keep your carpets and furniture clean without having to put in extra work.
While you're at it, try dusting more than usual. Wiping hard surfaces down with Lysol and a damp cloth removes all dust remnants that mites hang out in.
Don't forget to wash your old rags in hot water and empty the vacuum into a plastic bag so you can immediately take it to a trash can outside.
Freeze Small Objects
You already know that temperature plays a significant role in killing dust mites. The life span of bed mites is considerably less after freezing. Throwing small articles of clothing or stuffed animals into the freezer for 24 hours is an easy way to kill them.
When you remove the fabric from the freezer, shake it out outside, so all the dead bodies and their dropping don't stay attached.
Spreading Diatomaceous Earth
Diatomaceous earth is an excellent way to incorporate pest control. Use diatomaceous earth for bed mites and bugs, since it is a powder of crushed silica rock. The powder attaches to all insects that walk through it and dehydrates the insect's exoskeleton until they die.
A little of this insect-killing product goes a long way, and it is perfectly safe to spread around the interior of your home because it is non-toxic to pets and humans.
Sprinkle a small amount of powder where you suspect dust mites are and let it sit for a few hours. Vacuum up the powder and discard the remnants in an outdoor garbage can.
Making Homemade Dust Mite Deterrents
If there is one thing that insects of all kinds hate, it's essential oils. This isn't true for all oils, but tea tree oil, citrus oil, and eucalyptus oil are some of the best oils for turning into homemade insect repellents and are easy DIY bed mites killer spray solutions that are safe to use around children and pets.
To make this dust mite repellent spray, add the water and the eucalyptus oil or tea tree oil to a spray bottle and shake it to combine. Lightly mist your house and on your upholstered furniture, carpeting, and bedding.
Either allow the spray to dry or use a damp paper towel to scrub the surface of your targeted area.
Don't Make the Bed
We know it goes against everything your mom ever told you, but try not making the bed in the morning.
When your bedding is sprawled all over the place, it allows your bed linens to breathe and get airflow rather than trapping heat and moisture inside. The less heat and moisture there are, the more effortless getting rid of mites in the bed is.
Use Hypoallergenic Products
The market is bombarded with hypoallergenic products that are perfect for keeping dust mites off the bed and for dealing with unwelcome tiny mold mites. There are mattresses, pillows, sheets, comforters, and even pets that all have hypoallergenic properties.
Dust mites are natural to have in our homes. Half the time, we don't even know that they're living with us. Even if you don't have an allergy now, too much exposure to dust mite feces could lead to health issues and asthma in the future.
Knowing how to get rid of bed mites is a simple act of self-care. If you live with loved ones or pets, they also reap the benefits of your hard work to kill dust mites in your bed and around your home.
Try incorporating a few of these strategies to kill mites in your weekly cleaning routine, and let us know if you've noticed a difference in your overall health.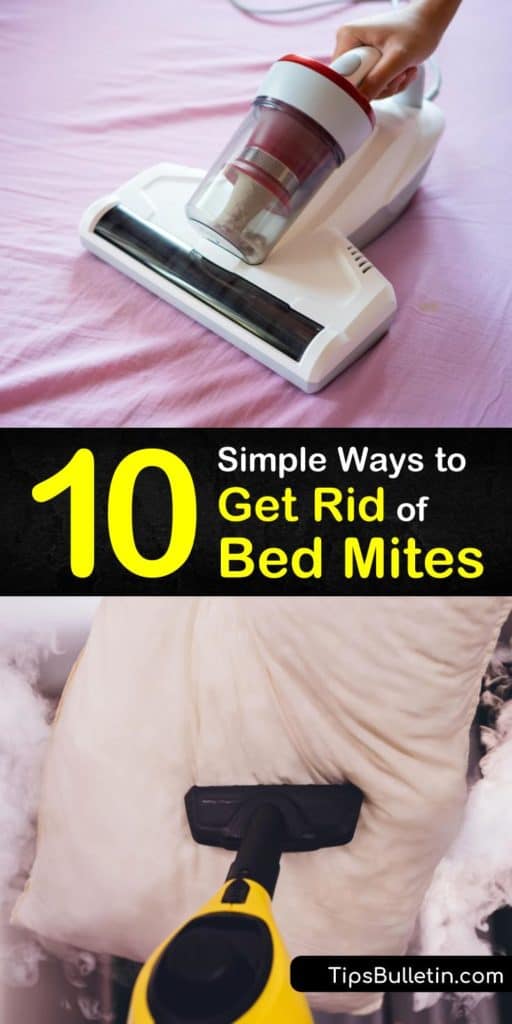 If figuring out how to get rid of bed mites has improved the wellness of someone you love, share these ways to reduce bed mites on Facebook and Pinterest.