Our gardens give us happiness and pride, and we love to spend time tending the plants. But weeds such as bindweed, also known as Wild Morning Glory or Convolvulus arvensis, can spread quickly and take over our gardens and lawns. Understanding how to get rid of bindweed when you spot it can keep your garden happy.
If you know how to kill Morning Glory and prevent its return, your grass and vegetables can grow unhindered. This article provides you with the best ways to prevent bindweed from becoming a blight on your home. We give you tips and recipes for DIY Morning Glory killer options and help you take control of your greenery.
It's your home, and you're entitled to be in charge of how it looks and what grows there. With our assistance, you'll be prepared to face the next growing season with a smile on your face.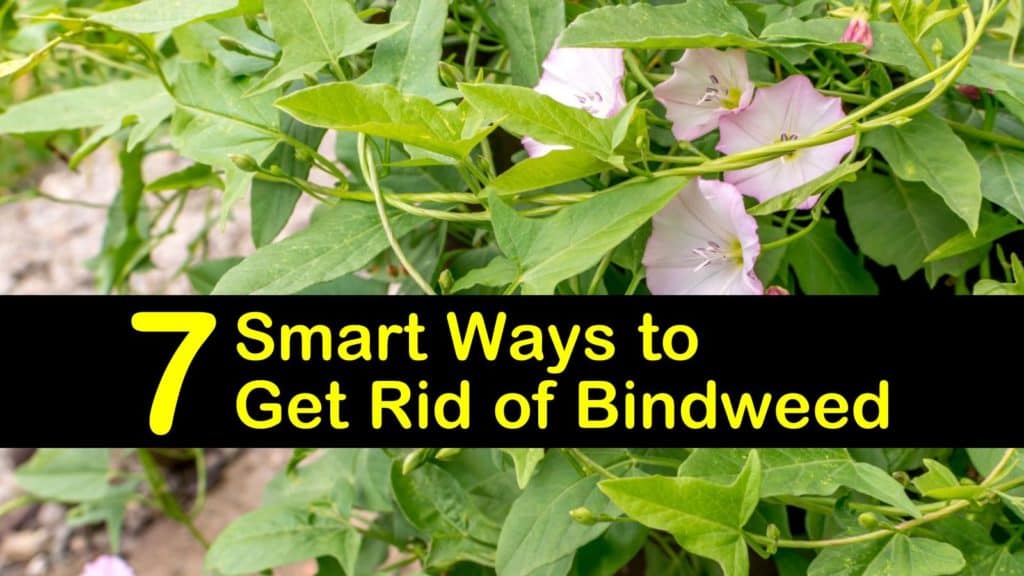 Eliminate Bindweed
The great bindweed vs Morning Glory debate doesn't matter to your garden. Whatever you call it, this vine with pretty white flowers spreads all over the place and chokes your plants.
Bindweed is stubborn, is recognized as a noxious weed species by the Colorado Department of Agriculture and other agencies, and takes a bit of work to remove, so the best option for getting rid of Morning Glory weed is to prevent it from getting a foothold (..). If you stop perennial Morning Glory before it has a chance to establish itself, you eradicate it.
How to Kill Morning Glory – Preventatives
This section looks at options for keeping bindweed out of your garden and preventing it from taking root and spreading. You'll get tips for selecting the right types of soil, confirming your soil's health, and making future weed growth more difficult. Our suggestions help you keep your garden weed-free and happy.
Don't Buy Soil that Contains Bindweed
Despite being a weed, Morning Glory sometimes shows up in soil mixtures. This situation can be disastrous, especially if you don't have any weeds in your garden already. New soil can contain bindweed seeds and other nasty plants that dominate your garden if you bring them home.
It's not a good feeling to have been careful in all other respects and still have to deal with weeds popping up. Bindweed in purchased garden soil is an easy problem to resolve, fortunately. Do your due diligence when you pick up potting soil and check the ingredients list.
The soil packaging shows you what's in the soil, so take a few seconds to give it a once-over before making a purchase. A little care at this point saves you hours of bindweed control later in the year.
Check Your Soil's Health Regularly
Wild Morning Glory is an opportunistic weed and prefers poor soils that damage less-hardy plants. High potassium and magnesium levels in the soil are also attractive to Morning Glory.
A garden with soil issues is one that's ripe for a bindweed invasion, and the garden stays vulnerable until you do something to resolve the problems.
Some regular attention on your part helps to prevent this issue. Check your soil's pH every week, and add phosphorus, calcium, and decaying plant matter to rebalance the earth.
Give the ground a good tilling to combine it and rebalance it, too. If the pH is too high or low, add aluminum sulfate or lime to bring it back into the range your garden plants prefer.
Discourage New Growth with Mulch
Even if you keep an eye on the soil and treat it well, it is still vulnerable to weed growth. If the ground is visible, seeds can get to it and take root. It's possible to take action to prevent bindweed from getting the upper hand, though.
All plants need air, water, and sunlight to grow, and that means that if you remove one or two of those elements, you prevent weed infestations. A layer of black plastic mulch or wood chips does just that.
Once your garden plants are tall enough, shovel a layer of mulch onto your garden bed or flower bed. Make sure it's thick enough to prevent sunlight and air from reaching ground level.
If you maintain this mulch layer, you create a barrier that prevents invasive plants from taking root. Morning Glory seeds won't be able to thrive, and your garden plants stay above the mulch and receive as much sunlight as they require.
Spray a Weed Preventative
Manual efforts get you most of the way to a weed-free garden, but bindweed can still slip past you and make it into your yard. Prevent the weeds from getting a grip in the soil with a weed preventative spray.
A good weed preventative inoculates your garden against infestations and gives it another barrier against wandering bindweed. Every three or four months, spray down your garden with a weed preventer like Preen. Spray the bare soil with the preventative, making sure to hit every spot.
Try to schedule the spraying during a dry spell so the rain doesn't wash the weed preventative away. Spray areas where you recently removed Morning Glory as well as spots you wish to protect from future growth.
Morning Glory Killer
Preventative measures are nice, but they can only do so much to control weeds. Sooner or later, you're likely to encounter a patch of bindweed marring your garden or lawn.
When bindweed takes root, you need a few weed killer options ready to take them on and come out on top. Luckily for you, there are plenty of weed killer agents available to take care of Morning Glory.
How to Get Rid of Bindweed
In this section, you'll get details on how to get rid of bindweed for good by destroying it. We give you techniques and weed killer options that stop Morning Glory in its tracks and make it beg for mercy.
Our weed removal tips show you how to control the bindweed growth to make it easier to spray them and educate you on the different weed killers. We help you knock out bindweed as soon as it appears.
Guide the Bindweed's Growth
One of the tricks to dealing with vine-type weeds such as Creeping Jenny and Wild Morning Glory is to make sure that any growth is exposed and allows you to kill it for good.
Ensure that any new shoots grow away from your garden plants. Doing so allows the weed to grow to a height that allows you to spray it and kill the root system without harming your carrots, beets, and other veggies.
Hammer bamboo canes around your garden or flower beds at the start of the growing season. When a bindweed vine pokes out of the ground, twine it around one of the canes.
This guidance sends the field bindweed plant growing up the rod instead of a fence or across the garden. It also exposes lots of leaves to your weed killer.
Dig Out Small Morning Glory Patches
You don't have to treat all bindweed infestations with kid gloves. Isolated and small patches of new plants growing on the garden's borders or away from garden plants can and should come out as soon as you encounter them.
Mowing can control above-soil growth on your lawn, too. Bindweed root systems are stubborn, though, so make sure to remove all rhizomes as well.
Use a shovel or trowel to dig around the borders of the weed patch. Dig under the root system, which can extend as far as ten feet below the surface.
Avoid composting the bindweed, as this can result in further infestations. Instead, double-bag the weeds in trash bags, seal the bags with tape and throw them away.
Removing unwanted plants by hand is also an excellent poison ivy plant killer. Be sure to wear protective clothing when handling this rapidly-spreading and potentially harmful weed.
Spray the Bindweed with a Weed Killer
Now that you're training the remaining weeds in your garden to grow up isolated poles, it's time for chemical control. A glyphosate weedkiller such as Roundup is ideal for killing off common weeds such as crabgrass, arrowhead, and bindweed and is also one of the best poison ivy killer spray options around.
A few applications of weed killer usually destroy the surface weeds and even extend into the bindweed roots to wipe them out, too. This method is the best option for large areas with lots of weeds.
Don your safety gear, and fill the sprayer with weed killer. Glyphosate kills garden plants as readily as weeds, so only spray bindweed leaves that are isolated away from other plants.
Wait a week, and respray. Wait another two weeks to let the roots die. Once the bindweed is brown and dead, it's safe to remove them and dig out the roots. Use on kudzu to end up with dead kudzu vines that you can remove easily, as well.
You can also make your own weed killer with salt, vinegar, and dish soap. Mix the ingredients for killing thistle with vinegar or to get rid of bindweed, poison ivy, kudzu, and other plants that threaten to take over your yard.
We hope you had a delightful experience reviewing our recommendations on how to kill Morning Glory. Our lawns and gardens give us joy and provide us with veggies for the table, but weeds such as bindweed can quickly take over a garden and choke it to death.
This article points you toward an effective Morning Glory Killer and gives you methods to control weed growth.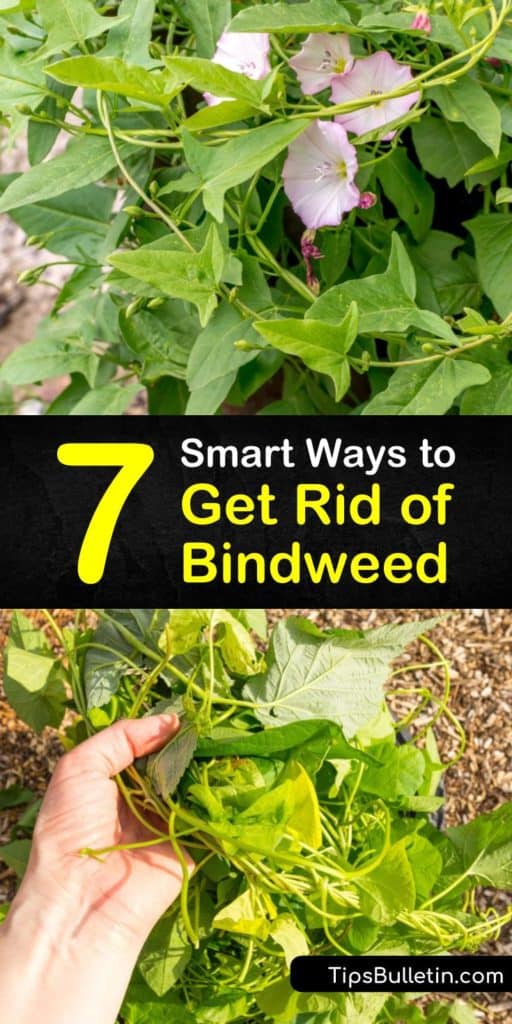 Thanks for checking out our weed removal suggestions. Help others learn about how to get rid of bindweed by sharing this useful bindweed killer article on social media outlets like Facebook and Pinterest.