When learning how to get rid of black ants in the house, the first thing you must do is determine why they are invading your home. The second thing is to figure out where they are coming from and to seal up and block their favorite entry points.
Even if you learn how to get rid of small black ants, failure to inspect your home for entry points and food sources regularly renders all your work pointless as new ones continue to enter your home. Something to avoid when learning how to kill little black ants is only killing the ones you see.
For an ant infestation, you must destroy the queen, as the ones crawling along the floor or across your kitchen counters are just a small number from the colony. These ants leave behind pheromones allowing other members to follow their trail to a potential food and water source.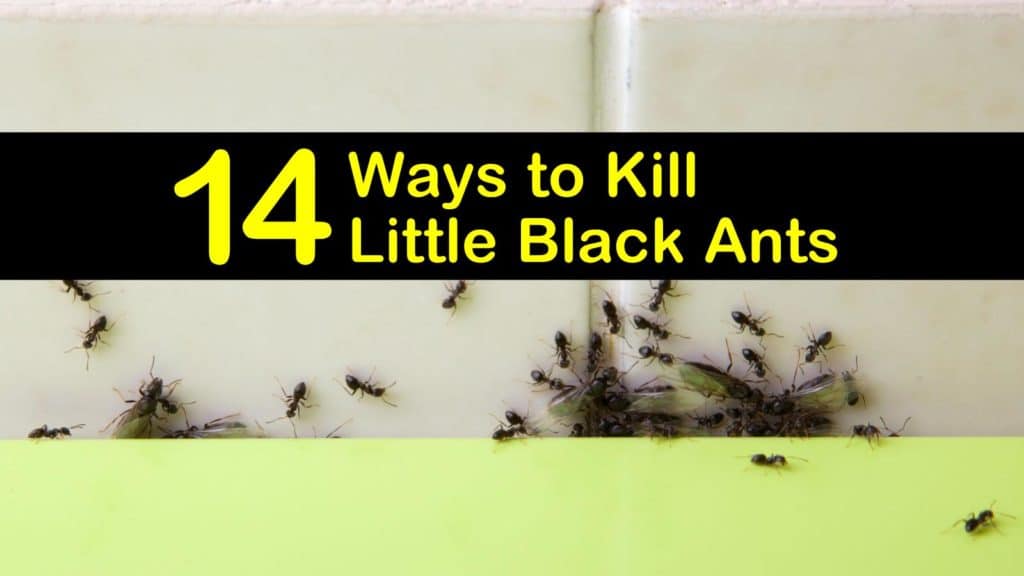 Ideas for How to Kill Little Black Ants
Many people often ask, if I only have a few big black ants in my house, is there cause for worry? The answer is yes, even if you spot a single one, that is cause for action.
A single ant acts as a forager who alerts the rest of the colony to potential food and water sources. Not taking action allows the scout to create trails for other colony members to follow.
Ant colonies reach numbers into the thousands with at least one egg-laying queen; some colonies house several queens. Gaining total control over your black ant infestation requires the elimination of the colony's queens.
How to Get Rid of Black Ants in the House Naturally
Limonene is an excellent choice for eliminating ant infestations inside the home as it's safe to use near food sources inside your kitchen. Limonene's active ingredients are citrus oils extracted from various citrus peels, including oranges, and works to kill ants, roaches, silverfish, and other pests upon contact.
D-limonene comes in two options, a 100% concentrate or a ready-to-use version containing only 5% d-Limonene. To use the concentrate, follow the directions on the packing to achieve the proper dilution of water to the product.
Orange Guard 103 is ready to use straight from the bottle; simply spray directly onto pests. Both sprays leave behind a pleasant smell and are effective at eliminating smaller infestations.
Can I Treat Ant Nests Inside My Walls?
Often, colonies create nests inside wall voids as it allows them to be closer to a water or food source. Luckily, if you have an ant colony living inside your walls, there is no need to rip into the sheetrock to eliminate it.
Treating these nests is done by spraying aerosols into the cracks and crevices of the walls, especially along the baseboards. This strategy is ideal to get ants out of your walls. Reapplication after a week or two provides even more insurance against these pests.
If you are unsure of the nest location inside the wall, opt for using toxic baits along the trails the ants form. Termidor Foam works to treat a variety of pests, including small black ants and termites.
The fipronil-based foam fills any voids in the walls where colonies form. This works to kill ants and other pests as they can't overcome the barrier the dense foam creates, plus the fipronil works to kill them over time. Some ant infestations require an exterminator.
Best Homemade Baits for Your Ant Problem
Small children and pets make controlling ant infestations difficult, as you must proceed with caution when using commercial insecticides. Using common household ingredients, learn how to make a variety of natural ant baits to attract and kill odorous house ants and others.
To get rid of sugar ants that are drawn to your food and that of your pets, use this simple sugar ants remedy. Create a sweet ant killer by mixing one cup of powdered sugar with one cup of Borax.
Divide the powdered bait up into small containers and place around suspected entry points. If ants are visible, place the small containers directly in their path to prevent them from traveling all over the house looking for the sugar.
Another option is to dissolve three tablespoons of Borax and half a cup of white sugar in one cup of warm water. Use cotton balls to soak up the solution. Place the sugary cotton balls onto shallow dishes and place near discovered ant trails.
One effective bait draws ants who thrive on grease and protein. Try using Borax to kill ants in the house with this simple recipe. Mix one teaspoon of Borax, one tablespoon of sugar, and a spoonful of peanut butter.
Fill a plastic straw with the mixture and then cut into small pieces – about half an inch is ideal. Lay the straws out along the ant trails and store any leftover bait in airtight containers.
Apply Diatomaceous Earth to Kill Black Ants
Perhaps the most effective organic pest control tactic, food-grade diatomaceous earth, contains fossilized diatom algae crushed into a fine powder. The light dust is sharp enough to cut through the exoskeleton of crawling insects to wreak havoc on their insides. It is perfectly safe to use around pets, wild animals, and humans as it cannot penetrate the skin.
Diatomaceous earth is a non-toxic insecticide you sprinkle around baseboards, points of entry, gardens, and various other places you see ants, roaches, silverfish, or centipedes in the house. The powder causes death from dehydration but rarely makes it back to the colony to kill the ant queen. Repeated applications are a must, especially after wet weather.
How to Kill Little Black Ants with Liquid Ant Baits
Terro Liquid Ant Bait is effective at getting rid of large black ants and small ones. Not only is the liquid bait effective, but it is also affordable and slow-acting. The bait takes up to three days to kill the ants, allowing them to carry the poison back to the nest.
Bringing the poison back disperses the toxin to other members of the colony, including the queen. Using Borax as its main ingredient, it kills insects by disturbing their digestive system.
To apply, break off a tab and place around your windows, baseboards, or other areas where they are spotted. Do not use food or in areas treated with other insecticides. Infestation control takes about two weeks, but replace it every three months to prevent new ones.
Is Boric Acid Effective at Controlling Ant Infestations?
Using boric acid in powder form works well either as part of bait or by itself. Powdered boric acid works best inside walls or furniture to get rid of flying ants, as well as any other pests who have made these areas home.
Always use this solution for inaccessible places or at the entrance to the pest's nest. Pour it directly into holes in furniture or your walls to distribute the products along the current trails where it kills ants and roaches as it's a stomach poison.
Tips for Using Clove Oil to Repel Black House Ants
Clove oil's principal active ingredient is eugenol, which is found in several organic insecticides. Clove oil isn't effective at killing any type of ant species but works to repel them instead. In many cases, eugenol is combined with rosemary, sesame, thyme, among other essential oils for effectiveness.
Always wear eye and hand protection when using clove oil to get rid of tiny ants in your house as the oil irritates the skin and eyes. Many entomologists agree that eugenol is effective in eliminating several types of pests, but clove oil only contains small amounts of it.
To use clove oil for your pest problem, dilute the essential oil in water. Spray around the perimeter of your home to create a barrier. Never use the essential oil undiluted or use it around small children, pregnant women, or pets as it is unsafe for them.
Keep Black Ants Away for Good
This is one of those home remedies to kill ants and other pests that perform double duty, as it kills and repels. The combination of essential oils in this homemade repellent spray works on different types of ants, as well as many other insects. Use it both inside and outside your home to keep unwanted pests from coming in.
Inside a spray bottle, add cayenne pepper, essential oils, and water. Secure the spray nozzle onto the bottle and shake gently to mix.
Spray the current trails ants inside your home are using, and any cracks or crevices along the baseboards and other points of entry. For a more substantial application, soak a cotton ball in the solution and place it in high traffic areas.
If you are having a hard time keeping ants out of cat food or dog food, either pick up the bowl as soon as your pet finishes eating or place the bowl in a "moat" of water in another container. When ants try to reach the food, they drown in the water instead.
How to Get Rid of Small Black Ants Using Gel Bait
Gel is not the ideal choice for using inside your home with pets or small children unless using it with an ant killing station. This ant killer approach is most effective when applying directly to surfaces rather than inside a station.
Containing Indoxacarb, Advion Ant Gel Bait manufactured by Dupont aims to kill entire colonies and works for up to three months after the first application. This option is ideal for use in confined spaces or other hard to reach areas where typical bait stations won't fit.
Apply the gel directly inside the cracks and crevices or place inside a bait station. Lay the stations under furniture or appliances and around kitchen sinks.
Does Peppermint Oil or Vinegar Work to Keep Black Ants at Bay?
To keep black ants away, you must do more than just kill and sweep up the ones you see. Black ants leave behind a trail of pheromones so others may follow it to a food source.
The first step to preventing an ant invasion is to destroy the path with a spray made from one cup of white vinegar and three cups of water. The second step is to create a spray using water and either peppermint or lavender essential oil.
Ants hate both scents, while most of us find them to be pleasant. Dilute the essential oils inside a spray bottle with some water and then spray along windowsills and doorways for a safe way to get rid of ants. This remedy is an excellent way to get rid of tiny black ants in the bathroom.
No matter how tempting, don't kill the ants you see as, for your pest management plan to work correctly, they must take the bait back to the nest.
Tips for Getting Rid of Carpenter Ants
Although black in color, carpenter ants differ from odorous black ants. These species of ant don't bring the bait back to the nest so homemade baits won't work. To get rid of this infestation, find the nest by figuring out where they are entering your home and tracking them back to it.
The nest is identified by several piles of fine sawdust, as carpenter ants leave it behind when they chew through wood. To attack the nest naturally, one of the best home remedies to get rid of carpenter ants is to inject pure diatomaceous earth into it. Always use food-grade DE, as it's the only type with the correct makeup that useful enough for pest control.
Use a medicine dropper or something similar to inject the powder directly into any cracks or crevices around the nest. Create a spray to use around the perimeter of the nest and your home by mixing one quart of water with two tablespoons of DE. Always reapply this product after wet weather.
Best Way to Eliminate Fire Ants
Getting rid of fire ants is vital as they are an aggressive species of ant; they attack and repeatedly sting when threatened. Fire ants range in size from 1/8 to ¼ of an inch and feature ten segmented antennae and are reddish-brown to black. Colonies grow to thousands of members within a month and attack anything that disturbs their nest or mounds.
They are found mostly in the southern part of the United States. To get rid of fire ants, target the ant hills directly. Natural ways, such as essential oils, boiling water, diatomaceous earth, vinegar, and baking soda, are not recommended as they are not able to kill the entire colony; they only kill a small portion.
You must use bait to kill the queen and any other workers hidden deep within the colony. Never apply fire ant bait directly inside the mound. Instead, spread it around the hill and leave it alone for several days.
Follow the bait with a liquid drenching technique. Purchase a fire ant insecticide and mix it inside a hand sprayer following the manufacturer's instructions. Spray around the mound going about ten feet in diameter to kill any foragers.
Allow the spray to dry before drenching inside the hill. Mix around two gallons of the insecticide inside a five-gallon bucket. Poke a hole into the top of the hill with a broom handle and pour the solution slowly inside. Another option is to use a granular insecticide to drench the mounds.
Prevent Pavement Ants by Spraying or Dusting
Pavement ants make their homes underneath brick patios, sidewalks, driveways, etc. Nests are easy to spot as dirt piles on top of the pavement. All colonies of pavement ants require treatment to control the infestation successfully.
Use a spray treatment to drench all mounds. Spray to create a barrier along the foundation of your home that reaches three feet high and six feet out. Treat inside mounds and nests with a dust pesticide or a bait system. Never use two insecticide treatments in the same location; use either dust, bait, or spray.
Tips for Preventing Future Infestations
Once the infestation is under control, prevent one from coming back. The best way to do that is to employ good sanitation practices. Keep all areas where food is prepared clean. Wipe down all countertops and sweep floors daily and clean up spills immediately.
Fix leaking faucets or pipes to cut off potential water sources. Inspect the foundation of your home for any cracks or gaps. Look closely at window frames, baseboards, door frames, and other entry points to your home.
Fill and repair gaps with caulk or necessary material to prevent future access. Remove piles of debris or lumber away from the home, as many ant species nest in moist locations.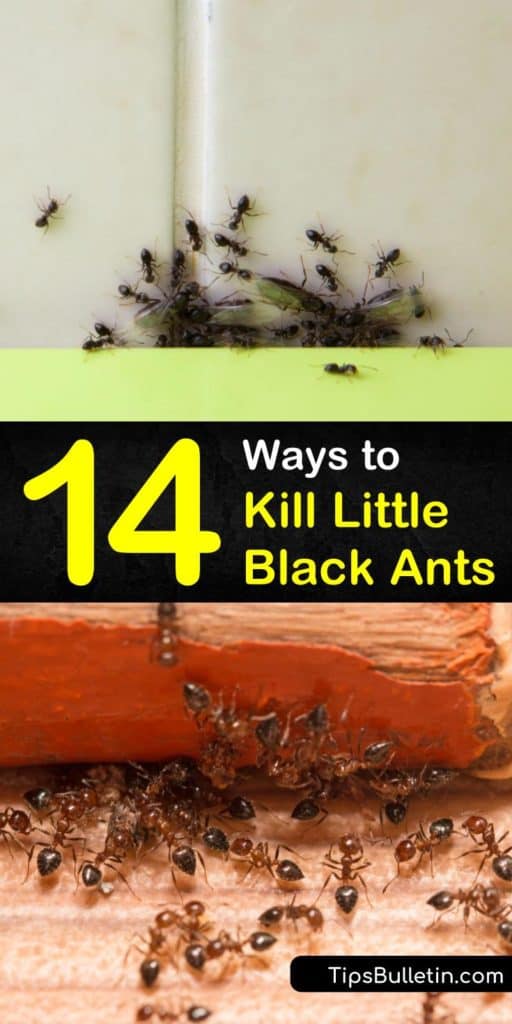 We hope you learned a lot from reading our different ideas for how to kill little black ants. If you enjoyed our article or found our tips on how to get rid of small black ants useful, please take a second to share on Facebook and Pinterest so others can learn how to get rid of black ants in the house successfully, too.