Swimming pool water is meant to be sparkling and clear, and there is nothing more disappointing than discovering algae growth creeping up the sides of the pool and hiding in crevices. While this is troublesome, it's not impossible to remedy. We explain how to get rid of brown algae in the pool in a few simple steps.
Algae is a common occurrence in water, including fresh and salt water, resulting from imbalanced water. There are many types of algae, from green algae and black algae to yellow algae and mustard algae, and some of them are more difficult to eradicate than others.
An algae problem is something that no pool owner wants to deal with, especially on a hot summer day.
Even with proper maintenance, there is always a chance that a swimming pool requires shock treatment and thorough cleaning. Fortunately, the right tools and techniques work wonders at taking care of a cloudy pool.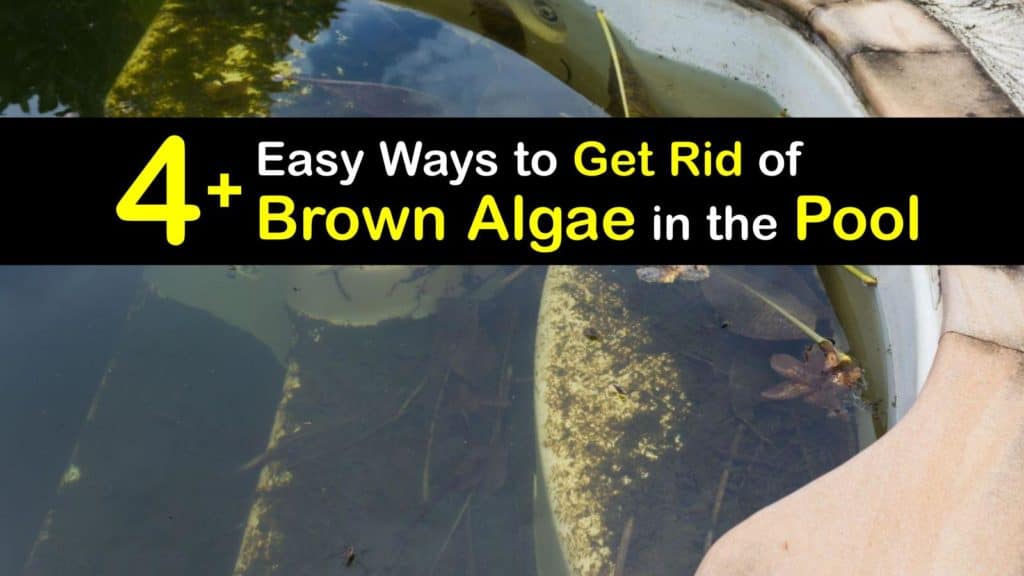 Getting Rid of Brown Algae in a Swimming Pool
A swimming pool with a buildup of algae on the walls or floating on the pool surface is unsightly and unsafe for swimming. Here are the essential steps to take for getting rid of algae in your pool and to restore your pool's water.
What Causes Brown Algae in the Pool?
There is nothing more disheartening than performing regular pool cleaning only to discover that the water has algae blooms. What causes brown algae in the pool, and is it preventable?
Brown Algae
Unlike green algae, brown algae are not slimy. They grow in the shady areas of water when the outdoor temperatures are high and feed on phosphate in the pool. They are brown in color, resemble dirt, and grow on the bottom of the pool and pool walls.
This type of algae is resistant to chlorine and more challenging to eradicate, so it's vital to treat brown algae in a swimming pool as soon as you become aware of it.
The First Step to Kill Brown Algae on Pool Walls
Before you start to clear a cloudy pool and clean the pool with a shock treatment, check the water chemistry and make adjustments. This is an essential step to kill brown algae on pool walls since chlorine doesn't work well in water with high alkalinity.
Before using treatments for getting brown algae out, use a water test kit and add chemicals if needed.
Make sure the pH level is between 7.2 and 7.6, the calcium hardness is between 150 and 250 ppm, the cyanuric acid level is between 30 to 50 ppm, and the alkalinity level is between 85 and 100.
Add enough chlorine concentrate to bring the free chlorine levels between 1 and 3 ppm before proceeding to the next step.
How often should you shock your pool? Usually, once a week is sufficient.
Here is How to Get Rid of Brown Algae in the Pool by Scrubbing
What causes brown algae in the pool? This algae is a form of yellow or mustard algae and often grows in the shaded area of the pool.
After you check the water's pH level, it's a good idea to remove as much of the algae from the walls as possible before moving forward.
Before getting rid of brown algae with chemicals, use a brush to scrub the growth away from the pool walls and floor. egin by attaching a telescopic pole to the pool brush, and scrub all sides of the pool from top to bottom.
Scrub the edges of the pool and the floor to loosen the algae from all surfaces. Collect as much of the loose algae as possible with a leaf rake.
Hook up a pool vacuum and follow up by vacuuming the pool floor and running the pump constantly to remove as much algae as possible. Clean the skimmer as needed and backwash the pool filter twice a day during this process.
Shocking the Swimming Pool to Kill Brown Algae
Brown algae are one of the most challenging to eliminate. While they are somewhat chlorine-resistant, high sanitizer concentrations do kill them. Here is how to use a shock treatment to clean brown algae in your pool before using a clarifier.
To clean a green pool fast, follow the directions on the pool shock product and bring the chlorine level up to at least 10 ppm to kill the algae.
Prepare the treatment by diluting it in a large bucket and turn on the pool pump. Pour the shock into the water around the edge of the pool and let the pump filter the water for six hours.
Take out the filter afterward and give it a good pool filter cleaning to eliminate algae particles trapped in it.
Using an Algaecide to Get Rid of Brown Algae in the Pool
After you kill brown algae on pool walls by scrubbing and using shock treatment, it's time to treat the water with an algaecide. Make sure to use a product designed for killing yellow or mustard algae.
Swimming Pool Algaecide
After you shock the pool and the chlorine level falls to 5 ppm, use an algaecide treatment. Follow the directions for your product and pour the recommended dose into the water in sections.
Make sure the pump is running during application to ensure the algaecide circulates through the water.
After you clean the pool of algae and balance the chemical levels, clean the pool's filtration system a final time. Make sure to clean all pool toys with bleach and wash all swimsuits before allowing them back into the pool.
A swimming pool is an investment and a place for you and your family to relax and have fun on a sunny summer day.
While regular pool maintenance often keeps algae growth at bay, weather conditions cause havoc in the pool water. Fortunately, a thorough scrubbing, good shock treatment, and algaecide cure the problem.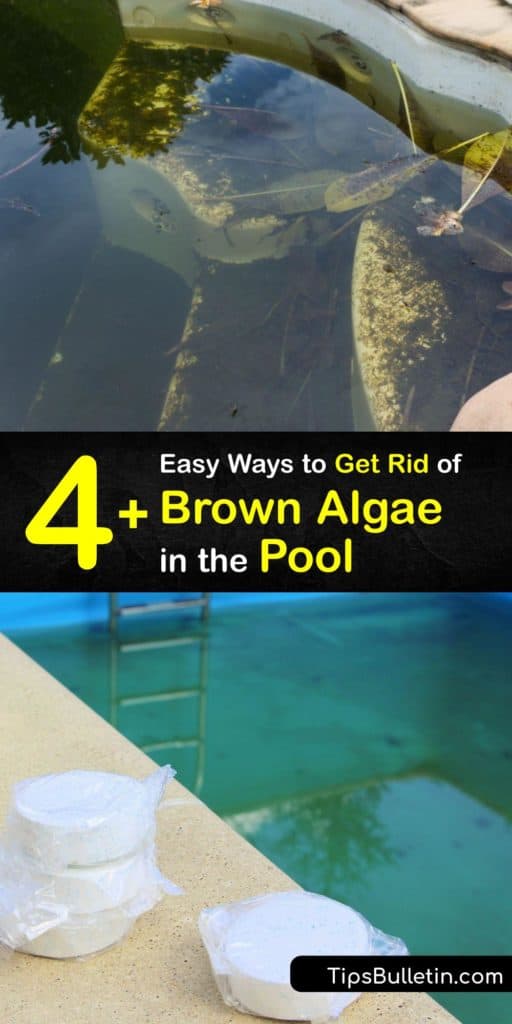 Knowing how to get rid of brown algae in the pool keeps the water crystal clear and safe for swimming, so why not share our pool algae cleaning guide with your social circle on Pinterest and Facebook?