Next to the infamous bed bug and clothes moth, carpet beetles are one of the most despised invaders in the house. These destructive insects make themselves at home by laying eggs, and their larvae ruin everything from curtain fabric to rugs and upholstery. Find out how to get rid of carpet beetles quickly and easily to keep your living space bug-free.
While their name insinuates that they hide out in carpeting, these fabric pests dwell in dark spaces behind dressers and baseboards, in closets and furniture crevices. In fact, collections of pet fur and dust bunnies are favorite hiding places for the furniture carpet beetle.
Carpet beetles are pretty small, and sometimes their presence goes unnoticed for a while – until you discover thin bare spots on your rugs, damage on wool clothing and blankets, and clusters of shed beetle larvae skin in dark corners of the room.
These tell-tale signs mean it is time to check your home for a beetle infestation and perform carpet beetle removal methods.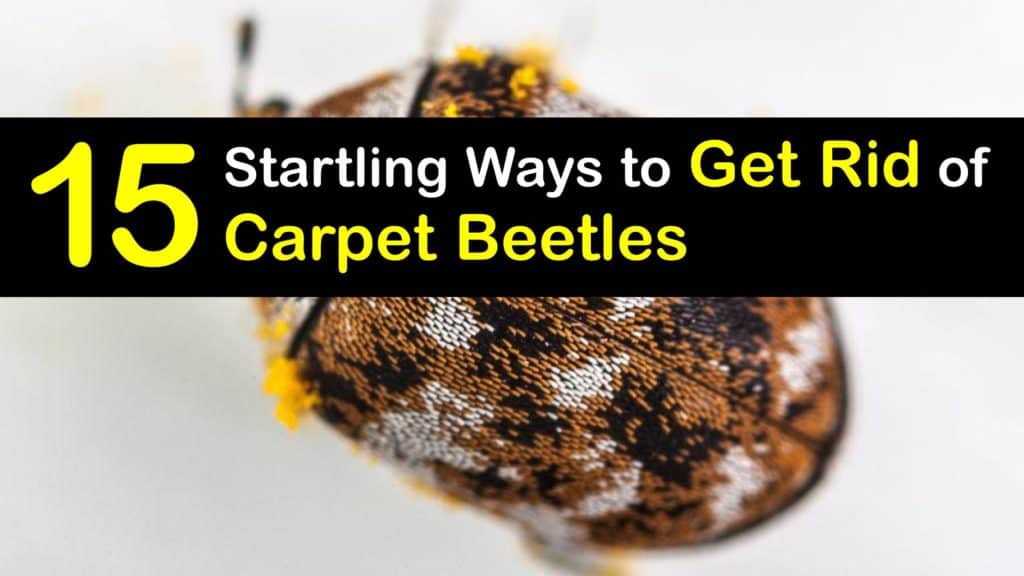 Eliminating and Preventing Carpet Beetles
Explore details on the carpet beetle's appearance so you know what to look for and the life cycle of the carpet beetle to help you understand their habits. Learn ways to eliminate these pests from your home and tips to ensure they never return.
What are Carpet Beetles?
If you discover a tiny beetle crawling across your carpet or upholstered furniture, you may have stumbled across an adult carpet beetle. Discover what these insects are, where they live, and what they eat to help you eliminate them faster.
Adult carpet beetles are less than a quarter of an inch long, and they are difficult to spot on a brown or black carpet. The varied carpet beetle is black, tan, and white, and the black carpet beetle is entirely black. They hang out in dark areas, and the adults are harmless.
While the adult beetle doesn't cause destruction, their life cycle is a problem. Adults lay over 100 eggs that hatch anywhere from one week to a month. The larvae feed on wool, hide, fur, feathers, lint, pet hair, and other fabrics made from animal products, and they sometimes eat stored food.
The larvae shed their skins many times as they grow, and once they reach the adult stage, they are usually easy to spot in entryways in the early spring as they seek ways to get outside to mate.
Signs that Your Home has a Carpet Beetle Infestation
Carpet beetles are relatively small, and frequently you aren't aware that you have a bug problem until it's too late. Here are common signs that you have a carpet beetle infestation.
Carpet Beetle Signs
Unfortunately, carpet beetle eggs are too tiny to see, and an infestation is not noticeable until the larvae hatch and begin damaging fabrics. You may find small holes in upholstery and curtains and bare spots on rugs.
Other signs are accumulations of light brown shed larvae skins near areas where they feed, beneath rugs, in the folds of a blanket, or corners of the room. Adults tend to congregate around doorways and windowsills, and their presence is another indication that you have an infestation.
It's essential to take immediate action to eliminate the pests, especially if someone in your home is susceptible to carpet beetle dermatitis.
Best Way to Get Rid of Carpet Beetles with Insecticides
The best way to get rid of carpet beetles is to kill them with insecticides. However, your local hardware store probably carries more pest control products than you know what to do with. Find out which pesticides eliminate carpet beetles and how to use them properly.
Carpet Beetle Insecticidal Treatments
Deltamethrin, cyfluthrin, and bifenthrin effectively kill carpet beetles and larvae, so choose a carpet beetle insecticide that contains at least one of these ingredients.
Always use a new product on an inconspicuous area before applying it to the entire carpet to ensure it doesn't stain your rug. Follow the manufacturer's precautions before using it around children and pets and use it as directed to eliminate the pests.
Natural Ways to Get Rid of Carpet Beetles with Diatomaceous Earth
While commercial insecticides are convenient, they contain many harsh chemicals that we often do not want in our homes. Fortunately, safe and natural ways to get rid of carpet beetles exist, and diatomaceous earth is one.
Always wear a mask when applying diatomaceous for dust mites or carpet beetles. While it's safe around children and pets, you don't want to inhale the fine particles while applying the powder.
Sprinkle the DE evenly over the carpets, in the back of closets and cabinets, and behind furniture and pet beds. The beetles collect the dust as they travel over it, and it breaks down their exoskeleton, eventually leading to dehydration and death.
How to Get Rid of Carpet Beetles with Boric Acid
One of our favorite home remedies for getting rid of carpet beetles is boric acid. This natural product acts as a poison to kill the bugs. It's readily available in the laundry aisle of your supermarket, and it kills both adult beetles and larvae.
Sprinkle some boric acid powder over the carpet in an even layer and use a broom to distribute it into the fibers. Let the powder rest for several hours before vacuuming the floor thoroughly to remove the boric acid, shed skins, and dead insects.
To kill the carpet beetle larvae, fill a spray bottle with two cups of hot water and add a tablespoon of boric acid. Shake the container to dissolve the powder and spray it over upholstery, curtains, and baseboards.
Using Vinegar to Eliminate Carpet Beetles
The best way to get rid of carpet beetles if you don't have a commercial insecticide or other beetle-killing products is to use white vinegar or apple cider vinegar. This liquid is effective against this pest and safe to use on furniture, carpet, and clothing.
Pour vinegar into a spray bottle and label it for regular use. Mist the vinegar over carpeting, upholstery, and other areas of concern and allow it to dry completely. Spray it beneath furniture and in nooks and crannies for optimal results.
Use this solution to deep clean carpet without steam cleaner apparatus. Vacuum when the carpet is dry to clean up dirt and dead beetles.
Getting Rid of Carpet Beetles by Vacuuming
While there are various natural ways to get rid of carpet beetles, vacuuming your floors, carpeting, and furniture is a necessary step to ensure there are no remaining beetles.
Carpet and Upholstery Vacuuming
Start by vacuuming your furniture's upholstery with the brush attachment, and use the crevice tool to get into the seams. Pull your furniture from the walls and vacuum along the baseboards. Finish by vacuuming the entire floor and carpet and empty the vacuum in an outside garbage can.
Steam Cleaning Your Carpets
It's a great idea to steam clean the carpets after using an insecticide of choice and vacuuming your home. The heat of the steam kills carpet beetle larvae and eggs, ensuring there are no future infestations.
Carpet Cleaning
Follow the directions on your cleaner model and use the hose attachment to clean the furniture's upholstery. Steam the carpeting in overlapping sections. Begin at one end of the rug and work your way to the opposite end until the entire carpet is clean.
Treat Your Clothes and Bedding
Your home's carpet is not the only place carpet beetles like to hang out. These pests infest other fabrics like your clothing and bedding, and it's essential to treat these items to ensure your pest problem is gone.
Place your clothing, sheets, and blankets in the washing machine, add your favorite laundry detergent and wash them with the hot cycle to kill carpet beetles, larvae, and eggs.
Transfer them to the clothes dryer and dry using the normal cycle. If your item is not machine washable, place the infested item in a plastic bag and set it in the freezer for 48 hours.
Rubbing Alcohol to Keep Carpet Beetles Away
After treating your carpets, upholstery, and other fabrics to kill these beetles, it's helpful to treat other surfaces as a form of prevention. Carpet beetles avoid laying eggs around rubbing alcohol, and applying this liquid to surfaces throughout your home deters them from the space.
Pour rubbing alcohol into a plastic sprayer and label it for safety purposes. Spray the solution on windowsills, door frames, counters, shelves, drawers, and other hard surfaces. Use a soft cloth to wipe each surface dry and store the spray bottle in a safe place for future applications.
Killing Carpet Beetle Eggs and Larvae with Bleach
If you're concerned that you've missed some carpet beetles while performing pest control, consider making an insect spray to keep on hand in case you spot a stray beetle. This bleach solution kills them on contact and is simple to prepare.
Pour three cups of water and a cup of bleach into a spray bottle and label the container for future use and safety reasons. Spray the beetles directly as soon as you notice them and clean up the dead bugs with a paper towel. Avoid getting the spray on furniture and carpet since it may cause discoloration.
How to Kill Carpet Beetles with a Fogger
If you're searching for a way to kill adult carpet beetles quickly and effectively, a fogger is your best bet. While they don't kill eggs, foggers get into all nooks and crannies to kill the hiding adults.
Follow the label directions for your particular fogger, and use a non-residual version. Set a chair in the center of the room and cover it with newspapers. Shake the container well and tilt the sprayer away from your face as you activate the can. Close doors and windows and exit the house for the recommended time.
Making a Homemade Carpet Beetle Spray
While we usually associate essential oils with filling a space with a pleasing scent, these oils have many other uses, including killing and deterring insects. Make a cheap and natural carpet beetle spray and DIY dust mite repellent spray by combining two oils these insects hate.
Fill a glass bottle with distilled water and add several drops each of peppermint essential oil and clove essential oil. Shake the solution well and spritz it over the carpet, upholstery, curtains, and other suspected areas. This has the added advantage of being able to get bad smell out of carpet, too.
Using Sticky Traps to Eliminate Carpet Beetles
Sticky traps or glue traps are great for catching insects, including carpet beetles, and they help you identify an infestation. Explore the different types of carpet beetle traps and how to use them to get rid of these insects and prevent them from entering your home.
Sticky flypaper strips are ideal for catching adult carpet beetles as they enter your home after mating. Place them near doorways and windows and dispose of them as they capture the insects.
Pheromone sticky traps are perfect for preventing the pests from laying eggs and ideal for stubborn infestations. Place these trap types on windowsills, beneath furniture, in closets, and other places beetles like to hide.
Ways to Prevent Carpet Beetles in the Future
Prevention is key, and we cannot say it enough regarding pest control. Follow smart pest control tips to keep your house safe from a beetle infestation and prevent you from having to deal with eliminating them in the future.
Carpet Beetle Prevention
Carpet beetles feed on soiled fabric, and cleaning clothing, blankets, carpeting, and other fabrics to remove spills and stains goes a long way to preventing beetle larvae feeding. Creating a routine cleaning schedule and make your own cleaning solution for carpet and rugs to use once or twice a year are also great ways to monitor carpet beetle activity.
Dust, sweep and vacuum your home regularly to stop these pests from getting out of control. Keep all dry foods like flour and noodles in airtight containers.
There is nothing worse than learning that your home is infested with tiny beetles, shed larvae skins, and evidence of their destructive behavior. Fortunately, the common carpet beetle is easier to eradicate from the house than you think as long as you use the proper pest control techniques.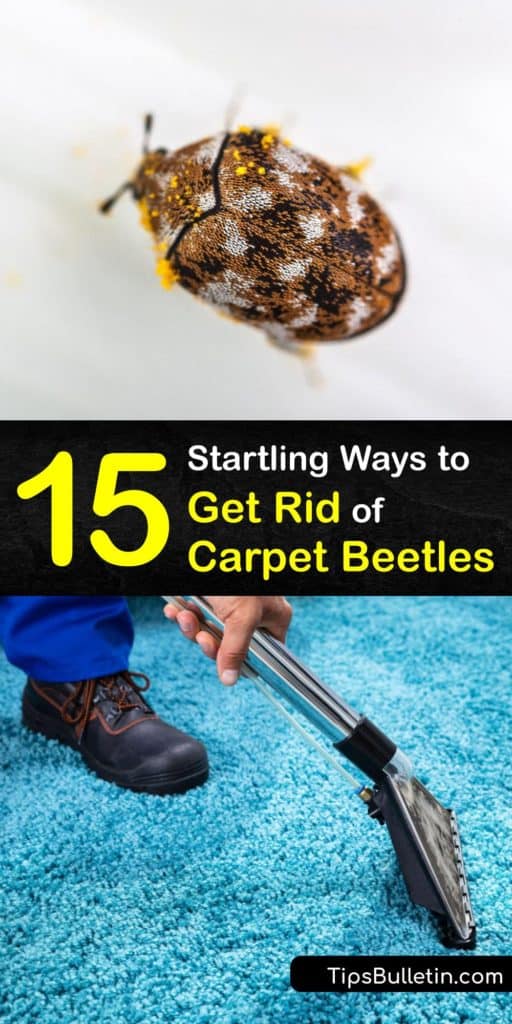 We hope that learning how to get rid of carpet beetles keeps your home pest-free, and we'd love it if you'd share our carpet beetle elimination and prevention guide with your family and friends on Pinterest and Facebook.