Cat urine odor is a strong-smelling substance; if your cat urinates outside its litter box, it is difficult to get rid of pet urine odor. To clean cat urine around your home, absorb excess moisture before urine seeps into the carpet or wood floors. This article addresses the best techniques for how to get rid of cat pee smell on wood.
Dealing with cat or dog urine stains is challenging because, after you clean urine, the pet stain leaves an odor behind. If left untreated, this cat or dog urine smell clings to fabric and wood. Even after cleaning urine, you may still smell pet odor unless you treat the stain with an odor remover.
Although various commercial odor eliminators advertise the ability to get rid of pet odor in the home, many only mask the smell without treating the source. Continue reading to discover ways of removing cat odor from wood using household odor fighters.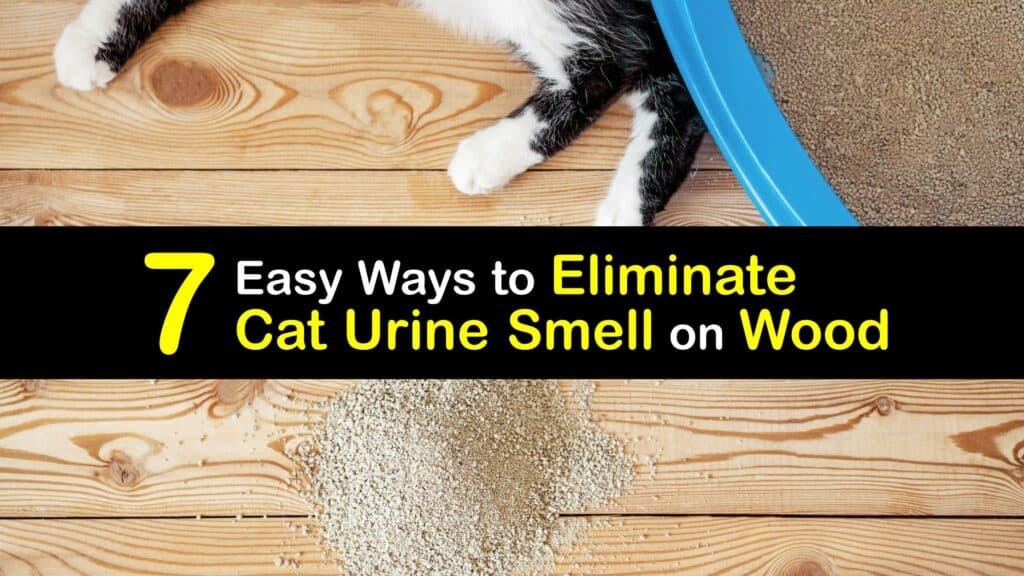 Getting Rid of Cat Urine Odor on Wood
The challenge in removing urine stains from wood is that wood is a porous material that holds onto stains and odors. Removing these stains necessitates using safe cleaners that won't damage the condition or appearance of your wood furniture or floor while effectively removing unwanted smells.
Treat Cat Pee with White Vinegar
Use the acidic properties of vinegar to eliminate the enzymes in cat urine that break down and develop bad smells in the house. Vinegar diluted with water makes a quick and easy-to-apply spray to get rid of cat odors. Spritzing vinegar on cat urine stains allows you to neutralize urine odor. The vinegar odor goes away as it dries.
Add water and vinegar to a 16-ounce spray bottle and treat cat urine stains. Wait five minutes for the vinegar to soak into the stained area before wiping the spot with a sponge and rinsing with clean water. Use paper towels to absorb any remaining moisture.
Note: Enzyme cleaners like vinegar may damage unsealed wood floors. Test in small areas before treating stains.
Get Rid of Cat Urine Smell On Furniture with Hydrogen Peroxide
Commercial peroxide works well when cleaning because of its ability to dissolve build-up and stains on various surfaces. Hydrogen peroxide breaks down the enzymes that cause odor in urine.
Dampen paper towels or an old cloth with hydrogen peroxide and blot the urine stain. Leave the peroxide to sit on the stain for approximately five minutes before wiping it away. Rinse the area thoroughly with water before allowing it to dry.
Making an Enzyme Cleaner for Urine
If your cats are spraying or urinating around your house, it may benefit you to create an enzyme cleaner in advance to get rid of cat urine smell on furniture and the floor.
Making an enzyme cleaner from scratch is simple with a few household ingredients like lemon peels to neutralize unpleasant odors from urine. Prepare an enzymatic cleaner to ensure you always have a urine cleaner on hand.
Gather your materials. To make an enzymatic cleaner for cat urine, place citrus peels and sugar into a container with water. Close the container with a lid and shake well. Leave the cover slightly off the container to allow the natural gasses from the peels to escape.
Allow the ingredients to sit in the container for at least two weeks before pouring the liquid into a spray bottle for urine treatments. Use one of the best home remedies for cat pee smell. Use your DIY enzyme cleaner to treat stained areas on the floor or furniture to eliminate cat urine smell on the couch.
Using Rubbing Alcohol for Pet Odor
Pet owners struggle with cat urine and the ammonia smell that urine develops from old pee spots. Cleaning fresh urine is essential to minimizing the smell; however, the stained area requires treatment to avoid the odor growing over time.
Isopropyl alcohol is an excellent tool for getting rid of urine odor, thanks to the enzymes in rubbing alcohol that kill odor-causing bacteria in cat urine.
Apply rubbing alcohol to a cloth and wipe the stained area to absorb any remaining urine on the floor. Gently blot the area to eliminate the stain before wiping the area dry.
How to Get Rid of Cat Pee Smell On Wood with Baking Soda
A simple cleaner for pet urine involves breaking down the enzymes in urine and neutralizing the bacteria that cause odors. Include baking soda and dish soap to remove all traces of urine stains from sealed wood surfaces. This DIY cat urine odor neutralizer is also helpful for getting rid of cat pee smell in carpet or to eliminate cat urine smell on the couch.
Fill a bottle with the ingredients and shake well to combine. Spray the cleaning solution onto the stained area and leave it for 15 minutes. Use a wet rag to wipe the solution away and dry the area with paper towels.
Use Coffee Grounds for Cat Pee Odor on Hardwood Flooring
It may seem odd to use coffee grounds to help with cat urine stains, but coffee grounds are excellent for neutralizing foul odors. To use grounds against urine odor, collect used grounds into a plastic bag and place it in the freezer to dry the grounds.
Once the grounds are dry, sprinkle them over the area of the floor that your cat peed on. Leave the grounds overnight to absorb any odor before vacuuming the coffee grounds.
Eliminating Cat Urine Odor in Unsealed Wood
Cleaning stains from sealed wood floors is easy because liquids don't seep into the wood. Wood floors with a poor finish or floors with gaps between the seams allow liquids to soak into the wood.
For solid hardwood floors, the best way to remove urine that sinks into porous wood is by sanding the wood. Sand the top layer of the wood without applying pressure to avoid damaging wood floors. Sweep up any dust and apply a finish to wood floors.
Eliminate Cat Urine Smell On the Couch
When cats spray or urinate on furniture, removing the stain and smell is difficult as the urine seeps into the fabric and cushions. When treating cat urine stains on fabric furniture, blot the area with a towel to absorb excess moisture.
Sprinkle baking soda and a little apple cider vinegar onto the stain to create a bubbling reaction. Leave the baking soda and vinegar on the stain for five minutes before wiping away with a damp cloth.
Note: Baking soda may lighten fabric colors—test baking soda in an inconspicuous area before applying it to a large stain.
Why Does Cat Urine Smell?
Despite what the litter box smells like, cat urine is not very different from other types of urine as it contains uric acid, bacteria, sodium, and compounds like urea.
The key difference is that we don't immediately clean pee in the litter box. Leaving urine in the cat box or as a stain on the floor allows the bacteria in cat pee to break down compounds in pee that releases ammonia. The pheromones in cat urine contribute to the smell we associate with cat pee.
The urine from male cats contains high levels of felinine, a compound in urine that develops a strong smell as it breaks down. The smell of this pheromone benefits cats as it helps mark territory in the wild; however, inside the home, it contributes to an overwhelming smell of cat urine that does not dissipate quickly.
Many commercial cleaners do not tackle the compounds in cat urine and are ineffective at removing smells. To eliminate odors, use an enzymatic cleaner that breaks down compounds for floor and carpet cleaning around the house.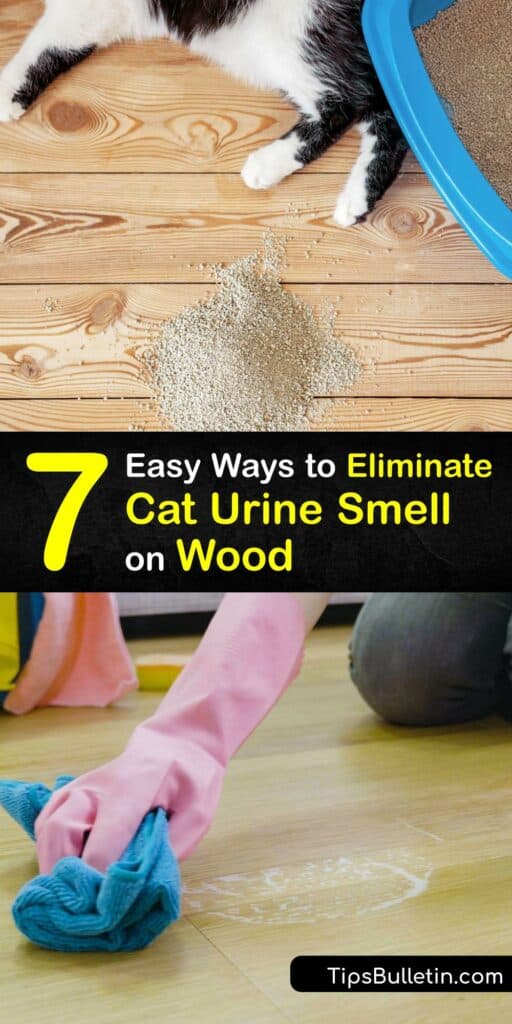 If you learned how to get rid of cat pee smell on wood with our help, please share our tips on how to get rid of cat urine smell on furniture on Facebook and Pinterest with your friends who also own cats.