As a cat owner, you are undoubtedly used to pet odor now and then. However, an overwhelming smell of cat urine and cat feces throughout the house means it's time to take action. Learn how to get rid of cat poop smell in your home and keep it smelling fresh.
Usually, cats poop in their designated litter box, and eliminating a litter box smell is as easy as refreshing the cat litter. Unfortunately, cat behavior changes occasionally, and they show disapproval or annoyance by leaving a poop stain on the carpet.
Whichever the cause of the poop or urine smell, it's vital to locate the source and use the proper cleaners to eliminate the foul odor. While cleaning up pet stains is not a favorite thing, it's necessary for the comfort and health of you and your cat. Luckily, there are simple remedies to this stinky problem.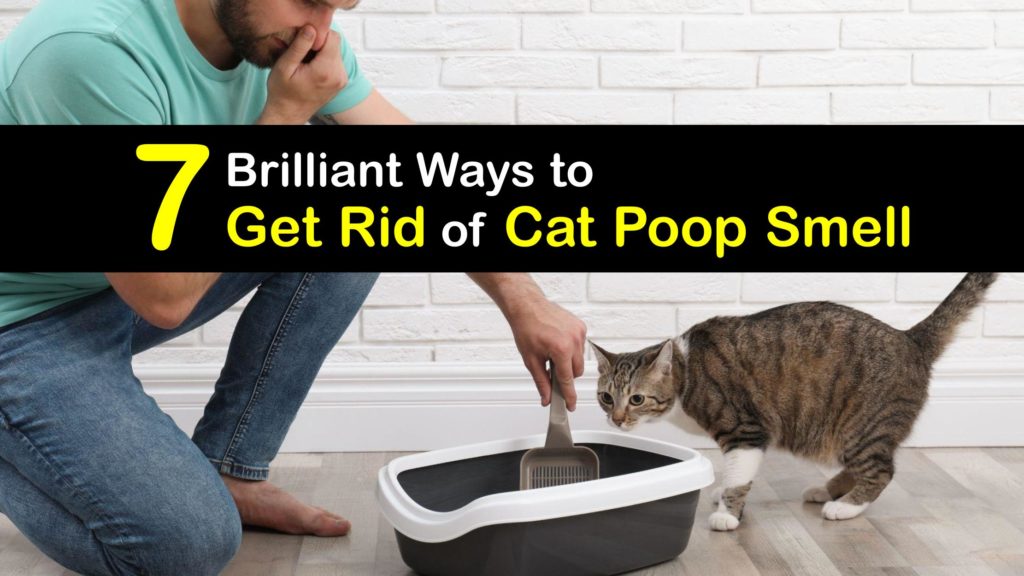 Ways to Eliminate a Cat Poop Smell
Cats are a cuddly addition to the family with cute little faces and quirky personalities. However, a house or yard that reeks of cat pee and poop is unpleasant. Other than a solution to get cats out of your backyard if they don't belong, here are several ways to get rid of cat litter smell and cat odor in and outside your home.
Quick Ways to Get Rid of Cat Poop Smell Outside
If you have outdoor cats or get regular visits from the neighborhood cat, they probably consider your yard an oversized litter box. Find some home remedies to stop cats pooping in the garden and then learn how to get rid of cat poop smell outside. Discover some tips for keeping your outdoor space stink-free.
To get rid of cat poop smell outside on the lawn, use a poop scoop to pick up the feces and get rid of it in the trash. Sprinkle baking soda or garden lime over pee patches in grassy areas and use an oscillating sprinkler each day to slowly dilute the urine and leftover poop into the soil. This will also help to deter stray cats from house and garden locations.
To remove a poop or pee stain from porous surfaces like cement, dilute bleach with water, pour it onto the area, and let it sit for ten minutes before rinsing with clean water.
Ways to Remove Cat Poop Smell in House with Cat Litter
The most straightforward way to remove cat poop smell in house is to use a suitable cat litter. Some litters work better than others at absorbing a cat urine smell and feces odor, and they are easier to clean as needed.
A clumping clay cat litter is one of the best for easy cleaning. The cat waste forms into tight clumps in the litter that are simple to scoop away, leaving little to no poop or pee behind in the cat box.
Scented litters are another option. Each time your kitty paws at the litter, a pleasant fragrance releases into the air, effectively masking the urine or feces smell. Consider using a litter box with a charcoal air filter to keep the box fresh in-between uses.
How to Get Rid of Cat Poop Smell with Baking Soda
Baking soda is one of our favorite ingredients for many household hacks. This alkaline powder has a gentle scouring action that's great for cleaning and will eliminate cat litter box odor in no time. Use this miracle powder as a cat smell deodorizer or for getting rid of dog poop smell in old carpet or area rugs in the house.
Keep baking soda near the cat box and shake it over the litter as needed. Use the poop scoop to work the powder throughout the clay litter and reapply as necessary to absorb bad smells.
You can also create a homemade enzyme cleaner for cat urine and poop smells. Enzyme cleaners break down the ammonia in cat pee to leave surfaces fresh and clean.
Cleaning the Litter Box to Eliminate Cat Smell
A cat box requires regular cleaning, even if you promptly scoop away your cat's poop and use the best cat litter possible. With each use, a litter box emits an overpowering poop odor or urine smell from uric acid, and it's essential to clean the container and refresh the litter.
Don a pair of cleaning gloves to protect yourself from being infected with T gondii, a parasitic cat disease. To eliminate litter box odor, empty the dirty litter into a large plastic trash bag and discard it in the outside garbage can.
Fill the bathtub or sink with hot water and add a few squirts of dish soap. Rinse the litter box beneath running water and use rags to clean the inside and outside of the box with soapy water.
Rinse the container again to flush away residue and wipe it down thoroughly with paper towels. Finish by cleaning the floor and walls around the litter box to remove cat urine odor, filling the cat box with fresh clumping litter, and setting it back in its usual place.
Get Cat Poop and Urine Odor Out of Carpets
While most cats are courteous enough to do their business in the litter box, there are times when they miss or have naughty cat behavior. Explore how to remove cat poop smell in house if your cat has an accident on the carpet.
Use paper towels to clean up as much cat poop from the carpet as possible. Combine warm water, liquid dish soap, and vinegar in a container and apply the cleaning solution to the stain with a sponge. Blot at the area until the cat poo is gone, rinse it with clean water, and dry it with a towel.
You can also use this home remedy to get cat pee smell out of hardwood floors and other materials. Add a little more vinegar if necessary to get the job done.
Bathing Your Cat to Remove a Bad Smell
Unlike dogs, cats are usually quite good at bathing themselves. However, there may be a time when it's necessary to clean your feline friend, especially if the poop smell is coming from them.
Fill the bathtub with four to six inches of water so there's just enough to reach your cat's belly. If your cat hates water as most felines do, consider putting a harness on them and attaching it to the faucet to help keep them under control.
Use a sprayer to get the fur wet and massage a cat shampoo into the coat, paying particular attention to stinky areas. Rinse the kitty with fresh water until it runs clear, and dry them with a large, soft towel.
Changing Your Cat's Food to Eliminate Cat Poop Smell
Cat food is not something you probably think of when trying to eliminate pet odors. However, some pet food products may cause your cat to get gassy and have more frequent and extra-smelly bathroom breaks.
Cat Food
If your furry friend suddenly has nasty poop that is not typical, discuss the problem with your local veterinary medicine provider to ensure they do not have a problem with their anal glands or another health issue.
While no one wants to spend an arm and a leg on cat food, cheap pet foods are full of fillers that your cat cannot digest well and cause abnormal bowel movements. Instead, look for cat foods with high meat content and little to no grains and starches.
Unfortunately, dealing with cat poop is part of having a feline friend. However, there are ways to deodorize your home, and sometimes getting rid of the smell is as simple as cleaning the cat box and changing your cat's food.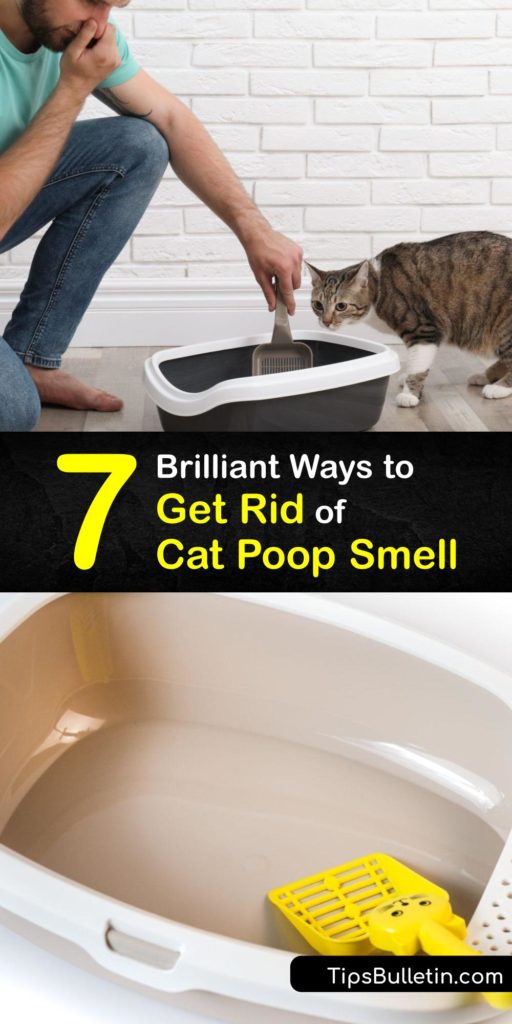 Knowing how to get rid of cat poop smell in and around the house keeps your home smelling fresh and clean, so why not share our cat odor removers and remedies with the pet-owners in your life on Pinterest and Facebook?