If you've ever walked into the cellar or basement fully armed with a broom and spider spray awaiting an imminent attack while grabbing the box of holiday decorations or jar of pickled peppers, then you're probably well aware of cellar spiders. Creepy crawlies love hiding in crevices and crawl spaces of damp basements and cellars. Learn how to get rid of cellar spiders in a few easy steps.
Cellar spiders are arachnids, and there are about 20 different varieties of spider species. Unlike traditional house spiders, cellar spiders build their new spider webs over old webs, which can become a nuisance. Eventually, you have a cellar filled with thick cobwebs.
Pholcidae, or cellar spiders, include the daddy long legs and carpenter spiders and are found throughout the United States. Unlike Wolf spiders, Brown Recluse spiders, and Black Widow spiders, cellar spiders have a small body, very long and thin legs, and hang upside down in their webs while waiting for prey. Cellar spiders generally do not leave spider bites, unlike the Black Widow.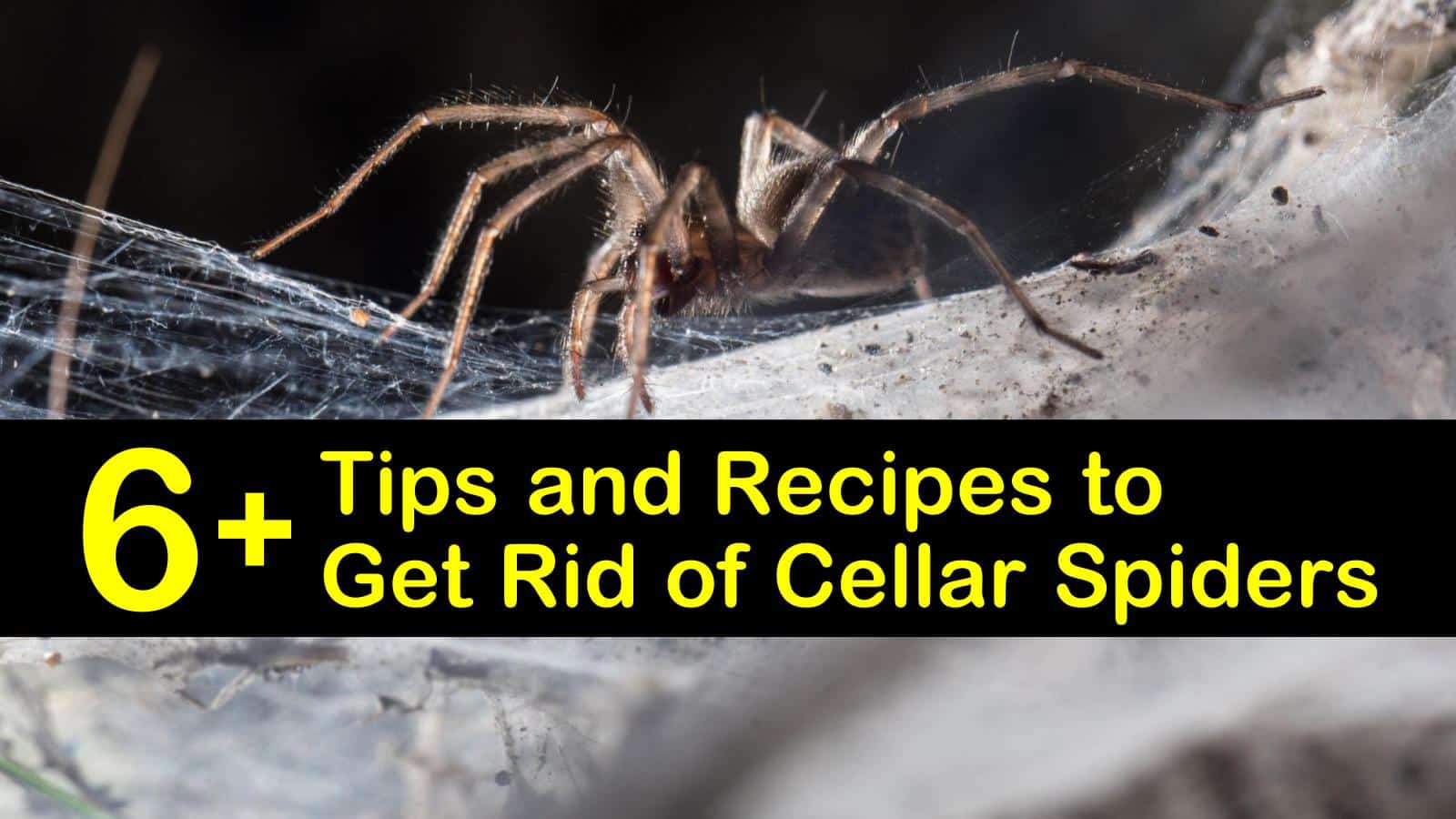 Getting Rid of Cellar Spiders
An infestation of cellar spiders makes any arachnophobic refuse to enter the basement. Before calling in pest control company for pest management, there are a few simple remedies you can try to get rid of cellar spiders.
Eliminating Cellar Spiders in the House
Cellar spiders in the house are a common issue year-round, but you can resolve this problem using spider control methods. Making the cellar or basement an undesirable location for spiders to call home is an essential step in preventing a cellar spider infestation.
The first step to control spiders is to remove all of the cobwebs. Use a broom or vacuum hose attachment for cleaning cobwebs from the ceiling, corners, and any other nooks in the cellar. Do this regularly if you notice any new webs have formed.
Consider setting up fly traps or other forms of bug control. Spiders feed on flies, mosquitoes, small moths, and other insects. What deters flies and bugs that flies like to eat, such as the termite, eliminates the cellar spider's food source, making your cellar an unfeasible place for them to live.
Install a dehumidifier in the cellar or basement. While you do want a higher humidity level when storing vegetables, having high humidity levels will attract spiders. During the summertime, the humidity level increases even more, which attracts more spiders.
Use caulk to seal cracks along walls and window sills to eliminate easy entry points for spiders. Check along the edges of the wall where it meets the floor and ceiling for any cracks or openings where spiders and bugs can get in and make sure you seal them.
Use Traps to Catch Cellar Spiders
You don't have to use an insecticide to eliminate spiders from the basement or cellar. An excellent form of spider prevention is to use glue traps.
Spider Trapping
After performing the steps of cleaning away spiderwebs, sealing cracks, and lowering the humidity of the cellar, place glue traps or mouse glue boards in a line along the entryways to the room.
Doing this will not only keep the spiders from having easy access to your cellar but is a great way to monitor insect traffic. Just don't forget the glue traps are in place while walking through the entryway!
Best Way to Kill Cellar Spiders
The best way to kill cellar spiders naturally is to use essential oils. Spiders cannot stand many of these oils, and peppermint is on the top of that list. The peppermint will deter spiders from the area sprayed while the vinegar is a contact killer.
Combine the ingredients in a spray bottle and shake to mix. Label the container for safety purposes and future use. Spray the solution onto all areas of the cellar that are an ideal hangout for spiders. If you come across any spiders, feel free to spray the solution directly on them for speedy elimination.
Controlling Cellar Spiders with Garlic
Garlic is another natural ingredient for getting rid of spiders. If you don't mind the smell of garlic, use this method weekly to keep cellar spiders at bay.
Pour the water into a spray bottle. Peel and crush the garlic clove and add it to the water. Shake the bottle vigorously to mix well, and label for future uses. Spray the garlic water along entryways, windowsills, crevices, baseboards, and any other spider hidey-hole. Repeat once a week.
Killing Cellar Spiders with Ammonia
One of our favorite remedies to get rid of spiders that have gotten out of hand is to use ammonia. The downfall to this method is that you need plenty of ventilation while spraying.
Combine the water and ammonia in a spray bottle and shake well. If you plan on using the container more than once, make sure that you label it for safety purposes.
Open any doors or windows and set up a fan to ventilate the room. Spray the ammonia spray in entryways, cracks, crevices, and anywhere that spiders hide, such as behind piping. Repeat once a week for spider prevention.
Killing Spiders with Insecticide
Some people just want spiders gone and don't care how they do it. If making a natural repellent and homemade spider spray is not your thing, purchase a pesticide from many major stores. These sprays are quite effective at killing spiders and other insects but may contain harmful ingredients, so take caution while using it.
Follow the instructions on your insecticide of choice. Spray the pesticide along door and window frames, baseboards, cracks and crevices, pipes, corners, and any other location that spiders hang out. We recommend wearing a mask while applying the insecticide, especially when spraying areas overhead.
If you see a spider or two and don't have any pest spray handy, grab your can of hairspray. Does hairspray kill spiders? It sure does. Liberally spray the spider with it and the spider is gone for good.
Prevent Cellar Spiders from Coming Inside
Prevent spiders from coming into your home, cellar, and basement by taking some measures outside of your home.
There are a few reasons why those cellar spiders arrived in your basement in the first place. One of them is the attraction of a buffet dinner. If you use incandescent light bulbs for your exterior lighting, then you are attracting a lot of bugs.
Change your outdoor light bulbs to warm LEDs to attract the least amount of insects. With caulk in hand, walk the perimeter of your home, sealing any cracks in the foundation or gaps in doorways. As you walk around your home, clean up any piles of leaves, wood, or other debris that attract insects.
Using the right spider killer solution and applying control methods ensures that you can once again safely enter those dark rooms of the cellar or basement without fear of getting a face full of cellar spider webs and egg sacs.
All it takes is some proper ventilation, the removal of spiders' food sources, and a few other pest control steps to make your cellar spider-free.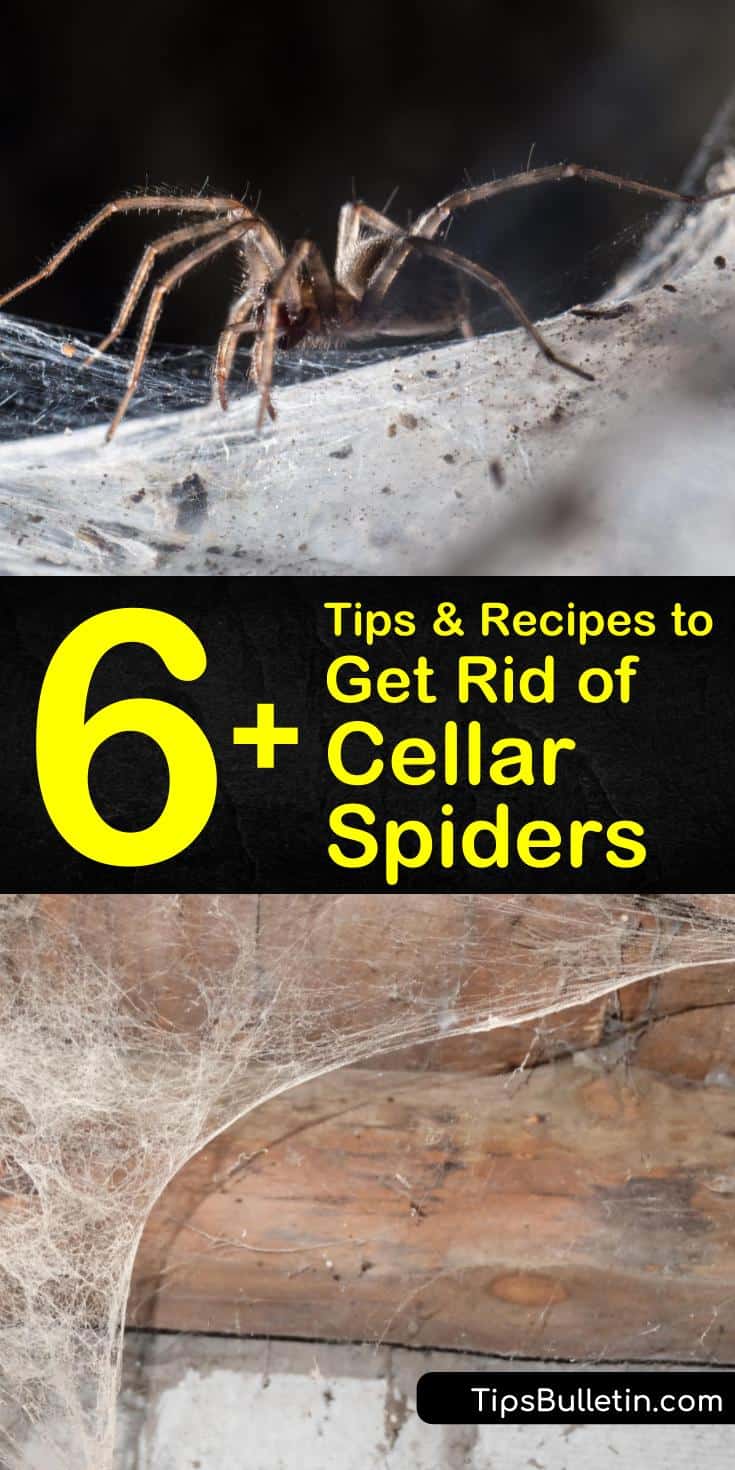 You learned how to get rid of cellar spiders without having to contact pest control services, so why not share our spider killing tips with your family and friends on Pinterest and Facebook?