A lush, green lawn is the envy of a neighborhood and a balm for your senses. However, stray annual weeds such as chickweed can invade and form a dense mat of small white flowers without you noticing and leave your lawn looking tattered and ill-tended. Knowing how to get rid of chickweed around your home without panicking is crucial for the modern homeowner.
When you have tried and true knowledge about how to kill chickweed, you can be confident that you can handle any weed problem you encounter. This guide looks at the top methods of dealing with an infestation of chickweed, also called Stellaria media or Cerastium fontanum.
You'll get information on the best homemade chickweed killer for lawns and find out how to prevent chickweed from forming in the first place. We make sure that you're armed and ready for battle with invasive plants. No weed encounter is a pleasant one, but with our assistance, you'll no longer fear seeing chickweed pop up.
Get Rid of Chickweed the Easy Way
When looking at how to control chickweed, consider the best approach. There are lots of do it yourself weed killer recipes you can use to tackle infestations, but is a spray the best method for your situation?
A lawn covered in chickweed might require more comprehensive solutions such as manipulating the environment.
How to Kill Chickweed with Environmental Means
This section examines what kills chickweed and how to adjust the plants' environment to take care of the problem. We show you how regular mowing can act as a preventative, and you'll also get some tips on dealing with chickweed in lawn areas by tilling.
And, if nothing else gets rid of the weeds, we include instructions on how to solarize the lawn for a guaranteed fix.
1. Mow the Lawn Regularly
Chickweed and other lawn weeds do best when you allow them to grow to maturity. Unchecked chickweed plants release lots of chickweed seeds and spread across your lawn like a plague. To avoid having chickweed flowers running riot across your yard, it's a good idea to engage in regular lawn mowing.
When you mow the lawn, you interrupt the chickweed before it can mature. Mow every week to keep the chickweed and other invasive species at bay. Your grass should always remain no higher than four inches.
The chickweed plant grows to more than four inches at maturity and has shallow roots, so weeding, mowing, and keeping the grass below four inches ensures that any chickweed in your lawn doesn't have the chance to germinate and go to seed. Eventually, the existing chickweed will die without reproducing.
2. Till Your Garden Soil
If you're working in a garden, mowing isn't an option. However, you can still fight the good fight against common or mouse-ear chickweed by keeping the soil in your garden turned over and ready for planting.
Tilling your soil adequately every planting season covers the weeds and prevents them from spreading. Don't forget to till before you plant new grass seeds or flowers.
Don all safety gear. Till the old soil down to a depth of six to eight inches to allow you to kill off any existing chickweed and prevent it from returning. Make sure to pull any old wood chips or other debris out of the garden or flower beds before you till them.
If using a shovel instead of a rototiller, check your depth regularly to ensure a uniform layer of soil. Cover the new earth if you get a rainstorm before you get a chance to layer it with mulch, as chickweed loves wet soil.
3. Smother the Chickweed
Sometimes, you need to make sure to eliminate every scrap of weed from your entire lawn or garden. That's when you can use the elements against your weeds. Getting rid of clover and other weeds is easy if you know what to do.
Since every plant requires oxygen and sunlight to survive, you can use that characteristic against them. When you run across a garden that needs a complete overhaul, try smothering your weeds with an opaque covering.
To use this homemade brush killer, cover the area you intend to treat with a layer of heavy plastic, canvas, newspaper, or organic mulch. If spreading a layer of mulch, make sure to use enough to create a thick, airtight covering to keep the weeds from sprouting.
Weigh down the edges of the fabric, if used, with heavy objects such as stones to keep it in place. Leave the airtight covering for at least two weeks for quackgrass control and to get rid of other weeds. It's also the best way to kill crabgrass, nutsedge and even grass if it's growing where you don't want it to.
You can keep the material on the area for up to a month or more, if needed, to kill all plants. Till and reseed the area after removing the plastic.
Natural Chickweed Killers
Not every job requires wholesale lawn eradication to take care of your weed problem. There are lots of chickweed killers that you can use to take care of small patches around your lawn or garden. You can even create some excellent DIY herbicides from cleaning products you have around your home.
The Best Homemade Chickweed Killer for Lawns
This section examines different ways of chickweed control that don't require you to dismantle your entire lawn. We provide you with a top-flight herbicide recipe that uses vinegar to wipe out the common chickweed and other species of chickweed in North America.
You'll also get recommendations for commercial herbicides for those situations that call for more intense and targeted treatment.
4. Use a Vinegar Solution
What kills grass and weeds fast? Vinegar works quickly to eliminate unwanted vegetation. Vinegar contains acetic acid, making it an ideal cleaner and general household agent.
Horticultural vinegar includes a much higher percentage of acetic acid than white vinegar or other commercial food-grade kinds of vinegar.
This high acidity allows it to kill off pernicious weeds such as chickweed. Give our vinegar herbicide a shot before jumping to the professional weed killers.
Put on your safety gear. For a DIY clover weed killer, fill a spray bottle with the horticultural vinegar, and spray down all weeds. Soak the chickweeds and clover from top to bottom, making sure to get all the stems and leaves, and don't neglect the area near the root.
Repeat the treatment every other day and after rainstorms. The plants should wither and die. When the chickweed is brown and dry, pull it out and compost it.
Be sure to spray directly on the specific plants you want to get rid of. Kill weeds not grass by using the stream setting rather than the spray option unless you have a large area you are working with. Getting rid of nutgrass has never been easier. Reseed the area with new grass.
5. Use a Commercial Herbicide
Weeds are famously stubborn and challenging to clear. You're likely to encounter a patch of chickweed that resists all efforts and won't die, and that's when commercial products come into play.
Too much reliance on professional weed killers can weaken your lawn, but knowing which products to use and how to use them is crucial if you want to keep your grass looking like a million bucks and free of chickweed infestations.
Always follow all commercial products' label directions to maintain eligibility for customer support if needed for proper lawn care. Treat your lawn with glyphosate or another post-emergent cool-season herbicide after your warm-season grasses go dormant; they're great for winter annual plants such as chickweed and also takes care of dandelions, Bermuda grass, and crabgrass.
Roundup is excellent for early-year treatment and contains pre-emergent herbicide. And, you can use dicamba or another broadleaf weedkiller throughout the growing season to deal with sudden outbreaks.
We hope you had a fabulous experience checking out our chickweed eradication tips. Nothing beats a gorgeous, green and healthy lawn around the house, but chickweed and other invasive plants can choke the life out of it.
Our guide shows you the best options for dealing with chickweed and other weeds and prepares you for your battle against the plants.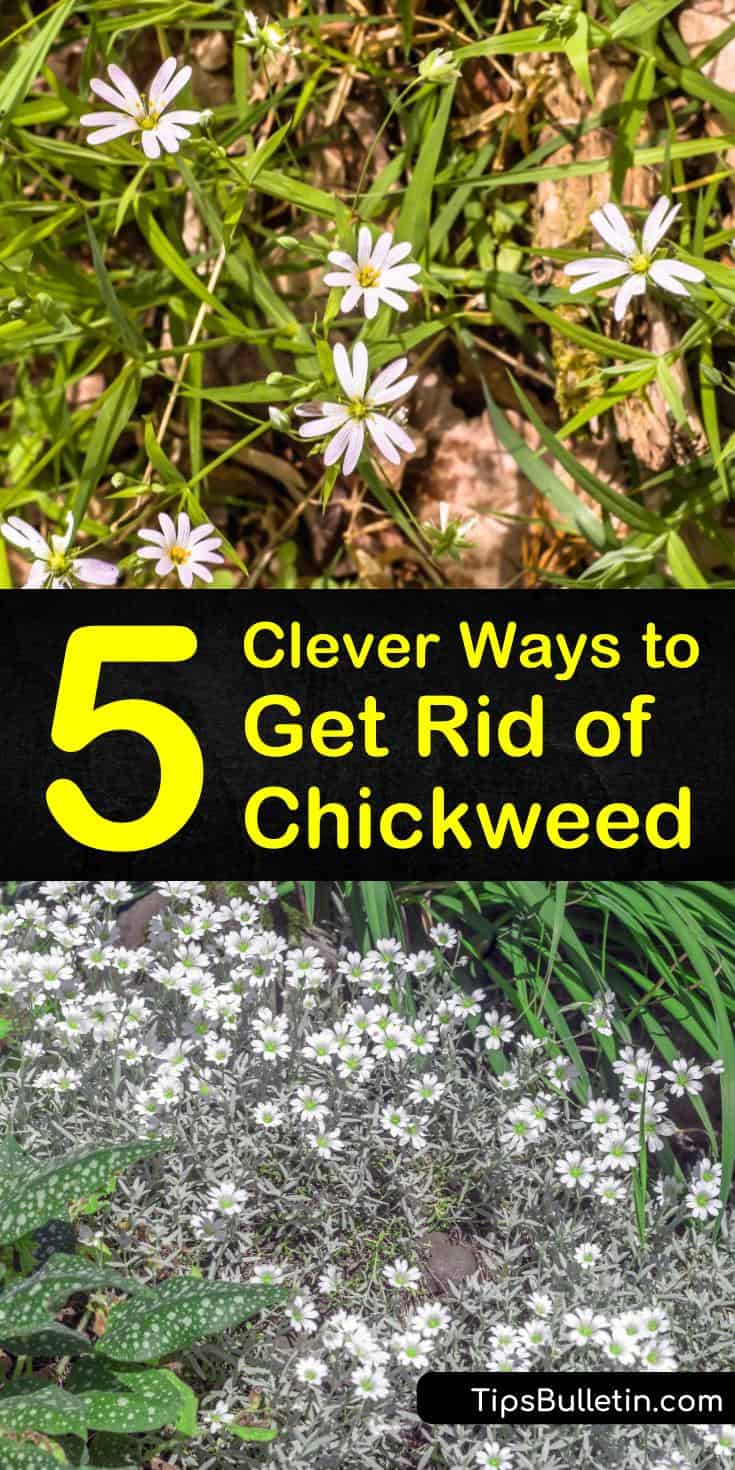 Thanks for exploring our chickweed killer suggestions. Help others learn about how to get rid of chickweed by sharing this informative article concerning chickweed removal on social media outlets like Facebook and Pinterest.