Whether you call them harvest mites, red bugs, or chiggers, the tiny arachnids have a way of ruining time outdoors. These mite larvae may not transmit any diseases in North America, but their bites might drive you mad. Research how to get rid of chiggers in your yard to enjoy backyard activities like barbecues without discovering itchy red bumps on your skin.
Chiggers take a different approach than pests like ticks and mosquitoes—and a rather gruesome one, too. Those in the larval stage pierce a tender patch of skin, then inject digestive enzymes that cause skin cells to liquefy.
The surrounding tissue hardens into a tube that the chigger uses to suck up your internal fluids. If the larva manages to finish feeding without getting squished, it falls onto the ground and transforms into a nymph.
Thankfully, neither nymphs nor adults feed on humans. Chigger bites start to itch a few hours after the initial puncture.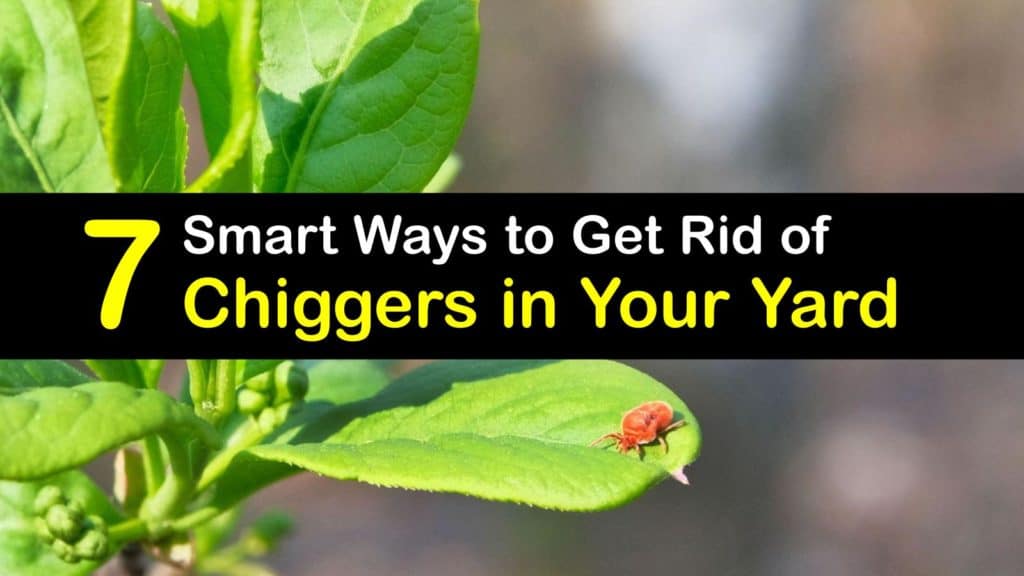 Tips for Getting Rid of Chiggers in the Yard
You may not be able to eliminate chiggers everywhere. However, it is possible to repel or even kill chiggers in your yard. Try solutions ranging from lawn maintenance and essential oils to insecticides before resorting to pest control.
Trim Your Shrubs and Lawn to Discourage Chiggers
An essential part of getting rid of chiggers in the yard is understanding their preferred habitat. They like moist, warm, shady areas, like lawns and forests. They enjoy hiding in tall grass and other vegetation.
From overgrown plants, it's an easy leap onto passing animals. To help prevent a chigger infestation and for getting rid of gnats in yard and patio areas, mow your lawn frequently and cut back shrubs.
Keep the grass short around the lawn's edge, where it meets garden beds or wooded areas. Like if you're dealing with gnats everywhere outside, water your lawn less often.
Keep Your Yard Well-Maintained to Get Rid of Chiggers
Keep on top of weeding and clearing away brush piles and other debris to get rid of jiggers and other pests. Aim to make your garden unattractive to chiggers. Since they prefer shady areas, you could even modify your landscaping to reduce the amount of shade.
In addition to humans, chigger larvae feed on small mammals, birds, reptiles, and amphibians. Discourage these animals from visiting your yard by covering trash cans and eliminating standing water.
Discourage Chiggers with Insect Repellent
Use a product containing DEET or pyrethrum before heading outside. You can even get clothing with pyrethrum in the fibers.
Read insect repellent labels carefully, especially before spraying children. If you're applying both sunscreen and a DEET-based repellent, apply the sunscreen first. Wait at least five minutes before squirting the repellent.
Squirt the product onto any exposed skin, as well as on chiggers' favorite biting spots: the ankles, legs, waist, wrists, armpits, and neck. They often push against a piece of clothing, like the top of socks.
An additional option is dusting socks and the inside of shoes with sulfur powder, another chigger deterrent.
How to Get Rid of Chiggers in Your Yard with Essential Oils
If you're looking for a natural approach for getting rid of chiggers in the yard, try essential oils. Besides being an effective bed bug repellent, these strongly scented oils deter chiggers.
Dilute your chosen oil in water in a spray bottle. Squirt the repellent on your clothes and skin and anywhere in your yard where chiggers might be hiding.
To use a natural chigger repellent for backyard effectively, you need to find them first. To determine chiggers' exact location, rest a square piece of black cardboard on one edge in the grass.
Within a few minutes, expect to see what appears to be tiny red or orange dust moving toward the top of the cardboard. If you do not see any chiggers, try sticking the piece of paper somewhere else in your yard.
Make a Home Remedy for Chiggers in the Yard
Have you been wondering how to get rid of chiggers in your yard without using harsh chemicals? Try mixing a bug spray out of essential oils and witch hazel.
Fill a spray bottle halfway with the distilled water, then fill it the rest of the way with witch hazel, leaving an inch of space at the top. Add the essential oils. Shake the mixture well before every use, and apply it like any insect repellent.
To spray the repellent around your yard, increase the quantity of each ingredient and add the liquid to a hose-end sprayer.
Kill Chiggers in Your Yard with Diatomaceous Earth
This white powder kills insects by dehydrating them. It's composed of the fossilized remains of tiny aquatic beings called diatoms.
Spread diatomaceous earth around the edge of your house, focusing on cracks, crevices, and areas near doors and windows. Sprinkle more of the powder in any parts of your garden that seem like they'd be attractive to chiggers. Food grade DE is also safe to combat chiggers in the house or any other pest you want to eliminate.
Spraying an Insecticide for Getting Rid of Chigger in the Yard
Insecticides are a powerful way to kill chiggers in your yard if nothing else is working. Look for a pesticide whose active ingredient is bifenthrin, carbaryl, cyhalothrin, diazinon, or permethrin.
Whichever insecticide you choose, follow the instructions carefully. If you're uncertain which product to use or how to apply it, contact your local cooperative extension office.
Sprays tend to be more effective than granules. You may need to make several applications. Only treat areas that you've confirmed contain chiggers.
Thoroughly wet the ground and any vegetation up to a height of three feet. Keep children and pets away from the treated areas until they're completely dry.
How to Prevent Chigger Bites
To reduce the chance of these pests biting you, wear closed-toed shoes or boots, thick socks, long pants, and long sleeves.
Tuck your pants into your socks, and button up your collar and sleeves. Clothing made of tightly woven fabric helps keep you safe from chiggers.
Avoid brushing up against undergrowth or sitting on the ground. Before going inside, brush off your clothes, including possible chigger hiding places, like the top of socks.
As soon as you get inside, have a shower or bath with soapy water to rinse away chiggers. To kill chiggers, launder your clothing and any blankets or towels that touched the ground on the hottest possible setting.
How to Treat Chigger Bites
The bites may appear as red welts, blisters, pimples, or a rash. Despite what you might have heard, you should not cover them with clear nail polish, gasoline, alcohol, bleach, or turpentine. Any chiggers are long gone, so you would not be smothering the pests.
Try to avoid scratching since that can lead to an infection. To relieve the itching, take an antihistamine and apply calamine lotion or hydrocortisone cream. You could also spread an antiseptic cream to protect against infection.
A bath with baking soda or oatmeal is soothing. However, avoid overly hot water. In fact, a cool shower or cold compress may lessen the itching. If the itching persists for several days, or you think you might have an infection, see a doctor.
Chigger control options abound, from maintaining your lawn to spraying a repellent or insecticide. To protect yourself from these pests, follow precautions like wearing long pants in tall grass and showering when you get inside.
Repel or kill chiggers in your yard to make use of your outdoor space without worrying about chigger bites. Discover how to get rid of chiggers in your yard to increase your chances of enjoying a chigger-free summer.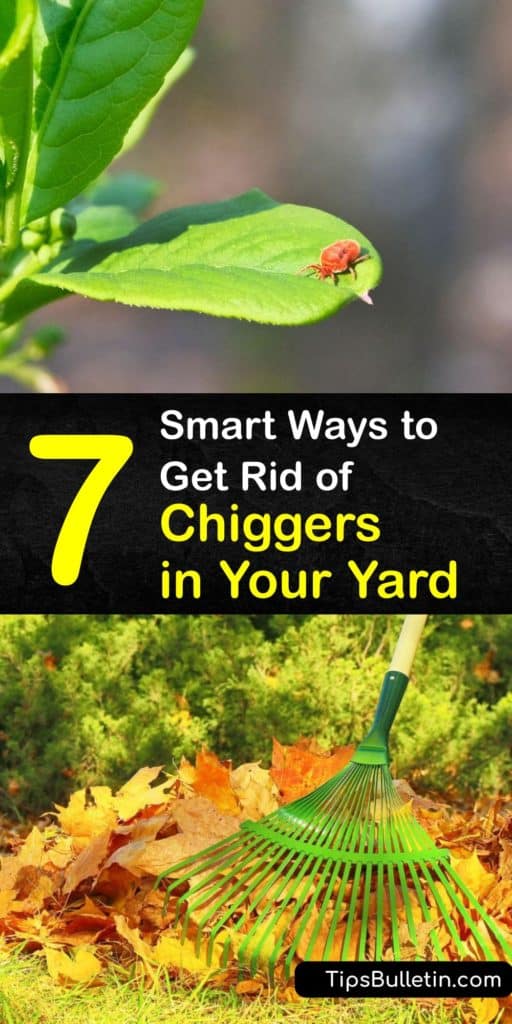 If you found these chigger repellent tips helpful, please share these pest control tricks with your friends on Pinterest and Facebook.