Have you ever opened your clothes closet to see a small moth flutter out of the darkness? It's easy to dismiss it as a harmless insect that got stuck in your space, but this leads to the discovery that now your favorite wool sweater is riddled with holes. Learn how to get rid of clothes moths using efficient and straightforward techniques.
Two types of moths cause havoc to your clothing, the casemaking clothes moth and the webbing clothes moth.
They live in dark places, making your closet space an ideal home, and plague textiles such as wool, cashmere, and silk. Fortunately, it's easy to treat and prevent a moth infestation without calling pest control.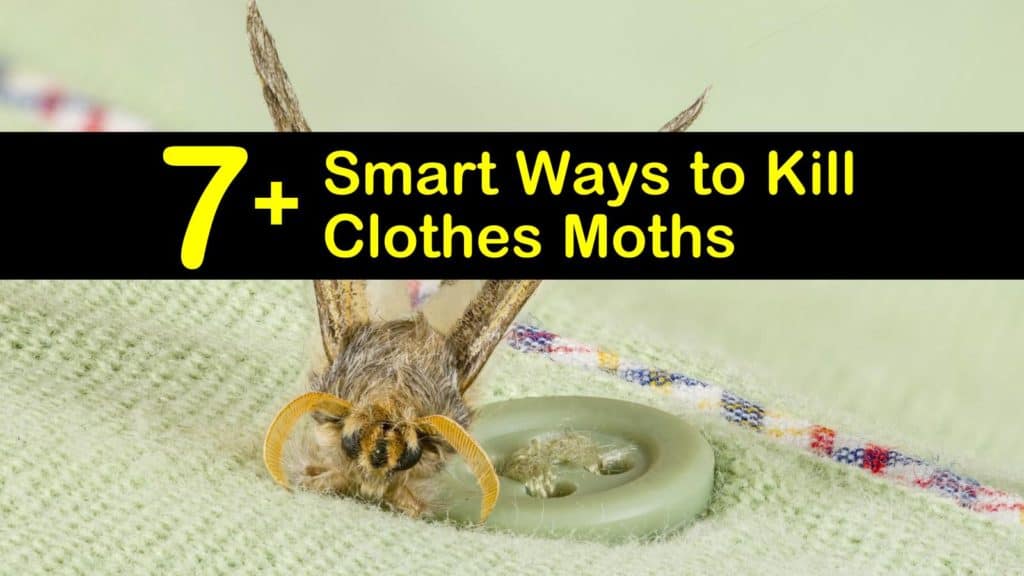 Eliminating and Preventing Clothing Moths
The key to protecting your clothing in storage areas is to act quickly and efficiently as soon as you notice a moth problem. Getting rid of moths doesn't have to be a challenge if you are prepared in advance.
Clothes moths and pantry moths seek out the perfect place where they have a food source that is also an excellent place for laying moth eggs. It's essential to stop this life cycle in its tracks to prevent a future moth problem.
Why Do Moths Eat Clothes?
Moths are a curious insect with their nocturnal habits. They are easy to spot fluttering around the porch light in the evenings, but with all of the other available food sources, why do moths eat clothes?
Clothes Moth
The common clothes moth, or Tineola bisselliella, is a species of relatively small fungus moth. These beige or buff-colored moths have a mature size of half an inch with narrow wings. The adult moths do not feed, but rather lay eggs in woolens and other natural fabrics.
What does a moth eat? There are two varieties of clothes moths, the casemaking moth, and webbing moth, and the clothes moth larvae of both types feed solely on animal fibers such as wool, silk, leather, and felt.
Their voracious appetite quickly destroys fabrics, especially expensive ones, and other materials with ease.
How to Kill Clothes Moths with Pheromone Traps
Since the adult moths aren't the ones eating your clothing, the best way to prevent moth holes in clothes is to stop existing moths from laying eggs. Pheromone traps are a safe and easy way to stop future life cycles of moths.
Moth Traps
Moth traps are a natural moth killer that contains the pheromones of female moths in a powder form. The scent lures the males into the trap, and the powder sticks to their wings. The scent confuses both the males and females, which ends the breeding cycle.
Make your own DIY clothes moth traps or purchase pheromone traps from your local hardware store. Hang one trap in each closet
More than one trap confuses the moths, causing them to fly aimlessly around. Wash all infected clothing with soap and hot water to kill moth eggs and larvae.
How to Get Rid of Clothes Moths using Heat
Getting rid of clothes moths is easy using high temperatures. High heat kills moth larvae and eggs in clothing and is an effective way to end a life cycle and prevent an infestation.
Most types of clothing are safe to iron, but it's essential to check the care label before applying heat. If the tag says, "dry clean only" or "do not iron," consider taking your clothes in for professional dry cleaning instead.
Prop up an ironing board and heat your iron to the wool setting. Lay the garment out flat and cover it with a pressing cloth. Use steam heat to iron the material from the inside.
Cleaning Your Closet to Eliminate Clothes Moths
Once you discover that you have a moth infestation in your clothing closet, it's essential to eliminate the problems in your clothing. After that, your closet requires thorough cleaning to prevent the clothes from being infested again.
This is the best way to kill kitchen moths and get rid of them, as well. Taking everything out of the pantry and wiping containers, walls, and shelves eliminates all moth evidence and resolves your kitchen moth problem. Throw away any containers that are not completely sealed to ensure all eggs are gone.
Remove everything from the closet and take proper steps to clean and kill moth eggs and larvae in your clothes. Use a duster to remove cocoons and eggs from all of the crevices and nooks in the closet, including the ceiling, corners, shelves, baseboards, and doorway.
Vacuum all debris away using the hose attachment of your cleaner. After vacuuming, place the vacuum bag and duster into a plastic garbage bag, seal shut, and dispose of in outside garbage.
Using Mothballs to Kill Moths
Mothballs contain naphthalene, which turns from solid to gas and is toxic to insects after inhaling. They are also home remedies for silverfish but are dangerous for pets and children, so use caution. Here is how to kill clothes moths using mothballs.
Follow the instructions on your package of mothballs to repel moths and to determine the amount required for the amount of clothing you have. Fold your clean clothing and place them into an airtight container.
Place mothballs around the clothes and in the pockets before sealing the container. It's vital to wash the clothes before wearing to prevent an adverse reaction to the mothballs. Washing is the best way to get mothball smell out of clothes and restore a neutral scent.
Freezing Clothing to Eliminate Clothes Moths
Sub-zero temperatures kill many insects and pests, including moths during any stage of their development, from eggs and larvae to adult moths.
If you are lucky enough to live in an area that gets cold enough outside, lay your infected clothing outdoors in the freezing temperature for the day.
Otherwise, place your clean clothing in a plastic bag and set in the freezer for up to a week. If you do not have any bags, setting your clothes on a freezer shelf is just as effective.
Repel Clothes Moths with Sachets
Many natural oils and scents repel moths without filling your closet with the nasty odor of mothballs. Making an essential oil moth repellent sachet not only keeps moths from entering the closet but fills the space with a sweet fragrance while refreshing your clothes.
The easiest way to make a moth repellent sachet is to use essential oil. Many oils are effective at keeping moths away, from rosemary, peppermint, and eucalyptus to citrus, thyme, and cedar oil.
We chose lavender for this sachet, but any of those other oils work just as well. Cut a piece of fabric into a small square shape. Apply a few drops of lavender oil to a cotton ball and place it in the center of the fabric.
Pull each corner of the material up to each other and tie them together with a piece of string. Place the scented sachets in dresser drawers, on clothing shelves, in storage containers, and other areas where you keep your clothing. To hang your sachet in the closet, attach the bag to a clothes hanger.
Ways to Prevent Clothing Moths
As the famous saying goes, prevention is the best medicine, and this is also true for keeping carpet beetles, clothes moths, and other insects out of the home.
The best way to prevent moth eggs on clothes and an infestation in your home is to follow a few simple preventative measures. These steps go a long way in keeping your clothing free of creepy-crawlies and damage.
Moth Damage Prevention
If you enjoy shopping at second-hand stores, make sure to check for moth damage or an infestation before bringing the items home. Check for a feeding tube or webbing that moths leave behind, and any small holes or other damage.
Perform routine cleaning of your closet space, making sure to clean from top to bottom. Moths thrive in dark and undisturbed areas and are easy to miss until they become a problem. Move your clothes around weekly and wipe down the shelves with soapy water. Dust the corners of the closet and vacuum regularly.
Always keep your stored clothing clean and save seasonal clothing in airtight containers or plastic bags. Keep your clothing in cedar chests or a cedar dresser. This material contains an aromatic oil that releases a strong smell that camouflages your clothes from moths.
Place deterrents in your closet to keep moths from entering the space. Many natural, food-based repellents protect your clothing from moths, such as aromatic herbs like bay leaves, mint, cinnamon, cloves, eucalyptus, and lemon peel.
Check your clothing regularly to ensure that there is no moth damage. Look for signs, such as holes in the fabric, that indicate a possible infestation. It's just as essential to check stored clothing as well as everyday clothes to make sure that there weren't any missed moth eggs during the storing process.
Eggs hatch into larvae approximately four to ten days after being laid, and this becomes a problem if you missed them during the first inspection.
Taking your clothing in for dry cleaning and using an iron to kill moth larvae with high heat are great ways to eliminate an existing moth problem. However, there are many ways to prevent a moth infestation from beginning in the first place.
Get Rid of Outdoor Moths, Too
Of course, there are moths outside as well as inside the house. For moths outdoors, use a yellow "bug light" rather than a standard bulb outside the front and back doors. This outdoor moth repellent deters the insects that moths like to eat and sends the moths elsewhere for a meal.
Learn how to kill gypsy moths that attack the trees in your yard, too. Moth prevention and elimination is important both inside and outside the house.
Cleaning your closet regularly and storing your seasonal clothing in plastic containers or garment bags are great forms of moth control, and eliminate the need for fumigation.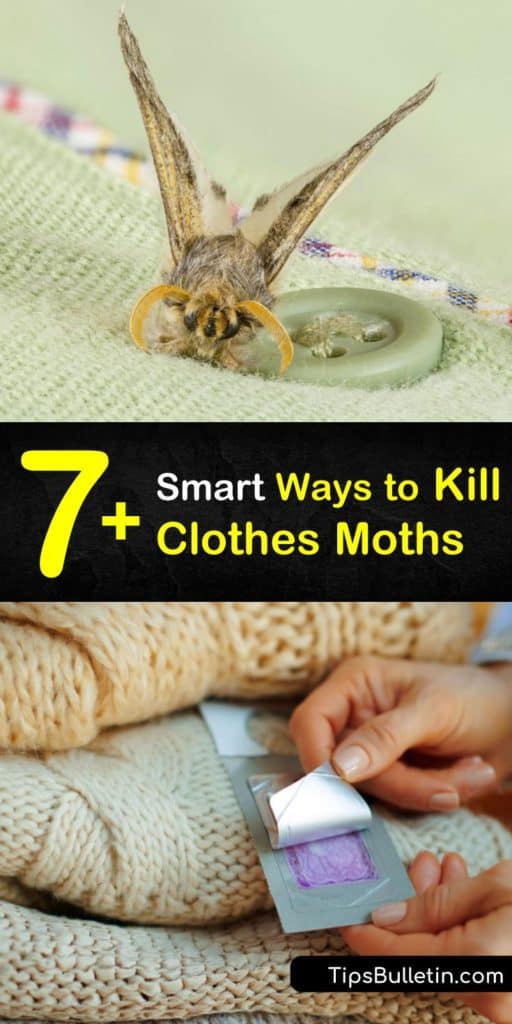 Now that you know how to get rid of clothes moths using simple solutions, we hope that you'll share our clothing moth prevention and elimination tips with your friends and family on Facebook and Pinterest.