You can do everything right in your quest to have a beautiful lawn only to have it marred by stubborn, nasty weeds. One of the worst perennial weeds homeowners find themselves up against is white clover, also known as Trifolium repens. You can learn how to get rid of clover without harming your lawn by finding out what kills clover but not grass.
Before you run out and kill clover in the grass, you might want to stop and appreciate those small white flowers for a minute. Although clover is fast-growing and what some might call invasive, it is a beneficial weed for all lawns. As clover decays, nitrogen seeps into the soil, which is useful in helping your grass grow.
Clover acts as an umbrella, so if you like to keep your lawn at the ideal 2.5 inches long, the leaves of clover will shade the ground and help keep other weeds at bay. Despite its benefits, many homeowners don't want clover to take over their lawn, so they look for various methods for what kills clover but not grass.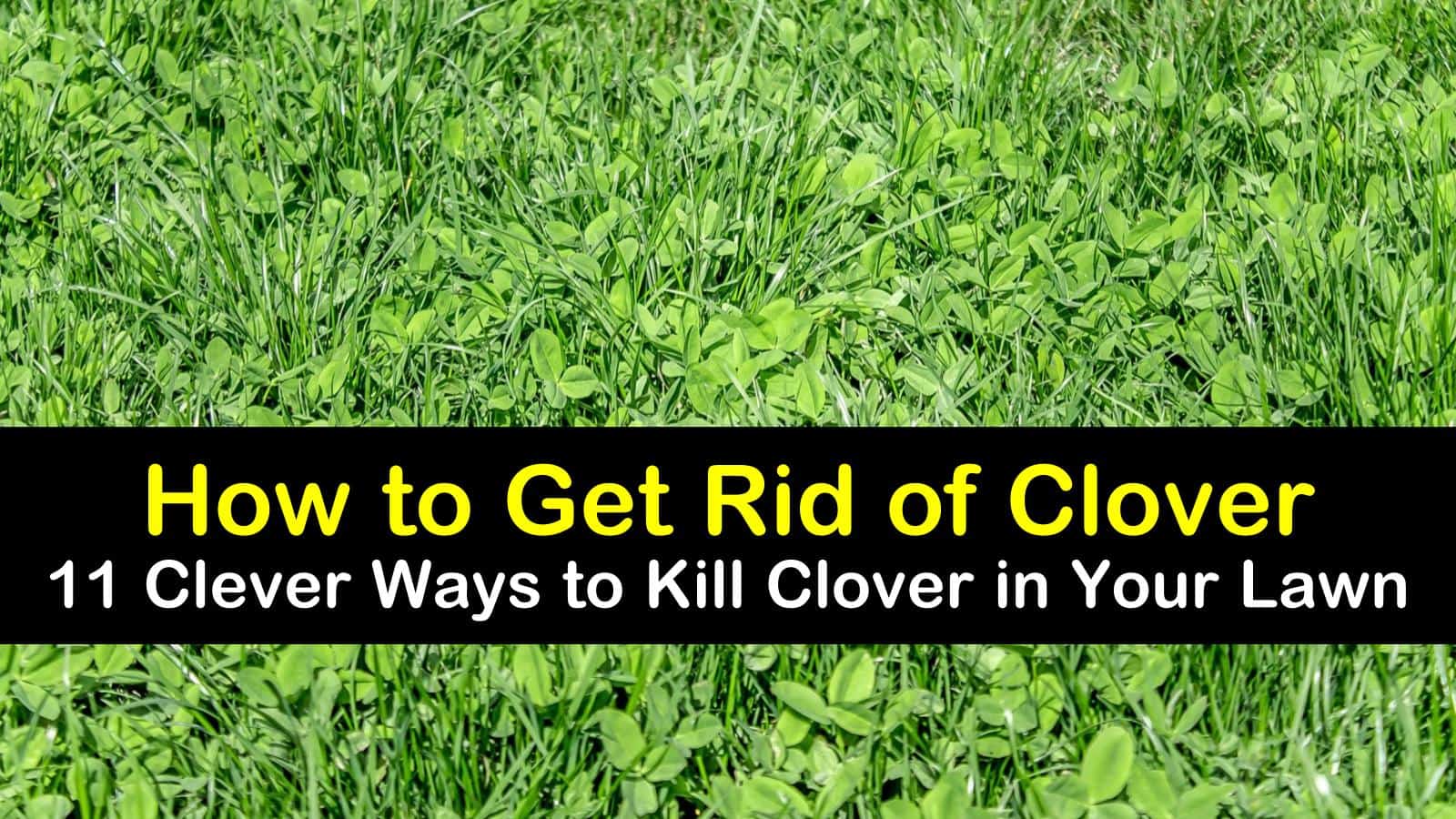 Valuable Methods to Kill Clover but Not Grass
Identifying clover is relatively straightforward. If your lawn is spotted with pink or white flowers that attract bees and butterflies, you have clover. Another easy way to determine if it is white clover marring your luscious green lawn is by their leaves. White clover features three leaves that form a petal shape.
Each of these leaves is about half an inch long, with a white crescent shape prominent on each one. White clover generally blooms in the early spring or late fall. The best time to get rid of clover is when it first begins to bloom.
Getting Rid of Clover in Lawn Naturally
What kills grass and weeds permanently? The most natural way to control clover is by removing it manually. As soon as you spot a clump of the three-leaf weed, pull it out, root and all.
To remove, loosen up the soil at the base and gently pull the clump out of the ground. Repeat until you successfully remove all clover plants from your lawn.
This is actually the best way to get rid of clover, crabgrass, and almost every other type of weed or grass that grows where it shouldn't. It does take a little time but the reward is knowing that the weeds won't pop up again.
Of course, if you try to kill poison ivy by pulling it by hand, it is very important to wear protective clothing to keep from getting the urushiol on your skin. Thick gloves, long sleeves, and long pants are a must.
How to Get Rid of Clover with Nitrogen
The better fertilized your yard is, the fewer problems you will have with weeds. The same holds with white clover. To combat clover, check your lawn's nitrogen levels, as the proper levels give you an advantage over the weeds.
Low nitrogen levels are required for clover to thrive, so look for a weed-and-feed product containing higher levels of nitrogen than other fertilizers. For lawns overtaken by clover, do not use a slow-release formula, as those only work on smaller patches.
Kill Clover in Grass with Plastic
A surefire way to kill clover is to deprive it of what it needs to thrive, which are oxygen and sunlight. Use a garbage bag or other type of plastic sheeting to cover the clover patch. Secure the sheeting down with stakes or heavy objects to prevent it from blowing away.
For best results and to increase your chances of not killing the surrounding grass, only use this method on more extensive patches of clover. Within a few weeks, the plastic sheeting will kill off the clover and any future seeds.
This is also a great way to get rid of crabgrass patches in the lawn or other weeds that occur in a specific area. It also requires very little effort. If you have the time, smothering is an ideal solution for weeds.
Dish Soap is What Kills Clover but Not Grass
If you are looking for a natural weed killer to kill off your clover problem, you can create a home made weed killer. Many gardeners have reported excellent results when used as a spot treatment.
To make this simple DIY weed killer spray, fill the spray bottle just shy of full with vinegar and add a few drops of dish soap. Shake the bottle to mix the ingredients.
Spray generously on clover as a spot treatment for clumps or use it as a spray for dandelions or other ugly weeds that sprout where you don't want them to. When spraying, do so with caution, as this weed killer may kill surrounding plants.
Corn Gluten Meal Kills Clover
You can purchase corn meal gluten at your local garden centers or online. Kill grass and weeds naturally with this simple staple. The benefit of this method is that it doesn't affect any other plant's growth, aside from the clover and weeds you want to eliminate.
How corn meal gluten works to inhibit clover is through dipeptides, which are released into the soil and dry out clover and other weed seeds. Dry seeds have a difficult time sprouting.
Use about 20 pounds of product for every 1,000 square feet of grass. After applying corn gluten, water thoroughly and allow to dry.
Broad-leaf Herbicides Treat Clover
Broad-leaf herbicides often contain chemicals called Mecoprop, Dicamba, and Dichlorophenoxyacetic acid and are effective at controlling broadleaf weeds. These chemicals interrupt the weeds' growth patterns; they cause the stems to crack, cupping of leaves, and twisting.
They will not harm your lawn but are dangerous to individual garden plants and some insects, so use with caution. If using a broad-leaf herbicide use it as a spot treatment, do not apply it freely to your landscape.
Proper watering is vital when utilizing a broad-leaf herbicide; water your lawn thoroughly a day before you use any herbicide to lower the chance of killing your grass along with the clover.
Adjust Your Mowing Height
Mowing over clover with a lawnmower is a temporary way to control clover growth. Most people think that lowering their mower's height, so it sits closer to the ground is the most effective way to control clover. The opposite is true.
Clover is a low-growing weed and offers a shallow root system. Allowing your grass to grow taller blocks the sunlight clover needs to grow.
Feed Your Lawn Regularly to Control Clover
Controlling any weed is best done by stopping the problem before it starts. Nobody wants to regularly battle weeds in their lawn, and if you are, that is a sure sign of a problem with the way you are caring for your lawn.
Clover thrives in yards that are underfed; as the weed makes its fertilizer, as it pulls nitrogen from the air, not the ground. Proper lawn care requires feeding it with the appropriate fertilizer four times a year. These fertilizers provide your lawn with all of the nutrients necessary to grow strong and thick.
You can use commercial or organic fertilizers when fertilizing your lawn, as both produce excellent results. Always follow watering instructions included on each bag of fertilizer for a healthy and happy yard. The thicker your lawn the better, as lush greens crowd out weeds like clover.
After killing clover, if you have large patches of dirt, lay down some grass seeds and cover with a thin layer of mulch. Water the seed regularly to promote new growth. Follow the instructions on the package for fertilizing and mowing.
Use Organic Weed Killer
Organic weed killer might sound too good to be true when it comes to controlling lawn weeds, but a new one was recently introduced for clover control. Adios, an organic weed killer, will weaken and kill the clover in your lawn without harming any of your grass.
To use, spray Adios directly on the clover. As the clover weakens and dies, the grass will take over where the clover once was. Make sure to water your lawn correctly. If you apply Adios to a stressed lawn from lack of water or extreme heat, there is a higher risk the product will kill your grass as well as the clover.
Ideally, water your yard twice a week. Deep watering, where the grass receives one inch of water, is recommended. The perfect time to apply Adios is the day after a deep watering.
Burn Clover with Ammonia
If you use ammonia to burn clover, you must do so correctly to ensure it is useful. The best time to apply ammonia to clover is one day after rain. If you don't want to wait for it to rain, you can water your grass and then apply the ammonia the next day.
Don't use household ammonia; instead, purchase ammonium sulfate as it is made specifically for lawns. Follow the instructions and apply to clover once a month. Pair the ammonia treatments with proper watering for the best results.
Rip Everything Up
If you have tried our other methods and are still struggling with weed control, your final option is to rip up everything. Ripping everything up ensures all clover, crabgrass, dandelions, and any other weed are gone for good. Once everything is ripped up, apply a broad-leaf herbicide over the entire surface, use a tiller and mix up the soil, then toss in some mulch and fertilizer.
The final step is to reseed or lay sod. This strategy is the most labor-intensive and time-consuming method, but it does work. Starting over allows you to get a better handle on future weeds through proper lawn care techniques.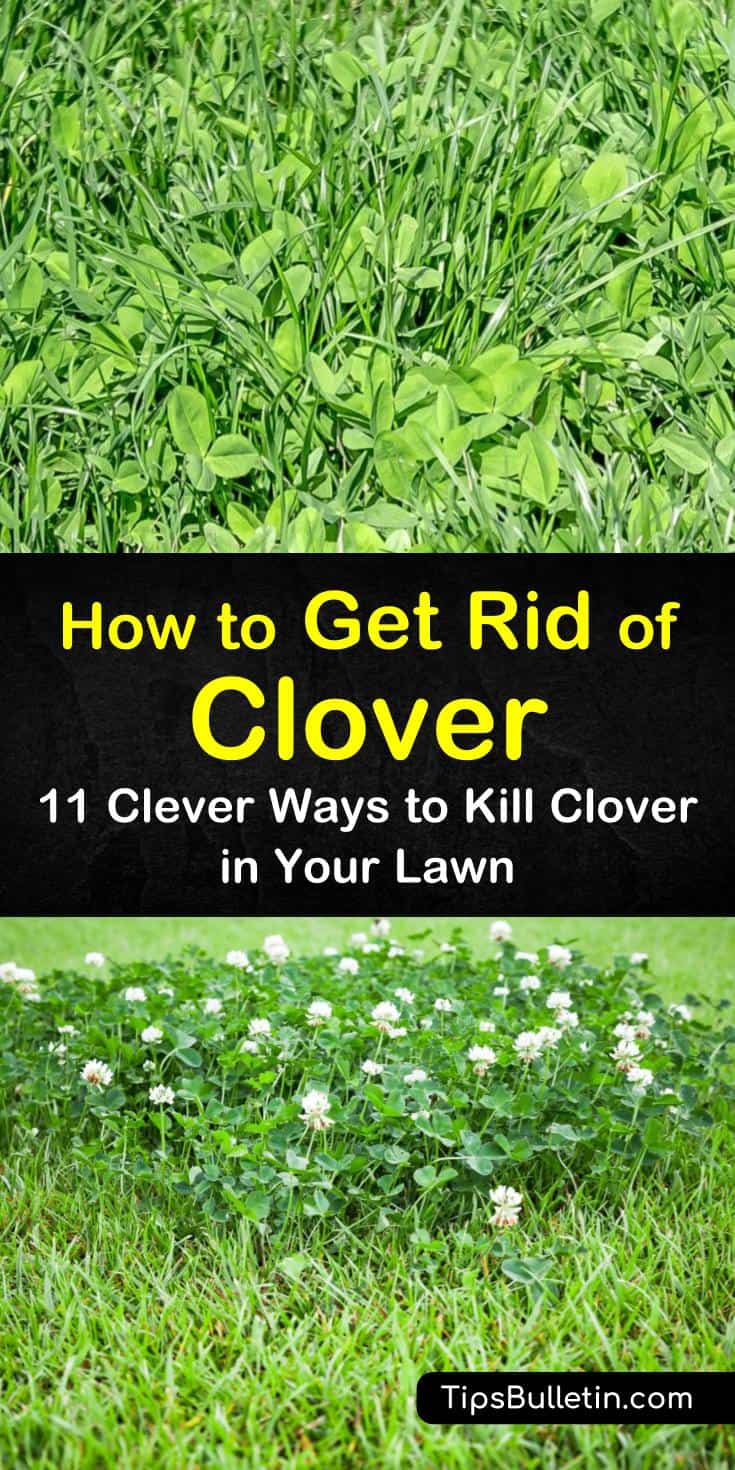 Thank you for learning about what kills clover but not grass. If you found our tips and ideas to kill clover in grass helpful, please share the info on Facebook and Pinterest so others can also learn how to get rid of clover successfully.