You may see a dead bug, cockroach feces, or live bugs in your sink and toilet bowl if you have restroom roaches. Spotting these intruders is shocking and troublesome. Finding guidance on how to get rid of cockroaches in the bathroom may feel challenging.
Cockroaches in your bathroom make your home seem unsanitary and uninviting. Fortunately, you can stop cockroaches in the bathroom using affordable and straightforward DIY ideas and home remedies.
Roaches are drawn to places meeting their needs for food, shelter, and a moist environment. Unfortunately, bathrooms often have these things due to dirty drains and running water. Whether you have roaches in your sewer and drain pipes or living under your baseboards, it's essential to treat them before they breed.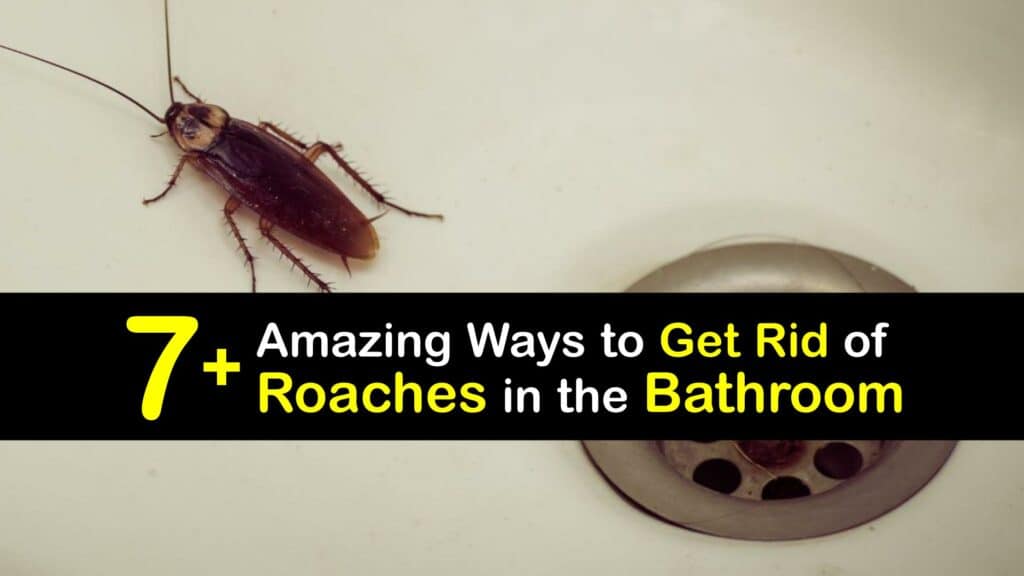 Brilliant Ways to Prevent Roaches in the Bathroom
Although many commercial and chemical solutions exist, they are expensive, include toxic compounds, and may harm your family and pets. Find out how to get rid of and prevent roaches in the bathroom using everyday items to save money and ensure your home is safe.
When you find bugs in the toilet or around the sink, it's time to explore how to get rid of cockroaches in the bathroom. Though cockroach infestations are unpleasant and alarming, they are easy to deal with. Use home remedies and DIY ideas to eradicate and prevent roaches in the bathroom to reclaim your space.
How to Get Rid of Cockroaches in the Bathroom
Finding bugs, cockroach droppings, or a dead roach in your bathroom is unsettling, but a budget-friendly and simple solution is available. Find baking soda and sugar at every grocery store – you may already have them in your home. To make a roach killer, combine the baking soda powder and the soda in a 1:1 ratio.
Sprinkle the powder in areas around your bathroom where you've spotted roaches. The sugar attracts the bugs and entices them to eat the mixture. Once consumed, the baking soda will kill cockroaches by interrupting their internal processes.
Try Boric Acid to Stop Cockroaches in the Bathroom
Boric acid is an efficient roach killer whether you have an American cockroach, German roach, or Oriental roach issue. Boric acid kills roaches, is sold in most home and garden stores and is sometimes known as Borax.
Sprinkling boric acid over areas in your bathroom where roaches hang out exposes them to the powder and destroys them by damaging their nervous systems. One way to initiate cockroach prevention is to spread a thin layer over a large surface area to increase the odds of cockroaches contacting the boric acid.
Sweep up the powder and dead roaches and reapply as necessary. Boric acid is most effective with prolonged use, after around two weeks, so don't be discouraged if results take longer.
Peanut Butter is the Perfect Bait
A cockroach infestation must be dealt with expediently to avoid roach numbers growing. Trapping roaches is a straightforward way to eliminate them from your bathroom, though a desirable bait is necessary. Rather than turning to expensive and dangerous chemical gel bait, use peanut butter as cockroach bait paired with poison to make an effective homemade roach trap for your bathroom. Be sure to place it out of reach of children and pets.
Place your peanut butter roach bait in the center of the paper plate with a ring of poison around it. Roaches head for the bait and encounter the poison on the way, leading to their demise. The paper plate avoids poison or peanut butter on your flooring or furniture and makes for easy clean-up.
Cockroach Control for a Sewer Roach Infestation
You likely have a sewer roach issue when you find roaches in the bathroom or kitchen sink, shower drain, and toilet bowl. Drain pipes provide a dark, damp environment with the decomposing matter that cockroaches love.
It's crucial to clean your bathroom, make it less appealing to roaches, and treat your drain pipes to prevent the cockroach population from thriving and entering your home.
Combine the bleach and water, pour a generous amount down all drains in your bathroom and kitchen, and flush down the toilet. Let the remaining solution cool and use it as a cleaning solution to wipe all bathroom surfaces.
Bleach destroys the grime in your pipes, and its corrosive nature eliminates cockroaches. The strong scent of bleach acts as a deterrent to prevent cockroaches from remaining in your drain pipes or entering your bathroom.
Construct a Homemade Powder Roach Trap
Powder cockroach traps work on American roaches and other types. A powder trap uses diatomaceous earth instead of harmful chemical poison and is simple to construct. It's a safe way to eliminate roaches in your apartment, house, or garage and requires little effort.
Combine the supplies in a bowl and mix until well blended. Sprinkle the powder around your bathroom, focusing on areas of high roach activity, such as around baseboards or by the sink. The cocoa powder and flour are a food source that works as a homemade roach bait that lures roaches to consume the mixture, while diatomaceous earth quickly eliminates them once they eat it.
Use this simple DIY solution for a bathroom and kitchen infested with roaches or even if you only have a few.
DIY Roach Spray is a Home Remedy
Cockroaches have a well-developed sense of smell to help them locate food sources. Essential oils are powerful tools to deter roaches due to their potent aroma.
Combining essential oils with diatomaceous earth (DE) makes a natural and safe bug spray for your bathroom. Roaches hate the smell of peppermint and lemongrass essential oils, so they are favored for their roach repellent qualities.
Add the supplies to a sprayer and shake until the powder dissolves. Use the spray in cockroach hotspots to kill roaches on contact and deter them through smell.
A Dehumidifier Reduces the Number of Roaches
Cockroaches search for the most favorable environment to lay their cockroach eggs and raise baby cockroaches. Thanks to the steam from your shower and bath, your bathroom is often a pleasant place for them due to excess moisture.
Reducing the humidity and drying out the bathroom discourages roach activity and helps reduce other issues, such as musty smells and mold.
Measure your bathroom and multiply the room's length by the width to find its area and purchase an appropriately sized dehumidifier for the space. Run the dehumidifier per the directions to remove moisture from the air and make your bathroom a less hospitable location for cockroaches.
Tips to Prevent a Roach Infestation
Cockroaches are unwelcome household pests, and they make your home seem unhygienic. Following a few essential housekeeping tips hastens the reduction of an existing German cockroach population, slows the production of baby roaches, and helps prevent cockroaches in the future.
Changing your home environment to make it less appealing for insects should be implemented alongside other pest control methods.
Cockroaches, like bed bugs, are home invaders we all hope to avoid. Reducing factors in your home and bathroom that lure roaches and allow them to live and breed comfortably is a vital step to stop cockroaches in the bathroom. Start pest control immediately if the worst happens and cockroaches invade your bathroom.
Modifying the environment and cleaning your bathroom boosts the success of whatever cockroach elimination method you choose. Select a roach control option based on available materials and your personal preferences.
If you loved this article on how to get rid of cockroaches in the bathroom, please share these fantastic tips to prevent roaches in the bathroom with your friends and family on Pinterest and Facebook.