Cockroaches are detestable creatures, and the last place we want to find them is in the bedroom, or worse yet, the bed. To make matters worse, these nocturnal insects have a way of disappearing, making it challenging to eliminate them. Examine how to get rid of cockroaches in the bedroom and prevent a roach infestation.
The cockroach is top of the list of the most hated insects, surpassing the bed bug, mosquito, and spider. It spends the day in a hiding place and scurries out as darkness falls in search of its next food source. While that doesn't sound threatening, these bugs are a reservoir for bacteria and are just plain gross.
There are several species of cockroach, including the German cockroach, Oriental cockroach, and American cockroach. German roaches are most common in homes, while you find American roaches in lower-level apartments in large cities. Follow our easy ways to kill roaches and eliminate these nasty pests in your home.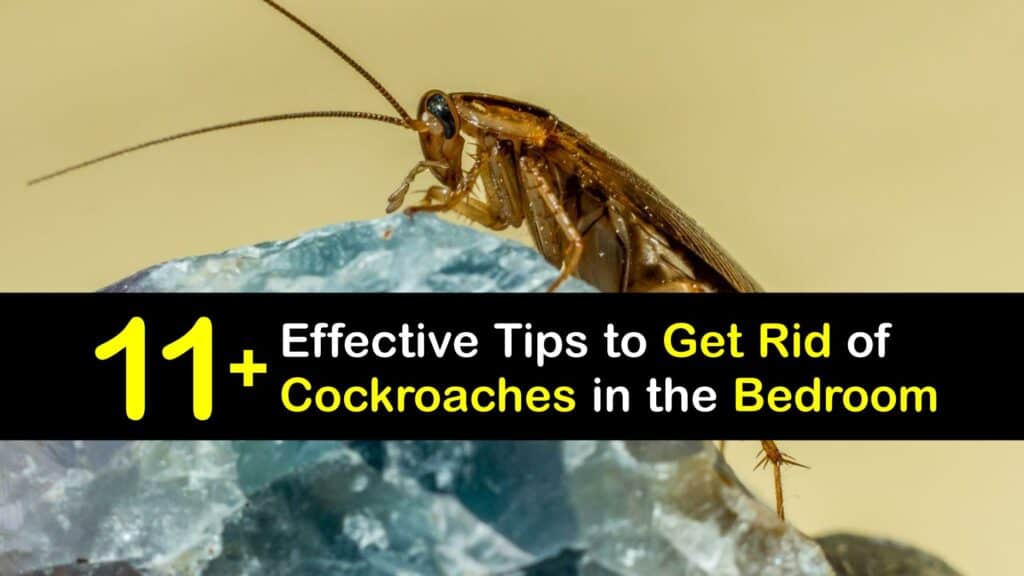 Getting Rid of Cockroaches in the Bedroom
Depending on the type, an adult cockroach lays egg casings containing 16 to 50 eggs. These eggs eventually become baby cockroaches, so it's vital to take immediate action as soon as you notice roach activity.
Discovering a cockroach in the kitchen is bad enough, and seeing one scurry across the bedroom floor as you get ready for bed is a nightmare. Fortunately, there are ways to get rid of cockroaches inside, ensuring you get a good night's sleep.
What Attracts Roaches to Your Bedroom?
We all know that food, dirty dishes, and pet food draw cockroaches into the house, but what attracts roaches to your bedroom? There are many reasons for these insects coming indoors. Discover why this pest may find your bedroom an attractive place to hang out.
Since you don't cook food in your bedroom, you're probably wondering why roaches like to congregate there. Like other insects, cockroaches require moisture to survive, and leaky faucets or pipes in the bedroom bathroom are attractants for roaches. A trashcan in your bedroom or the occasional midnight snack while in bed may also draw them.
Ways to Prevent Roaches in the Bedroom
The best way to ensure that you don't have to deal with a cockroach problem is to stop them from coming in the first place. Prevent roaches in the bedroom in a few simple steps.
Check outside and inside your bedroom for potential entry points where roaches have easy access. Inspect the area where the wall meets the floor for gaps, and in corners, around windows, and air vents. Use a caulking gun to seal cracks, repair vent screens, and install weatherstripping on doorways.
Signs that You Have Roaches in the Bedroom
Since roaches are masters of hiding, you often aren't even aware that you have cockroaches until they become an infestation. Watch for signs that you have these pests in your bedroom.
Feces are a sign of roaches and harbor more than 33 kinds of bacteria. They look like coffee grounds or specks of black pepper and are dark in color. Another indication of a roach problem is egg casings. They are medium to dark brown and range from six to eight millimeters long.
You may notice a strange foul odor that you cannot put your finger on since roaches leave a musky or garbage-like smell in their wake – it's most noticeable in damp areas like the bathroom. You might have cockroaches if you notice chew marks on materials like food packages or wallpaper paste.
If you know you have some kind of bug but aren't sure what it is, look in all areas of each room. Look for little bugs on the bedroom ceiling, inside cabinets, and behind and beneath furniture to find evidence of roaches and other unwanted visitors.
How to Get Rid of Cockroaches in the Bedroom
Boric acid is excellent for pest control if you have a severe cockroach infestation. It is available at your local supermarket or online, and it's effective for eliminating cockroaches. Keep it away from children and pets since it's poisonous if consumed.
This method is a bit messy, so plan to apply it when you have another place to sleep for the night. Apply a light dusting of boric acid on the floor throughout your bedroom.
Spread it beneath the bed and other furniture, along walls, and in the closet and bathroom. Leave it for one to two days before vacuuming or sweeping up the residue.
Using Essential Oils to Repel and Kill Roaches
Essential oils have more uses than making your house smell good. These oils are ideal for killing and repelling insects, including roaches. Prepare a cockroach repellent spray with essential oils.
Always use a glass spray bottle when mixing essential oils to prevent the oils from damaging a plastic container. To make an all natural roach killer spray, fill the bottle sprayer with water, add the essential oils, and shake it well to combine. Similar to using tea tree oil for bed bugs, spray the roach deterrent spray anywhere you suspect activity and underneath your bed for extra protection.
How to Use Coffee Grounds to Deter Cockroaches
Consider using coffee for something safe and effective to keep a roach out of your bedroom. Coffee grounds can harm this pest, and roaches avoid areas where they smell them.
Pour coffee grounds into a few open containers and place them strategically around the bedroom. Set them beneath the bed and all other furniture, in the closet, bathroom, and other dark and inviting areas.
Using Bay Leaves as a Roach Repellent
A bay leaf is not just for stew. These fragrant leaves are a natural roach deterrent and are great for keeping pests away.
Bay leaves are one of the scents roaches hate and repels other bugs, too. Use these spices to keep roaches away from your bed.
Crush the dry bay leaves with a pestle or another crushing tool. Pour the fragrant powder into lidless containers and set them in different areas of the bedroom and beneath the bed. It will keep roaches away from your bedroom and any other location in the house.
Make a Homemade Insecticide to Eliminate Roaches
To diminish the cockroach population in your bedroom and home, make a homemade insecticide with baking soda and sugar. It's easy to prepare and safe to use around children and pets.
Combine sugar and baking soda in containers and place them in dark areas in your bedroom, like beneath the bed and in the closet. Let them sit overnight; the roaches consume the sweet sugar, and the baking soda kills them. Vacuum the floor the following day and dispose of dead roaches.
Tips for Keeping Cockroaches Off Your Bed
Even if you feel that you've eliminated all the cockroaches, you may still have a fear of the stray roach climbing up on your bed while you sleep. Here is how to prevent roaches in the bedroom and keep them off your bed.
Bed Roach Prevention
Avoid using bed skirts or oversized blankets that drape on the floor and allow roaches to climb onto the bed. Wrap the bottom of the bed posts with silicone tape to keep the pests from crawling up the legs.
Bedroom Cleaning to Prevent a Cockroach Infestation
What attracts roaches to your bedroom? Cockroaches are drawn to garbage, food crumbs, and moisture, so cleaning the bedroom thoroughly is vital to ensure these pests don't find it appealing.
Roaches love cluttered spaces, and throwing away or storing unnecessary clutter makes the area less inhabitable for them. Keep dirty laundry in a laundry basket, fold and hang up clothing, and use plastic storage containers instead of cardboard.
Polish the wood furniture and vacuum or sweep the floor regularly to remove crumbs and dirt. Finally, avoid keeping snacks in the bedroom and store food in airtight containers in the kitchen.
Kill Roaches with Diatomaceous Earth
Diatomaceous earth or DE is our favorite home remedy for eliminating insects. Diatomaceous earth will kill cockroaches as it pierces their exoskeleton as they walk across it, causing them to dehydrate and die. It's a great way to get rid of roaches in an apartment permanently and it's safe for humans and animals.
Wear a face mask and sprinkle a layer of diatomaceous earth over the carpeting or floor beneath your bed and other furniture where roaches hide and in cracks and crevices along the wall. Let it rest overnight and vacuum in the morning.
Getting Rid of Bedroom Cockroaches with a Roach Trap
If you're looking for a straightforward method for getting rid of bedroom cockroaches, consider using roach bait and a trap. There are a variety of roach traps on the market, and they are convenient to use. At the same time, if you have built your own homemade cockroach trap for your house, check it regularly and dump or replace as needed.
Cockroach Trapping
There are several styles of roach traps, but most have a cockroach bait station with liquid, powder, or gel bait. The bait draws them into the trap, where they get stuck to the trap floor and die. Follow the directions for your trapping system of choice and place it strategically in your bedroom.
Cockroaches are nasty bugs that multiply quickly, and no one wants to deal with a German roach problem. Luckily, there are ways to repel and kill roaches with simple home remedies and prevent cockroaches from infesting your bedroom and home.
Now that you know how to get rid of cockroaches in the bedroom so that you can sleep at ease, why not share our bedroom cockroach elimination guide with your family and friends on Facebook and Pinterest?