Weeds are a nuisance in the yard, especially when their name contains the word creeping. Nothing can ruin a perfectly healthy lawn then a weed that creeps its way in and refuses to leave. Our methods show you how to get rid of Creeping Charlie organically so that your garden and lawn can thrive.
Creeping Charlie, or Glechoma hederacea, is part of the mint family, and while it is considered a broadleaf weed, you cannot always kill it with a common broadleaf herbicide. This evergreen perennial weed has many other names, including ground ivy and field balm. It is a ground cover weed with broad leaves, dainty purple flowers, and stems that creep along the ground in shady areas.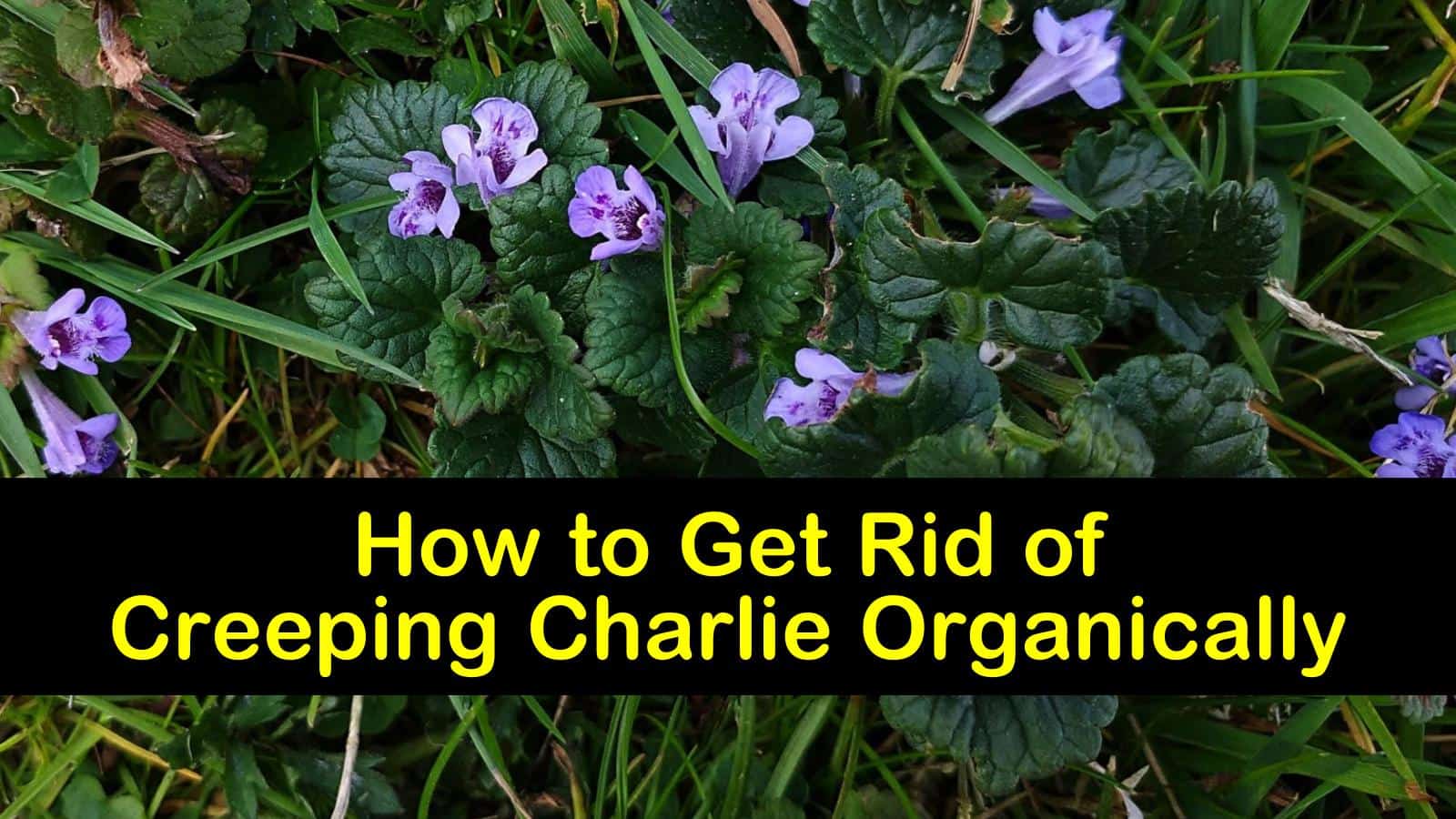 Smart Ways to Get Rid of Creeping Charlie Organically
The Creeping Charlie weed can be troublesome to get rid of because it spreads its way using its roots, seeds, and stems, which can quickly lead to weed broadleaf infestation. Understanding what weed killer kills Creeping Charlie naturally will provide you with the ease of mind knowing that you will not be adding harmful herbicides such as Roundup to the environment.
Many of these solutions also apply when eliminating other weeds, too. Kill Japanese Knotweed or even Crabgrass with our simple DIY remedies.
Get Rid of Creeping Charlie Weed by Hand-Pulling
If you have an isolated patch of Creeping Charlie, the best way to eliminate it is to remove the entire plant. Simular to a DIY duckweed killer, pulling the weed will prevent it from spreading or creating new plants. Here is how to get rid of Creeping Charlie weed by completely removing it from the ground.
Before weeding Creeping Charlie, put on garden gloves to prevent a possible allergic reaction to the weed. Use garden shears or scissors to cut away as much of the leaves and vines that have not rooted and place the clippings into the garbage bag.
Use a garden hose to water the area until the soil is saturated to make the process of pulling the weed easier. Grab hold of the plant as close to the ground as possible. Pull until the roots come free.
If the weed root does not release its grip, use a shovel to pry the plant out of the ground. Place all parts of the weed into the garbage bag and dispose of it. Fill the hole with grass seed and cover with dirt or cover the area with mulch.
Hand pulling is also a great organic moss killer. Since moss roots are not very deep, it is quite easy to grab the patches of moss you want to eradicate. Put the pieces of moss in a garbage bag and dispose of properly.
Killing poison ivy is also easy with this method, although the roots can be challenging to reach. Protective gear is particularly important when removing poison ivy or its relatives. Long pants, long sleeves, and gloves are a necessity.
Kill Creeping Charlie Naturally with Borax
Borax contains boron, which is a mineral salt that all plants need at low levels to survive. Borax provides high levels of boron that kill creeping Charlie naturally. This is toxic to cats and dogs, so we recommend not using Borax if you have pets that enjoy spending time in the yard.
The best time to use this method is in the fall when the weed is the most active, and when you do not expect rain for two days after treatment. Combine Mule Team Borax and warm water in a bucket and stir until dissolved.
Fill a bottle or garden sprayer with the natural herbicide and spray it evenly throughout the weed-infested area. Reapply the herbicide once more in two weeks. Use this spray as a natural dandelion control method, too. Be sure to only spray the plants that you want to kill as the solution will destroy anything it touches.
To add even more oomph to this recipe and take care of other weeds, too, add a cup or so of vinegar to the mixture. Killing clover with vinegar by itself or with this recipe is easy and only needs a couple of applications.
Killing Creeping Charlie with Solarization
Killing weeds naturally using the power of the sun is one of the easiest ways to eliminate weeds. This method causes them to overheat and burn while smothering them and denying them the water and oxygen they need to survive.
Begin by mowing the area with the mower set to the lowest setting. Place a sheet of plastic over the patch of Creeping Charlie, covering it completely, and place bricks, rocks, or another form of weights along the outside edges to keep the plastic in place. Remove the plastic in the late fall after the first frost so that the weed will no longer germinate.
Preventing Creeping Charlie from Coming Back
Performing proper lawn care is one of the best ways to prevent weeds from taking root in your yard. After you remove Creeping Charlie from your lawn by either pulling or using an organic herbicide, take specific steps to ensure that weeds do not make a comeback.
The same steps apply when you kill kudzu vines or other weeds. Diligent lawn care and weed removal strategies when you first notice a problem are important to keep unwanted vegetation from taking over the lawn.
Creeping Charlie Prevention
In the early spring before Creeping Charlie has begun to sprout, use a lawn spreader to spread corn gluten meal using ten pounds per 1,000 square feet of lawn. Water the lawn thoroughly after spreading, but make sure that you are not expecting rain for a few days after application.
Like many other lawn weeds such as crabgrass and dandelions, Creeping Charlie is an invasive weed that will not only take over your turfgrass and flowerbeds by reseeding but through its roots and stems, as well. Learning how to kill Creeping Charlie using organic methods of weed control to eliminate it is not only healthier for the environment but you and your family.
Appreciating how to get rid of creeping Charlie organically without using herbicides that contain glyphosate, dicamba, or triclopyr can offer you peace of mind while working in the yard, so why not share these Creeping Charlie removal tips with your friends and family on Pinterest and Facebook?