The songs of distant crickets chirping on a warm summer's night are pleasant to some. However, hearing the annoying sound of an insistent house cricket indoors is another matter altogether. Discover how to get rid of crickets with home treatments and prevent a cricket infestation.
There are 18 cricket species in North America and over 900 different types worldwide, from cave crickets to Jerusalem crickets, which multiply quickly. One female cricket lays about 100 eggs daily, 3,000 eggs in a lifetime, increasing the cricket population fast. This nocturnal pest sleeps in dark, damp, and secretive locations during the day, making them challenging to find.
While frogs, bats, salamanders, shrews, rodents, and small snakes eliminate many of these pests, you may have a cricket problem if your area lacks these natural predators. It's essential to take pest control steps to prevent crickets from becoming an infestation.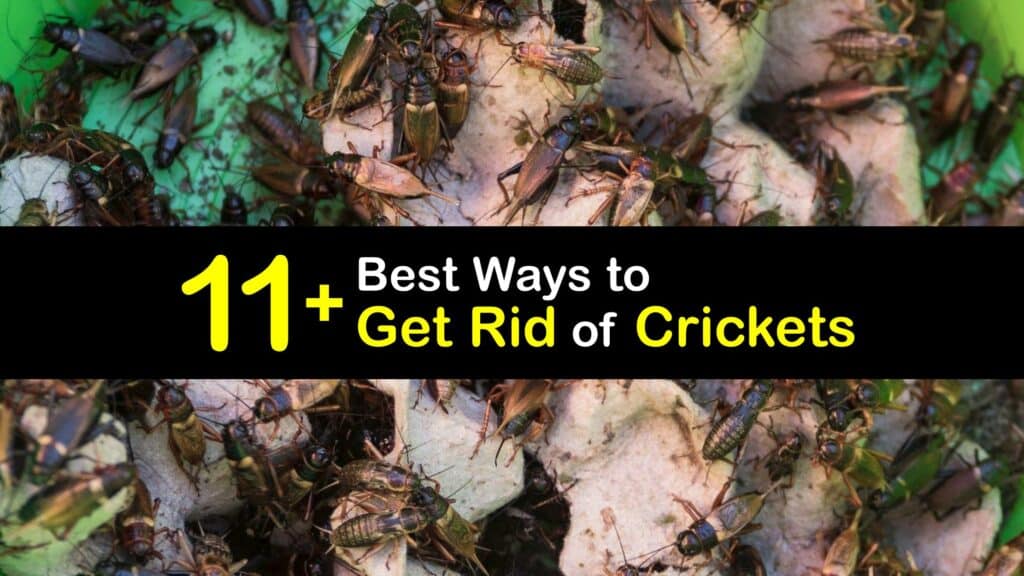 Ways to Eliminate and Prevent Crickets
While crickets have their place in nature, they are a nuisance if they get inside the house, basement, or garage. Luckily, there are ways to get rid of crickets and control their population with plants that repel crickets, traps, sprays, and natural insecticidal powders.
Signs You Have a Cricket Infestation
While the main sign that you have a cricket problem is the annoying sound the male cricket makes while you try to sleep, there are other indications of an infestation. Look for common signs that you have crickets in your living space.
According to the National Pest Management Association, the field cricket is the most common type to wander indoors when outdoor temperatures begin to fall. However, there are many cricket species, including the camel cricket, mole cricket, spider cricket, and cave cricket.
Male crickets chirp to attract female crickets, which is the most obvious sign of crickets. Roughened areas, loose fibers on rugs and carpets, chewed edges on upholstery, and holes in stored clothing are other signs of a cricket infestation.
Are There Natural Ways to Get Rid of Crickets?
The easiest way to eliminate a cricket is with a store-bought pesticide. However, these products often contain chemicals that may harm people, pets, and the environment. We found some natural ways to stop crickets from invading your garden safely and effectively.
There are natural home remedies for getting rid of crickets inside and outside the home, and which one you use depends on preference. Practice effective techniques and home remedies for repelling crickets so you don't end up with a problem in the first place.
Boric acid and diatomaceous earth are natural powders that eliminate crickets, a homemade sticky trap effectively captures the pests, and DIY bug sprays with essential oils or capsaicin deter them. Additionally, natural predators like rodents and frogs keep them at bay, and crickets cannot stand certain plants.
Neem oil is also an effective tool to deter and kill crickets in the garden. The oil is a natural pesticide and can work to get rid of many pests. You can use neem oil for grasshoppers, crickets, and slugs to keep your garden clear of unwanted bugs.
The Best Way to Get Rid of Crickets With Bait
While there are many forms of pest control, the best way to get rid of crickets is to use bait. This method is ideal if you prefer not to kill the insects, allowing you to lure and trap the crickets and release them in an outdoor location.
Combine white sugar with breadcrumbs and sprinkle the cricket bait at dusk in an area where you notice cricket activity. Cover the bait with a sheet of newspaper and let it sit overnight. Slowly lift the paper and sweep the crickets into a jar in the morning. Cover it with a lid with breathing holes and transport the bugs outdoors.
How to Get Rid of Crickets With Sticky Traps
Sticky traps capture many insects, including crickets, available at many hardware stores. However, you can make your own sticky trapping system, and it's safe to use around children and pets.
Pour water into a jar, add the molasses, and set the container in an area where you suspect crickets. The sweet smell attracts the bugs, and the sticky molasses traps them where they eventually drown. The ideal time to set the trap is in the evening.
Commercial Pesticides That Eliminate Crickets
Using a commercial pesticide is the best way to get rid of crickets if you do not have the patience to prepare a DIY solution. However, not all products are effective at eliminating crickets. Learn which types to look for and where to put them for optimal results.
Commercial Cricket Control
While a standard pesticide works to kill crickets, there are different types for indoor and outdoor use. To eliminate the pests inside, choose a safe spray for indoors. To get rid of crickets in your front and backyard, consider using a barrier spray, lawn granules, or a triazicide product. Always read the directions for precautions and safe application.
Stopping a Cricket Infestation Indoors by Vacuuming
While a cricket trap or bug spray will eliminate adult crickets, you may still have a problem since crickets breed and lay eggs in areas where they congregate. Vacuum the area to remove cricket eggs and prevent reinfestation.
Once you discover where you have a cricket problem and eliminate the adult crickets, it's time to get out the vacuum cleaner. Vacuum the entire area, including rugs and hard floors, along baseboards, and beneath furniture to suck up cricket eggs. Empty the vacuum canister into a trash bag and discard it in the outside garbage can.
Eliminate Crickets With Diatomaceous Earth
There are a few natural ways to get rid of crickets, but diatomaceous earth is a favorite since it's easy to apply and safe around people and animals. Use DE as the best spider cricket killer to get rid of crickets around the house.
Since diatomaceous earth particles are tiny, it's helpful to wear a face mask when applying it to prevent inhaling the powder. In the evening, sprinkle a layer of DE in the areas where you hear crickets and let it sit overnight. The powder scratches the insect's exoskeleton as they walk across it, eventually leading to death.
Boric Acid to Get Rid of Crickets
Boric acid is a naturally occurring, water-soluble compound with many uses. It's common as an herbicide, fungicide, and insecticide, and it quickly eliminates crickets. However, caution is necessary if you have little ones or pets in the house.
Put on gloves and sprinkle the boric acid powder in areas where you think crickets nest. Apply the powder in the evening before you go to bed, and use a vacuum cleaner to pick up the debris in the morning. The powder sticks to the crickets, and they ingest it while grooming.
Is Soapy Water Effective for Eliminating Crickets?
Soapy water is a non-toxic way to eliminate crickets. While this method may take a little longer and is not as helpful if you have an infestation, it's a handy way to get rid of a stray cricket trapped in the house.
Pour two cups of water into a shallow bowl and add a squirt of liquid dish soap for this strategy to handle a cricket infestation in the house. Agitate the liquid slightly to mix the soap with the water and set the dish in the area where you suspect crickets before heading to bed for the night. The water attracts the bugs, and the soap neutralizes them.
Make a Homemade Bug Spray to Kill Crickets
A homemade bug spray is an excellent option if you prefer a natural remedy to eliminate crickets. Garlic and peppers burn the exoskeleton of crickets, and combining them creates a powerful cricket repellent.
In the morning, pour a cup of water into a spray bottle, add the chili powder, garlic powder, and soap, and shake the container gently to mix.
Let the mixture sit throughout the day as the spices infuse with the water, and spray the liquid anywhere you notice cricket activity in the evening. Don't forget to spray around doors and windows to keep crickets out of the home.
Keep Crickets Out of the Yard
The simplest way to keep crickets out of the house is to prevent them from infesting the yard. Here are some tips for keeping the cricket population in check and stopping them from becoming a nuisance.
Since crickets enjoy dark, moist areas, mowing your lawn regularly to trim tall grass is a great way to stop crickets from infesting the yard. Prune shrubs and trees near your house as a way to deter crickets from coming inside, keep woodpiles at least 20 feet away from the foundation, and clear gutters of debris.
Like other insects, crickets are drawn to bright lights, and changing your outdoor lighting to amber-colored bulbs or using motion sensor fixtures keeps this insect at bay. Plant legumes, peas, beans, garlic, cilantro, and sweet potatoes in the garden to repel crickets.
Preventing Crickets From Getting Inside the House
If you don't mind crickets in the yard but hate when they get in the house, deter these pests from finding your living space inviting. Prevent crickets from invading your home.
Damp areas are a magnet for crickets, so repair leaking faucets and consider installing a dehumidifier in moist areas like the basement or crawl space. Seal cracks and gaps in the foundation with caulk, apply weatherstripping to windows and doors and repair windows and screens when necessary.
The distant sound of crickets may be soothing, but they become a problem if a couple of these pests make their way inside. They chirp loudly throughout the night and seem to disappear by morning, making pest control challenging. However, with the correct methods, it's possible to eliminate house crickets and prevent them from returning.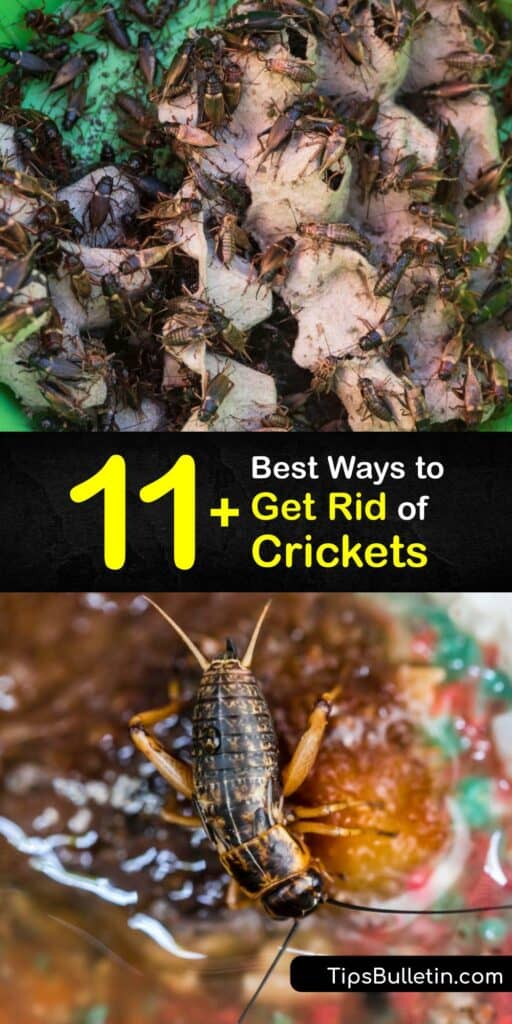 Now that you know how to get rid of crickets quickly and easily, why not share our cricket control home remedies with your family and friends on Facebook and Pinterest?