Homeowners have a lot to deal with, from water damage to a rodent infestation, and performing pest control often leads to other problems, like dead mice. While some consider a dead mouse better than a live one, they leave behind a dead animal smell. Learn tips for locating and removing the dead mouse or rat and how to get rid of dead mouse smell in a few simple steps.
There are varying reasons for dead mouse odor, whether they died from rat poison bait or got trapped within the wall. Whatever the cause, it's vital to find and dispose of the animal, clean the area with a disinfectant, and use an odor eliminator to remedy the lingering smell.
As a dead rodent decomposes, it releases a putrid smell as the body breaks down, and it's notably worse if it's in an area where scavengers cannot reach or if the weather is hot and humid. Fortunately, there are ways to eliminate the dead mouse odor using safe and effective solutions.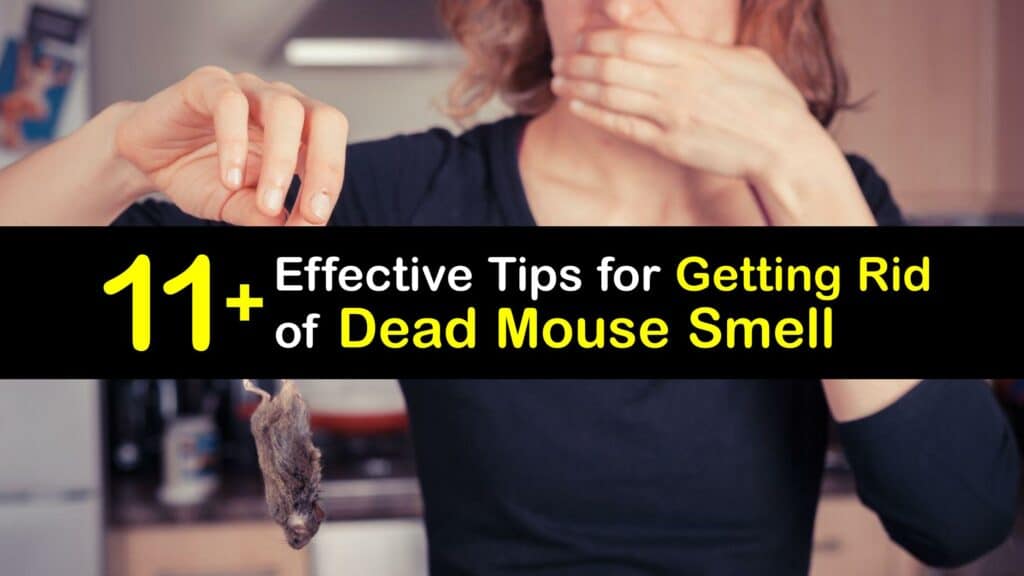 Ways to Get Rid of Dead Mouse Smell
The odor from dead animals is one of the worst smells, especially if you're unsure where the stink is coming from. Find the location of the dead mouse smell and get rid of the stench with odor-neutralizing methods.
How to Locate a Dead House Mouse
Nothing is more disturbing than smelling a foul odor and not knowing the source of the stench or where it's located. Discover what a dead mouse smells like and how to find the rodent to remove it from your living space.
A dead mouse emits methane, hydrocarbons, and sulfur dioxide, giving off a rotten smell with hints of sulfur and natural gas. The best way to find a dead animal is to use your nose. Other signs to look for are mouse droppings and chewed items. Check beneath cupboards, in walls, under furniture, and in air ducts and crawl spaces.
How to Safely Get Rid of a Dead Mouse
Get rid of a dead mouse safely. Once you find the dead rodent, it's time to remove it from the premises. It's vital to dispose of it properly to ensure you don't contaminate other areas.
Mice carry various diseases, and it's vital to wear a face mask and gloves when disposing of a dead mouse. Place the dead rodent in a bag, secure it shut with a zipper or twist tie, and place it in the outside trash can.
Air Out the House to Eliminate Dead Mouse Smell
The first step in the odor-removing process is to air out your home. Allowing fresh air inside the house not only helps to eliminate the foul stench, but it's helpful to ensure you don't breathe in chemicals as you clean.
Turn on ceiling fans, and open the windows and doors to allow a cross draft through the house after you use household products that kill mice. Place a fan near one of the openings to blow air out and another fan at the other end of the room to circulate the air.
Getting Rid of Dead Mouse Smell Naturally With Coffee
While coffee is our morning beverage of choice, it's also beneficial for getting rid of dead mouse smell naturally. Use it as one of the scents that keep mice away, as well. Try coffee grounds to eliminate a bad smell from a dead mouse.
Coffee grounds contain nitrogen, which cleans sulfur out of the air. Pour fresh coffee grounds into containers and place them in the affected area. Make sure to use dry coffee grounds for the best effect and refresh them as needed until the odor is gone.
Quickest Way to Get Rid of Dead Mouse Smell
The fastest way to get rid of dead mouse smell is to mask it with pleasant odors. It doesn't eliminate the stench permanently, but it's the simplest way to cover up the smell as you prepare for cleaning.
Many air fresheners are available, and they're useful for masking bad smells. Spray air freshener directly on the area where you found the dead mouse and up in the air to disperse it throughout the room, light scented candles, or use an oil diffuser with essential oils.
How to Get Rid of Dead Mouse Smell With Activated Charcoal
Use activated charcoal to get rid of a dead mouse smell. Activated charcoal has tiny pores that absorb all types of odors, including those from a dead rat or mouse. It's inexpensive, and you can find this charcoal at home improvement stores and online.
Place chunks of activated charcoal in bowls and set them in the area with the strongest smell. You can use charcoal briquettes as a substitute for activated charcoal, but it takes longer to absorb the odor.
Using Air Purifiers to Eliminate Dead Mouse Odor
Air purifiers are excellent at sucking odor-causing molecules out of the air as they filter out fresh air. They range in price and style, and they are ideal for use throughout the home.
Air Purification
Air purifiers use various technologies to clean the air and remove odors. Some use a HEPA filter, and others use UV to destroy microorganisms.
Others use ozone to control air pollution, and some use negative ions to attract particles. The best type for removing foul odors is a purifier with an activated carbon filter, which eliminates odor molecules.
Eliminate Dead Mouse Smell With Dead Animal Deodorizers
Another way to get rid of dead mouse smell is to use deodorizers that target dead animal odor. They are available in pouch or liquid form and are perfect if you don't want to go through the fuss of creating a DIY deodorizer.
Dead Animal Deodorizers
Since there are many types of dead animal deodorizers, it's important to follow the product directions before use. Most are pretty basic, and all you need to do is open the package and place the item in the smelly area. Other products require that you apply the solution to the affected area and clean it up with a sponge or vacuum cleaner.
Getting Rid of Dead Mouse Smell With Baking Soda
Sodium bicarbonate is an odor-absorbing powder that is great for getting rid of dead mouse smell naturally. You may know it as baking soda and use it for baked goods, but this powder can remove a musty smell or mouse odor.
Pour a tablespoon of baking soda into a glass spray bottle, add your favorite essential oil, and fill the container with water. Shake the bottle well to combine, and spray the solution to get mouse smell out of the house from where you notice the strongest odor.
Removing Dead Mouse Odor
It may seem strange to use white vinegar to eliminate odors since it has a strong smell, yet it is a very useful deodorizer that works wonders for removing a dead rat smell. Unlike dead animal odor, vinegar's smell dissipates quickly, and you probably have a jug in the kitchen.
Pour white vinegar into several bowls and place them strategically around the room to eliminate bad odor. Apple cider vinegar works almost as well if you don't have white vinegar. The bad smell should be gone after a day or two, along with the vinegar scent.
Sanitizing With Bleach to Remove Dead Mouse Odor
Chlorine bleach is excellent for killing the germs and bacteria left behind from a dead animal while removing the foul smell. It's necessary to dilute the bleach before applying it to the floor or wall.
Mix a gallon of water with a tablespoon of bleach in a bucket or container and apply the liquid to the spot where you found the dead mouse. Sanitize the entire surface with a sponge to remove the smell, and dry it thoroughly with paper towels.
Tips for Preventing Dead Mouse Odor
Finding and removing a dead mouse and its nasty odor is a process we don't want to repeat. It's a good idea to prevent this problem from recurring. Follow these tips to help keep rodents out of the house.
The main reasons rodents and other pests enter a house are shelter and food. Check the perimeter of your residence for places where mice have easy access. Use caulk to seal cracks and holes, repair screens, and apply weatherstripping around doors.
Store food items and pet food in containers with lids, and take out the trash nightly. Keep a tidy home by washing the dishes as you dirty them, wiping down counters and sweeping floors to remove spilled food and crumbs, and vacuuming carpets twice a week.
A dead animal emits an unbearable odor, and a dead mouse is small and often challenging to find. Luckily, there are ways to locate a dead rat and dispose of it properly, and using an odor neutralizer eliminates the dead rodent smell.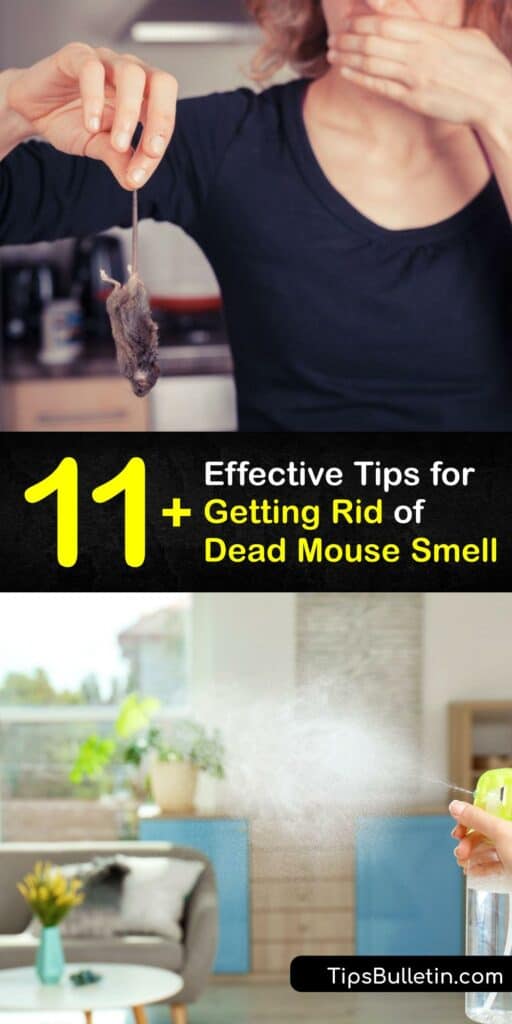 Now that you discovered how to get rid of dead mouse smell, we'd love it if you'd share our tips for eliminating dead rodent odours with your circle of family and friends on Facebook and Pinterest.