Fleas cause a slew of issues, from itchy pets to grumpy family members who have been bitten, so it's crucial to keep fleas out of your house. No pet parent wants to contend with a flea infestation in their yard. Knowing how to get rid of fleas outside without the right information and instruments is complex and daunting.
Flea saliva irritates the skin, resulting in flea dermatitis and significant disease risk. Infected fleas transport a variety of diseases and once played a key part in the plague.
The dog flea is a common flea species seen in houses, and the cat flea is another. Cat fleas and dog fleas, despite their names, do not stick to one animal, and a dog with fleas may have a cat flea infection. Whether your yard, dog kennel, or favorite shady area is overrun with fleas, addressing the problem is vital. Fortunately, all flea species have the same treatment, so learning to kill fleas outside is simple.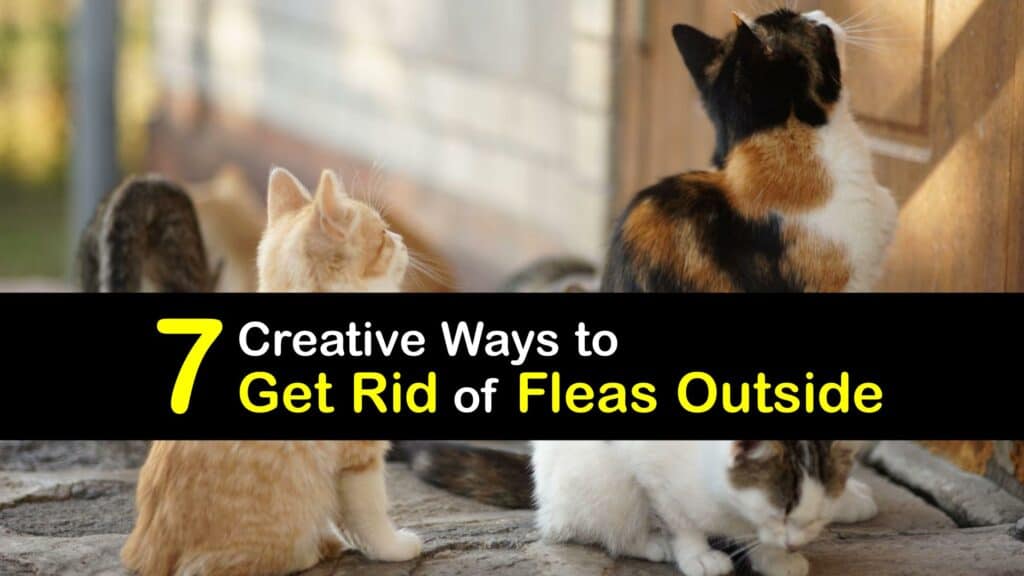 Easy Tips to Keep Fleas Out of Your House
Understanding how to get rid of fleas outside and keep fleas out of your house allows you to keep your pets and your family safe from painful bites and potential illnesses. Flea control may be tricky, and it works best when treatment is conducted inside and outside and treating the pets themselves.
Even one small colony of flea eggs left behind hatches and begins the life cycle again. Fortunately, it's straightforward to kill fleas outside using DIY traps and sprays to alleviate your flea problem fast.
How to Get Rid of Fleas Outside With Baking Soda
Baking soda is a multipurpose cleaner with a long list of applications, so it's no surprise that it also works as the best way to repel fleas. When you notice a flea problem, sprinkle a fine layer of baking soda in the area, whether a sidewalk or around your home's foundation. Baking soda is safe to use indoors on your carpets and rugs.
Scrub the baking soda into the carpet with a cleaning brush to ensure the powder goes deep into the fibers, where flea larva and eggs hide. Allow the baking soda to settle for at least an hour before vacuuming thoroughly, or if outside, leave it there. After cleaning, put your vacuum bag in a sealed container to keep fleas at bay.
Kill Fleas Outside With Dish Soap Traps
It can't get any easier than with this recipe. Soapy water will make a DIY flea trap. Combine hot water and liquid dish soap in a bowl or on a plate. Insects are drawn to soapy water and become caught due to the mixture's high viscosity. The low surface tension generated by the soap means the fleas can't escape once they jump into the water.
Because fleas are primarily active at night, it's good to leave soapy water bowls out overnight with an outdoor lamp shining on the traps to attract more fleas. Fleas are attracted to heat and light. Use dish soap as a flea wash for dogs and cats.
Getting Rid of Fleas Outdoors Using DIY Flea Spray
To ensure the flea life cycle is disrupted for good, destroy all fleas on your pets and property. Many common household materials have flea-killing characteristics and are simple to incorporate into a homemade flea spray for infested kennels, pet bedding, and other things.
In a spray container, combine the contents of the home remedy based flea killer spray, shake well, and spritz locations where fleas are a problem. To avoid injury, wait until the flea spray has completely dried before bringing pets or children back into sprayed sites.
To take care of fleas already on your pet, a homemade flea treatment for dogs first includes a bath with Dawn dish soap. It's remarkably effective at killing fleas. Brush your dog with a flea comb afterward to ensure you get all traces of fleas.
For cats who may not be suited for a bath, try neem oil for fleas on cats. Dab a little behind their ears for flea prevention and treatment.
Treat Pets to Tackle Flea Infestations
Whether you suffer a flea bite or notice flea dirt or adult fleas in your pets fur, it's essential to treat your pet as soon as you see signs of fleas. Like bed bugs, fleas are annoying and inconvenient.
Even if you treat the issue in your yard, failure to remove the pests from your pet means they will continue to breed and create flea larvae to give rise to another adult flea infestation. There are a variety of ways to treat flea infestation on dog. Choose whatever flea treatment method works best for you to control fleas.
Address fleas in your dogs coat as soon as possible. Female fleas lay flea eggs, and immature fleas develop rapidly. Removing fleas from your animals and using something to repel fleas goes a long way in stopping your flea problem.
To keep fleas off you and your family, one of the best home remedies to keep fleas off humans is to make a peppermint oil spray. Add a few drops to a container of water and spritz lightly to keep fleas and even mosquitoes off.
Diatomaceous Earth is the Best Flea Control
Diatomaceous earth is a popular pesticide and is safe, natural, and non-toxic, making it a favorite among many homeowners. The waxy covering on the fleas is removed with this fine white powder, which causes them to desiccate and dehydrate, resulting in death.
Sprinkle the powder around your home, focusing on places with high flea activity, shady areas, and kennels or spaces your pet likes to hang out. To use diatomaceous earth indoors, allow it to sit for as long as you can before vacuuming it from carpets, sofas, and other affected surfaces. Consider an insect growth regulator for dog and cat fleas if you prefer a different option.
Garlic Spray to Reduce the Flea Population
Treating your flea infestation reduces flea bites on both you and your pets. To limit the flea population, make a flea DIY repellent spray and use it in your yard, focusing on shady areas and around the foundation of your house.
Raise the temperature of the water to near-boiling. Finely cut the garlic cloves, cover them with hot water and soak them for 12 hours. Remove the garlic cloves and transfer the liquid to a spray bottle using a sieve.
Spray your yard liberally with flea spray to kill fleas. Because this garlic flea and tick yard spray has a pungent stench, it's best not to use it indoors where the aroma is overpowering. The solution is natural and safe to use as a kennel spray.
Yard and Home Maintenance Prevents Fleas
Flea bites are uncomfortable, and fleas are an annoyance, causing flea allergy dermatitis and posing a threat to disease prevention due to flea saliva. Cleaning up your yard and home as soon as you discover any symptoms of flea activity is an excellent approach to getting ahead.
Mowing tall grass removes places fleas like to hide, and collecting towels or outdoor blankets and cushions to be washed ensures fleas aren't multiplying in those places. Using cedar chip substrate in your yard helps prevent fleas as they hate the scent of cedarwood. Add some cedar chips for fleas inside, too. Closets and spaces beneath the furniture are good out-of-the-way locations to put them.
Indoors, the vacuum cleaner is an effective instrument for eradicating fleas. Vacuum all carpets regularly, be careful to empty the vacuum bag or dust container into a sealed receptacle to prevent fleas from returning to the house.
If you have a steam cleaner, steam cleaning can help stop the flea life cycle in your blankets, carpets, and home by using heat to kill fleas, flea larvae, and flea eggs.
A flea infestation in your yard is no fun and quickly leads to an infestation of your home and pets. To treat fleas in your yard or outside your house, try an easy at-home method to get rid of flea infestation fast.
If you loved this article on how to get rid of fleas outside, please share these brilliant tips to keep fleas out of your house with your friends and family on Pinterest and Facebook.