If you find your pet scratching non-stop, they may not just be dirty. Excessive scratching is a tell-tale sign that your pet has fleas, and if you look close enough, you might spot the fleas crawling through your pet's fur. Learn how to get rid of fleas and provide some relief to your itching pets.
When you suspect your pet has fleas, taking action is key to avoiding infestations. Although fleas typically live on your pets where they feed on blood, fleas fall off and live in your home's carpet, waiting to latch onto the next host.
Although we commonly associate fleas with feeding on the blood of our pets, humans are not immune to flea bites. Fleas attach to our clothes and draw blood from humans if no other hosts are nearby. Because of their thick fur, pets are the preferred host for fleas as they can remain safe and hidden while feeding and laying eggs.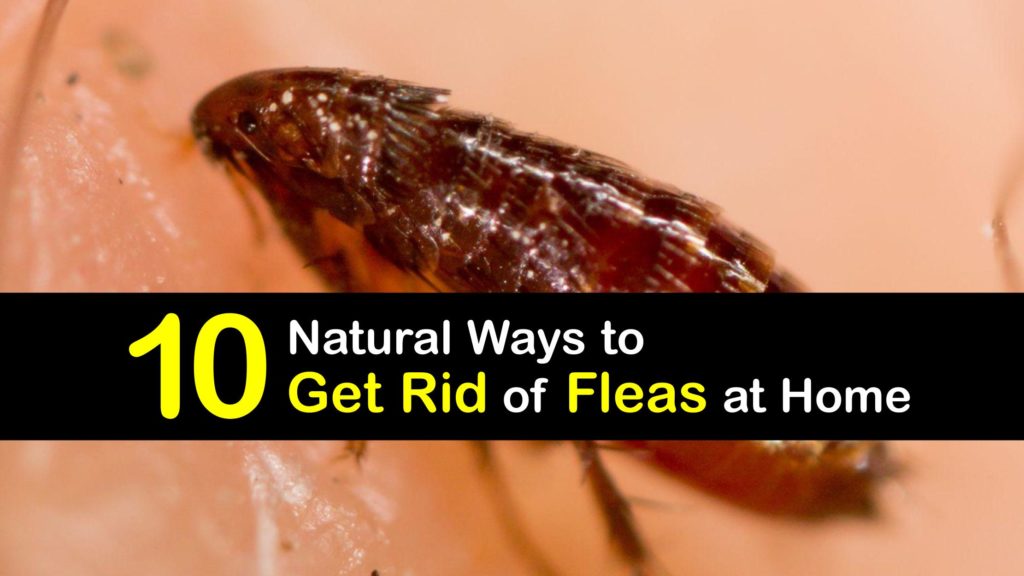 Home Remedies for Getting Rid of Fleas
Flea infestations in your home are irritating, especially if fleas are jumping onto your skin. Thankfully, you can get rid of a flea infestation in your house with homemade sprays and innovative cleaning methods.
After using a combination of these strategies, you shouldn't need a flea spray for humans and you and your pets can enjoy an itch-free existence.
Clean Your Home to Get Rid of Fleas
Fleas are small, usually around two to four millimeters long. Although they aren't as easy to spot as other pests like bed bugs, their small size makes them the perfect pest to sweep up in the vacuum cleaner. Use your vacuum over the carpet. Take advantage of available attachments to clean your furniture and any hard-to-reach places in your home.
If adult fleas are present, your house likely has flea eggs and flea larvae. To kill all fleas, clean your carpet with a steam cleaner. Unlike regular vacuums, a steam cleaner flushes soap and hot water into the carpet before sucking it back into the machine's tank.
Flea Shampoo to Kill Fleas on Your Pets
To avoid treating your pets with a chemical supplement that kills fleas, try using a natural flea shampoo as a form of flea control. A regular natural flea bath for dogs with flea shampoo kill adult and immature fleas on your pets until your house is flea free.
Bathing your pets is essential during flea treatments as it removes flea dirt and feces from your pet's fur, especially if your dog is infested with fleas. Many of the best shampoos for pets contain a plant extract called pyrethrin, a natural insecticide. This extract is also found in tick shampoo to remove pests from animals.
Consult a local vet about what shampoo is best for your pet, considering their size and fur, as dog flea shampoo may differ from those formulated to deal with cat fleas. After bathing your pet, brush them with a flea comb to remove any fleas that still cling to their fur.
How to Get Rid of Fleas with Homemade Insecticide
To avoid commercial insecticides altogether, one of the best natural ways to repel fleas is by creating a rosemary treatment for your pet. Rosemary is a beloved plant to humans, but fleas do not like its smell.
Boil a cup of water before adding your rosemary leaves. Let your leaves steep in the water for half an hour to create a strong mixture, reducing the heat after your water boils. Let the water cool before straining it into a spray bottle. Spray your pet's bed and comb through its fur to remove fleas and flea droppings.
Clean Pet Bedding to Kill Fleas
Should you treat your pets for fleas and fail to treat pet beds or areas in your house your pets often visit, you're not addressing the flea problem entirely. After a flea treatment for your pets, the fleas lingering in their bed or crate will attach themselves to your pet again.
To remove all fleas from your pet's bedding, wash it using a pet-friendly soap or treatment for fleas. After washing, dry the bedding on the highest dryer setting to kill lingering fleas. Repeat this process as you treat your entire home until all fleas are gone.
Trapping Fleas with Soapy Water
Fleas are drawn to water sources, so creating the perfect trap for fleas involves a container and water. Add liquid dish soap to prevent fleas from escaping the trap and instead allow them to fall under the water's surface. Make one or more homemade flea traps depending on the severity of the problem.
Fill a shallow plate or saucer with water. The lower the sides of your container are, the easier it is for fleas to jump inside. Add a few tablespoons of dish soap until the water is soapy.
Leave your trap in an area where fleas are active, like around your pet's bed or on the ground near curtains or furniture. For even more success, add a light source to attract fleas. Leave the trap in place overnight before dumping the water and remaking the trap the following day.
Groom Your Pets with a Flea Comb
Flea combs are fine-toothed combs designed to trap fleas inside their teeth when you use them. Comb loose any eggs fleas lay in the fur.
Focus on combing your pet in the bath to avoid fleas escaping onto your clothes or the carpet. While combing your pets, inspect the comb to see any fleas you've caught and dip it in soapy water to drown fleas on the comb.
Use Vinegar to Repel Fleas
Fleas dislike the strong smell of vinegar and avoid areas treated with it. Because you'll need to treat your furniture and carpet, use apple cider vinegar because it smells slightly better than white vinegar.
The most straightforward DIY flea spray for furniture involves diluting vinegar with water, but the measurements vary. A formula with equal vinegar and water is highly effective at repelling fleas, but the smell may be too much for you and your pets. Test different ratios to find what works best for you to keep fleas at bay around your home.
Strip the beds and wash bedding with hot water. To get rid of fleas in a mattress, apply the vinegar spray to all sides of the mattress and let it dry. Vacuum well and dispose of the bag in the outside trash.
Treat Your Home with Cedarwood Oil
Among the numerous natural ways to get rid of fleas, using a spray of cedarwood oil is one of the most efficient, as it is safe for people and pets. Cedarwood oil dries fleas, their eggs, and larvae on contact, killing them.
Dilute cedarwood oil with water in an eight-ounce spray bottle. When used as a DIY flea deterrent for cats or dogs with the spray, use a flea comb to bring any fleas up through the fur to spray and remove any dead bodies. Because of its usefulness, cedarwood oil is likely the best way to get rid of fleas.
Natural Ways to Get Rid of Fleas Outside
Like many pests, fleas enter the house from outdoors by latching onto your pet or being tracked in on your shoes. If you're noticing more and more scratching on your pets, treating your yard is a good idea to reduce future flea activity. Treating your yard for fleas is an essential flea prevention method.
Keep Up with Regular Lawn Care
Fleas enjoy hiding in tall grass and other forms of debris. If you have tall grass growing near your home, you're allowing the flea population to thrive. Regularly mow your grass to eliminate shelter for fleas. After trimming the grass, rake the area to gather the clippings for disposal.
Fleas enjoy living in areas that are warm and shaded. During standard lawn care, remove debris around your home, including flower beds and bushes.
Treat Your Yard with Cedar
Cedarwood is a primary ingredient in flea repellents. While treating your yard for flea activity, sprinkle cedar chips around your yard, especially in areas where your pets often lay.
To create a barrier around your home, consider using cedar chip mulch in your landscaping. Add cedar chips under bushes and near flower beds to repel fleas.
Add a few flea repelling plants around your yard to encourage them to look elsewhere for a home. Include rosemary, basil, and lavender.
What to Avoid When Treating Pets for Fleas
When thinking about pest control for fleas, the first thing that comes to mind may be a flea collar. While flea collars boast a high success rate, some collars only target adult fleas and are ineffective against immature fleas. Additionally, your pet loses its protection against fleas if the collar falls off. Since flea collars may irritate your pet's skin, avoid using them if possible.
Insect growth regulators (IGR) are chemical treatments that affect the hormones of insects and their growth rate. When applied to fleas at different stages of their life cycle, it prevents eggs from hatching and stops larvae from entering their next phase of life.
While this treatment does not immediately kill fleas, it prevents fleas on dogs naturally by stopping eggs from hatching and adult fleas from feeding on your pets. The downside to using an IGR is that it may trigger unwanted responses in beneficial insects if used around your home.
Why Getting Rid of Fleas is Crucial
Aside from causing distress for your pets, fleas are vectors for diseases like typhus and the bubonic plague as blood-sucking pests. The Centers for Disease Control and Prevention notes that fleas are an intermediate host for tapeworms that infect both dogs and humans. (..)
Fleas also act as hosts for heartworms, a common issue for pet owners. While fleas are irritating pests, noticing signs of flea activity on your pets should be treated immediately to avoid any severe health scares.
Because fleas can live in your carpet, even the best home remedies for getting rid of fleas won't be effective if you fail to treat your home and pets simultaneously.
If possible, keep your pets in one area of your house as you treat the other rooms. Containing your pets allows you to eliminate fleas without allowing them to spread to other areas.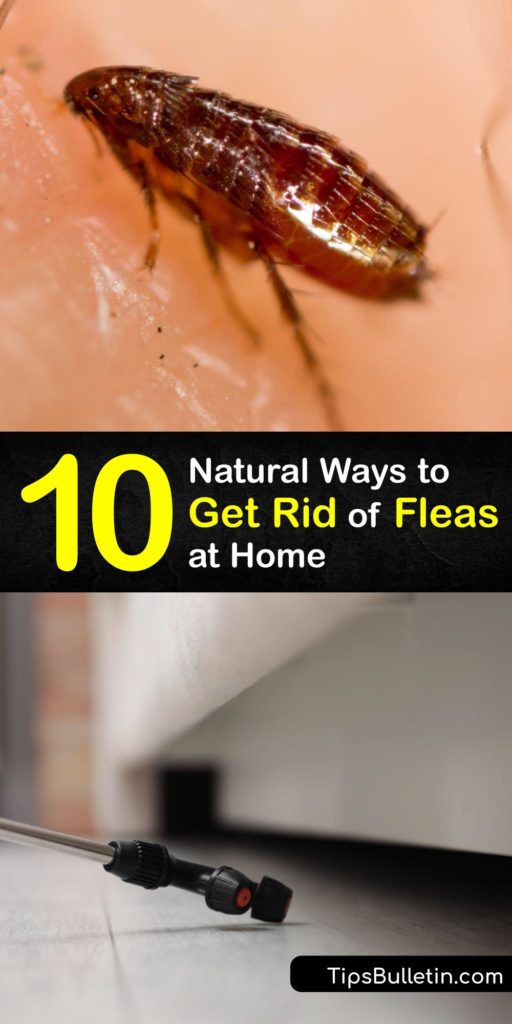 If you learned how to get rid of fleas with our help, please share these tips on home remedies for getting rid of fleas on Facebook and Pinterest to help your friends get rid of pests in their homes.