Like many insects, flies serve an essential ecological role during their life cycle. We often overlook their importance because flies are considered pests due to transferring food-borne illnesses. Uncover how to get rid of flies outside to avoid swarms of these insects disturbing your outdoor events and prevent them from getting inside.
The term fly vaguely describes over 125,000 species of insects. Although commonly used to describe houseflies, the name also applies to mosquitoes, flower flies, and fruit flies. Like mosquitoes, some flies, such as the black fly and stable flies, suck blood and carry diseases.
Because flies are small and fast, targeting individual flies with a fly swatter is difficult and the least successful way to kill flies. Dealing with a fly problem involves understanding their life cycle and employing the most effective ways to deal with flies over time.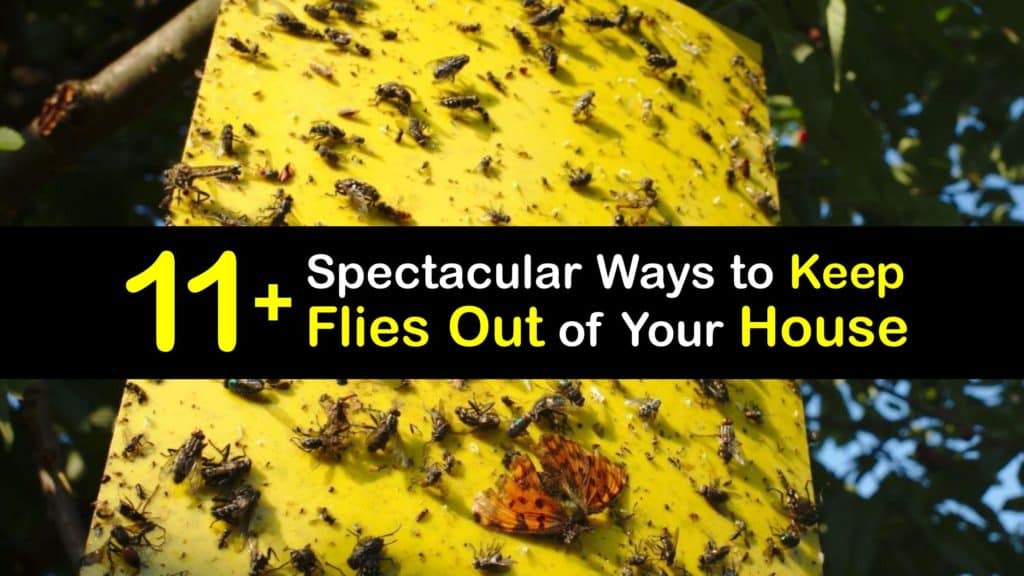 How to Keep Flies Out of Your House
The best methods for fly control involve traps that passively trap and kill flies or techniques that repel flies from getting inside your house. Continue reading for the best ways to keep flies out of your home, including natural fly control options.
Across various species of flies, the adult stage of these insects typically exists solely to mate and lay the next generation of eggs. Aside from dealing with adult flies, you'll need to deal with any eggs you find outside to stop them from hatching and adding to the fly population around your home to keep flies out of your house.
Use Insect Nets
Insect nets are one of the best ways to keep flies away from food during an outdoor event. They are inexpensive and available online for purchase, and you can quickly hang them around your space to keep insects out.
Insect nets are essential for people living in areas of the world where bugs commonly find their way inside to feed on hosts for blood. If you're entertaining guests outside and want to keep flies away or keep them out of your house, install a net around your patio or exterior doors.
Hang Fly Paper to Catch Flies
Strips of sticky adhesive that draw flies in with an attractant are known as flypaper. Once they touch the paper, the glue traps them, making them unable to fly away before they die.
Hang flypaper around your patio or near your home's windows to catch flies before they enter. To create your own flypaper, soak a paper bag in warm corn syrup and allow it to dry before hanging.
How to Get Rid of Flies Outside
The majority of flies come from outside, so dealing with outdoor flies is the first step to dealing with a fly problem. There are many ways to deal with a fly infestation, from commercial traps to plants that repel flies.
Install a Fly Zapper to Kill Flies Outside
One way to prevent flies from getting indoors is to hang a fly zapper outside your home. These items are light traps you hang or position to draw in insects before it kills them. It's an ideal way to control gnats outside and any other flying insects.
Insects like flies are drawn to the UV light emitted from the zapper contained within a metal grid to reduce harm to humans. Once close enough to the zapper, flies are electrocuted and killed instantly. Positioning a zapper near your patio or external door is a great way to kill flies outside before they get indoors.
How to Avoid a Mosquito Infestation
Mosquitoes are blood-sucking flies that are common pests at any outdoor party. Adult mosquitoes exist to draw blood from hosts and mate to lay clusters of eggs. Water that doesn't flow or move, also known as standing water, is the ideal location for mosquitoes to lay their eggs.
Ponds and birdbaths are examples of standing water, and water that gathers in buckets, cans, or tires all make ideal locations for mosquitoes to lay eggs. As the weather warms and mosquito activity starts, dump any containers holding water in your yard to avoid giving mosquitoes a chance to lay eggs around your home.
Plants that Repel Flies
If you're a fan of gardening, you know many plants act as natural repellents for insects. Even if you don't have a garden, growing select plants around your yard creates a barrier from flies.
Mint plants are natural ways to make flies go away if added around your home. Although humans love the smell of these plants, the oil their leaves and flowers contain deters bugs.
Not only do marigolds add a pop of color to any outdoor scene, but the scent of these flowers wards off various pests and will keep mosquitoes away while sitting outside. The petals from marigold flowers are edible and make the perfect sweet addition to salads.
If you live in a warm climate, grow lemongrass as the ideal solution to a fly problem. While the citrusy taste of this plant is delicious in many dishes, mosquitoes hate the citronella oil lemongrass plants produce.
Homemade Fly Repellent with Basil
Basil is another great-smelling plant that insects don't like. Unlike most other insect-repelling plants, growing basil isn't enough to keep insects away as the juice from its leaves only repels insects when you crush them. Create a spray using basil leaves to get the most out of basil leaves as a repellent.
Steep your basil leaves in boiled water. Allow the water to cool, then add vodka. Pour the mixture into an eight-ounce spray bottle. Because of the addition of vodka, don't use this as a repellent on your skin; instead, use this basil spray on outdoor furniture and around your patio area to keep bugs away.
To increase the efficacy of this spray for mosquitoes, add a few drops of neem oil. This makes a great homemade spray to kill mosquitoes and other bugs that annoy you while you're outside.
Introduce a Venus Fly Trap to Your Yard
The Venus fly trap is a carnivorous plant that feeds on insects by trapping them in a structure on the ends of its leaves. Small hairs on the inside of the plant's leaves trigger the reaction for the plant to close. Insects that remain on the plant and touch another hair within a few seconds cause the plant to snap shut.
Like many other species, the cluster fly feeds on plant nectar, which draws them to the flowering part of the Venus fly trap. If a tiny insect becomes trapped, it escapes through the small gaps in the plant's leaves, making adult flies the perfect prey because they are too large to escape.
While a Venus fly trap isn't going to deal with a swarm of flies, add a few plants around your house to kill flies outside.
Getting Rid of Flies in a Chicken Coop
If you own chickens or have other pets that spend a lot of time outside, you've likely seen flies swarm around the area. Many of these fly species are known as filth flies, drawn to waste from animals, including chickens.
The best way to avoid having insects in the chicken coop is to keep the area tidy. Start by cleaning up any poop left by chickens and use sand to dry out any waste residue.
Add beneficial plants to keep flies away and avoid leaving any sources of moisture in the coop. Because flies enjoy feeding on organic matter, clean up any treats or food you leave in the yard while feeding your chickens.
Use Malt Vinegar to Repel Flies
The acid nature of vinegar is deadly to flies, making it effective when used in a trap, but the smell of malt vinegar is beneficial for keeping flies away. When brought to a boil, malt vinegar does not smell appealing, but its odor keeps flies away and it makes a great homemade fly deterrent to use in strategic locations.
Bring a cup of malt vinegar to a boil in a pot and leave the pot outside or near a windowsill to ward off any flies in the area. Due to the smell, this may not be a favorable option with guests over.
Fly Traps
An effective way of getting rid of flies outdoors is to place traps around your home to eliminate flies before they get inside. The best fly traps involve an attractant to draw flies in while preventing them from escaping the trap until they die inside.
Vinegar Fly Trap
The vinegar scent draws flies to the trap and kills them once they land. Cover a container or bowl with plastic wrap and leave the trap outside your house to create a trap that flies won't escape from.
Fill a container with apple cider vinegar, and cover it with plastic wrap. Puncture the plastic wrap to make a hole to allow flies access to the vinegar. The smell of vinegar is especially effective in trapping a fruit fly as it is similar to the scent of their food source.
Soap Trap
A simple trap to get rid of house flies or fruit flies is to draw them in with a sweet food like sugar. Add sugar to a water container with soap to quickly kill a house fly that lands on the water.
Fill a bowl with warm water and stir in sugar to dissolve. Pour in dish soap without making the water foamy. Leave the bowl out to draw flies. The addition of dish soap reduces the surface tension of the water, causing flies to fall in and drown.
Food Trap
Insects like flesh flies, cluster flies, and blow flies feed on meat and fruit to receive the necessary nutrients to develop. Because many flies feed on decomposing matter, using food as an attractant in a trap is clever to draw flies.
Choose a container or cup you don't mind throwing away with dead flies inside and place cut fruit or slices of meat in it. Seal the top with plastic wrap and add holes in the top to allow flies access. Cover and toss out the cup as it fills with flies and create new traps if the fly problem continues.
Other Ways to Keep Flies Away
Knowing what flies eat makes it easier to avoid them swarming your space. To keep a pesky fly from getting into your home, cover any trash bins in the area that may draw them in. Without food residue to feed on, flies seek out other food sources, which may be in the form of a trap you've placed.
Allow Natural Predators to Kill Flies
Natural options are usually the best way to deal with pests. The most common predators are frogs and spiders when it comes to flies. If you live near a pond, you may already have frogs nearby to feed on the fly population.
Spiders are likely the most common fly predators because they are everywhere. If you find spiders outside your home, don't kill them, and allow them to live outdoors to create webs that work as natural traps for flies. For any spiders inside your home, relocate them outside to put them to work catching flies.
Despite their importance to the environment, flies are unsanitary and a nuisance in their interactions with humans. To protect yourself, implement one of our pest control techniques to keep flies away.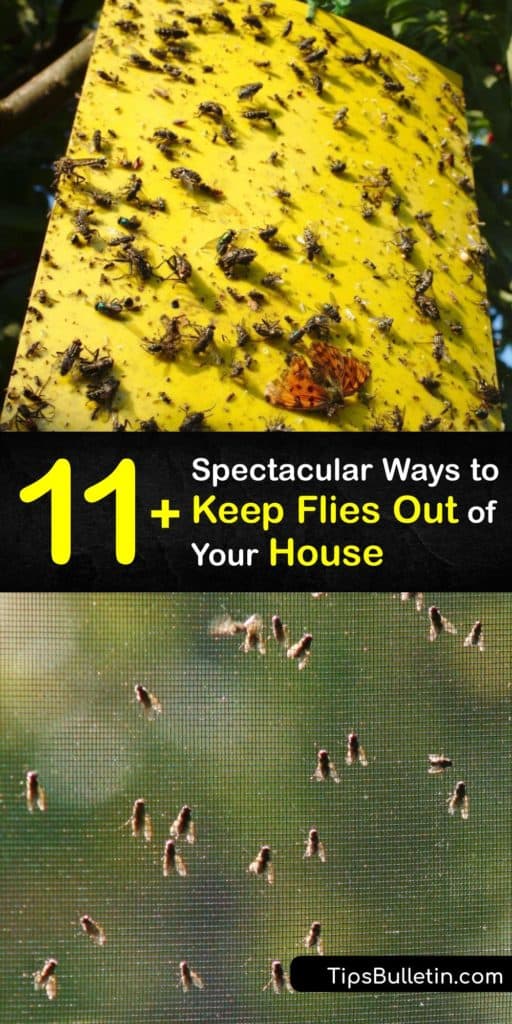 If you learned how to get rid of flies outside with our help, please share our tips for how to keep flies out of your house on Facebook and Pinterest.